X2O Trophy Kortrijk: Iserbyt wins elite men's race
Belgian beats Van der Haar and Van Aert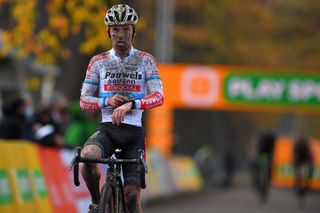 (Image credit: Getty Images)
Eli Iserbyt (Pauwels Sauzen-Bingoal) took a solo victory at the X²O Badkamers Trophy's Urban Cross Kortrijk on Saturday. He broke away from a lead group with two laps to go take the win ahead of Lars Van der Haar (Telenet Baloise Lions) in second and Wout van Aert (Jumbo-Visma) in third.
It was the first cyclo-cross race of the season for Van Aert but the Belgian had an untimely mechanical in the closing lap while he and Van der Haar were in pursuit of Iserbyt.
It was a strong field for the elite men's race at the X²O Badkamer Trofee in Kortrijk, and many will be travelling to the opening round of the Cyclo-cross World Cup in Tabor on Sunday.
Half way through the men's nine-lap race in Kortrijk, Michael Vanthourenhout (Pauwels Sauzen-Bingoal) opened a gap on a four-rider chase group that included Eli Iserbyt, Lars Van der Haar, Corne van Kessel (Tormans) and Wout van Aert.
Further back were Laurens Sweeck (Pauwels Sauzen), Toon Aerts (Telenet Baloise Lions), Quinten Hermans (Tormans) and Ryan Kamp (Pauwels Sauzen-Bingoal).
With two laps to go, the two chase groups were just about to reconnect when Van Aert made an attack that forced the pace. That move served to stop the second chase group from catching back up, while also reducing the gap to Vanthourenhout.
Vanthourenhout led the race by 30 seconds, but a small slide-out on a slick off-camber section cost him a few seconds. His luck worsened when he got a rear wheel flat tire, with the only consolation being that it happened right before the mechanic pits.
After a very smooth bike change, Vanthourenhout got back out on course, but Van Aert, Iserbyt and Van der Haar had already passed him, forcing him to chase the leading trio.
Van Aert kicked up the pace with Iserbyt and Van der Haar on his wheel leaving Vanthourenhout too far off the back to close the gap. Van Aert opened a small gap but Iserbyt showed his strength when he closed it down with Van der Haar on his wheel.
Iserbyt then made his winning moved and opened a small gap, that increased even further, when Van Aert slid out and unclipped along a narrow, off-camber section, which blocked Van der Haar from moving passed.
Back up and running, Van Aert turned up the pace in an effort to catch Iserbyt, but the younger Belgian used his punchy strength, smooth riding and momentum to increase his lead to roughly 10 seconds over the two chasers.
Van der Haar moved to the front through the sand section to help try and shut down the gap to Iserbyt. He looked back at Van Aert for assistance, but Van Aert did not respond. Van der Haar opened a small gap, as Van Aert entered the mechanic pits, but the Dutch rider wasn't strong enough to close the gap to Iserbyt alone.
Iserbyt rode a flawless race to take the win by seven seconds ahead of Van der Haar and 27 seconds to Van Aert. Vanthourenhout finished fourth at 41 seconds back.
Swipe to scroll horizontally
Full Results

| Pos. | Rider Name (Country) Team | Result |
| --- | --- | --- |
| 1 | Eli Iserbyt (Bel) Pauwels Sauzen - Bingoal | 1:01:22 |
| 2 | Lars Van Der Haar (Ned) Telenet Baloise Lions | 0:00:07 |
| 3 | Wout Van Aert (Bel) | 0:00:27 |
| 4 | Michael Vanthourenhout (Bel) Pauwels Sauzen - Bingoal | 0:00:41 |
| 5 | Quinten Hermans (Bel) Tormans Cyclo Cross Team | 0:00:50 |
| 6 | Ryan Kamp (Ned) Pauwels Sauzen - Bingoal | 0:00:51 |
| 7 | Corne Van Kessel (Ned) Tormans Cyclo Cross Team | 0:00:56 |
| 8 | Toon Aerts (Bel) Telenet Baloise Lions | 0:00:58 |
| 9 | Laurens Sweeck (Bel) Pauwels Sauzen - Bingoal | 0:01:08 |
| 10 | Niels Vandeputte (Bel) Alpecin - Fenix | 0:01:12 |
| 11 | Timo Kielich (Bel) Credishop-Fristads | 0:01:16 |
| 12 | Mees Hendrikx (Ned) Credishop-Fristads | 0:01:30 |
| 13 | Daan Soete (Bel) Group Hens - Maes Containers | 0:01:40 |
| 14 | Joran Wyseure (Bel) | |
| 15 | Thijs Aerts (Bel) Telenet Baloise Lions | 0:01:48 |
| 16 | Pim Ronhaar (Ned) Pauwels Sauzen - Bingoal | 0:02:02 |
| 17 | Jim Aernouts (Bel) Telenet Baloise Lions | 0:02:17 |
| 18 | Emiel Verstrynge (Bel) Tormans Cyclo Cross Team | 0:02:19 |
| 19 | Dieter Vanthourenhout (Bel) Pauwels Sauzen - Bingoal | 0:02:23 |
| 20 | Anton Ferdinande (Bel) Pauwels Sauzen - Bingoal | 0:02:50 |
| 21 | Nicolas Cleppe (Bel) Telenet Baloise Lions | 0:02:53 |
| 22 | Curtis White (USA) | 0:02:54 |
| 23 | Kyle Agterberg (Ned) | 0:03:24 |
| 24 | Arne Vrachten (Bel) | 0:03:37 |
| 25 | Tim Van Dijke (Ned) | 0:03:44 |
| 26 | Andreas Goeman (Bel) Telenet Baloise Lions | 0:03:48 |
| 27 | Julian Siemons (Bel) | 0:03:56 |
| 28 | Ward Huybs (Bel) Telenet Baloise Lions | 0:03:57 |
| 29 | Arne Baers (Bel) | 0:03:58 |
| 30 | Joachim Van Looveren (Bel) Proximus - Alphamotorhomes - Doltcini Ct | 0:04:05 |
| 31 | Jetze Van Campenhout (Bel) Group Hens - Maes Containers | 0:04:09 |
| 32 | Seppe Rombouts (Bel) | 0:04:21 |
| 33 | Robin Alderweireld (Bel) | 0:04:26 |
| 34 | Valentin Guillaud (Fra) | 0:04:31 |
| 35 | Gianni Siebens (Bel) | 0:04:50 |
| 36 | Arno Van Den Broeck (Bel) | 0:05:19 |
| 37 | Valentin Remondet (Fra) A.S Bike Crossteam | 0:05:20 |
| 38 | Dolf Pemen (Bel) Proximus - Alphamotorhomes - Doltcini Ct | 0:06:00 |
| 39 | Jarno Bellens (Bel) Pauwels Sauzen - Bingoal | 0:06:33 |
| 40 | Noah Vreeswijk (Ned) | |
| 41 | Ydris Salomez (Bel) Proximus - Alphamotorhomes - Doltcini Ct | |
| 42 | Justin Laevens (Bel) Proximus - Alphamotorhomes - Doltcini Ct | |
| DNF | Felipe Orts Lloret (Spa) Teika-Bh-Gsport | |
| DNF | Tom Meeusen (Bel) Group Hens - Maes Containers | |
| DNF | Yentl Bekaert (Bel) Telenet Baloise Lions | |
| DNF | Thibau Nys (Bel) Telenet Baloise Lions | |
| DNF | Ingmar Uytdewilligen (Bel) | |

Thank you for reading 5 articles in the past 30 days*
Join now for unlimited access
Enjoy your first month for just £1 / $1 / €1
*Read any 5 articles for free in each 30-day period, this automatically resets
After your trial you will be billed £4.99 $7.99 €5.99 per month, cancel anytime. Or sign up for one year for just £49 $79 €59

Join now for unlimited access
Try your first month for just £1 / $1 / €1