Cyclo-cross World Cup: Van der Poel wins final round at Hoogerheide
Aerts takes second place and overall World Cup victory
Image 1 of 21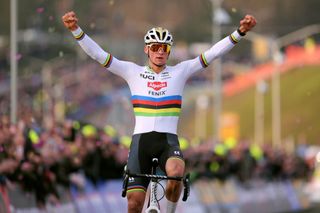 Image 2 of 21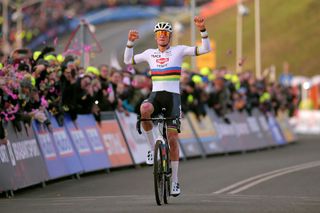 Image 3 of 21
Image 4 of 21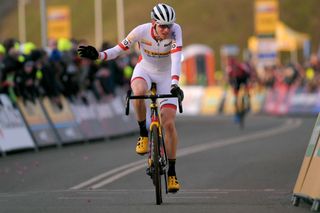 Image 5 of 21
Image 6 of 21
Image 7 of 21
Image 8 of 21
Image 9 of 21
Image 10 of 21
Image 11 of 21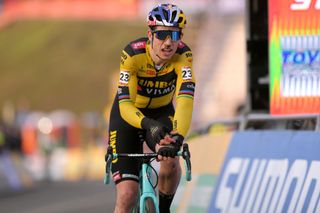 Image 12 of 21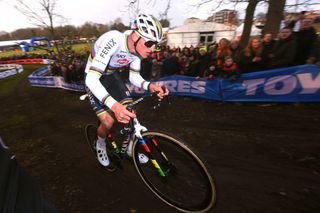 Image 13 of 21
Image 14 of 21
Image 15 of 21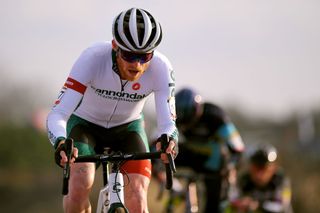 Image 16 of 21
Image 17 of 21
Image 18 of 21
Image 19 of 21
Image 20 of 21
Image 21 of 21
Report
Mathieu van der Poel (Alpecin-Fenix) won the final round of the UCI Cyclo-cross World Cup in Hoogerheide. The Dutchman's commanding ride saw him put in the winning attack four laps from the finish to take victory at the race named for his father – the GP Adrie van der Poel – for the fifth time.
One week before defending his title at the World Championships in Dübendorf, Switzerland, the Dutchman soloed to the line ahead of Toon Aerts (Telenet Baloise Lions), who finished 38 seconds back. Eli Iserbyt (Pauwels Sauzen-Bingoal) rounded out the podium at a deficit of 43 seconds seconds, while Wout Van Aert (Jumbo-Visma) finished in eighth on his fifth race back from injury.
Van der Poel said he had to work hard to get his fifth World Cup victory of the season on the dry, fast course that was designed by his father Adrie.
"There was a such a big crowd today and it wasn't an easy race. I felt strong while riding in the group and put all my money on one big move. I think that I found back my 'cross accelerations just in time," Van der Poel told Telenet Play Sports in the post-race flash interview.
For the second year in a row, overall victory in the World Cup was for Aerts; with six second places this season he's the world champion of consistency. A rib-breaking crash in Namur seemed to rule him out of contention but challenger Iserbyt struggled too during the busy Christmas weeks.
Aerts ended up with 577 points accumulated between Iowa City and the Netherlands, while Iserbyt was second on 531 points. Iserbyt's etammate Michael Vanthourenhout on 492 points. Van der Poel, who won all five World Cup races he started this season, finished on 400 points in eighth place.
"I'm very pleased that I can win two years in a row," said Aerts after the race. "It was clear that I wasn't as good as last year at the beginning of the season but then I ended up leading all the series anyway. It all seemed to be gone when I crashed. Riding the cross in Heusden-Zolder with my broken ribs cost a lot of energy and pain but it did deliver in the end."
How it unfolded
During the opening lap, Van der Poel quickly tested the field with a long acceleration on the flat sections in the meadow. The Dutchman took risks and flew through the corners and a chicane at high speed, and only Toon Aerts was able to stay near him, but the duo then decided it was too early to continue their efforts one week ahead of the World Championships.
What followed was a tactical race in which no less than 16 riders featuring in the front group during the fourth lap of the race. After his early acceleration, Van der Poel opted to sit back and bide his time.
"It didn't make sense to fight for position throughout the race," Van der Poel said later.
It was a risk though, because the smallest of incidents threw riders out of the top 20, as Belgian road champion Tim Merlier (Creafin-Fristads) found out when he broke his shoe and had to fight back from 24th. Merlier did show grinta by fighting back and finishing fifth in Hoogerheide.
Aerts and Iserbyt were unable to keep up with Van der Poel when he eventually attacked, but they did gap the rest of the field, apart from Belgian champion Laurens Sweeck (Pauwels Sauzen - Bingoal). The latter was unable to keep up the high pace and faded back into the second chase group.
The pair tried hard to keep Van der Poel in sight, but quickly found themselves at half a minute from the leader. Speaking later, Iserbyt told of how he was impressed by Van der Poel's ride.
"Mathieu rides away where he wants and how he wants. He's the big favourite," Iserbyt told Telenet Play Sports.
In the final lap, Aerts rode away from Iserbyt by cannily hopping the high barriers, after which Iserbyt struggled to clip into his pedal in the rush to keep up.
"Today I felt good. I was the only rider who was able to follow Mathieu when he attacked during the opening lap," said Aerts. "It wasn't possible to continue that move but I saved energy when the group came back. Hopping over the barriers allowed me to save energy too and in the final lap it allowed me to distance Eli Iserbyt."
The battle for the remaining top ten positions was fought out at high intensity since there was also a battle going on for the third place in the final World Cup classification between Vanthourenhout, Sweeck and Lars van der Haar (Telenet Baloise Lions).
Vanthourenhout successfully defended his overall third place by winning the sprint for fourth place, 49 seconds behind Van der Poel, ahead of Tim Merlier and Van der Haar. Sweeck then no longer pushed on and only managed a ninth place, just behind Thomas Pidcock (Trinity Racing) and Van Aert.
Results
Race results

| # | Rider Name (Country) Team | Result |
| --- | --- | --- |
| 1 | Mathieu van der Poel (Ned) Alpecin-Fenix | 1:04:39 |
| 2 | Toon Aerts (Bel) Telenet Baloise Lions | 0:00:38 |
| 3 | Eli Iserbyt (Bel) Pauwels Sauzen-Bingoal | 0:00:43 |
| 4 | Michael Vanthourenhout (Bel) Pauwels Sauzen-Bingoal | 0:00:49 |
| 5 | Tim Merlier (Bel) Creaefin-Fristads | 0:00:50 |
| 6 | Lars Van der Haar (Ned) Telenet Baloise Lions | |
| 7 | Thomas Pidcock (GBr) Trinity Racing | 0:00:52 |
| 8 | Wout Van Aert (Bel) Jumbo-Visma | 0:00:53 |
| 9 | Laurens Sweeck (Bel) Pauwels Sauzen-Bingoal | 0:00:59 |
| 10 | Corne Van Kessel (Ned) Tormans | 0:01:05 |
| 11 | Tom Meeusen (Bel) Group Hens-Maes Containers | 0:01:07 |
| 12 | Jens Adams (Bel) Hollebeekhoeve | 0:01:32 |
| 13 | Quinten Hermans (Bel) Tormans | 0:01:42 |
| 14 | Joris Nieuwenhuis (Ned) Team Sunweb | 0:01:56 |
| 15 | David van der Poel (Ned) Alpecin-Fenix | 0:02:14 |
| 16 | Gianni Vermeersch (Bel) Creaefin-Fristads | 0:02:25 |
| 17 | Marcel Meisen (Ger) Alpecin-Fenix | 0:02:29 |
| 18 | Sieben Wouters (Ned) Creaefin-Fristads | |
| 19 | Vincent Baestaens (Bel) Group Hens-Maes Containers | 0:02:31 |
| 20 | Steve Chainel (Fra) Chazal-Canyon-3G Immo | 0:02:35 |
| 21 | Felipe Orts Lloret (Spa) Teika-Gsport-BH | 0:02:36 |
| 22 | Timon Rüegg (Swi) | 0:02:37 |
| 23 | Stephen Hyde (USA) Cannondale-Cyclocrossworld | 0:02:42 |
| 24 | Thijs Aerts (Bel) Telenet Baloise Lions | 0:02:46 |
| 25 | Jim Aernouts (Bel) Telenet Baloise Lions | 0:02:49 |
| 26 | Diether Sweeck (Bel) Pauwels Sauzen-Bingoal | 0:03:00 |
| 27 | Dieter Vanthourenhout (Bel) Pauwels Sauzen-Bingoal | 0:03:07 |
| 28 | David Menut (Fra) | 0:03:24 |
| 29 | Stan Godrie (Ned) | 0:03:35 |
| 30 | Daan Soete (Bel) Pauwels Sauzen-Bingoal | 0:03:38 |
| 31 | Maik Van der Heijden (Ned) | 0:03:43 |
| 32 | Curtis White (USA) Cannondale-Cyclocrossworld | 0:04:08 |
| 33 | Michael Boroš (Cze) | 0:04:12 |
| 34 | Simon Zahner (Swi) | 0:04:18 |
| 35 | Wietse Bosmans (Bel) | 0:04:37 |
| 36 | Lander Loockx (Bel) Group Hens-Maes Containers | 0:04:39 |
| 37 | Braam Merlier (Bel) Creaefin-Fristads | |
| 38 | Yan Gras (Fra) Chazal-Canyon-3G Immo | 0:04:43 |
| 39 | Joshua Dubau (Fra) | 0:04:49 |
| 40 | Michael Van den Ham (Can) Easton-Giant p/b Transitions Lifecare | 0:05:18 |
| 41 | Nicolas Cleppe (Bel) Telenet Baloise Lions | 0:05:31 |
| 42 | Severin Sägesser (Swi) | 0:05:51 |
| 43 | Kerry Werner (USA) | 0:06:36 |
| 44 | Jan Nesvadba (Cze) | |
| 45 | Kevin Suarez Fernandez (Spa) Nesta-Skoda Alecar | |
| 46 | Lucas Dubau (Fra) | |
| 47 | Nicolas Samparisi (Ita) KTM Alchemist Racing | |
| 48 | Marcel Wildhaber (Swi) | |
| 49 | Gilles Mottiez (Swi) | |
| 50 | Philipp Heigl (Aut) | |
| 51 | Patrick Collins (USA) | |
| 52 | Cameron Jette (Can) | |
| 53 | Lucas Vaz (Fra) | |
| 54 | Ondrej Glajza (Svk) | |
| 55 | Thomas Edhofer (Ger) | |
| 56 | Felix Paul (Ger) | |
World Cup rankings
UCI Cyclo-cross World Cup final standings

| Pos. | Rider Name (Country) Team | Points |
| --- | --- | --- |
| 1 | Toon Aerts (Bel) Telenet Baloise Lions | 577 |
| 2 | Eli Iserbyt (Bel) Pauwels Sauzen-Bingoal | 531 |
| 3 | Michael Vanthourenhout (Bel) Pauwels Sauzen-Bingoal | 492 |
| 4 | Laurens Sweeck (Bel) Pauwels Sauzen-Bingoal | 473 |
| 5 | Lars van der Haar (Ned) Telenet Baloise Lions | 467 |
| 6 | Quinten Hermans (Bel) Telenet Baloise Lions | 444 |
| 7 | Corne van Kessel (Ned) Circus-Wanty Gobert | 417 |
| 8 | Mathieu van der Poel (Ned) Alpecin-Fenix | 400 |
| 9 | Gianni Vermeersch (Bel) Creafin-Fristads | 393 |
| 10 | Joris Nieuwenhuis (Ned) Team Sunweb | 340 |
| 11 | Jens Adams (Bel) Hollebeekhoeve | 340 |
| 12 | Tom Meeusen (Bel) Group Hens-Maes Containers | 340 |
| 13 | Thijs Aerts (Bel) Telenet Baloise Lions | 334 |
| 14 | Jim Aernouts (Bel) Telenet Baloise Lions | 302 |
| 15 | Tim Merlier (Bel) Creaefin-Fristads | 296 |
| 16 | Timon Rüegg (Swi) | 272 |
| 17 | Diether Sweeck (Bel) Pauwels Sauzen-Bingoal | 269 |
| 18 | Marcel Meisen (Ger) Alpecin-Fenix | 267 |
| 19 | Felipe Orts Lloret (Spa) Teika-Gsport-BH | 250 |
| 20 | Thomas Pidcock (GBr) Trinity Racing | 242 |
| 21 | Daan Soete (Bel) Pauwels Sauzen-Bingoal | 238 |
| 22 | Nicolas Cleppe (Bel) Telenet Baloise Lions | 232 |
| 23 | Vincent Baestaens (Bel) Group Hens-Maes Containers | 232 |
| 24 | Stan Godrie (Ned) | 231 |
| 25 | Kevin Suarez Fernandez (Spa) Nesta-Skoda Alecar | 203 |
| 26 | Dieter Vanthourenhout (Bel) Pauwels Sauzen-Bingoal | 199 |
| 27 | Steve Chainel (Fra) Chazal-Canyon-3G Immo | 181 |
| 28 | Sieben Wouters (Ned) Creaefin-Fristads | 173 |
| 29 | David van der Poel (Ned) Alpecin-Fenix | 167 |
| 30 | Lander Loockx (Bel) Group Hens-Maes Containers | 161 |
Cyclingnews Newsletter
Sign up to the Cyclingnews Newsletter. You can unsubscribe at any time. For more information about how to do this, and how we hold your data, please see our privacy policy