Fem van Empel wins Val di Sole snow World Cup
By Ben Goddard published
Vos second after late crash with Canada's Rochette third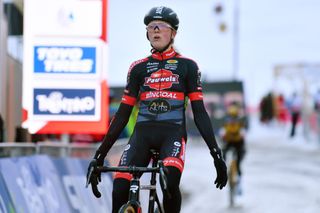 (Image credit: Getty Images)
Image 1 of 8
Image 2 of 8
Image 3 of 8
Image 4 of 8
Image 5 of 8
Image 6 of 8
Image 7 of 8
Image 8 of 8
19-year-old Fem van Empel (Pauwels Sauzen-Bingoal) won her first World Cup cyclo-cross race, mastering the snow and holding her nerve after a dramatic ending in Val di Sole.
Showcasing cyclo-cross to the Winter Olympics organisers, the snow-covered course in the Italian Alps provided drama throughout the race with a host of crashes and mechanical problems for competitors.
After being slowed significantly by a crash and bike problem, Marianne Vos (Jumbo-Visma Women Team) fought back before a dramatic final corner. She managed to pass her teenage rival in a bid for victory, only to hit a post and crash. Despite Vos remounting, Van Empel was able to pass her rival onto the short asphalt finish and clinch victory.
Canada's Maghalie Rochette (Specialized/Feedback Sports) finished an impressive third after being distanced by Vos on the final lap.
Van Empel had led from the opening lap until the final bend when a charging Vos tried to cruelly snatch victory from her. She was overjoyed to win her first elite women's World Cup race.
"This was a goal before the season," said Van Empel "Second and third place came very close to me and I could only push, push, push to the finish line.
"In the last corner Marianne fell, it was mental, a little bit difficult but I made one or two seconds and the last 100 metres to the finish line. I took the victory.
"I thought maybe I wasn't going to be on the podium today at the last corner but I stayed calm and I'm very happy to take the victory."
It was an impressive performance by Vos who crashed in the snow in the early stages resulting in a mechanical and a loss of 40 seconds to Van Empel.
"Halfway through the race I couldn't be expecting to race for the victory in the end," said Vos post-race.
"Of course, at first after the last corner I was a little bit disappointed but I'm quite happy I could race for the win. Fem (Van Empel) did a great race and I made a mistake with the pass and I couldn't make up any more.
"I knew it was going to be hard to pass at the finish line so I had to make a move earlier on. I took the gap on the last corner but that line went into an obstacle. I made a mistake and it was too close to the finish."
Maghalie Rochette (Specialized/Feedback Sports) finished third after being distanced from a chasing Vos on the final lap.
"That was my best effort," said Rochette.
"It wasn't too bad and I was happy with the race. It was tricky today, if you tried to go too fast it was easy to make mistakes.
"You had to find a balance of when to go fast and when to relax and take it in. I could see Fem and I thought maybe I could get her but Marianne Vos came back and did a really good pass around me and I lost a bit of time."
How it unfolded
World Cup leader Lucina Brand was absent for the ninth World Cup round after the Baloise Trek Lions riders headed for a warm-weather training camp ahead of a busy Christmas calendar. With Brand absent Denise Betsema (Pauwels Sauzen-Bingoal) came into the event with the knowledge that a top two placing would give her the overall leader's jersey.
The three-kilometre course was built on the Nordic skiing centre in Vermiglio, which sits at an altitude of 1,261 metres at the foot of the Passo del Tonale. To demonstrate that cyclo-cross can take place in the snow and so could form part of the Winter Olympics, the course had been prepared to allow competitors to ride most sections. Just 30 women took to the start in Val di Sole with many choosing to sit out the World Cup round to prepare for a busy Christmas period.
Van Empel led away on the asphalt start and onto the snow, showing her skills on the opening lap at the head of proceedings.
Betsema was the first of the favourites to slide out in the slippery conditions forcing herself back in the field on the opening lap.
Teenager Van Empel is known for her bike skills and showed no fear as she tackled the snowy descent.
Italian Eva Lechner (Trinx Factory Team) showed the difficulty of staying upright on a short running climb. She slipped and held up her competitors. Even on the descents, some riders were choosing to run as the deep ruts and ice made for hazardous conditions.
After her earlier crash Betsema worked her way back on the opening lap as the field split. She was joined in the early chase by Marianne Vos (Jumbo-Visma Women Team) and Puck Pieterse (Alpecin–Fenix)
Leader Van Empel and teammate Betsema were pushing the course limits during the second lap. Both slid out but maintained their pace.
Vos had been in lone pursuit of Van Empel until she also crashed along with Pieterse in separate incidents, with both having mechanical incidents and losing a host of time.
Their mechanicals left Under-23 world champion Van Emepl at the head of proceedings, 13 seconds ahead of team-mate Betsema, while Canadian Maghalie Rochette (Specialized/Feedback Sports) led the chase in third at 30 seconds.
After overcoming crashes in the early laps, Rochette was starting to master the conditions and closing in on Betsema. Cheered on by a home crowd, Lechner was also thriving in the difficult conditions and moved her way into fourth position by the midway point of the race.
A crash for Betsema allowed Rochette to pull back to her rival in the race for the podium positions with Lechner and a chasing Vos also sitting further back. On the penultimate lap Rochette used her running speed to pass Betsema while Van Emple kept cautious 27 seconds ahead.
Rochette, who finished second in the previous World Cup round at Besançon, was finishing strongly and sat just nine seconds behind Van Empel at the bell.
After recovering from her early mechanical problem Vos was also on a late charge and passed Betsema on the last lap and then also challenged Rochette in a frantic podium battle. Vos used her skills to pass Rochette on the snow and then had Van Empel in her sights on the final lap.
Vos used her power to ride a slippery bridge which Van Empel ran, pulling the gap back to a handful of seconds.
Coming into the final corner on the snow, Vos went under the leader and took the lead but crashed into a course marking pole, coming down and delaying Van Empel.
As Vos re-mounted, Van Empel passed and quickly reached the asphalt finish ahead of Vos, while Rochette finished 11 seconds back in third.
Despite missing the race, Brand held onto the World Cup overall lead with series rival Betsema finishing fifth. The World Cup series continued next weekend in Rucphen on Saturday and Namur the following day.
Full Results

| Pos. | Rider Name (Country) Team | Result |
| --- | --- | --- |
| 1 | Fem van Empel (Ned) Pauwels Sauzen - Bingoal | 0:51:50 |
| 2 | Marianne Vos (Ned) | 0:00:06 |
| 3 | Maghalie Rochette (Can) | 0:00:11 |
| 4 | Eva Lechner (Ita) | 0:00:23 |
| 5 | Denise Betsema (Ned) Pauwels Sauzen - Bingoal | 0:00:45 |
| 6 | Hélène Clauzel (Fra) A.S. Bike Crossteam | 0:02:03 |
| 7 | Alice Maria Arzuffi (Ita) | 0:02:07 |
| 8 | Sanne Cant (Bel) IKO - Crelan | 0:02:42 |
| 9 | Puck Pieterse (Ned) Alpecin - Fenix | 0:02:54 |
| 10 | Silvia Persico (Ita) | 0:03:35 |
| 11 | Rebecca Gariboldi (Ita) | 0:03:43 |
| 12 | Sidney Mcgill (Can) | 0:04:01 |
| 13 | Anne Tauber (Ned) | 0:04:22 |
| 14 | Nadja Heigl (Aut) KTM Alchemist Powered by Brenta Brakes | 0:05:02 |
| 15 | Kiona Crabbé (Bel) | 0:05:16 |
| 16 | Alicia Franck (Bel) Proximus - Alphamotorhomes - Doltcini CT | 0:05:26 |
| 17 | Alessia Bulleri (Ita) Cycling Cafe' Racing Team | 0:05:31 |
| 18 | Lucia Bramati (Ita) | 0:05:58 |
| 19 | Francesca Baroni (Ita) KTM Alchemist Powered by Brenta Brakes | 0:06:13 |
| 20 | Gaia Realini (Ita) | 0:06:38 |
| 21 | Letizia Borghesi (Ita) | 0:06:54 |
| 22 | Anne Terpstra (Ned) | 0:07:03 |
| 23 | Carlotta Borello (Ita) | 0:07:26 |
| 24 | Ronja Eibl (Ger) | 0:07:39 |
| 25 | Zina Barhoumi (Swi) | 0:08:23 |
| 26 | Chiara Teocchi (Ita) Trinity Racing | 0:08:36 |
| 27 | Jinse Peeters (Bel) Proximus - Alphamotorhomes - Doltcini CT | 0:10:21 |
| 28 | Marta Zanga (Ita) | |
| 29 | Corey Coogan Cisek (USA) VeloRevolution WPcycles | |
| 30 | Allison Arensman (USA) VeloRevolution WPcycles | |

Thank you for reading 5 articles this month* Join now for unlimited access
Enjoy your first month for just £1 / $1 / €1
*Read 5 free articles per month without a subscription

Join now for unlimited access
Try your first month for just £1 / $1 / €1
Sign up to the Cyclingnews Newsletter. You can unsubscribe at any time. For more information about how to do this, and how we hold your data, please see our privacy policy
Thank you for signing up to Cycling News. You will receive a verification email shortly.
There was a problem. Please refresh the page and try again.