Tirreno-Adriatico stage 1 - Live coverage
By Daniel Ostanek published
Ganna, Pogacar, Evenepoel lead the line in the opening time trial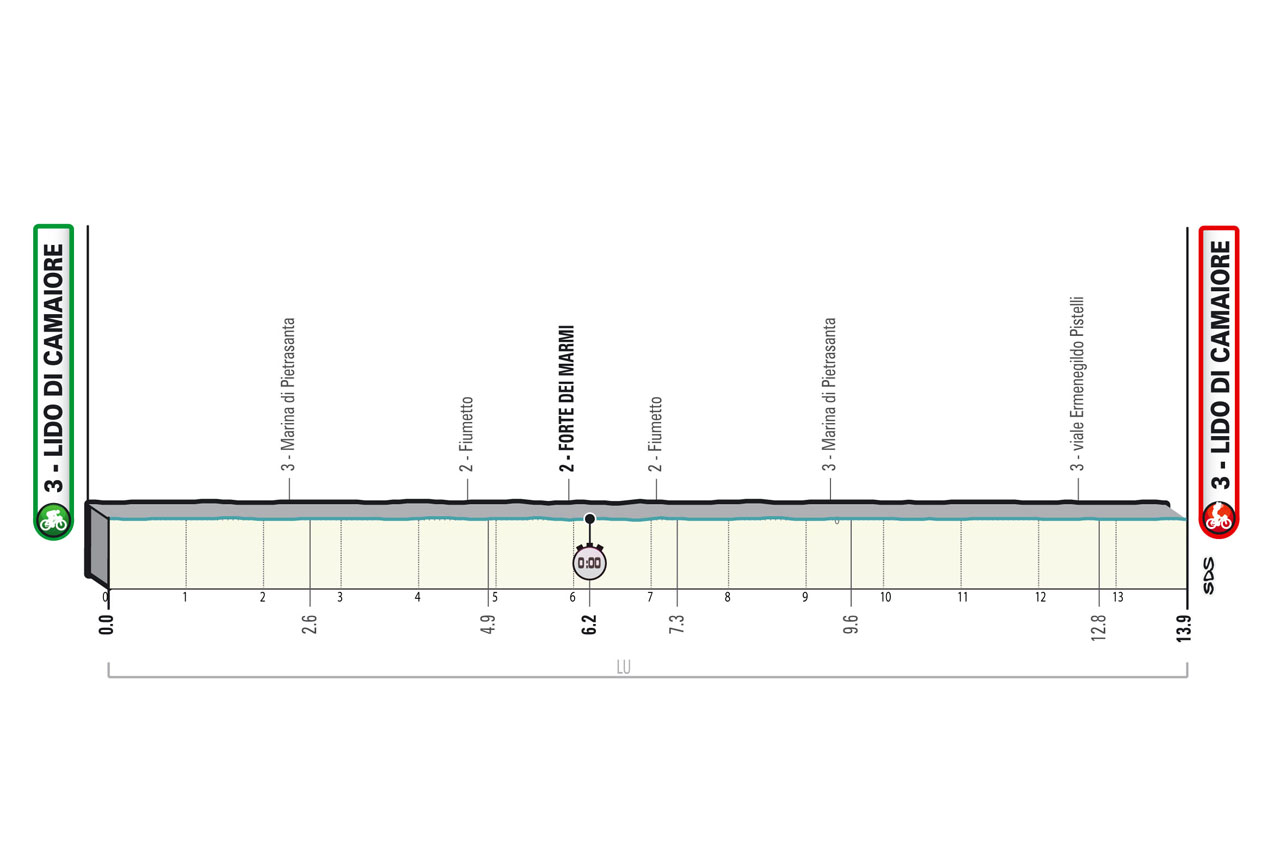 Tirreno-Adriatico race home

Tirreno-Adriatico start list

Tirreno-Adriatico 2022 – Preview

How to watch Tirreno-Adriatico 2022 – live TV and streaming

Ganna: Pogacar still a top competitor for Tirreno-Adriatico TT

'Violence against women is wrong' says Peter Sagan after Geniez court verdict
Provisional standings
1 Filippo Ganna (Ita) Ineos Grenadiers 0:15:18
2 Remco Evenepoel (Bel) Quick-Step Alpha Vinyl Team 0:00:10
3 Tadej Pogacar (Slo) UAE Team Emirates 0:00:18
4 Kasper Asgreen (Den) Quick-Step Alpha Vinyl Team 0:00:24
5 Alex Dowsett (GBr) Israel-Premier Tech 0:00:25
6 Thymen Arensman (Ned) Team DSM 0:00:28
7 Tobias Ludvigsson (Swe) Groupama-FDJ 0:00:31
8 Jos van Emden (Ned) Jumbo-Visma 0:00:33
9 Mikkel Bjerg (Den) UAE Team Emirates 0:00:38
10 Matteo Sobrero (Ita) BikeExchange-Jayco 0:00:39
Refresh
Hello and welcome to our live coverage of the opener here at Tirreno-Adriatico, the 13.9-kilometre time trial in Lido di Camaiore.
We kick off the race with a short, pan-flat time trial – the mirror image of the usual race finisher in San Benedetto del Tronto on the other side of Italy.
Just over 20 minutes until the start, when Leonardo Basso, Michael Matthews, and Andrea Pasqualon will kick things off.
In the past five years, Wout van Aert, Filippo Ganna, Rohan Dennis (twice), and Victor Campenaerts have won the Tirreno-Adriatico time trial.
World time trial champion Ganna is back today, but he'll face competition from Remco Evenepoel, Tadej Pogačar, Kasper Asgreen, Edoardo Affini, Mikkel Bjerg, Richie Porte, and more.
Today's route is, like the stages in San Benedetto del Tronto, a simple out and back run along the coastal road in Lido di Camaiore. There's a small right-turn at the start and then a right-left-left turnaround in the middle, but otherwise it's all straights.
Riders have completed their recons of the course today – as much as there is to glean from such a basic route – and we're almost ready to get underway.
🔱 E' tempo di ricognizioni a Lido di Camaiore! 🔱 It's Recon Time in Lido di Camaiore!#TirrenoAdriatico pic.twitter.com/Mtl8kN8ufbMarch 7, 2022
We're off as Leonardo Basso kicks off Tirreno-Adriatico 2022.
With one minute separating riders at the start, we have numerous riders out on course now. Matthews is, so far, quickest through the single checkpoint on the stage with a time of 7:33.
Pasqualon is next quickest at 15 seconds down.
7:28 for Czech national TT champion sees him go top of the checkpoint standings.
16:08 for Matthews at the finish line. He's top of the standings there at the moment. 51.67kph for the Australian.
Alex Dowsett, Richie Porte, Mark Cavendish, Greg Van Avermaet among the big names to head off in the next 15 minutes.
It's all kicking off in the wind on stage 2 of Paris-Nice.
16:04 for Cerny at the line as he edges out Matthews by a couple of seconds.
7:26 for former World Hour Record holder Alex Dowsett at the split, a few seconds up on Cerny there.
Ganna: Pogacar still a top competitor for Tirreno-Adriatico TT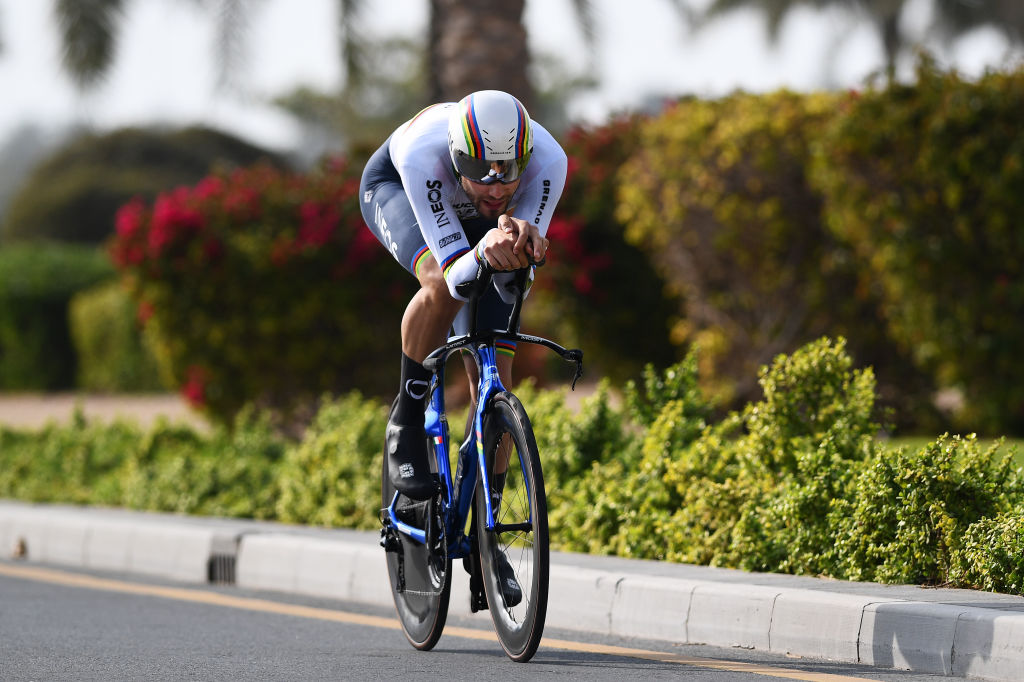 7:38 for Porte at the checkpoint.
Dowsett quickest at the finish with a time of 15:42 - that's over 20 seconds quicker than Cerny.
16:08 for Porte at the finish. A respectable time for the Australian as he goes fourth.
Dowsett the only man to finish in under 16 minutes so far.
Romain Bardet among the latest names to set off. Elia Viviani, Pello Bilbao, and Nacer Bouhanni soon to start.
Damiano Caruso took the seventh-quickest time at the line.
Not many strong time trialists out there at the moment, though.
The top three so far – Dowsett at 15:42, Cerny at 16:04, Matthews at 16:08.
Everyone finishing at the moment is coming home in the 30s, 40s, 50s. We'll see how Bardet finishes soon but otherwise there aren't many big contenders out there.
16:47 at the line for Bardet as he goes 20th.
Movistar's Mathias Norsgaard has gone ninth at the second checkpoint. That's the best time in a while...
Thibaut Pinot starts his race.
16:27 for Pello Bilbao. 12th.
Julian Alaphilippe sets off in seven minutes. Finally a rider who might make an impression at the top of the standings.
Pinot sets a time of 7:55 at the checkpoint to go 31st.
Caleb Ewan is at the bottom of the standings so far with a time of 18:08. He's 2:30 down on Dowsett.
Kristoff, Kuss, Haussler off. Alaphilippe next.
Sixth place at the checkpoint for Thymen Arensman, 13 seconds down on Dowsett.
7:35 for Alex Edmondson at the check. Some decent rides coming in now, finally.
Here's a nice photo to liven things up a bit.
Arensman has had a great ride and only just missed out on Dowsett's time at the finish. He clocks 15:45 to go second.
7:43 puts Alaphilippe ninth at the checkpoint. Edmondson's 16:18 puts him seventh at the line.
We still have 74 riders to start.
Pogacar out to continue run of 2022 success at Tirreno-Adriatico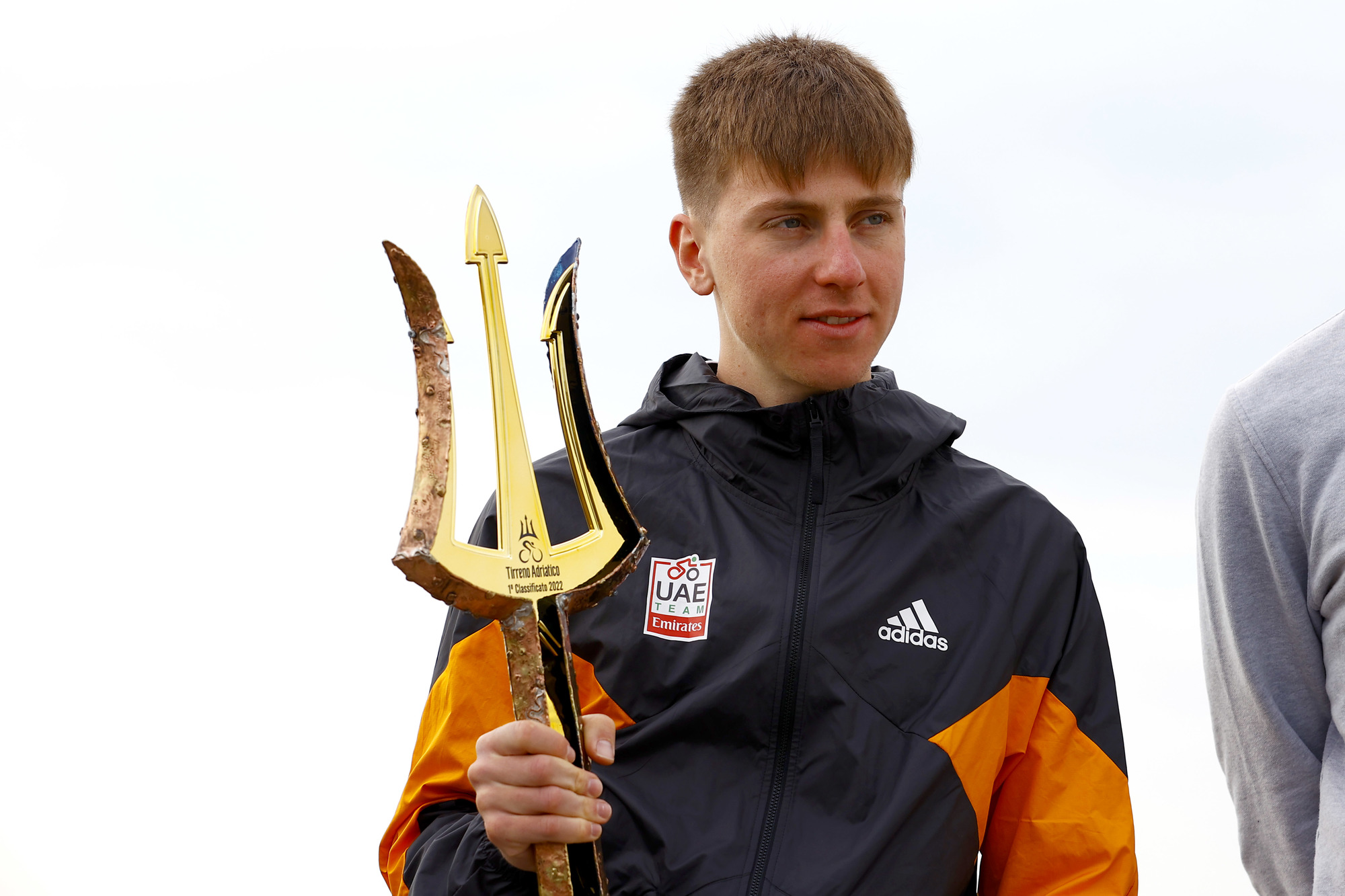 16:15 for Alaphilippe at the finish, good for seventh quickest so far.
Lluis Mas went from 20th at the checkpoint to fourth at the finish. Nice negative split from the Movistar man. 16:06 for the Spaniard.
Tobias Ludvigsson has had a nice opening half. 7:31 and third for the Swede.
The quickest man so far today – Alex Dowsett.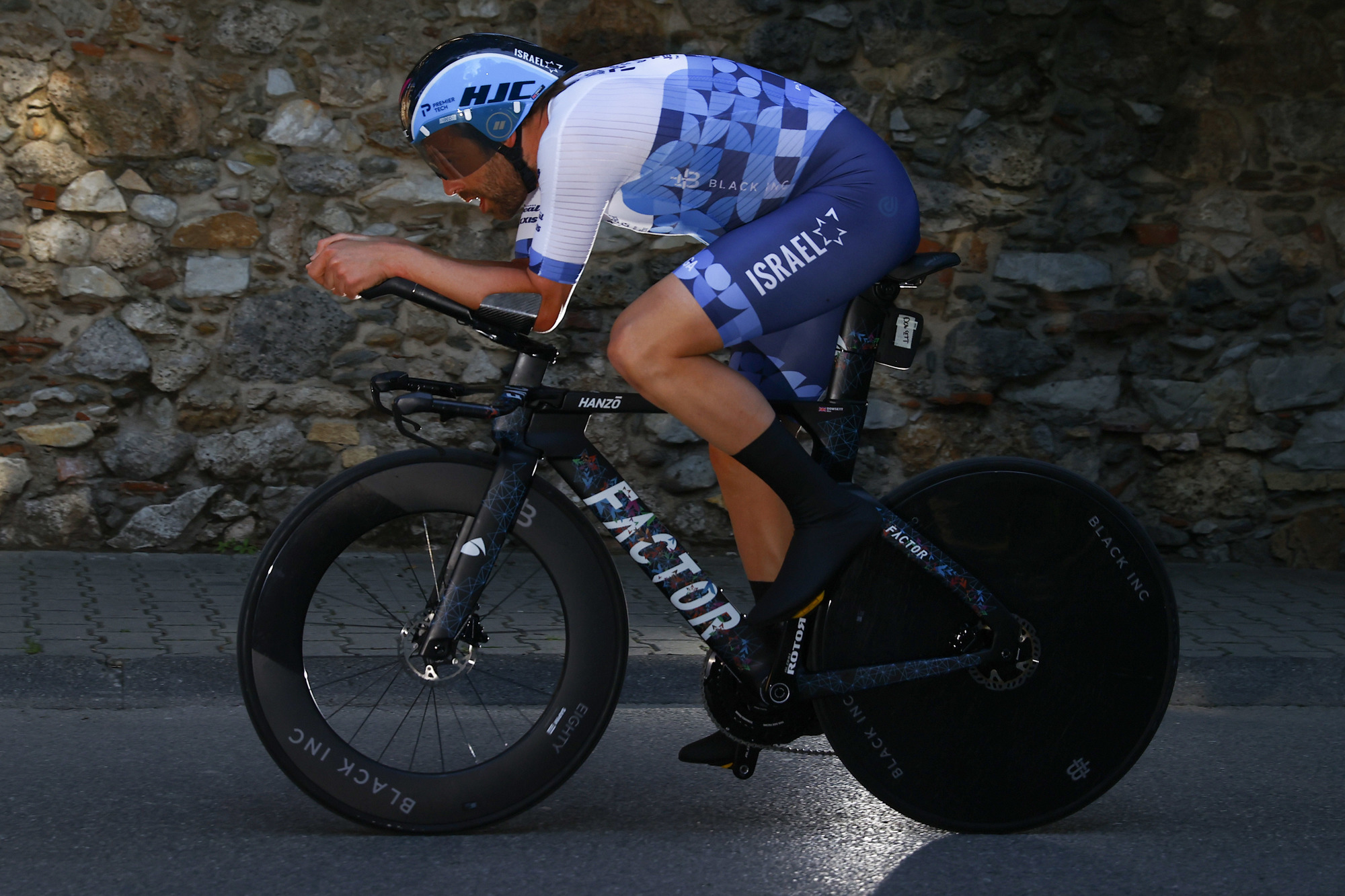 7:31 for Jos Van Emden at the checkpoint puts him fourth there. Some more notable names heading out now.
Nelson Oliveira, Tao Geoghegan Hart, and Jai Hindley also out on course.
Marc Soler and Manuele Boaro finish a minute apart and the pair are separated by a second at the line. Fourth at 16:04 for the Spaniard and sixth at 16:05 for the Italian, either side of Cerny.
Geoghegan Hart sped up in the second half of his ride. He just got under 16 minutes with a time of 15:59 to go fourth.
Top five so far...
1 Alex Dowsett (GBr) Israel-Premier Tech 0:15:42
2 Thymen Arensman (Ned) Team DSM 0:15:45
3 Tobias Ludvigsson (Swe) Groupama-FDJ 0:15:49
4 Jos Van Emden (Ned) Jumbo-Visma 0:15:50
5 Tao Geoghegan Hart (GBr) Ineos Grenadiers 0:15:59
Sixth at 16:01 for Nelson Oliveira. Still just the five men under 16 minutes.
Cort, Démare, Nizzolo, Moscon, Carapaz out on course at the moment.
Edoardo Affini (Jumbo-Visma) sets off. One to watch and possibly the first man to best Dowsett today.
Carlton Kirby just said that Affini looks like a praying mantis.
Kasper Asgreen (QuickStep-AlphaVinyl) heads out two minutes after Affini.
Merlier, Kelderman, Sagan, Fuglsang, López start in the next 15 minutes.
7:39 for Carapaz at the checkpoint puts him in 13th place.
Affini third at the checkpoint, five seconds down on Dowsett.
The wind, blowing in off the coast, does slightly favour riders on the way back, though.
15:56 and fifth for Lawson Craddock at the line. He edges out Geoghegan Hart.
Meanwhile, Kasper Asgreen beats Affini by two seconds at the checkpoint. Can either of them unseat Dowsett?
Gran Camiño TT winner Mark Padun (EF-Easypost) sets off. There are quite a few more specialists taking part today than there were at the Spanish race, though.
🇮🇹 #TirrenoAdriaticoTT faces 😤🥵 pic.twitter.com/vFXrEHud2BMarch 7, 2022
10th for Ecuadorian TT champion Carapaz at the line, 22 seconds down on Dowsett.
Affini is not going to beat Dowsett here. Final 500 metres.
He finishes seventh at 16:01.
Ganna sets off in five minutes.
Wellens, Vingegaard, Tratnik, Evenepoel, Jungels, Mas follow at one-minute intervals.
Dowsett has finally been unseated! Asgreen is the man to do it.
The Dane finishes at 15:41 to pip the Briton by a second.
Bjerg is out on course, curiously wearing just one glove.
Padun 25th at the checkpoint. Fuglsang 30th.
Vingegaard and Tratnik are off. Now it's Evenepoel's turn to start.
7:40 for Bjerg at the checkpoint, not the best start for him.
15 minutes until Pogačar, the last man, starts.
10th at 7:36 for Italian TT champion Matteo Sobrero.
Miguel Angel López a further eight seconds down.
Here's @TamauPogi warming up ahead of his TT run at #TirrenoAdriatico .🔥#UAETeamEmirates #WeAreUAE pic.twitter.com/SYGgSkxaq2March 7, 2022
7:17 at the checkpoint for Ganna. A full nine seconds up on Dowsett's previous best time.
Couple of minutes until we see Evenepoel pass the checkpoint.
Ganna passes his minute man Vincenzo Albanese.
7:43 and 22nd place at the check for Jonas Vingegaard.
15:56 for Bjerg at the line, sixth place.
Lopez eighth at 15:59.
Evenepoel two seconds down on Ganna at the checkpoint!
Sobrero 15:56 at the line to go seventh.
Urán, Ciccone, Benjamin Thomas, Konovalovas, Brändle, Pogačar still to run.
Ganna storming to the line here. No doubt he'll be top at the finish.
15:17 for Ganna at the line and Asgreen promptly gets up from the hot seat. He smashed the Dane's time.
Evenepoel around three minutes from the finish.
15:28 for Evenepoel at the finish, 11 seconds down on Ganna. Not close in the end but still a great ride.
Now we wait for Pogačar.
It looks like this man will take the win today, then.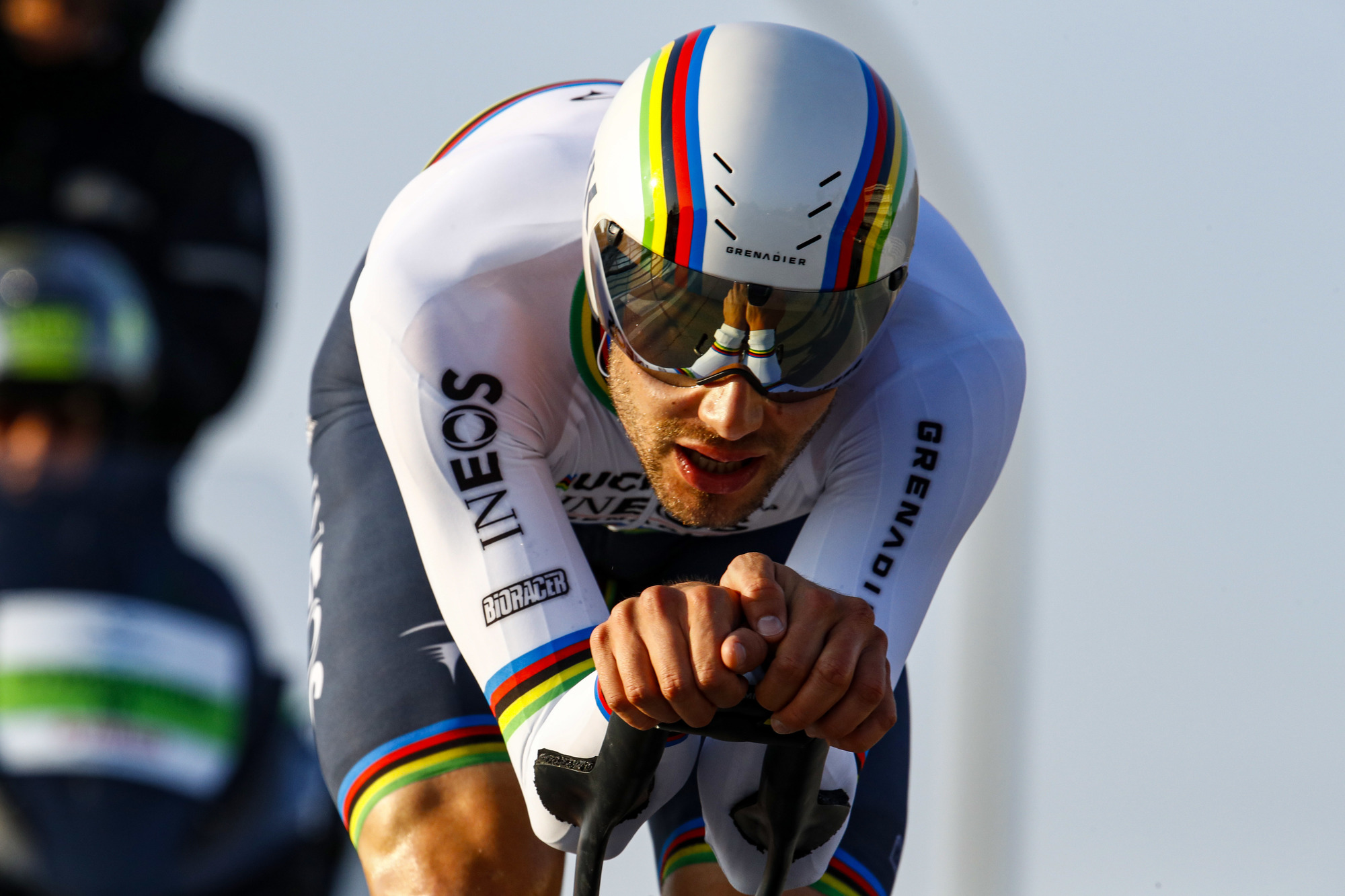 Pogačar out on the course now. We'll see what he can do soon.
Benjamin Thomas in the top 10 at the first check, 16 seconds down on Ganna.
Couple of minutes until he makes the first checkpoint. Will he get close to Ganna and Evenepoel there?
7:29 and fifth for Pogačar at the checkpoint. 12 seconds down. Ganna has this.
16:20 for Uran at the finish, 40th place.
Benjamin Thomas 11th at the finish, 41 seconds down. He edges out López, who had a great ride today.
Just a few minutes until Pogačar comes to the line.
Ganna waits in the hot seat next to a massive Tissot watch indicating the timing sponsors of the race. It's almost as big as the awful Richard Mille watches that Pogačar and a chunk of the rest of the peloton insist on wearing.
Pogačar goes past Ganna's time of 15:17.
Final few hundred metres for him.
15:35 and third place for Pogačar. That's 17 seconds down on Ganna and seven down on Evenepoel.
The top 10 on the stage...
1 Filippo Ganna (Ita) Ineos Grenadiers 0:15:18
2 Remco Evenepoel (Bel) Quick-Step Alpha Vinyl Team 0:00:10
3 Tadej Pogacar (Slo) UAE Team Emirates 0:00:18
4 Kasper Asgreen (Den) Quick-Step Alpha Vinyl Team 0:00:24
5 Alex Dowsett (GBr) Israel-Premier Tech 0:00:25
6 Thymen Arensman (Ned) Team DSM 0:00:28
7 Tobias Ludvigsson (Swe) Groupama-FDJ 0:00:31
8 Jos van Emden (Ned) Jumbo-Visma 0:00:33
9 Mikkel Bjerg (Den) UAE Team Emirates 0:00:38
10 Matteo Sobrero (Ita) BikeExchange-Jayco 0:00:39
Ganna speaking after his win...
"Today it was special race. I have pushed a lot for the team to come here because I love this race, and today I showed how much I want to win this race. It's an important result for me and the team and now we think about tomorrow.
"When we start it was a lot of headwind, and I think 'ah, today is hard' but then after the turn you see the speed improve, stayed at 55kph. It's a special race and a special result. At the moment it's a good time gap but tomorrow is a hard day with a sprint and we'll see how it concerns the jersey.
"For sure support the team like Richie [Porte] and Richard [Carapaz]. Then we'll see if my legs are ready to arrive in more stages. For sure we need to save a little energy because in less than two weeks we have a special race in Italy [Milan-San Remo] and I want to arrive with good legs."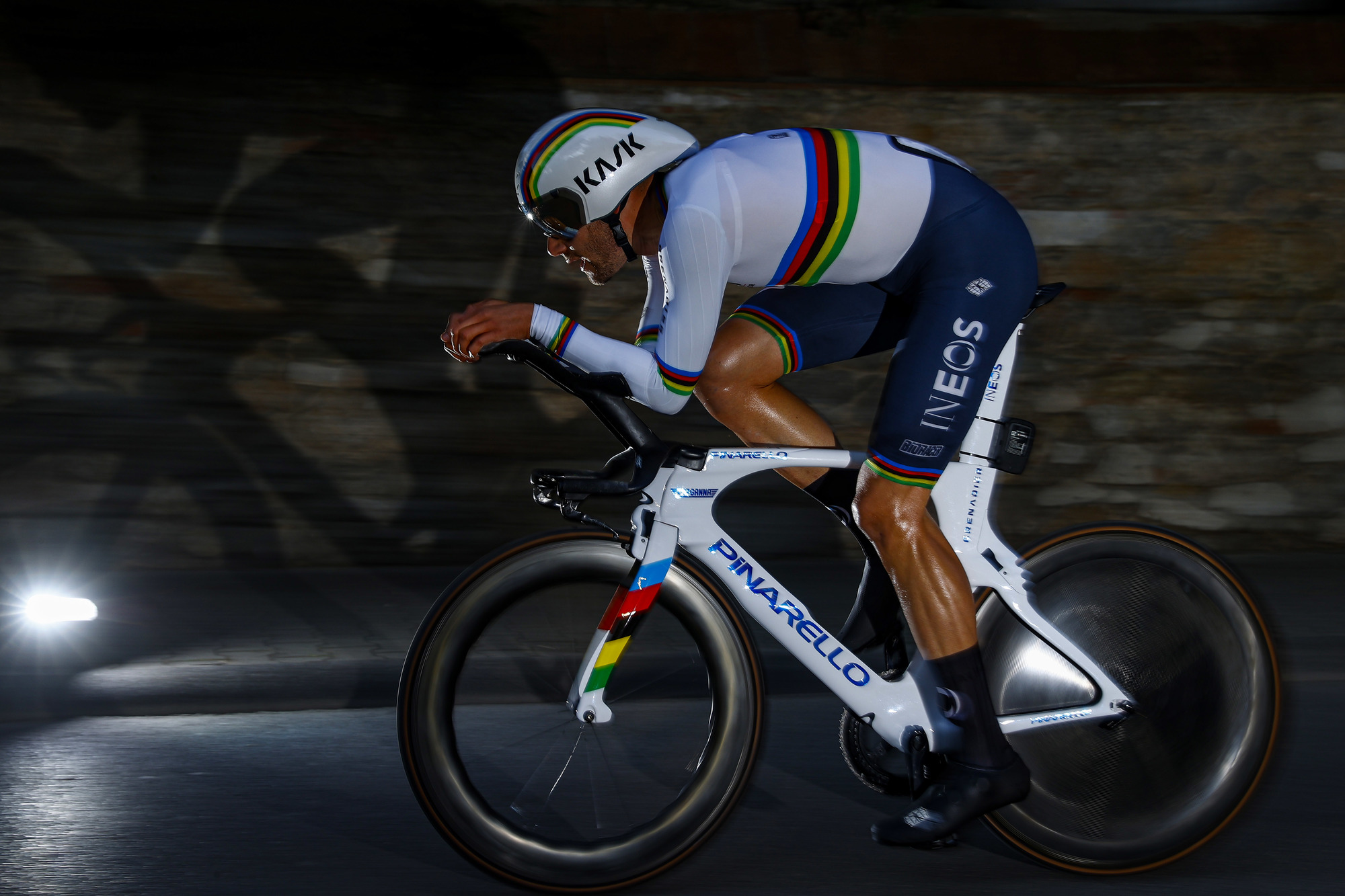 Evenepoel speaks...
"I think I maybe could go a bit faster, but I think I took the maximum out of my legs, so I think second is maybe the best result of the day.
"As I said before already, Tadej also has a really good time trial so I knew I could take a maximum of around 10 or maybe 15 seconds. But he also had a good day, he's in really good shape. I don't know how much I have in front of him but it's not that much, so I just took the maximum out of my day. I really hoped to take the blue jersey today but white is also nice.
"We'll see day by day. First, I'm going to try to recover because it was an intense time trial. We are also here with Mark [Cavendish] and we'll also go for some stage wins for Mark in the sprint."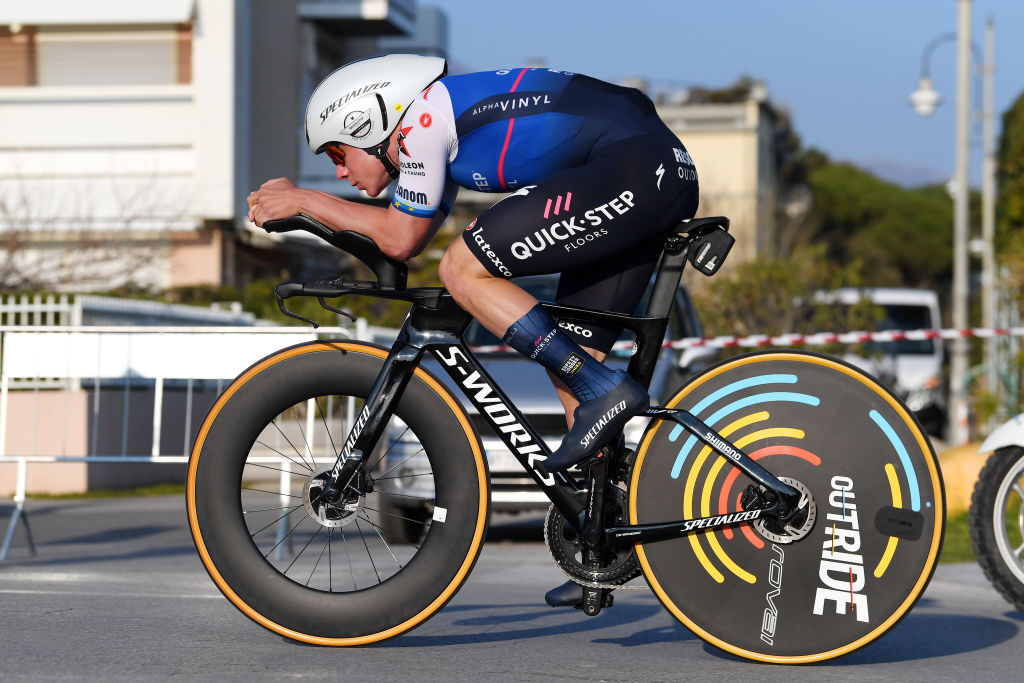 A look at how some of the key GC men stand after today's stage...
Remco Evenepoel (QuickStep-AlphaVinyl) 0:15:28
Tadej Pogačar (UAE Team Emirates) 0:00:08
Miguel Angel López (Astana Qazaqstan) 0:00:31
Tao Geoghegan Hart (Ineos Grenadiers) 0:00:31
Richard Carapaz (Ineos Grenadiers) 0:00:36
Richie Porte (Ineos Grenadiers) 0:00:40
Jonas Vingegaard (Jumbo-Visma) 0:00:42
Wilco Kelderman (Bora-Hansgrohe) 0:00:52
Enric Mas (Movistar) 0:00:59
Mikel Landa (Bahrain Victorious) 0:01:12
Ganna in the first blue leader's jersey of the race.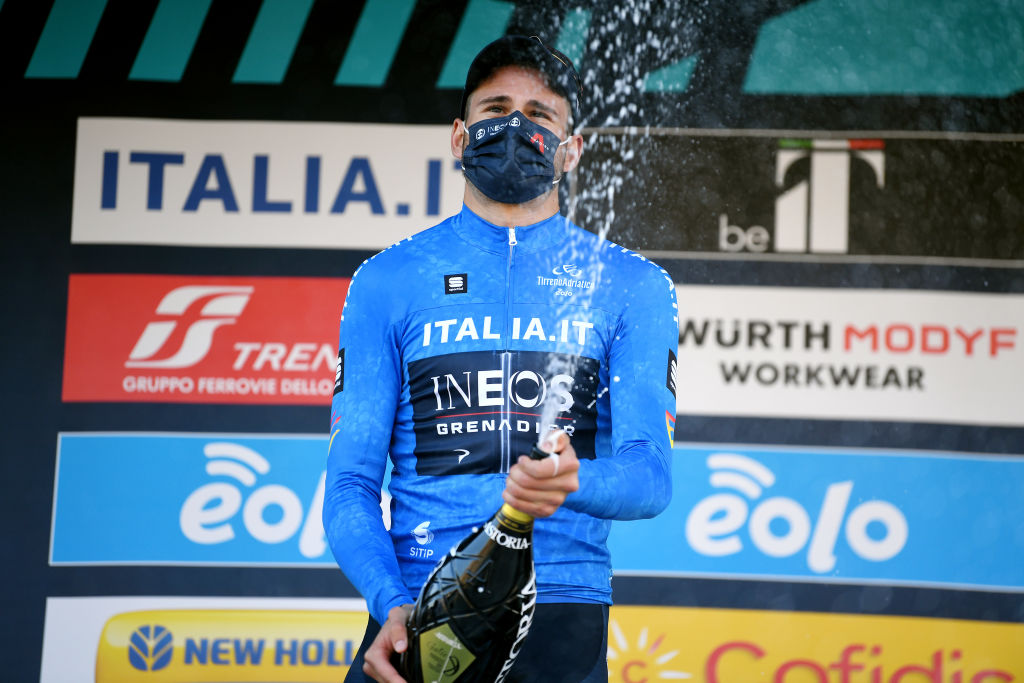 Ganna in the points jersey.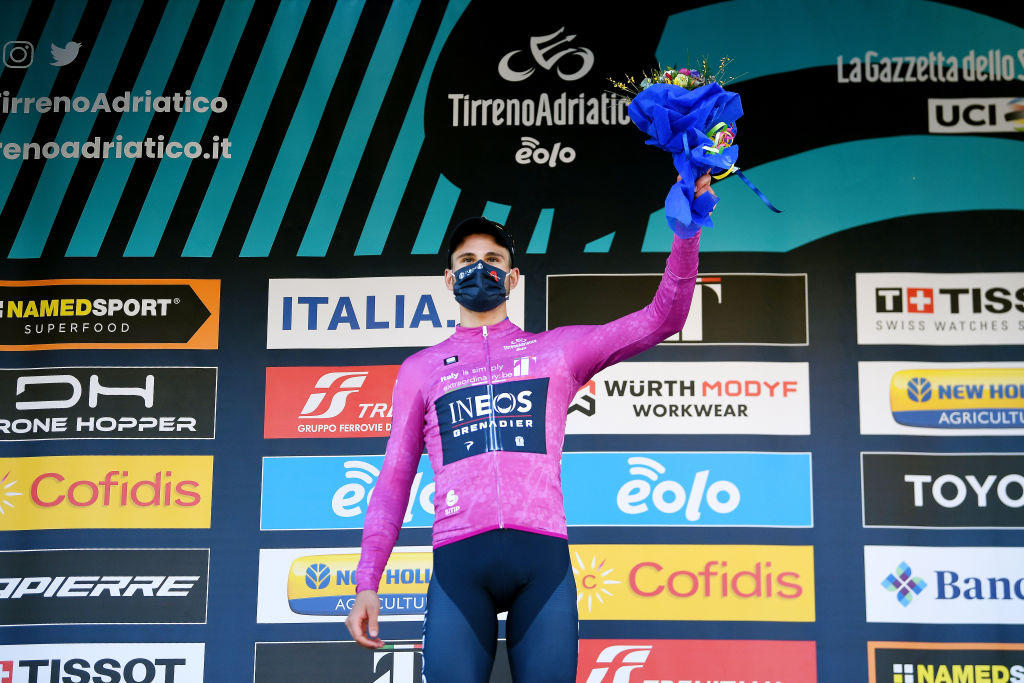 Evenepoel in the white jersey as best young rider.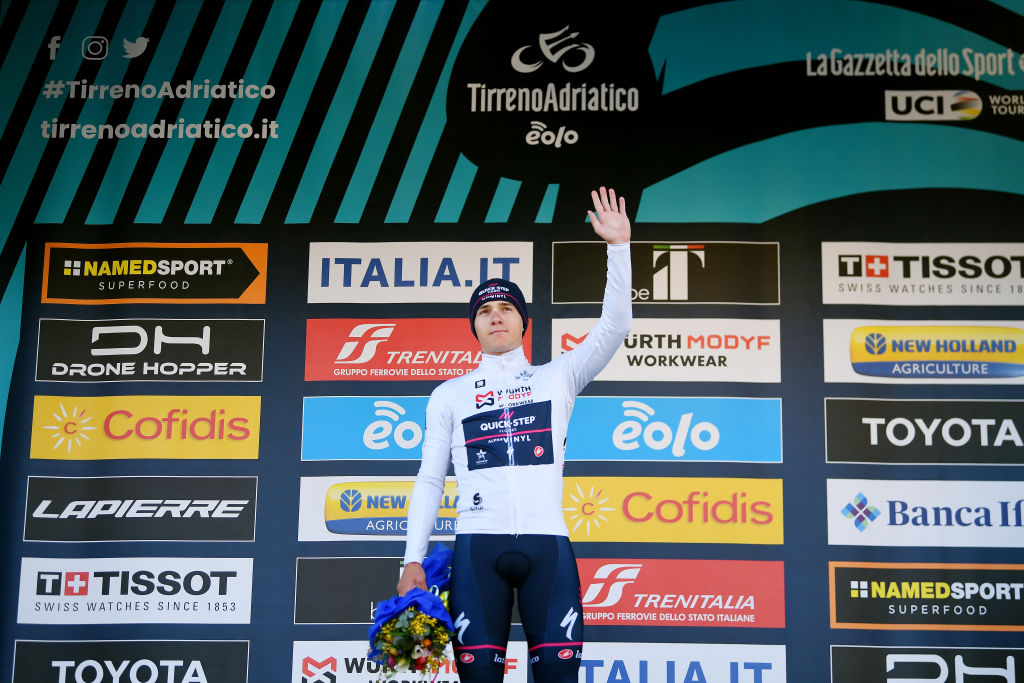 That's all for our live coverage of today's opening stage. We'll be bringing you more news from the race through the evening and of course, more live coverage tomorrow from both Tirreno-Adriatico and Paris-Nice.