Valverde wins Spanish time trial title
Olaberria Dorronsoro repeats as women's champion
Image 1 of 60
Image 2 of 60
Image 3 of 60
Image 4 of 60
Image 5 of 60
Image 6 of 60
Image 7 of 60
Image 8 of 60
Image 9 of 60
Image 10 of 60
Image 11 of 60
Image 12 of 60
Image 13 of 60
Image 14 of 60
Image 15 of 60
Image 16 of 60
Image 17 of 60
Image 18 of 60
Image 19 of 60
Image 20 of 60
Image 21 of 60
Image 22 of 60
Image 23 of 60
Image 24 of 60
Image 25 of 60
Image 26 of 60
Image 27 of 60
Image 28 of 60
Image 29 of 60
Image 30 of 60
Image 31 of 60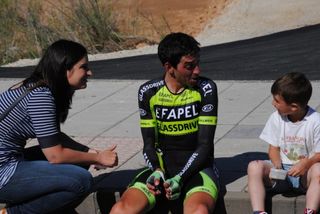 Image 32 of 60
Image 33 of 60
Image 34 of 60
Image 35 of 60
Image 36 of 60
Image 37 of 60
Image 38 of 60
Image 39 of 60
Image 40 of 60
Image 41 of 60
Image 42 of 60
Image 43 of 60
Image 44 of 60
Image 45 of 60
Image 46 of 60
Image 47 of 60
Image 48 of 60
Image 49 of 60
Image 50 of 60
Image 51 of 60
Image 52 of 60
Image 53 of 60
Image 54 of 60
Image 55 of 60
Image 56 of 60
Image 57 of 60
Image 58 of 60
Image 59 of 60
Image 60 of 60
The Movistar team swept not just the podium, but the top six places in the Spanish national championship time trial, with Alejandro Valverde claiming his first time trial national title over Ion Izagirre and Jonathan Castroviejo.
Valverde clocked a 58:00 on the 47.1km course, topping Izagirre by nearly a minute. Castroviejo was eight seconds further back, just edging out Jesus Herrada for the final podium spot.
"I'm surprised at this victory," Valverde said. The 34-year-old just returned from his post-Classics break at the Route du Sud, where he finished second overall, but was not expecting to be the best of his country. "We know that Ion does good time trials, and Castro is a great 'croner' and demonstrates it every day. We also have other rivals such as Eloy Teruel and Luis Sánchez León who prepared specifically for this time trial.
"I went well in La Route du Sud after two months without competing, and I think that this effort has given me a good starting point for the Tour de France. To win a time trial of 47km here gives me a lot confidence for July."
Full Results
Elite Men

| # | Rider Name (Country) Team | Result |
| --- | --- | --- |
| 1 | Alejandro Valverde (Spa) Movistar Team | 0:58:00 |
| 2 | Ion Izagirre (Spa) Movistar Team | 0:00:56 |
| 3 | Jonathan Castroviejo (Spa) Movistar Team | 0:01:04 |
| 4 | Jesús Herrada (Spa) Movistar Team | 0:01:06 |
| 5 | Imanol Erviti (Spa) Movistar Team | 0:01:19 |
| 6 | Beñat Intxausti (Spa) Movistar Team | 0:01:24 |
| 7 | Eloy Teruel (Spa) Jamis-Hagens Berman | 0:01:47 |
| 8 | J Antonio de Segovia (Spa) Froiz | 0:02:18 |
| 9 | Omar Fraile (Spa) Caja Rural-RGA | 0:02:24 |
| 10 | Diego Rubio (Spa) Efapel | 0:02:37 |
| 11 | Jon Larrinaga (Spa) Euskadi | 0:03:25 |
| 12 | Víctor de la Parte (Spa) Efapel | 0:03:34 |
| 13 | Igor Merino (Spa) Burgos BH | 0:03:36 |
| 14 | Garikoitz Bravo (Spa) Efapel | 0:03:47 |
| 15 | Alberto Torres (Spa) Team Ecuador | 0:03:51 |
| 16 | Illart Zuazubiskar (Spa) Euskadi | 0:03:53 |
| 17 | Beñat Txoperena (Spa) Euskadi | 0:03:57 |
| 18 | David Muntaner (Spa) Active Team | 0:03:59 |
| 19 | Luis León Sánchez (Spa) Caja Rural-RGA | 0:04:05 |
| 20 | Marcos Jurado (Spa) Seguros Bilbao | 0:04:08 |
Elite Women

| # | Rider Name (Country) Team | Result |
| --- | --- | --- |
| 1 | Leire Olaberria (Spa) Bizkaia-Durango | 0:41:48 |
| 2 | Belén López (Spa) Lointek | 0:00:24 |
| 3 | Anna Ramírez (Spa) Catalunya | 0:00:32 |
| 4 | Gloria Rodríguez (Spa) Navarra | 0:00:55 |
| 5 | Rocío Martín (Spa) Semar | 0:00:59 |
| 6 | Anna Sanchís (Spa) Comunidad Valenciana | 0:01:07 |
| 7 | Irene Usabiaga (Spa) Euskadi | 0:01:23 |
| 8 | Loures Oyarbide (Spa) Euskadi | 0:02:01 |
| 9 | Mayalen Noruega (Spa) Catalunya | 0:02:14 |
| 10 | Cristina Navarro (Spa) Catalunya | 0:02:28 |
| 11 | Sheyla Gutiérrez (Spa) La Rioja | 0:03:05 |
| 12 | Alicia González (Spa) Asturias | 0:03:33 |
| 13 | Sara García (Spa) Castilla y León | 0:04:21 |
| 14 | Mª del Mar Solera (Spa) Reyno de Navarra | 0:04:28 |
| 15 | Ane Iriarte (Spa) Euskadi | 0:04:46 |
| 16 | Ana López (Spa) Comunidad Madrid | 0:05:24 |
| 17 | Esther Muñoz (Spa) Comunidad Madrid | 0:05:55 |
| 18 | Ainhoa Candil (Spa) Castilla y León | 0:06:01 |
| 19 | Cristina Barrado (Spa) Francisco Pizarro | 0:06:34 |
| 20 | Elisabet Bru (Spa) Servetto Footon | 0:06:54 |
| 21 | Raquel Acinas (Spa) Génesis | 0:09:02 |
| 22 | Ana Fernández (Spa) Francisco Pizarro | 0:16:03 |
Cyclingnews Newsletter
Sign up to the Cyclingnews Newsletter. You can unsubscribe at any time. For more information about how to do this, and how we hold your data, please see our privacy policy