Keegan Swenson wins Leadville Trail 100 MTB
Lachlan Morton second and Howard Grotts third with Peter Stetina in fourth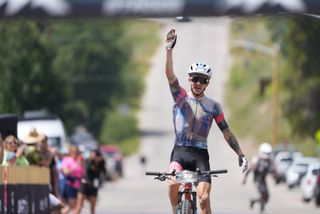 (Image credit: Wil Matthews)
Keegan Swenson came out on top to win the 2021 Leadville Trail 100 on Saturday. The American beat Lachlan Morton (EF Education Nippo) by close to eight minutes, finishing the race in a time of six hours and 11 minutes. Howard Grotts completed the podium, finishing over ten minutes behind Swenson.
Swenson made his move on Powerline inbound, where he distanced his main rivals.
"I just tried to ride smooth, Lachlan is a heck of a rider and so is Howard. Columbine was my favorite part of the course -- I loved the views, seeing everyone climbing up as I was descending, everyone was cheering for each other. I'm definitely coming back next year," he said.

Peter Stetina had been given fourth, ahead of Payson McElveen, but race organisers later corrected the pair's finishing times, which appeared to fall out of sync due to a timing chip error with McElveen elevated to fourth on the same time as Stetina. Both riders are set to compete in the SBT GRVL race on Sunday.
Swipe to scroll horizontally
Results

| Pos. | Rider Name (Country) Team | Result |
| --- | --- | --- |
| 1 | Keegan Swenson | 6:11:26 |
| 2 | Lachlan Morton | 0:07:56 |
| 3 | Howard Grotts | 0:10:21 |
| 4 | Peter Stetina | 0:12:45 |
| 5 | Payson McElveen | 0:12:47 |
| 6 | Russell Finsterwald | 0:15:45 |
| 7 | Eddie Anderson | 0:23:50 |
| 8 | Alexey Vermeulen | 0:30:00 |
| 9 | Alex Wild | 0:30:01 |
| 10 | Cory Wallace | 0:30:28 |
| 11 | Cody Waite | 0:35:00 |
| 12 | Ryan Petry | 0:37:26 |
| 13 | Cameron Piper | 0:38:39 |
| 14 | Alex Howes | 0:44:25 |
| 15 | Jake Wells | 0:55:25 |
| 16 | Jimmy Smith | 0:56:31 |
| 17 | Scott Tietzel | 0:57:08 |
| 18 | Eric Fischer | 1:04:11 |
| 19 | Laurens Ten Dam | 1:04:20 |
| 20 | Eli Kranefuss | 1:04:43 |
| 21 | Nicholas Jenkins | 1:05:11 |
| 22 | Matt Acker | 1:10:08 |
| 23 | Danny Van Wagoner | 1:12:53 |
| 24 | Andrew Clemence | 1:15:40 |
| 25 | Aaron Pool | 1:25:10 |
| 26 | Will Loevner | 1:28:12 |
| 27 | Jason Kiefer | 1:29:24 |
| 28 | Olivier Lavigueur | 1:33:21 |
| 29 | Juan Carlos Alvarado | 1:35:05 |
| 30 | Tj Eisenhart | 1:41:04 |
| 31 | Justin Holle | 1:42:21 |

Thank you for reading 5 articles in the past 30 days*
Join now for unlimited access
Enjoy your first month for just £1 / $1 / €1
*Read any 5 articles for free in each 30-day period, this automatically resets
After your trial you will be billed £4.99 $7.99 €5.99 per month, cancel anytime. Or sign up for one year for just £49 $79 €59

Join now for unlimited access
Try your first month for just £1 / $1 / €1