Cavagna wins Dwars door West-Vlaanderen
Senechal second as Quick-Step place four riders in the top 7
Image 1 of 3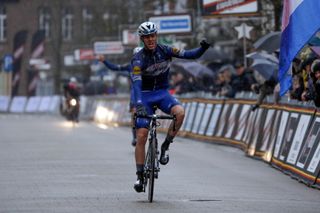 Image 2 of 3
Image 3 of 3
Remi Cavagna landed his first victory as a professional as Quick-Step Floors dominated their second Belgian semi-classic in the space of a week.
"It was super hard and cold today, but I felt good since the start of the race," Cavagna said. "Actually, I have been feeling good since last season and have waited for this victory for a long time. I wanted this win so badly, I can't tell you how important it's for me to finally get it. I have made mistakes in the past, attacking too early, so today I said to myself''Don't attack, wait, wait, wait!' and it worked out perfectly in the end."
After Niki Terpstra won Le Samyn in a one-two with Philippe Gilbert, Cavagna did the same with compatriot Florian Senechal.
When the race came to life with just under 50km remaining, the duo went clear together in a three-man group alongside Lotto Soudal's Frederik Frison. They made the move work and there was little Frison could do when Cavagna, 22, went it alone with 7km to go.
Senechal left Frison in sight of the line to make it a Quick-Step one-two, while neo-pro Fabio Jakobsen took fourth from the next group of four, which also contained fellow neo-pro Jhonatan Narvaez.
"We had the upper hand in that group, but Frison was really strong and at one point I even got dropped on the cobbles, but kept calm, knowing I had enough left in the tank," Cavagna explained. "My legs were really hurting, but I ignored the pain and managed to come back, and then I launched a now-or-never attack, powering ahead with all I had. I needed this win and it gives me a huge boost of confidence and even more motivation for the next races."
Full Results
| # | Rider Name (Country) Team | Result |
| --- | --- | --- |
| 1 | Rémi Cavagna (Fra) Quick-Step Floors | 4:28:29 |
| 2 | Florian Senechal (Fra) Quick-Step Floors | 0:00:03 |
| 3 | Frederik Frison (Bel) Lotto Soudal | 0:00:10 |
| 4 | Fabio Jakobsen (Ned) Quick-Step Floors | 0:00:55 |
| 5 | Anthony Turgis (Fra) Cofidis, Solutions Credits | |
| 6 | Guillaume Van Keirsbulck (Bel) Wanty-Groupe Gobert | |
| 7 | Jhonatan Narvaez (Ecu) Quick-Step Floors | |
| 8 | Christophe Noppe (Bel) Sport Vlaanderen-Baloise | 0:00:59 |
| 9 | Michael Goolaerts (Bel) Veranda's Willems Crelan | |
| 10 | Jimmy Duquennoy (Bel) WB Aqua Protect Veranclassic | |
| 11 | Tanner Putt (USA) UnitedHealthcare Pro Cycling | |
| 12 | Pim Ligthart (Ned) Roompot-Nederlandse Loterij | |
| 13 | Adrien Petit (Fra) Direct Energie | |
| 14 | Kamil Gradek (Pol) CCC Sprandi Polkowice | |
| 15 | Davide Martinelli (Ita) Quick-Step Floors | |
| 16 | Dorian Godon (Fra) Cofidis, Solutions Credits | |
| 17 | Edward Planckaert (Bel) Sport Vlaanderen-Baloise | |
| 18 | Stephan Bakker (Ned) Monkey Town | |
| 19 | Peter Lenderink (Ned) SEG Racing Academy | |
| 20 | Jordi Meeus (Bel) SEG Racing Academy | |
| 21 | Alvaro Hodeg (Col) Quick-Step Floors | |
| 22 | Romain Cardis (Fra) Direct Energie | |
| 23 | Milan Menten (Bel) Sport Vlaanderen-Baloise | |
| 24 | Bryan Coquard (Fra) Vital Concept Club | |
| 25 | Yoann Offredo (Fra) Wanty-Groupe Gobert | |
| 26 | Lawrence Naesen (Bel) Lotto Soudal | |
| 27 | Nikolay Trusov (Rus) Gazprom-Rusvelo | |
| 28 | Adriaan Janssen (Ned) Delta Cycling Rotterdam | |
| 29 | Remy Mertz (Bel) Lotto Soudal | |
| 30 | Peter Schulting (Ned) Monkey Town | |
| 31 | Pawel Bernas (Pol) CCC Sprandi Polkowice | |
| 32 | Wesley Kreder (Ned) Wanty-Groupe Gobert | |
| 33 | Alexandre Pichot (Fra) Direct Energie | |
| 34 | Brecht Ruyters (Bel) Cibel-Cebon | |
| 35 | Roy Jans (Bel) Cibel-Cebon | 0:02:35 |
| 36 | Jelle Mannaerts (Bel) Tarteletto-Isorex | 0:02:41 |
| 37 | Floris Gerts (Ned) Roompot-Nederlandse Loterij | 0:02:42 |
| 38 | Enzo Wouters (Bel) Lotto Soudal | |
| 39 | Gianni Marchand (Bel) Cibel-Cebon | |
| 40 | Kenneth Van Rooy (Bel) Sport Vlaanderen-Baloise | |
| 41 | Ivan Rovny (Rus) Gazprom-Rusvelo | |
| 42 | Jimmy Turgis (Fra) Cofidis, Solutions Credits | |
| 43 | Sjoerd van Ginneken (Ned) Roompot-Nederlandse Loterij | |
| 44 | Jimmy Janssens (Bel) Cibel-Cebon | |
| 45 | Jonas Van Genechten (Bel) Vital Concept Club | |
| 46 | Bert De Backer (Bel) Vital Concept Club | |
| 47 | Kris Boeckmans (Bel) Vital Concept Club | |
| 48 | Brian van Goethem (Ned) Roompot-Nederlandse Loterij | 0:03:58 |
| 49 | Arjen Livyns (Bel) Beat Cycling Club | |
| 50 | Luuc Bugter (Ned) Delta Cycling Rotterdam | 0:04:38 |
| 51 | Piotr Havik (Ned) Beat Cycling Club | |
| 52 | Ide Schelling (Ned) SEG Racing Academy | |
| 53 | Henrik Evensen (Nor) Joker Icopal | |
| 54 | Johan Le Bon (Fra) Vital Concept Club | |
| 55 | Jason van Dalen (Ned) Delta Cycling Rotterdam | 0:04:42 |
| 56 | Dimitri Claeys (Bel) Cofidis, Solutions Credits | |
| 57 | Timothy Stevens (Bel) Cibel-Cebon | |
| 58 | Rob Ruijgh (Ned) Tarteletto-Isorex | |
| 59 | Justin Timmermans (Ned) Delta Cycling Rotterdam | |
| 60 | Gijs Meijer (Ned) Delta Cycling Rotterdam | |
| 61 | David Boucher (Bel) Tarteletto-Isorex | |
| 62 | Rens Tulner (Ned) Delta Cycling Rotterdam | 0:05:00 |
| 63 | Marten Kooistra (Ned) SEG Racing Academy | |
| 64 | Maximiliano Richeze (Arg) Quick-Step Floors | 0:10:00 |
| 65 | Simon Sellier (Fra) Direct Energie | |
| 66 | Sven van Luijk (Ned) Monkey Town | |
| 67 | Ole Forfang (Nor) Joker Icopal | |
| 68 | Bas Tietema (Ned) Beat Cycling Club | |
| 69 | Cees Bol (Ned) SEG Racing Academy | |
| 70 | Sergio Torres Jorro (Spa) Tarteletto-Isorex | |
| 71 | Arnaud Gerard (Fra) Fortuneo-Oscaro | |
| 72 | Dmitriy Kozontchuk (Rus) Gazprom-Rusvelo | |
| 73 | Julius van Den Berg (Ned) SEG Racing Academy | |
| 74 | Benoit Jarrier (Fra) Fortuneo-Oscaro | |
| 75 | Loic Chetout (Fra) Cofidis, Solutions Credits | |
| 76 | Aksel Nõmmela (Est) Beat Cycling Club | |
| 77 | Kristoffer Skjerping (Nor) Joker Icopal | |
| 78 | Dennis Coenen (Bel) Cibel-Cebon | |
| DNF | Maxime Vantomme (Bel) WB Aqua Protect Veranclassic | |
| DNF | Mathias Van Gompel (Bel) Sport Vlaanderen-Baloise | |
| DNF | Romain Le Roux (Fra) Fortuneo-Samsic | |
| DNF | Maxime Farazijn (Bel) Sport Vlaanderen-Baloise | |
| DNF | Michael Carbel Svendgaard (Den) Fortuneo-Samsic | |
| DNF | Frederik Backaert (Bel) Wanty-Groupe Gobert | |
| DNF | Tom Devriendt (Bel) Wanty-Groupe Gobert | |
| DNF | Lachlan Norris (Aus) UnitedHealthcare | |
| DNF | Travis Mccabe (USA) UnitedHealthcare | |
| DNF | Eric Marcotte (USA) UnitedHealthcare | |
| DNF | Daniel Eaton (USA) UnitedHealthcare | |
| DNF | Yohann Gene (Fra) Direct Energie | |
| DNF | Alexander Cataford (Can) UnitedHealthcare | |
| DNF | Aidis Kruopis (Ltu) Veranda's Willems Crelan | |
| DNF | Benjamin Declercq (Bel) Sport Vlaanderen-Baloise | |
| DNF | Alex Kirsch (Lux) WB Aqua Protect Veranclassic | |
| DNF | Stijn Steels (Bel) Veranda's Willems Crelan | |
| DNF | Timothy Dupont (Bel) Wanty-Groupe Gobert | |
| DNF | Pieter Vanspeybrouck (Bel) Wanty-Groupe Gobert | |
| DNF | Elias Van Breussegem (Bel) Veranda's Willems Crelan | |
| DNF | Jeremy Cornu (Fra) Direct Energie | |
| DNF | Axel Journiaux (Fra) Direct Energie | |
| DNF | Lukas Spengler (Swi) WB Aqua Protect Veranclassic | |
| DNF | Kenny Dehaes (Bel) WB Aqua Protect Veranclassic | |
| DNF | Ludwig De Winter (Bel) WB Aqua Protect Veranclassic | |
| DNF | Franklin Six (Bel) WB Aqua Protect Veranclassic | |
| DNF | Senne Leysen (Bel) Veranda's Willems Crelan | |
| DNF | Carlos Eduardo Alzate Escobar (Col) UnitedHealthcare | |
| DNF | Sander Armee (Bel) Lotto Soudal | |
| DNF | Wesley Van Dyck (Bel) Beat Cycling Club | |
| DNF | Peter Lenderink (Ned) SEG Racing Academy | |
| DNF | Eamon Lucas (USA) Delta Cycling Rotterdam | |
| DNF | Wim Kleiman (Ned) Monkey Town Continental Team | |
| DNF | Joey Van Rhee (Ned) Monkey Town Continental Team | |
| DNF | Maarten De Jonge (Ned) Monkey Town Continental Team | |
| DNF | Aksel Fischer Aasheim (Nor) Joker Icopal | |
| DNF | Herman Dahl (Nor) Joker Icopal | |
| DNF | Alexander Maes (Bel) Tarteletto - Isorex | |
| DNF | Markus Hoelgaard (Nor) Joker Icopal | |
| DNF | Ylber Sefa (Alb) Tarteletto - Isorex | |
| DNF | Moreno Hofland (Ned) Lotto Soudal | |
| DNF | Jelle Vanendert (Bel) Lotto Soudal | |
| DNF | Tim Ariesen (Ned) Roompot-Nederlandse Loterij | |
| DNF | Martijn Budding (Ned) Roompot-Nederlandse Loterij | |
| DNF | Coen Vermeltfoort (Ned) Roompot-Nederlandse Loterij | |
| DNF | Julien Morice (Fra) Vital Concept Cycling Club | |
| DNF | Patrick Müller (Swi) Vital Concept Cycling Club | |
| DNF | Kenneth Vanbilsen (Bel) Cofidis, Solutions Credits | |
| DNF | Michaël Van Staeyen (Bel) Cofidis, Solutions Credits | |
| DNF | Carl Fredrik Hagen (Nor) Joker Icopal | |
| DNF | Nahom Desale (Eri) Beat Cycling Club | |
| DNF | Florian Vachon (Fra) Fortuneo-Samsic | |
| DNF | Bram Welten (Ned) Fortuneo-Samsic | |
| DNF | Marko Kump (Slo) CCC Sprandi Polkowice | |
| DNF | Jonas Koch (Ger) CCC Sprandi Polkowice | |
| DNF | Adrian Kurek (Pol) CCC Sprandi Polkowice | |
| DNF | Alan Banaszek (Pol) CCC Sprandi Polkowice | |
| DNF | Frantisek Sisr (Cze) CCC Sprandi Polkowice | |
| DNF | Sergey Lagutin (Rus) Gazprom–Rusvelo | |
| DNF | Evgeny Shalunov (Rus) Gazprom–Rusvelo | |
| DNF | Evgeny Kobernyak (Rus) Gazprom–Rusvelo | |
| DNF | Polychronis Tzortzakis (Gre) Tarteletto - Isorex | |
| DNF | Daniel Abraham Gebru (Ned) Beat Cycling Club | |
| DNF | Alex Mengoulas (Ned) Beat Cycling Club | |
| DNF | Maxim Rusnac (Mda) Team Differdange Losch | |
| DNF | Rick Stemper (Lux) Team Differdange Losch | |
| DNF | Joshua Teasdale (GBr) Team Differdange Losch | |
| DNF | Tom Thill (Lux) Team Differdange Losch | |
| DNF | Larry Valvasori (Lux) Team Differdange Losch | |
| DNF | Kevin Verwaest (Bel) Team Differdange Losch | |
| DNF | Jan Petelin (Lux) Team Differdange Losch | |
| DNF | Roman Maikin (Rus) Gazprom–Rusvelo | |
| DNS | Maxime Daniel (Fra) Fortuneo-Samsic | |
| DNS | Zico Waeytens (Bel) Veranda's Willems Crelan | |
| DNS | Andre Looij (Ned) Monkey Town Continental Team | |
Cyclingnews Newsletter
Sign up to the Cyclingnews Newsletter. You can unsubscribe at any time. For more information about how to do this, and how we hold your data, please see our privacy policy