Ceylin del Carmen Alvarado triumphs in Gullegem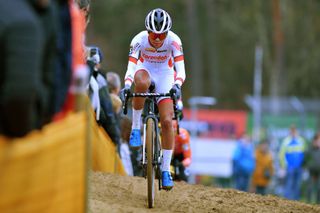 (Image credit: Getty Images)
Ceylin del Carmen Alvarado (Alpecin-Fenix) claimed her 11th win of the season after she beat her fellow Dutchwoman Yara Kastelijn (777) in a two-up sprint after they had duelled at the front for the bulk of the race. Shirin van Anrooij took third place ahead of American Rebecca Fahringer and Ellen Van Loy.
Kastelijn set the tempo at the very outset and only Alvarado could match her initial acceleration, beginning a head-to-head tussle that would endure all the way to the finish as the gap to Van Loy, Van Anrooij and Fahringer opened immediately.
Fahringer chased gamely on the second lap but was unable to bridge across to the Dutch pairing up front. Alvarado, winner of the GP Sven Nys two days ago, piled on the pressure in the later part of the race, but Kastelijn battled to remain in contact all the way to the finish.
Alvarado tried to kick her clear once again on the final lap, but Kastelijn swiftly closed the gap. The European champion finally had to relent in the sprint, however, where her fellow countrywoman Alvarado proved too quick.
In the race for the final step of the podium, 17-year-old Shirin van Anrooij underscored her potential when she won her duel with Fahringer.
Results

| # | Rider Name (Country) Team | Result |
| --- | --- | --- |
| 1 | Ceylin del Carmen Alvarado (Ned) Corendon-Circus | 0:47:25 |
| 2 | Yara Kastelijn (Ned) 777 | 0:00:01 |
| 3 | Shirin Van Anrooij (Ned) | 0:00:30 |
| 4 | Rebecca Fahringer (USA) | 0:00:39 |
| 5 | Ellen Van Loy (Bel) Telenet Baloise Lions | 0:01:49 |
| 6 | Manon Bakker (Ned) Experza pro Cx | 0:01:58 |
| 7 | Karen Verhestraeten (Bel) Iko-Crelan | 0:02:04 |
| 8 | Loes Sels (Bel) Iko-Crelan | 0:02:16 |
| 9 | Clara Honsinger (USA) | 0:02:32 |
| 10 | Marion Norbert Riberolle (Fra) Experza pro Cx | 0:02:56 |
| 11 | Alicia Franck (Bel) Experza pro Cx | 0:03:17 |
| 12 | Joyce Vanderbeken (Bel) | 0:04:31 |
| 13 | Lindy Van Anrooij (Ned) | 0:04:59 |
| 14 | Kim Van de Putte (Bel) | 0:05:27 |
| 15 | Axelle Bellaert (Bel) | 0:06:14 |
| 16 | Emily Werner (USA) | 0:06:29 |
| 17 | Tessa Zwaenepoel (Bel) | 0:06:51 |
| 18 | Siobhan Kelly (Can) | 0:07:04 |
| 19 | Maria Larkin (Irl) | 0:07:24 |
| 20 | Jolien Verschueren (Bel) Pauwels Sauzen-Bingoal | 0:07:35 |
| 21 | Ishbel Strathdee (GBr) | 0:07:45 |
| 22 | Rebecca Gross (USA) | 0:08:03 |
| 23 | Laure Michels (Bel) | 0:08:14 |
| 24 | Lara Defour (Bel) | 0:08:38 |
| 25 | Corey Coogan Cisek (USA) | 0:08:50 |
| 26 | Nele De Vos (Bel) | |
| 27 | Turner Ramsay (USA) | |
| 28 | Connie Hayes (GBr) | |
| 29 | Michelle Geoghegan (Irl) | |
Sign up to the Cyclingnews Newsletter. You can unsubscribe at any time. For more information about how to do this, and how we hold your data, please see our privacy policy