Cadel Evans Great Ocean Road Race: Amanda Spratt leads Orica AIS one-two
Neylan and Wiggle's King complete podium
Elite Women: Geelong - Geelong
Image 1 of 13
Image 2 of 13
Image 3 of 13
Image 4 of 13
Image 5 of 13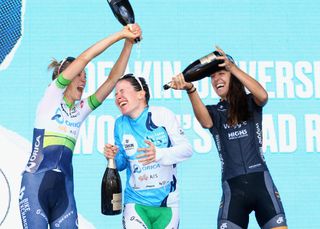 Image 6 of 13
Image 7 of 13
Image 8 of 13
Image 9 of 13
Image 10 of 13
Image 11 of 13
Image 12 of 13
Image 13 of 13
Australian national road race champion Amanda Spratt led home an Orica-AIS one-two in the women's event at the Cadel Evans Great Ocean Road Race on Saturday.
Spratt beat teammate and defending champion Rachel Neylan to the line by 48 seconds, with Dani King (Wiggle High5) finishing a second later and completing the podium.
"It was perfect from kilometer zero. We had Loren Rowney, Chloe McConville and Sarah Roy who did a lot of work to set myself, Rachel and Tayler Wiles up for the final," Spratt said at the finish. "It was just a battle once we got to the climbs. We were constantly attacking and the peloton just kept whittling down, so we just kept the pressure and just kept sticking at it. I thought Rachel's move would stay away with Chloe Hosking, but then it came back so I countered over the top and managed to get away."
Orica-AIS dominated the race, with Spratt's winning move coming inside the final 25 kilometres, after she and her teammates had softened up the peloton over the 113 kilometre course.


Neylan made her most aggressive move with Hosking joining her but the vastly reduced peloton – down to fewer than 20 riders at this point – had just enough to catch the pair.


"It was painful over all those climbs but when you've got a team like that you're always motivated for the finish," added Spratt.


"Taryn Heather jumped across to me and we went pretty hard together for about 15km, opening up a gap of over a minute, the bunch caught us again after the feed zone.
"It was great to have the opportunity to get this jersey thanks to the support of my High5 Dream Team teammates and staff."
Full Results
| # | Rider Name (Country) Team | Result |
| --- | --- | --- |
| 1 | Amanda Spratt (Aus) Orica-AIS | 2:58:45 |
| 2 | Rachel Neylan (Aus) Orica-AIS | 0:00:49 |
| 3 | Danielle King (GBr) Wiggle-High5 | |
| 4 | Chloe Hosking (Aus) Wiggle-High5 | 0:01:03 |
| 5 | Lauren Kitchen (Aus) Hogs Breath Cafe Tineli | |
| 6 | Tiffany Cromwell (Aus) Boss Racing Team | |
| 7 | Tayler Wiles (USA) Orica-AIS | |
| 8 | Ruth Corset (Aus) Rush Women's Team | |
| 9 | Miranda Griffiths (Aus) Holden Women's Cycling Team | |
| 10 | Peta Mullens (Aus) Wiggle-High5 | 0:01:07 |
| 11 | Lucy Kennedy (Aus) High5-Dream Team | 0:01:24 |
| 12 | Kirsten Howard (Aus) Subaru NSWIS NKC | 0:03:16 |
| 13 | Louisa Lobigs (Aus) Holden Women's Cycling Team | 0:03:17 |
| 14 | Ruby Livingstone (NZl) Roxsolt | |
| 15 | Justine Barrow (Aus) Boss Racing Team | |
| 16 | Julie Leth (Den) Hogs Breath Cafe Tineli | |
| 17 | Lucy Garner (GBr) Wiggle-High5 | |
| 18 | Amy Roberts (GBr) Wiggle-High5 | |
| 19 | Loren Rowney (Aus) Orica-AIS | |
| 20 | Genevieve Whitson (GBr) CBR Women's Racing Team | |
| 21 | Joanne Hogan (Aus) Rush Women's Team | |
| 22 | Shannon Malseed (Aus) Holden Women's Cycling Team | 0:05:09 |
| 23 | Tayla Evans (Aus) Bikebug-NextGen | |
| 24 | Emily Cunningham (Aus) Boss Racing Team | |
| 25 | Jessica Allen (Aus) High5-Dream Team | |
| 26 | Georgia Catterick (NZl) Roxsolt | |
| 27 | Sophie Mackay (Aus) Specialized Women's Racing | 0:05:42 |
| 28 | Lucy Barker (Aus) Mercedes Benz Adelaide Blackchrome | 0:07:27 |
| 29 | Hannah Gumbley (NZl) Roxsolt | |
| 30 | Bridie O'donnell (Aus) Rush Women's Team | 0:08:22 |
| 31 | Rachel Ward (Aus) Bikebug-NextGen | 0:08:53 |
| 32 | Taryn Heather (Aus) Bikebug-NextGen | |
| 33 | Chloe Mcintosh (Aus) CBR Women's Racing Team | 0:08:59 |
| 34 | Aimee Ingram (Aus) Mercedes Benz Adelaide Blackchrome | 0:09:15 |
| 35 | Christina Teniswood (Aus) Mercedes Benz Adelaide Blackchrome | 0:09:33 |
| 36 | Lynne Clarke (Aus) Boss Racing Team | 0:10:12 |
| 37 | Angela Smith (Aus) Subaru NSWIS NKC | 0:10:13 |
| 38 | Hollee Simons (Aus) Subaru NSWIS NKC | |
| 39 | Emily Roper (Aus) Hogs Breath Cafe Tineli | |
| 40 | Kendelle Hodges (Aus) High5-Dream Team | |
| 41 | Deborah Hennessey (Aus) Hogs Breath Cafe Tineli | 0:12:48 |
| 42 | Harriet Smith (Aus) BCWS | 0:13:28 |
| 43 | Penny Brown (Aus) Specialized Women's Racing | 0:15:35 |
| 44 | Ania Ligas (Aus) BCWS | 0:17:04 |
| 45 | Verita Stewart (Aus) Specialized Women's Racing | 0:20:21 |
| 46 | Margeaux Thompson (Aus) BCWS | |
| 47 | Fiona Yard (Aus) Specialized Women's Racing | |
| 48 | Belinda Chamberlain (Aus) CBR Women's Racing Team | |
| 49 | Esther Borg (Aus) BCWS | |
| 50 | Emily Cust (Aus) BCWS | |
| 51 | Minda Murray (Aus) Rush Women's Team | |
| 52 | Abby Sneddon (Aus) Roxsolt | |
| 53 | Kristy Glover (Aus) Bikebug-NextGen | |
| 54 | Jessica Lane (Aus) Mercedes Benz Adelaide Blackchrome | 0:22:35 |
| 55 | Ella Scanlan-Bloor (Aus) Roxsolt | 0:24:25 |
| DNF | Sarah Roy (Aus) Orica-AIS | |
| DNF | Chloe Mcconville (Aus) Orica-AIS | |
| DNF | Samantha De Riter (Aus) High5-Dream Team | |
| DNF | Brodie Chapman (Aus) Holden Women's Cycling Team | |
| DNF | Kate Perry (Aus) Specialized Women's Racing | |
| DNF | Kirsty Broun (Aus) Rush Women's Team | |
| DNF | Carley Mckay (Aus) Boss Racing Team | |
| DNF | Gemma Ansell (Aus) Boss Racing Team | |
| DNF | Alicia Macdonald (Aus) Subaru NSWIS NKC | |
| DNF | Josephine Meldgaard (NZl) Roxsolt | |
| DNF | Alice Wallett (Aus) CBR Women's Racing Team | |
| DNF | Michelle Apostolou (Aus) CBR Women's Racing Team | |
| DNF | Serene Lee (Sin) BCWS | |
| DNF | Brittany Lindores (Aus) Bikebug-NextGen | |
| DNF | Alana Haansbergen (Aus) Mercedes Benz Adelaide Blackchrome | |
| DNF | Georgina Beech (Aus) Mercedes Benz Adelaide Blackchrome | |
| DNF | Sara Mills (Aus) Hogs Breath Cafe Tineli | |
Cyclingnews Newsletter
Sign up to the Cyclingnews Newsletter. You can unsubscribe at any time. For more information about how to do this, and how we hold your data, please see our privacy policy