Sanne Cant wins Belgian cyclo-cross title
Van Loy and Sels round out podium
Image 1 of 18
Image 2 of 18
Image 3 of 18
Image 4 of 18
Image 5 of 18
Image 6 of 18
Image 7 of 18
Image 8 of 18
Image 9 of 18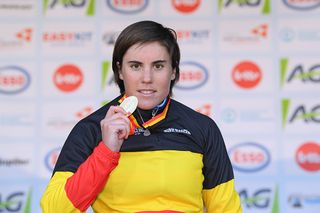 Image 10 of 18
Image 11 of 18
Image 12 of 18
Image 13 of 18
Image 14 of 18
Image 15 of 18
Image 16 of 18
Image 17 of 18
Image 18 of 18
Sanne Cant (Beobank-Corendon) claimed her ninth successive national cyclo-cross title as she cruised to victory in the elite women's race at the Belgian Cyclo-cross Championships in Koksijde.
Cant made light work of a high quality field to solo home well clear of second-placed Ellen Van Loy (Telenet-Fidea Lions), while Loes Sels (Crelan-Charles) took the bronze medal.
From the start, Cant forged clear immediately in the company of Van Loy, Sels, Laura Verdonschot and Joyce Vanderbeken. Verdonschot was looking to repeat her strong showing of a year ago, and she took an early lead on the sand, but Cant bridged across smoothly shortly afterwards.
Come the second lap, Cant simply took flight, leaving Verdonschot standing to open up an unassailable lead. Behind, the battle for the other podium spots was fiercely contested. Van Loy found a way past Verdonschot to take second place, albeit over a minute behind Cant.
Verdonschot would not even have the consolation of a bronze medal, as Sels came past her on the final lap, but the day belonged to the irrepressible Cant, who will hope a ninth national title is a precursor to a second successive world title in Valkenburg next month.

Full Results
| # | Rider Name (Country) Team | Result |
| --- | --- | --- |
| 1 | Sanne Cant (Bel) Beobank-Corendon | 0:44:27 |
| 2 | Ellen Van Loy (Bel) Telenet Fidea Lions | 0:01:05 |
| 3 | Loes Sels (Bel) Crelan - Charles | 0:01:19 |
| 4 | Laura Verdonschot (Bel) Marlux - Napoleon Games | 0:01:42 |
| 5 | Kim Van de Steene (Bel) Tarteletto - Isorex | 0:02:00 |
| 6 | Joyce Vanderbeken (Bel) | 0:02:54 |
| 7 | Suzanne Verhoeven (Bel) | 0:03:08 |
| 8 | Karen Verhestraeten (Bel) | 0:03:30 |
| 9 | Marthe Truyen (Bel) | 0:03:52 |
| 10 | Jolien Verschueren (Bel) Pauwels Sauzen - Vastgoedservice | 0:04:49 |
| 11 | Axelle Bellaert (Bel) | 0:05:10 |
| 12 | Shana Maes (Bel) | 0:06:00 |
| 13 | Kim Van De Putte (Bel) | 0:06:53 |
| 14 | Jinse Peeters (Bel) Pauwels Sauzen - Vastgoedservice | 0:07:48 |
| 15 | Tessa Zwaenepoel (Bel) | 0:08:36 |
| 16 | Meg De Bruyne (Bel) | 0:09:13 |
| 17 | Laure Michels (Bel) | 0:09:43 |
| 18 | Jana Dobbelaere (Bel) | 0:10:00 |
| 19 | Kiona Crabbé (Bel) | 0:10:03 |
| 20 | Tinne Vermeiren (Bel) | |
| 21 | Kristien Nelen (Bel) | |
| 22 | Tess Van Loy (Bel) | |
| 23 | Caren Commissaris (Bel) | |
| 24 | Tine Rombouts (Bel) | |
| 25 | Mieke Docx (Bel) | |
| 26 | Eva Vermeersch (Bel) | |
| 27 | Tine Vandenheede (Bel) | |
| 28 | Karen De Keulenaer (Bel) | |
| 29 | Nele De Vos (Bel) | |
| 30 | Jo Blanchaert (Bel) | |
| 31 | Katleen Fraeye (Bel) | |
| 32 | Laurine Boidequin (Bel) | |
| DNF | Justine Louchaert (Bel) | |
| DNF | Sandie Verriest (Bel) | |
| DNS | Lise Van Wunsel (Bel) | |
| DNS | Aurelie Vermeir (Bel) | |
| DNS | Valerie Boonen (Bel) | |
Cyclingnews Newsletter
Sign up to the Cyclingnews Newsletter. You can unsubscribe at any time. For more information about how to do this, and how we hold your data, please see our privacy policy