Shimano blue replaces Mavic as neutral support at Tour de France
Shimano to support racers at all WorldTour, Continental and Women's races as Mavic restructures following receivership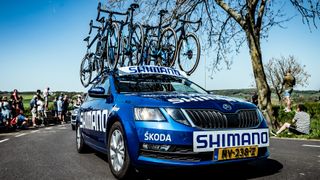 (Image credit: Shimano)
Shimano will replace Mavic as the neutral support partner with Amaury Sport Organisation (ASO), organisers of the Tour de France and Paris-Roubaix, the ASO announced on Tuesday.
In 2020, Mavic was placed in receivership following a botched 2018 sale of the company that left 250 employees at risk. Last July, the Bourrelier Group acquired Mavic and announced a restructuring to refocus the company on its main specialty, wheels, dispensing with ventures into shoes, helmets, apparel and other accessories.
At the time, the new owners made no mention whether they would continue Mavic's 40-year agreement to provide neutral support to the ASO races, a deal that had been renewed through 2022 the previous year.
Now, as Shimano celebrates its 100th year in business, the Japanese component manufacturer has signed a deal to support most of cycling's marquee events.
For the past 20 years Shimano has been providing a neutral support service at some of the world's biggest races, including the Tour of Flanders, Amstel Gold, Vuelta a España and the Giro d'Italia.
The iconic blue Shimano support vehicles will now also be present at all ASO World Tour, Continental and Women's races, including the Tour de France, the Vuelta a España, Paris-Nice and the Critérium du Dauphiné, as well as prestigious one-day classics like Paris-Roubaix, Liège-Bastogne-Liège, and La Flèche Wallonne.
In the event of a mechanical issue or a crash, racers will be able to get help from Shimano's neutral support team, regardless of which groupset they're running.
"In the one hundredth year of our existence we are very excited to start a new chapter in our sports history," said Taizo Shimano, Executive Vice President. "We are proud to announce a partnership to support the ASO's events with neutral support. That means we will be providing first-class support to riders at ASO events to get them back on the road and back in the race."
Yann Le Moënner, Managing Director of ASO, added: "We are incredibly pleased to have extended our partnership with a player as innovative as Shimano. Partnering up on all of our professional and amateur cycling events with a family business and pioneer in the cycling world testifies to our commitment to offering excellent support to athletes as well as all of the cyclists involved in our events."
Shimano's first race event this year will be Paris-Nice, where the blue support vehicles will be first engaged in Saint-Cyr-l'École on Sunday 7th March.
Mildred is a Reviews Writer for Cyclingnews who enjoys everything from road cycling to mountain biking, but is a utilitarian cyclist at heart. Determined to do everything on two wheels, she's even moved house by bike, and can regularly be found pedalling around Bristol and its surrounding areas. She's spent over four years volunteering as a mechanic and workshop coordinator at the Bristol Bike Project, and now sits on its board of directors. Her expertise comes from previously working in a bike shop and learning the ins and outs of the industry, and she's previously written for a variety of cycling publications, including Bikeradar, Cycling Plus, Singletrack, Red Bull, Cycling UK and Total Women's Cycling. At home on slicks and knobblies alike, her ideal ride covers long distances through remote countryside, on mixed terrain that offers a bit of crunch, followed by a gourmet campfire meal and an overnight bivvy beneath the stars.
Sign up to the Cyclingnews Newsletter. You can unsubscribe at any time. For more information about how to do this, and how we hold your data, please see our privacy policy
Thank you for signing up to Cycling News. You will receive a verification email shortly.
There was a problem. Please refresh the page and try again.