Annemiek van Vleuten raises €10,000 for local cycling club from signed cycling clothing
By Cycling News
Road race world champion says youngsters from WV Ede will benefit from 'attic sale'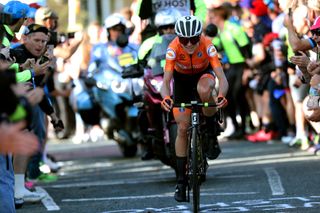 (Image credit: Getty Images)
Road race world champion Annemiek van Vleuten (Mitchelton-Scott) has raised €10,000 from selling some of her no-longer-needed cycling clothing to benefit junior members of her local cycling club in the Netherlands, WV Ede.
The Dutch rider posed for photographs, and signed autographs and the clothing, at the Peerenboom bike shop in Wageningen, just west of the Dutch city of Arnhem, on Saturday. The money raised for neighbouring town Ede's cycling club will go towards buying mountain bikes that the youngsters can borrow from the club.
"As well as all the money raised, I really enjoyed enjoyed meeting all the people who came by last Saturday," Van Vleuten wrote on her website. "Everyone waited patiently in line and, thanks to the bike shop's help, I was free to talk to everyone and take some pictures.
"It was a very pleasant afternoon that many different people had come for. Thank you all for coming, and for your generous contributions," she wrote.
"The 'attic sale' clearance was a huge success, and the proceeds definitely exceeded my expectations: we made almost €10,000 [£8,600/$11,100] from my old cycling clothing and kit."
Van Vleuten – who won the 2019 World Championship road race in September thanks to a 100km solo breakaway – said that the club's focus for its younger riders was on fun, rather than performance.
"That's something I very much support," she said. "A large number of children are on the waiting list for a 'loan mountain bike', and WV Ede will soon be purchasing new mountain bikes in collaboration with the Peerenboom bike shop."
Van Vleuten added that, from November 7, the club will be selling further items on its website, with the proceeds continuing to benefit the club's young riders.
What a super cool afternoon! Thanks everyone! Will be A LOT of mountainbikes we can buy for the young cyclists from my cyclingclub @wvede pic.twitter.com/zFURzgTGYFNovember 2, 2019
€10.000,- !!!! = result of this afternoon! >100 pictures, a lot of signed jerseys & new owners of my cycling clothes! This means A LOT of new MTB's for new youth members @wvede my cycling club! There are still some clothes left: soon available at https://t.co/5rOcLLhdN0 pic.twitter.com/gKcKNfDoYxNovember 2, 2019
Sign up to the Cyclingnews Newsletter. You can unsubscribe at any time. For more information about how to do this, and how we hold your data, please see our privacy policy
Thank you for signing up to Cycling News. You will receive a verification email shortly.
There was a problem. Please refresh the page and try again.