Castelli clothing: Range, details, pricing and specifications
Everything you need to know about the latest range of Castelli clothing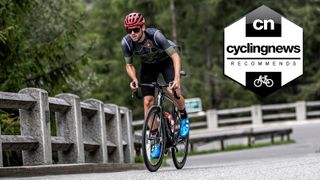 (Image credit: Castelli)
Castelli's origins stretch back to 1876 in a small shop in Milan founded by Vittore Gianni, a tailor who made clothes for the dignitaries, local businessmen, the Milan Ballet, AC Milan and Juventus.
Gianni made the jump into cycling clothing kitting out Alfredo Binda, who would later go on to win the Giro d'Italia on five occasions. Armando Castelli joined the company in 1935 and later purchased the company from Gianni in 1939, making more headway into cycling clothing and supplying wool jerseys and shorts to the likes of Fausto Coppi and Gino Bartali. In 1978, Castelli's son Maurizio, after working for his father, broke off to form the brand we know today.
Since then, Castelli has earned quite a few industry-firsts as a brand; the first brand to manufacture lycra race shorts, first sublimated printing process for jerseys and shorts, first thermal winter clothing, first aero skinsuit, first to launch the y-cut chamois, first wicking fabric treatment; the list goes on and on.
The brand was humming along until Maurizio passed away in 1995 at 47-years-old from a heart attack while riding up the Cipressa - the famous climb used in Milan-San Remo, and while Maurizio's vision lived on, the company almost went bankrupt before it was purchased by Manifattura Valcismon, the parent company that also owns Sportful.
Since then, the company has thrived. Today you will see riders from Ineos Grenadiers riding with the red and white scorpion on their backs and quite a few riders sponsored by other brands riding in Castelli gear with blacked-out logos.
Castelli clothing you can buy today
Why you can trust Cyclingnews Our expert reviewers spend hours testing and comparing products and services so you can choose the best for you. Find out more about how we test.
The last word in deep-winter cycling jackets
Specifications
Pockets:
3 rear, 1 zippered side
Price:
Men: £290 / $370 / AU$569, Women: £280 / $370 / AU$549
Reasons to buy
+
Two layers for warmth and windproofing
+
Double cuffs
+
GoreTex Infinium Windstopper
+
Inner layer made from fleece for extra warmth
One of the best winter jackets out there, the Alpha RoS 2 is designed with two separate layers. The inner layer is a fast-wicking, heat-trapping fleece, while the outer features GoreTex Infinium Windstopper on frontal panels to keep the chilling breeze on the outside.
The cuffs are double layered, meaning they play nicely with all gloves, and the silicone waist gripper keeps everything secure - even with fully-laden pockets. There are three pockets at the rear, all of which have water drainage holes. Then a fourth 'security' pocket uses a taped zipper and mesh internals.
The bottom portion of the zip is exposed, which makes zipping it up on-the-go a much easier task, which is useful seeing as Castelli actively suggests opening up the outer layer on hard climbs to expel excess body heat.
There are options for everyone, men get five colours, while women get four.
Nano Flex Pro 2 bib tights
Water-resistant bib tights to keep you comfortable in damp conditions
Specifications
Price:
Men: £200 / $240 / AU$379, Women: £190 / $230 / AU$379
Reasons to buy
+
Strategic double layer fabric is perfectly placed for added protection
The Nano Flex Pro 2 bib tights are full-length tights with waterproof reflective splash guards over the shins and feature the Castelli Progetto X2 seamless pad.
The bulk of the garment is made from Castelli's Nano Flex fabric which is the Castelli's own version of a DWR treated textile. DWR or Durable Water Repellent is a treatment which binds to a fabric's individual fibres and creates micro-pegs; these force a water droplet to maintain its surface tension and roll off, rather than spreading out and soaking in, all without hampering breathability.
The latest iteration is called Nano Flex Xtra Dry, which sees an even tighter weave double layer construction, and greater water-repellency treatment for extra protection. If the exterior fabric wets out, it won't be in direct contact with your skin and make you cold.
Alpha RoS 2 Light jacket
The same Alpha performance but for less extreme temperatures
Specifications
Pockets:
3 rear, 1 zippered front
Price:
Men: £230 / $280 / AU$449, Women: £225 / $280 / AU$439
Reasons to buy
+
Two layers for warmth and windproofing
+
GoreTex Infinium Windstopper
+
Inner layer made from fast-wicking jersey material
The Alpha RoS 2 would be the one jacket we'd choose if we could only choose one, but the Alpha RoS 2 Light is the one we get the most use out of. The 'Light' is rated for temperatures between 7C/44F and 15C/59F, however when paired with a winter base layer, it'll see you down to freezing temperatures comfortably.
Then when the mercury rises once again, the fast-wicking 'Prosecco Strada' inner layer (found commonly on Castelli summer jerseys) helps you wick away sweat quickly and efficiently.
It still uses GoreTex Infinium Windstopper on the front-facing panels, with Nano Flex Xtra Dry on the back for rain/splash-proofing, whilst retaining the same quality aesthetic and race-ready fit. It loses the zip-covering flap and double-layered cuffs, but retains the taped seams and high-coverage collar.
Perfetto RoS gloves
Wind-stopping, warmth-trapping, low-bulk gloves
Specifications
Price:
Men: £65 / $70 / AU$129, Women: £65 / $70 / AU$119
Reasons to buy
+
Medium bulk means plenty of dexterity
+
Fleece interior
+
Smartphone friendly fingers
+
Palm padding CDS
The Perfetto RoS gloves are the best winter cycling gloves we've ever put our hands into for the wet, cold British Winter. Despite Castelli only rating them down to 6C/43F, we've found them comfortable down to freezing and beyond.
The backs are treated with GoreTex Infinium Windstopper material, while the inner is fleece lined to trap heat. There are reflective details for safety, a neoprene stretch cuff to make them easy to get on and off, and the Castelli Damping System (CDS), which essentially puts extra padding over the necessary section on the palm of your hand to protect your median nerve.
Perfetto RoS Light jersey
Minimalist wind and weather protection
Specifications
Price:
Men: £160 / $190 / AU$249, Women: £160 / $190 / AU$249
Castelli says the Perfetto RoS light jersey is the result of sponsored riders wanting a lighter-weight version of the Gabba, and so the brand delivered.
The front panel of the Perfetto Light is made from GoreTex Infinium 203 fabric (seen on the back panel of the Gabba and Perfetto LS) and the rear is the brand's Nano Flex Light Woven fabric.
Thinner and lighter than its siblings, Castelli describes it as a 'vest with sleeves,' and it can easily be rolled up and stuffed into a pocket. It still has a drop tail, and two deep pockets complete with a designated pump sleeve, but ditches the seam sealing.
Gabba RoS jersey
The latest incarnation of the original rain jersey
Specifications
Price:
Men: £175 / $200 / AU$279, Women: £175 / $200 / AU$269
Reasons to buy
+
Ratio of waterproofing to breathability
+
Fit
In 2010, the Gabba jersey changed how road riders approached wet weather. Previously the best option was a rain cape, which did well to keep the water out, but also kept your sweat inside. With the clever use of GoreTex Windstopper X-Lite fabric, it repelled water, stopped the wind and most importantly breathed. Because the fabric was made from a softshell material, it could stretch, and therefore be tailored into a tight-fitting, aerodynamic race jersey.
Now in its fourth generation, the Gabba Ros (Rain or Shine) has received major updates. The top is now made from GoreTex Infinium Windstopper with the front panel being made from a slightly heavier, denier textile and a brushed interior, while the rear-facing fabric is a bit lighter and more water-resistant.
Castelli has improved the seam sealing around the shoulders and added a covered zipper to prevent leaks. Rather than the three small pockets found on previous generations, the Gabba RoS has two larger pockets for easier access with large gloves, complete with an internal sleeve to keep your hand pump in place.
Perfetto RoS long sleeve jacket
Perfetto, a long sleeve Gabba under a different name
Specifications
Price:
Men: £200 / $230 / AU$299, Women: £200 / $230 / AU$299
Reasons to buy
+
Breathability and water resistance
If you're flipping through the Castelli catalogue, you may have noticed the long sleeve version of the Gabba is notable by its absence. As with the previous generation, the garment does still exist but carries a different name called the Perfetto - or the Perfetto RoS Long Sleeve for the latest model. The change in name may be due in part to Castelli having to license the name Gabba from a dutch company.
The jersey features the same fabrics, construction and features as the Gabba RoS, except the sleeves come down to your wrists.
Idro Pro 2 jacket
When they say the fabric is Shakedry, they aren't kidding
Specifications
Price:
£340 / $400 / AU$549
Reasons to buy
+
Packability
+
Breathability and water resistance
+
Shakedry
Reasons to avoid
-
Price
-
No women's version
Sometimes when the weather is monsoon-like, you need the best waterproof jackets, and one of the best products for the task is the Idro Pro 2 Jacket. Made with Gore-Tex Shakedry technology, the waterproof membrane takes the place of the face fabric traditionally used on laminated waterproofs for a jacket that not only repels water and breathes better but is also lighter and more packable.
The Idro Pro 2 also features two external pockets, a longer drop tail, and Topo stretch inserts at the wrist, elbow and shoulder for less flapping and a more tailored fit. It's only available in black, however, Castelli has added reflective detailing for a bit of low light visibility.
Frustratingly for our female friends, this is another men-only garment. If you're looking for a women's Castelli Shakedry jacket, the original Idro jacket is still available in a women's cut, but it foregoes the stretch panelling.
Maximum waterproofing for all-day riding
Specifications
Price:
£340 / $400 / AU$669
Reasons to buy
+
Unbeatable waterproofing
+
Better than Shakedry at managing heat
+
Stretch panels for easy on/off
Taking a different approach to maximum waterproofing, the Gavia eschews the Shakedry material found on the Idro jacket, and instead uses a three-layer midweight GoreTex fabric. Having put countless hours out whilst wearing the jacket, we can confirm this method works just as well, and water beads off the Gavia with ease.
The Topo stretch panels at the wrist and shoulders make it easier to get on and off, but while the Idro is designed to be packed and unpacked, mid-ride as the showers come and pass, the Gavia is made for all-day riding where the weather is grim door to door. It manages heat better than any Shakedry jacket we've tested, and as such, negates that game of zip-up-zip-down yoyo you play as your ride's intensity changes. The downside is there's no women's version, the closest thing on offer is the Idro W.
Sorpasso RoS Wind bib tights
Cold winds are no match
Specifications
Price:
£190 / $230 / AU$379
Reasons to buy
+
Goretex Infinium windproofing
+
Water repellency
+
Zippered ankles
Reasons to avoid
-
No women's version in windproof version
It's not just the rain you need to worry about when knocking out base miles through the cold dark winter, the wind can just as quickly chill your bones. To counter this, the Sorpasso RoS Wind bib tights feature a Gore-Tex Infinium Windstopper membrane down the front and just past the knees. The lower legs and backside are fitted with Castelli's Nano Flex 3G fabric for splash and spray protection.
Inside is the Castelli Progetto X2 perforated chamois to keep you comfortable all day.
Unfortunately, the Sorpasso RoS Wind isn't available to women, so for our female readers looking for windproof bib tights, the Nano Flex Pro 2 would be our recommendation. If windproofing isn't top of the priority list, then the Sorpasso RoS is available (for both men and women) without the Goretex Infinium panelling for a slight discount.
Nano Flex 3G Warmers
DWR treated warmers stave of light rain and road spray
Specifications
Price:
Arm: £40 / $60 / AU$59, Leg: £65 / $80 / AU$99, Knee: £50 / $60 / AU$69
Reasons to avoid
-
Price
-
Not actually waterproof
Any good set of winter warmers will be stretchy, well-tailored, fleece-backed and have limited seams to prevent pinching. The Nano Flex warmers tick these boxes and take it a step further by adding Castelli's version of DWR repellant so that rain and road spray beads and rolls off the fabric rather than soaking in.
Available in arm, leg and knee guises, each of which features double-sided silicone grippers to prevent them from creeping down throughout a ride.
RoS shoe cover
Sock-doping-approved weatherproof booties
Specifications
Price:
£90 / $100 / AU$169
Reasons to buy
+
Extra height protects your tights from spray
+
Sealed zipper and pull tab makes for easy on and offs
Reasons to avoid
-
They have a divisive aesthetic
You can't forget about your feet when out on a winter ride, and the RoS (Rain or Shine) 2 overshoes will keep your feet warm and dry. The main fabric is windproof and water-resistant, the seams are moved to the outside of the foot where they are less exposed, and inside, Polartec Power Stretch fleece is used for increased cosiness.
Around the ankle, Castelli uses a contoured seam to fit around this awkwardly shaped area, the tall cuff sees an internal silicone gripper to seal water out of the top, and the interior is lined with fleece to trap as much warmth as possible.
A full-length zipper and texture pull tab makes them easy to slip on and off, and a reflective heel cuff makes for added visibility.
Primaloft 15 Socks
Techy winter socks
Designed for cold temperatures, the PrimaLoft 15 sock is made from a mixture of PrimaLoft and polypropylene yarn to maintain as much heat as a bulk-free sock can.
A 15cm cuff allows ample height to overlap with warmers and tights, while a terry-cloth interior creates loft to trap heat.
Difesa 2 Cap
A Gabba for your head
Reasons to buy
+
Snug fit under a helmet
+
You can still hear
Fully windproof and complete with ear flaps, the Difesa 2 cap will keep your noggin warm when the weather goes south. It's made from the same GoreTex Infinium fabric as the Gabba jersey and features a traditional bill to keep the rain out of your sunnies.
It's also available in both black and hi-vis yellow, not that it will really add much visibility underneath your helmet.
Flanders Warm LS base layer
Fleece-lined winter baselayer
Specifications
Price:
Men: £75 / $90 / AU$149, Women: £70 / $90 / AU$129
Reasons to buy
+
Long sleeve
+
High wicking and warm
+
Fit and cut
Layering is key during the colder months, and it all starts with a good base layer. Made from SottoZero Fleece it's not seamless, but everything is flatlock stitched to prevent chafing, and the panels under the armpits are mesh for added heat regulation.
The base layer has plenty of stretch built-in for a painted-on fit, and the flat hem at the bottom tucks into tights and bibs without bunching.
Get The Leadout Newsletter
The latest race content, interviews, features, reviews and expert buying guides, direct to your inbox!
Based on the Gold Coast of Australia, Colin has written tech content for cycling publication for a decade. With hundreds of buyer's guides, reviews and how-tos published in Bike Radar, Cyclingnews, Bike Perfect and Cycling Weekly, as well as in numerous publications dedicated to his other passion, skiing.
Colin was a key contributor to Cyclingnews between 2019 and 2021, during which time he helped build the site's tech coverage from the ground up. Nowadays he works full-time as the news and content editor of Flow MTB magazine.
Get The Leadout Newsletter
The latest race content, interviews, features, reviews and expert buying guides, direct to your inbox!
Thank you for signing up to The Pick. You will receive a verification email shortly.
There was a problem. Please refresh the page and try again.