Sportful clothing: Details, pricing and highlights
Want to know your Giara from your Fiandre? Here's everything you need to know about the latest range of Sportful clothing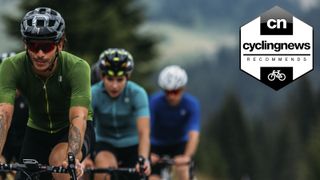 (Image credit: Sportful)
Sportful was founded in 1973, built on the roots of Italian underwear manufacturing house Manifattura Valcismon. Initially, the brand produced cross-country ski clothing after company founder Giordano Cremonese was left unsatisfied by the XC skiing kit that was available.
After establishing Sportful as a ski wear brand, the company began to develop cycling clothing in 1985, finding its way onto riders from Ceramiche Ariostea, Maglificio Bianchi and Mapei.
In the 1990s, Manifattura Valcismon acquired fellow Italian clothing brand Castelli; both are now produced under the same roof along with Karpos, an outdoor brand specialising in climbing, hiking and ski mountaineering gear.
Nowadays you'll find Sportful kit on the backs of riders from Bora-Hansgrohe.
Sportful range explained
As with any other cycling clothing brand, Sportful clothing covers a range of performance levels, from the lower end of the spectrum all the way up to the gear Bora-Hansgrohe race in at the highest level.
BodyFit Pro - the kit designed for Sportful's pro teams. It comprises tight, aero and technical kit that's ready to race everything from the Spring Classics to time trials.
Fiandre - the 'ready for anything range' comprising versatile clothing to battle changing weather conditions.
Protection - rain and wind jackets to stave off the worst of the elements, no matter your riding plans.
Gravel - Comprising Sportful's Giara and SuperGiara ranges, the Gravel range caters to every definition of the ever-evolving discipline. Giara is the bikepacking friendly, relaxed-fit clothing that puts comfort at the fore, while SuperGiara takes the best of the Giara range and adds extra performance.
Sportful clothing you can buy today
Aqua Pro jacket
When the rain pours, the Aqua Pro jacket shines
Price: £300 / $400 / AU$450 | Gender: Men
Pro fit
Zippered cuffs
Stretch panels
No women's version
Price
Taking aim at the best waterproof cycling jackets, the Aqua Pro sits at the top of the Sportful range of winter-proof clothing. Rather than using Gore's Shakedry material, the Aqua Pro uses a different seam-sealed GoreTex material to maximise waterproofing, then a slightly stretchier material is used across the shoulders, collar, hips and elbows to make it easier to get on and off, and improve movement capability whilst wearing.
The standout feature of the Aqua when compared to its competition is the zippered sleeve cuffs. This will surely make it easier to put on in the morning, but more notably, it will make it a lot easier to pull it off over your gloves when the clouds dissipate and the sun finally shines.
Sportful rates it for use above 10C/50F, which is a little warmer than we'd expect for such a deep-winter jacket, but assuming you pair it with a jacket like the Bodyfit Pro, then it'll keep you comfortable down to freezing and beyond.
Winter socks
Toasty toes no matter the temperatures
Price: £20 / $35 / AU$30 | Gender: Men
Pro fit
Zippered security pocket
Reflective detailing
No women's version
Available in white, black, black/red, black/neon, the Sportful Winter socks do exactly as required, keeping your feet cosy during long cold rides.
Featuring Primaloft microfibre thermal insulation, the ankle cuff sits at approximately six inches: tall enough to keep you warm, but just low enough to hide inside your overshoes.
Fiandre Pro jacket
Highly breathable rain jersey
Price: Short Sleeve £200 / $230 / AU$330, Long Sleeve £225 / $250 / AU$360 | Gender: Men
Polartec fabric
Taped seams
Drop tail
On the bike only fit
Sportful's version of the rain jersey is the Fiandre Pro, made from Polartec's NeoShell laminated wind and waterproof fabric — not the Gore fabric used by Rapha and Castelli. It's highly breathable, stretchy and, most importantly, it keeps the rain on the outside with fully taped seams and a waterproof YKK Vislon zipper.
Available in both short and long sleeve versions, the short sleeve 'jacket' sees the lower cuff stop just above the elbow with grippers to seal out the elements and a high-cut collar prevents the cold from sneaking in the top of the jacket.
Both have three external pockets and a pronounced drop tail to prevent the spray from your rear tyre saturating your chamois. The jersey features an articulated cut; standing up it's not all that comfortable, however when you reach for the bars, the shoulder hem falls into place, and the jersey hugs your form.
NoRain warmers
Budge- friendly rain protection from the cold and rain
Price: Arm £35 / $50 / AU$50, Leg £50 / $60 / AU$80, Knee £40 / $55 / AU$60 | Gender: Men and women
DWR treatment causes rain to bead and run off
They will wet out eventually
Available in arm, knee and leg flavours, all three are made from the same DWR-treated, fleece-lined fabric as the NoRain shorts and tights. They only use a single seam to limit chafing and pinching and see silicon grippers to prevent the warmer from falling down.
All three come in four sizes and feature reflective piping and logos.
Fiandre NoRain Team bib tights
Price: £120 / $150 / AU$190 | Gender: Men and women
Price
Rain-shedding protection
Not actually waterproof
Sportful's NoRain fabric isn't a laminated three-layer textile with a waterproof membrane in the middle; instead, it gets a 'proprietary nanotechnology treatment' — translation: DWR.
The bib tights are made from fleece-lined lycra with the DWR exterior treatment, which causes water to bead and run off. They aren't waterproof and won't keep you dry like the Polartec fabric used in the Pro jacket, but they will keep the elements at bay for a while. Sportful has also used as few seams as possible, not only to prevent chafing but also to keep more moisture out.
At the bottom, these tights see ankle zips to make them easier to pull on and peel off. Inside, the NoRain Team bibs employ a Sportful BodyFit Pro chamois so you can sit pretty for hours on end in the rain.
Bodyfit Pro jacket
WorldTour-level insulated jacket
Price: £180 / $225 / AU$290 | Gender: Men, women
Exterior pockets for easy access
Race fit
Exterior pockets are mesh, so won't protect against weather
No vents
The latest Bodyfit Pro jacket from Sportful takes learnings from other items in the range and combines them into a high-performance all-weather winter jacket. The frontal panels are windproof and water-resistant, while inside, Thermore fabric traps heat.
Now comfortable down to 5C/41F, the jacket's back, lower front and under the pockets are made using NoRain fabric, designed to protect against rain and spray. There are three pockets at the back to provide easy access to the essentials, however, these are made from mesh so will do little to protect your belongings against the elements.
According to Sportful, the cut of the Bodyfit Pro Jacket has seen input from WorldTour pros and features a body-hugging cut to slip through the wind with minimal resistance. A silicon waist band on the bottom keeps the rear of the jersey in place, and three back pockets keep your snacks easily accessible.
Pro bib tights
Tights tailored to provide warmth in all the right places
Price: £150 / $195 / AU$240 | Gender: Men and women
Total Comfort Pro pad
Multi-weight fabrics
Price
The latest version of the Pro bib tights takes the former Bodyfit Pro tights and improves them in almost every way.
Thermal material is used throughout, with a brushed fabric in the front-facing panels, and a medium-weight fabric used at the rear to allow excess body heat to escape. NoRain material has then been added to the shins to shed water quickly, rather than allowing it to soak down onto your socks.
The Total Comfort Pro chamois pad is designed for maximum comfort all day long, and the integrated lumbar pockets will allow you to carry enough snacks for an equally long period. The knees are given an open dual-layer construction, with a breathable inner mesh that allows flexibility and temperature regulation, but the overlaid thermal fleece will keep them warm.
Reflective details are present throughout, most notably on the ankles, where you'll also find zippers for easy access, as well as water-resistant fabric.
SuperGiara bib tights
Bib tights for riding past where the tarmac ends
Price: £150 / $195 / AU$230 | Gender: Men
Storage galore
Cushy pad
Chamois may not suit aggressive riding position
The SuperGiara bib tights are what you get if the BodyFit tights grew a moustache, started drinking IPA beer and traded 700Cx25mm tyres for 650bx55mm rubber.
With a thigh pocket for keeping extra tools and snacks at hand, the tights have double thickness fabrics over the knees to keep your joints warm and happy. In areas like the lower leg where less insulation is needed, lighter weight materials are used.
The SuperGiara bib tights have a DMS seat pad which is designed with a bit of extra shock absorption built in for riding over rougher roads. Even though gravel riders tend to err more on the side of baggies, the SuperGiara tights offer as Sportful puts it, a 'painted-on' fit.
SuperGiara Thermal jersey
For when the gravel party continues after summer ends
Price: £120 / $160 / AU$190 | Gender: Men
Windproof front
Dual-layer thermal fabrics
No more plastic front panel
Low windproofing rating
The latest SuperGiara jersey takes the former version and removes the plastic-looking panelling from the front to result in a more refined looking jersey for cold weather gravel rides.
Inside sees a brushed fabric for insulating warmth, and there are five pockets to store your essentials. The slim cut will sit well with roadies and should help prevent unwanted drag over those long-distance rides.
The downside of losing the plastic front panelling is a reduction in windproofing, so it might need to be paired with a wind vest on breezy days. Reflective detailing will keep you visible during low light conditions, and the jersey is rated for 8C/46F and up, but pair it with a jacket or gilet for additional versatility.
Fiandre NoRain Pro bib shorts
Keep your thighs dry and your nether region happy for longer
Price: £135 / $180 / AU$220 | Gender: Men and women
Top-end chamois
Brushed interior
DWR exterior
No coverage for knees
Chop the Fiandre NoRain bib tights off at the knee and upgrade the chamois and you basically have the Fiandre NoRain bib shorts. The Pro version also gets the brand's lay-flat bib-straps which work as the name suggests, and are perforated for added breathability.
They are a pro-level race-fit bib with a raw cut leg band, and the bulk of the short is made from the fleece-lined DWR treated NoRain fabric. Instead of the BodyFit Pro pad, the Pro version of the shorts has the Total Comfort (TC) Pro Chamois, which is lighter on the padding and features extended flaps to help prevent irritation in your nether regions on long base mile rides.
Pro Baselayer
A race-ready base layer with a splash of colour for good measure
RRP: £60 / $80 / AU$95 | Gender: Men, women
Vertical ribs for added comfort
Designs are more than the usual boring black or white
Custom designs also available
No women's version
The Pro Baselayer is Sportful's performance base layer used by pro riders such as Peter Sagan. Made with an updated fabric which sees vertical ribs that not only improve fit, but also allow breathability to regulate the wearer's temperature and keep them dry.
The collar is designed to work with that on Sportful jerseys, and the design offers more than the now-common plain black or white base layers, although plain white is available if that's still your bag.
There's a tee (pictured) or a sleeveless version, and while there is a women's sports bra that shares the Pro moniker and much of the same technology, the tee shape is only available in a men's fit.
SuperGiara jersey
The jersey designed for high performance even after the road ends
Price: £90 / $135 / AU$180 | Gender: Men
Pro fit
Zippered security pocket
Reflective detailing
No women's version
Just about anyone can reap the benefits of owning a SuperGiara jersey. Whether you're an aspiring gravel racer, a hot-climate adventurer, or a roadie looking for a race-ready jersey. The SuperGiara is made in conjunction with Sportful's sponsored pro athletes to ensure a close fit and prevent wasted watts.
Reflective detailing throughout helps to increase low-light safety, and a taller central pocket is great for stashing larger items such as your mini pump or your rain jacket.
There's no women's specific SuperGiara jersey, but there are jerseys in the women's range that will likely suit the needs of women gravelistas.
SuperGiara bib shorts
Snag-resistant bib shorts with pockets for your swag
Price: £125 / $175 / AU$220 | Gender: Men / Women
Women's options
Leg and lumbar pockets
Reflectivity
Gravel chamois offers increased upright comfort
Gravel-specific pad limits on-road use
The SuperGiara bib shorts brilliantly epitomise the SuperGiara range. Offering a performance bib short that would be perfectly suitable for use on the road, but excels when the ride lengthens and the road surface roughens.
There is a version for both men and women, and while the women's version is limited to a single black colourway, men get a choice of black or brown. The men's version gets an all-new DMS gravel-specific seatpad that, for the time being, is exclusive to the SuperGiara bibs. Women get the extra cushy Total Comfort W pad that is also found on the Total Comfort W bibs.
An abrasion-resistant woven material prevents snags when sending it through the undergrowth, and the pièce de résistance is the addition of leg- and lumbar-pockets that you can use to stash anything from spare tubes to your mid-ride banana, just like Peter Sagan and Daniel Oss, just make sure it's a yellow one.
Light jersey
Lightweight jersey designed for height-of-summer racing days
Price: £85 / $130 / AU$140 | Gender: Men
Reflective detailing
Well-fitting laser-cut sleeves
No cam-locked zipper
No women's version
Designed for the hottest days on the road, the BodyFit Pro Light jersey is made from extra-breathable material. There's a super stretchy material across the shoulders which will ensure a skintight fit for maximum comfort and increased aerodynamic efficiency.
There's a choice of four colours (black, red/orange, cement/silver and blue), which all feature a two-tone colour block design. Weighing in at just 113 grams, the Light jersey is fast-wicking, quick-drying, and features laser-cut sleeves, three rear pockets and reflective detailing throughout.
LTD bib shorts
The last word in road-racing bib shorts
Price: £120 / $175 / AU$200 | Gender: Men / Women
Men's and women's options with colour choices for both
Breathable mesh straps
Flatlock stitching
Sportful's LTD bib shorts come out of the BodyFit Pro range, and have seen a minor update with improved rear panel construction for better fit and function.
They are Sportful's road racing bib shorts designed for - and in conjunction with - Bora-Hansgrohe riders. Using the TC Pro chamois for the men, and the TC Pro W chamois for women, the bib shorts are designed for racing in every regard. The AeroFlow Compress Lycra is designed to be form-fitting and supportive without being restrictive, and the flat-lock stitching will prevent chafing.
The two hidden radio pockets won't be too important for the majority of us, but it proves the LTD bib shorts are used by the best in the sport. There is a choice of three colours - black, blue and chocolate - for both men and women.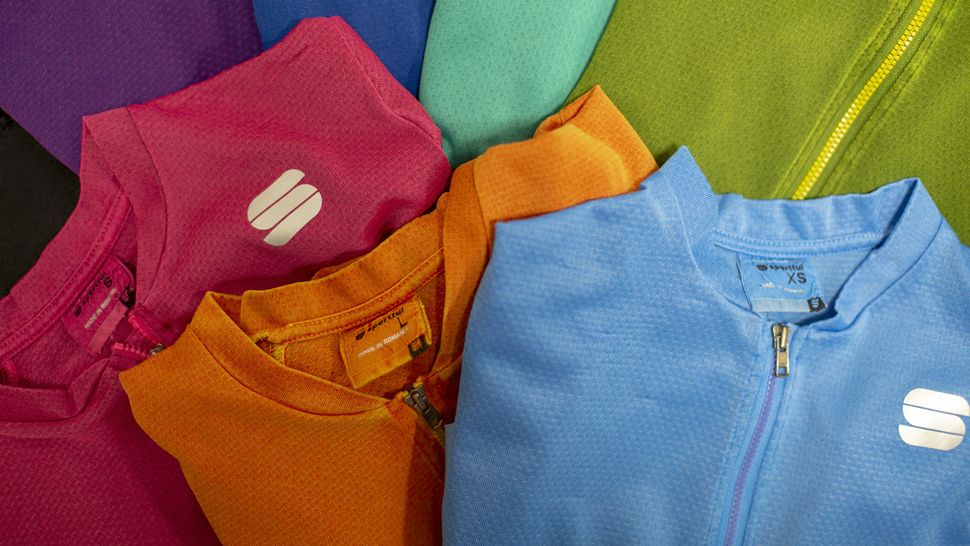 Monocrom jersey
No two jersey is the same thanks to dip-dyed colouring
Price: £90 / $150 / AU$180 | Gender: Men / Women
Every single garment is unique
Highly breathable
The Monocrom jersey might just be perfect for those who take pride in individuality. By double-dip-dying each jersey after construction, colours are absorbed differently each time, resulting in each and every Monocrom jersey having a slightly unique aesthetic, and rather than uniform block colouring, there is a distressed finish which adds to the character of each jersey.
Technically, the jersey features lightweight, high-stretch materials to ensure a close, comfortable and aerodynamic fit. A silicone waist gripper keeps everything in place, and as you'd expect, three rear pockets provide ample room for your belongings.
Pro Light socks
Lightweight, colour-matching, high-performance socks
RRP: £30 / $35 / AU$50 | Gender: Men
Bacteriostatic material
Kit-matching colour range
No women's model, although Evo model offers similar performance claims
Designed with performance in mind, the Pro Light socks are made from highly breathable materials including a Meryl Skinlife bacteriostatic yarn, which means it prevents bacteria from reproducing.
Perfect for hot, hard days on the bike, such as racing and training, the Pro Light socks come in a choice of four kit-matching colours. The compressive cuff and midfoot band ensure the socks remain in situ.
These socks are used by Sportful's sponsored athletes including Bora-Hansgrohe. However, women will need to look to the Evo W range, as the Pro isn't available.
Giara jersey
A comfortable jersey designed for the rigours of all-day gravel riding
RRP: £80 / $115 / AU$150 | Gender: Men, women
Zippered security pocket
Reflective detailing
Men and women's versions available
Loose fit not to everyone's liking, but SuperGiara answers that
Designed for the rigours of gravel riding, the Giara jersey is the slightly looser-fitting sibling of Sportful's performance-minded SuperGiara range.
With a range of five colours on offer (black, grey, sea moss, blue atomic and sienna), Giara is claimed to be 'styled for any adventure'. The jersey offers a looser, all-day-comfortable fit. There are three pockets at the back, as well as a zippered security pocket.
Reflective detailing throughout improves low-light safety, and a silicone gripper around the elasticated waist keeps the jersey from riding up or twisting. The jersey is rated for temperatures of 15-degrees and up.
Giara over shorts
Baggy shorts that are just as suitable on the bike as they are in the pub
Price: £80 / $85 / AU$120 | Gender: Men / Women
Casual looks
Zippered pockets
Women's options
The Giara over shorts are designed to offer the perfect balance of off-the-bike casual aesthetic and on-the-bike performance.
There's a four-way stretch material to prevent restriction, and the DWR coating will keep light rain or puddle splashback at bay. With zippered pockets at the front, there's no chance of losing your phone and beer money while ripping through the trails, and then when you arrive at your destination, you won't look like you've just stepped out of the WorldTour.
Both men and women get a couple of options each, both get a choice of black, but for those who want to add a splash of colour to their ride, men get 'chocolate', while women get 'sea moss' too.
Total Comfort bib shorts
Comfort by name, comfort by nature
RRP: £145 / $200 / AU$260 | Gender: Men, women
18mm padding
Raw cut leg ending
Men's and women's options
Single colour choice, unlike the rest of Sportful's bib short range
As the name suggests, the Total Comfort (and Total Comfort W) bib shorts are designed for maximum comfort in the saddle. A four-way stretch fabric adapts to the shape of the body, and the leg endings are raw cut and made from thermo-welded silicone, which essentially means they don't compress around the leg and instead offer comfort-enhancing contour-adherence.
Rated for temperatures of 15-degrees and up, the Total Comfort bib shorts will see you through three seasons, especially if paired with Sportful's range of knee or leg warmers.
There's a women's version available at the same price, too, with women's specific bib straps and Sportful's Total Comfort W chamois, which is designed for trained cyclists undertaking everything from multi-day tours to pro races.
Sign up to the Cyclingnews Newsletter. You can unsubscribe at any time. For more information about how to do this, and how we hold your data, please see our privacy policy
Thank you for signing up to Cycling News. You will receive a verification email shortly.
There was a problem. Please refresh the page and try again.