Laurens Sweeck wins X²0 Badkamers Trofee Krawatencross
Belgian beats teammate Vanthourenhout and Van Kessel in Lille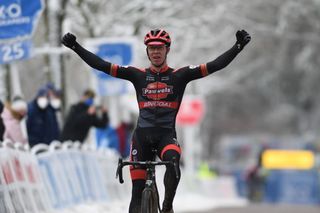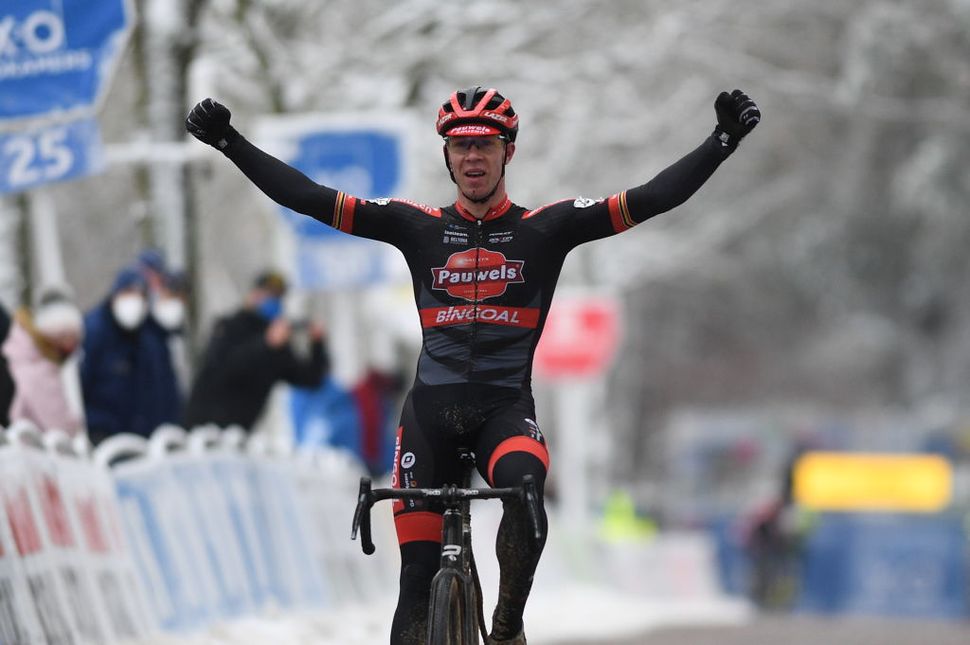 (Image credit: Getty Images Sport)
Image 1 of 2
Laurens Sweeck (Pauwels Sauzen-Bingoal) took his second win of the weekend at a snowy Krawatencross in Lille, the seventh round of the X²0 Badkamers Trofee.
The Belgian soloed to victory after breaking away from an elite group of riders on the second lap of the race, eventually beating his teammate Michael Vanthourenhout by nine seconds. Corné Van Kessel (Tormans) rounded out the podium, 14 seconds down.
Series leader Eli Iserbyt (Pauwels Sauzen-Bingoal) held onto his lead with a fourth-placed finish, 31 seconds back. He takes a near-insurmountable lead of 3:02 into the final round in Brussels next Sunday.
Iserbyt had been on course for a top-three finish before making a mistake late on and settling for fourth. Vanthourenhout's second place was also secured late on, as the 27-year-old accelerated past Van Kessel on the final snow-bound section of the race.
Swipe to scroll horizontally
Results

| # | Rider Name (Country) Team | Result |
| --- | --- | --- |
| 1 | Laurens Sweeck (Bel) Pauwels Sauzen - Bingoal | 0:59:06 |
| 2 | Michael Vanthourenhout (Bel) Pauwels Sauzen - Bingoal | 0:00:09 |
| 3 | Corne Van Kessel (Ned) Tormans Cyclo Cross Team | 0:00:14 |
| 4 | Eli Iserbyt (Bel) Pauwels Sauzen - Bingoal | 0:00:31 |
| 5 | Quinten Hermans (Bel) Tormans Cyclo Cross Team | 0:00:38 |
| 6 | Toon Aerts (Bel) Baloise Trek Lions | 0:00:42 |
| 7 | Felipe Orts Lloret (Spa) Teika-BH-Gsport | 0:00:47 |
| 8 | Lars Van der Haar (Ned) Baloise Trek Lions | 0:00:55 |
| 9 | Niels Vandeputte (Bel) Alpecin - Fenix | 0:01:03 |
| 10 | Daan Soete (Bel) Group Hens - Maes Containers | 0:01:07 |
| 11 | Toon Vandebosch (Bel) Pauwels Sauzen - Bingoal | 0:01:12 |
| 12 | Jens Adams (Bel) | 0:01:32 |
| 13 | Thomas Mein (GBr) Tormans Cyclo Cross Team | 0:01:55 |
| 14 | David Van der Poel (Ned) Alpecin - Fenix | 0:01:57 |
| 15 | Vincent Baestaens (Bel) Group Hens - Maes Containers | |
| 16 | Jim Aernouts (Bel) Baloise Trek Lions | 0:02:02 |
| 17 | Tom Meeusen (Bel) Group Hens - Maes Containers | 0:02:10 |
| 18 | Timon Rüegg (Swi) Cross Team Legendre | 0:02:36 |
| 19 | Joran Wyseure (Bel) | 0:02:45 |
| 20 | Timo Kielich (Bel) Credishop-fristads | 0:02:50 |
| 21 | Emiel Verstrynge (Bel) Tormans Cyclo Cross Team | 0:03:19 |
| 22 | Ryan Kamp (Ned) Pauwels Sauzen - Bingoal | 0:03:22 |
| 23 | Yentl Bekaert (Bel) Baloise Trek Lions | 0:03:29 |
| 24 | Lander Loockx (Bel) Group Hens - Maes Containers | 0:03:59 |
| 25 | Kevin Kuhn (Swi) Tormans Cyclo Cross Team | 0:04:06 |
| 26 | Thibau Nys (Bel) Baloise Trek Lions | 0:04:16 |
| 27 | Loris Rouiller (Swi) Alpecin - Fenix | 0:04:47 |
| 28 | Clement Horny (Bel) | 0:04:50 |
| 29 | Hugo Jot (Fra) Ardennes Cross Team | 0:05:00 |
| 30 | Ingmar Uytdewilligen (Bel) | 0:05:07 |
| 31 | Witse Meeussen (Bel) Pauwels Sauzen - Bingoal | 0:05:19 |
| 32 | Arne Baers (Bel) | 0:05:27 |
| 33 | Lennert Belmans (Bel) Iko - Crelan | 0:05:32 |
| 34 | Ward Huybs (Bel) Baloise Trek Lions | 0:05:56 |
| 35 | Kevin Suarez Fernandez (Spa) Nesta - Skoda Alecar cx Team | 0:06:09 |
| 36 | Len Dejonghe (Bel) Group Hens - Maes Containers | 0:06:23 |
| 37 | Joachim Van Looveren (Bel) Proximus - Alphamotorhomes - Doltcini CT | 0:06:34 |
| 38 | Arno Van den Broeck (Bel) | 0:06:55 |
| 39 | Klaas Groenen (Ned) | 0:07:00 |
| 40 | Wout Vervoort (Bel) | 0:07:36 |
| 41 | Dolf Pemen (Bel) Proximus - Alphamotorhomes - Doltcini CT | 1 lap |
| 42 | Jens Gys (Bel) | 1 lap |
| 43 | Timothé Gabriel (Fra) | 2 laps |
| 44 | Ydris Salomez (Bel) Proximus - Alphamotorhomes - Doltcini CT | 3 laps |
| 45 | Jonathan Anderson (USA) | 3 laps |
| 46 | Cameron Jette (Can) | 4 laps |
| 47 | Vincent Oger (Bel) | 4 laps |
| DNF | David Menut (Fra) Cross Team Legendre | |
| DNF | Steve Chainel (Fra) Cross Team Legendre | |
| DNF | Stan Godrie (Ned) | |
| DNF | Anton Ferdinande (Bel) Pauwels Sauzen - Bingoal | |
| DNF | Théo Thomas (Fra) Tormans Cyclo Cross Team | |
| DNF | Justin Laevens (Bel) Proximus - Alphamotorhomes - Doltcini CT | |
| DNS | Pim Ronhaar (Ned) Pauwels Sauzen - Bingoal | |

Thank you for reading 5 articles in the past 30 days*
Join now for unlimited access
Enjoy your first month for just £1 / $1 / €1
*Read any 5 articles for free in each 30-day period, this automatically resets
After your trial you will be billed £4.99 $7.99 €5.99 per month, cancel anytime. Or sign up for one year for just £49 $79 €59

Join now for unlimited access
Try your first month for just £1 / $1 / €1