Lucinda Brand wins Flandriencross in Hamme
Van Anrooij takes second ahead of Betsema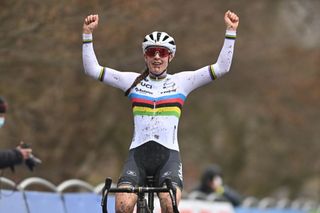 (Image credit: Getty Images)
Lucinda Brand (Baloise Trek Lions) won the X2O Badkamers Flandriencross in Hamme, soloing clear of the field shortly before the midpoint of the race.
Brand came home 17 seconds clear of teammate Shirin van Anrooij, who outsprinted Denise Betsema (Pauwels Sauzen – Bingoal) for second place.
Annemarie Worst (777) came home 4th at 24 seconds, while Ceylin del Carmen Alvarado (Alpecin – Fenix), who had been part of the four-woman front group with Brand, Van Anrooij and Betsema in the early exchanges, took 5th at 1:02, just ahead of Manon Bakker (Iko – Crelan).
Brand got off to a rapid start in Hamme, immediately stretching out the field, with Betsema the only rider to match her initial surge. After Brand picked up the first bonus sprint, the front group grew to include four riders, with Van Anrooij and Alvarado bridging across.
Van Anrooij hit the front shortly afterwards and piled on the pressure in the opening laps, but Brand's class began to tell on the third lap. The world champion hit the front and she opened a gap of 3 seconds over Betsema and 9 on Van Anrooij with three laps remaining.
Alvarado, meanwhile, was out of the hunt, now trailing by 17 seconds in the company of Worst and Bakker.
Brand continued to extend her advantage, going 10 seconds clear of Betsema with two laps remaining, with Van Anrooij a further 4 seconds down in third. By this point, it was clear that the suspense lay in the battle for second place, and so it proved, as Betsema and Van Anrooij engaged in a spirited duel.
Brand took the bell with an unassailable lead and she safely negotiated the final lap to win by 17 seconds, while Van Anrooij had just enough in the tank to fend off Betsema and take second place.
A week out from the World Championships, the defending champion Brand has underlined her status with a commanding victory. She also now leads the Soudal Ladies Trophy classification by 21 seconds from Betsma, while Worst lies third at 6:11.
Swipe to scroll horizontally
Full Results

| Pos. | Rider Name (Country) Team | Result |
| --- | --- | --- |
| 1 | Lucinda Brand (Ned) Baloise Trek Lions | 0:46:00 |
| 2 | Shirin Van Anrooij (Ned) Baloise Trek Lions | 0:00:17 |
| 3 | Denise Betsema (Ned) Pauwels Sauzen - Bingoal | 0:00:18 |
| 4 | Annemarie Worst (Ned) 777 | 0:00:24 |
| 5 | Ceylin del Carmen Alvarado (Ned) Alpecin - Fenix | 0:01:02 |
| 6 | Manon Bakker (Ned) Iko - Crelan | 0:01:03 |
| 7 | Sanne Cant (Bel) Iko - Crelan | 0:02:11 |
| 8 | Marion Norbert Riberolle (Bel) Starcasino Cx Team | 0:02:12 |
| 9 | Aniek Van Alphen (Ned) 777 | 0:02:20 |
| 10 | Anna Kay (GBr) Starcasino Cx Team | 0:03:17 |
| 11 | Marie Schreiber (Lux) Tormans Cyclo Cross Team | 0:03:22 |
| 12 | Alicia Franck (Bel) Proximus - Alphamotorhomes - Doltcini Ct | 0:03:44 |
| 13 | Zoe Backstedt (GBr) | 0:04:13 |
| 14 | Suzanne Verhoeven (Bel) | 0:04:26 |
| 15 | Karen Verhestraeten (Bel) Iko - Crelan | 0:04:32 |
| 16 | Femke Gort (Ned) Pissei - Groep T.O.M | 0:05:16 |
| 17 | Julia Kopecky (Cze) | 0:05:26 |
| 18 | Loes Sels (Bel) Proximus - Alphamotorhomes - Doltcini Ct | 0:05:36 |
| 19 | Jinse Peeters (Bel) Proximus - Alphamotorhomes - Doltcini Ct | 0:05:49 |
| 20 | Julie Brouwers (Bel) | 0:05:56 |
| 21 | Susanne Meistrok (Ned) Proximus - Alphamotorhomes - Doltcini Ct | 0:06:09 |
| 22 | Fleur Moors (Bel) | 0:06:13 |
| 23 | Tereza Vaníčková (Cze) | 0:06:23 |
| 24 | Jana Dobbelaere (Bel) Starcasino Cx Team | 0:06:48 |
| 25 | Taylor Kuyk-White (USA) | 0:06:50 |
| 26 | Maud Kaptheijns (Ned) Cx Team Deschacht-Group Hens-Containers Maes | 0:06:59 |
| 27 | Meg De Bruyne (Bel) | 0:07:11 |
| 28 | Fauve Bastiaenssen (Bel) Pissei - Groep T.O.M | 0:07:26 |
| 29 | Lotte Baele (Bel) | 0:07:28 |
| 30 | Lara Defour (Bel) | 0:07:31 |
| 31 | Tessa Zwaenepoel (Bel) Proximus - Alphamotorhomes - Doltcini Ct | 0:08:14 |
| 32 | Chloë Van Den Eede (Bel) | |
| 33 | Esther Van Der Burg (Ned) Proximus - Alphamotorhomes - Doltcini Ct | |
| 34 | Marlies Vos (Ned) | |
| 35 | Lise Van Wunsel (Bel) | |
| 36 | Maïté Barthels (Lux) | |
| 37 | Cato Cassiers (Bel) Starcasino Cx Team | |
| 38 | Febe Schokkaert (Bel) | |
| 39 | Tine Rombouts (Bel) | |
| 40 | Alma Johansson (Swe) | |
| 41 | Shana Maes (Bel) Tormans Cyclo Cross Team | |
| 42 | Kim Van De Steene (Bel) | |
| 43 | Lies´L Schevenels (Bel) | |
| 44 | Xenna De Bruyckere (Bel) | |
| 45 | Jennifer Malik (USA) | |
| 46 | Nele De Vos (Bel) | |
| 47 | Layla Barthels (Lux) | |
| 48 | Corey Coogan Cisek (USA) Velorevolution Wpcycles | |
| 49 | Caren Commissaris (Bel) | |
| 50 | Rosanne Breugelmans (Bel) Pissei - Groep T.O.M | |
| 51 | Jo Blanchaert (Bel) | |
| 52 | Tiger-Lil Harinck (Bel) | |
| 53 | Jolisa Verschueren (Bel) | |
| DNF | Jana Van Der Veken (Bel) | |
| DNF | Famke Van Waterschoot (Ned) | |
| DNF | Emily De Cuyper (Bel) | |
| DNF | Laura Greenhalgh (GBr) Velorevolution Wpcycles | |

Thank you for reading 5 articles in the past 30 days*
Join now for unlimited access
Enjoy your first month for just £1 / $1 / €1
*Read any 5 articles for free in each 30-day period, this automatically resets
After your trial you will be billed £4.99 $7.99 €5.99 per month, cancel anytime. Or sign up for one year for just £49 $79 €59

Join now for unlimited access
Try your first month for just £1 / $1 / €1