Vuelta a España 2022 stage 1 preview - TTT challenge for start in Utrecht
Experts estimate at gaps of around 40 seconds between top favourites across the 23.3 kilometres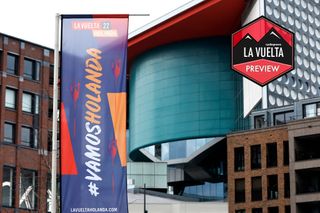 (Image credit: Bas Czerwinski/Getty Images)
Stage 1: Utrecht
Date: Friday, August 19, 2022
Distance: 23.3km
Stage timing: 18:30 - 20:22 CEST
Stage type: Team Time Trial
The 2022 Vuelta a España kicks off today with a medium-length team time trial in central Holland, which despite the geographical distance between the start and Madrid, could have a significant early impact on the GC standings.
Several favourites have warned that the 23-kilometer flat time trial may not be where top riders can win the Vuelta. But it may see some come perilously close to losing it almost before the race has begun.
Modern-day riders' relative lack of recent experience at team time trialling, given the last in a Grand Tour, was in the Vuelta back in 2019, is one factor in the equation that could see a few interestingly hefty gaps or surprising results emerge. Add in the comparatively long distance of this TTT, nearly double that of 2019's Vuelta opener in Torrevieja, not to mention the risk of changing weather conditions, with rain forecast during the day, and that could further widen the margins among at least some of the top names.
These margins will almost certainly pale in comparison with those gaps carved out in the bigger set piece mountain and individual TT battles to come, of course. But the stakes are definitely higher than a usual opening prologue and there will be no lack of witnesses, either, given that if the Vuelta start in 2009 is anything to go by, crowds lining the route should be huge.
It was 13 years ago, and despite heavy rain on the first day, from the start in Assen motorbike circuit in northern Holland onwards, that tens of thousands of fans turned out to cheer on the Vuelta, with numbers only dropping significantly on stage 4 when the Vuelta crossed, briefly, into Germany and then concluded its northern European leg in Liege, Belgium.
While both stages 2 and 3 this year both feature a single fourth-category climb, the opening stage is unrelentingly flat, starting in Utrecht's city centre at 5 metres above sea level and finishing all of two metres higher. The main challenge, then, will be one of the team's management and riders coordinating the squad's collective effort on a fast, power riders' course with a fairly technical first section of around 6 kilometres.
Image 1 of 2
"The technical section is there because we're going through the central part of Utrecht early on, there will be a lot of curves and some narrow parts," Fernando Escartin, Unipublic route co-designer, tells Cyclingnews. "After that, it's much more straightforward, on broad boulevards most of the way, with a lot of straightaways."
"I'd say between the top seven or eight teams there'll be differences of somewhere between 20 and 30 seconds, 40 at most."
One factor that will be unpredictable, Escartin said, is the weather, "because there are sections of the course that are very open and where the wind if it's strong, can have a major effect. And it's often very windy here, too."
"Fortunately it has rained very hard in the last few days and that's given the roads a good clean of any traffic dirt there might have been on the city centre roads."
Equally luckily for riders not wanting to wreck their three-week race on day one, Escartin says there are only a few cobbled sections, and "they are the kind of paved sections you get for bus lanes and so on. It won't be too complicated to handle." The final part of the course, he says, "have one tough bend with about five kilometres to go, but the other corners aren't too difficult at all."
The teams themselves have struggled to check out the course in its full form yet, given the roads will only be closed to traffic from 4 p.m. local time on the afternoon of the race. But recons of the bulk of the route have been going on for most of the week and a final check will happen early on Friday evening, a few hours before the race itself starts.
"The first few kilometres are the most technical," BikeExchange-Jayco lead director for the Vuelta Gene Bates adds, "and after that they get more power orientated.
"The weather will definitely play a factor, looking at early reports, the wind will likely pick up and there will even be a chance of rain."
As for the road surfaces, "we've seen a lot worse in the past, in a lot of races you get plenty of technical aspects. This one's reasonably straightforward.
"I think the challenges will be more about managing guys and making sure we get a nice, cohesive effort up to a certain point and utilizing everyone as much as we possibly can.
"We've tried to get some exposure in training to this kind of event, and I think that'll have quite an influence on how the back end of the race looks on Friday."
Former Vuelta winner and BikeExchange-Jayco leader Simon Yates has said that his team have done some work on closed circuits practicing different formations and also in Girona.
"With fewer and fewer TTTs on the calendar you do have to make a concerted effort," Bates recognises, "if you want to be good in these events.
"You need some big engines if you want to go fast, but a lot is riding on that fifth guy to cross the line, absolutely. We're in a fortunate position that we have some big, strong guys in the team and a lot of experience over the years, both in team time trialling and team pursuiting which have a lot of similarities.
"We've got a nice history of team time trialling too, but so do other squads here like Ineos and Jumbo who have incredibly strong lineups.
"Jumbo for sure will be looking for a win in their home country, but hopefully we can upset that applecart!"

Thank you for reading 5 articles in the past 30 days*
Join now for unlimited access
Enjoy your first month for just £1 / $1 / €1
*Read any 5 articles for free in each 30-day period, this automatically resets
After your trial you will be billed £4.99 $7.99 €5.99 per month, cancel anytime. Or sign up for one year for just £49 $79 €59

Join now for unlimited access
Try your first month for just £1 / $1 / €1