Neff secures World Cup win in Nove Mesto
Dahle Flesjaa and Ferrand-Prevot round out elite women's podium
Elite Women: - Nové Mesto
Image 1 of 20
Image 2 of 20
Image 3 of 20
Image 4 of 20
Image 5 of 20
Image 6 of 20
Image 7 of 20
Image 8 of 20
Image 9 of 20
Image 10 of 20
Image 11 of 20
Image 12 of 20
Image 13 of 20
Image 14 of 20
Image 15 of 20
Image 16 of 20
Image 17 of 20
Image 18 of 20
Image 19 of 20
Image 20 of 20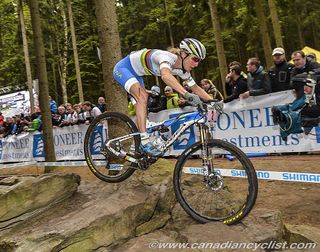 Defending women's World Cup champion Jolanda Neff (Stoeckli) retained the number one race plate after her win in this year's series opener at Nove Mesto, Czech Republic, on Sunday.
After raining through the night, conditions gradually cleared throughout the day. However, the rain had soaked the course, and rocky sections quickly became mud covered and slippery, leading to many crashes.
Neff had her usual fast start to open a 15-second lead by the end of the start loop. Leading the chase was legendary Gunn-Rita Dahle Flesjaa (Multivan Merida), who took her first World Cup victory 19 years earlier. With Dahle Flesjaa were defending Nove Mesto champion Pauline Ferrand-Prevot (Rabobank Liv) and Annika Langvad (Specialized).
Dahle Flesjaa joined Neff on the first lap, and the two rode away from the rest of the field, with Langvad settling into third and Ferrand-Prevot in fourth. World champion Catharine Pendrel (Luna) worked her way up to fifth, but was already 49 seconds down after a lap. The race held this pattern until the final lap, when Neff dropped Dahle Flesjaa, only to see the Norwegian battle back to within a second by the finish line. Langvad crashed in the final lap, allowing both Ferrand-Prevot and Pendrel to get by her.
"It was really hard and it feels unreal," commented Neff. "I didn't believe it until I really crossed the line. I am really happy how it went today. Once she [Gunn-Rita Dahle Flesjaa] even got a gap on me, but I caught her back. In the last lap I really rode as fast as I could. I knew if I went into the downhill first I had a good chance of taking the win.
"It was really important to start the season with a win. Nove Mesto means really a lot to me. In 2011 I won a junior World Cup, in 2012 the under-23 and now I finally win the elite. It feels absolutely amazing."
Full Results
| # | Rider Name (Country) Team | Result |
| --- | --- | --- |
| 1 | Jolanda Neff (Switzerland) | 1:34:29 |
| 2 | Gunn-Rita Dahle Flesjaa (Norway) | 0:00:01 |
| 3 | Pauline Ferrand-Prevot (France) | 0:01:39 |
| 4 | Catharine Pendrel (Canada) | 0:02:21 |
| 5 | Annika Langvad (Denmark) | 0:02:27 |
| 6 | Irina Kalentyeva (Russian Federation) | 0:02:54 |
| 7 | Lea Davison (United States Of America) | 0:02:55 |
| 8 | Rebecca Henderson (Australia) | 0:03:19 |
| 9 | Helen Grobert (Germany) | 0:03:35 |
| 10 | Maja Wloszczowska (Poland) | 0:03:36 |
| 11 | Linda Indergand (Switzerland) | 0:04:01 |
| 12 | Emily Batty (Canada) | 0:04:39 |
| 13 | Georgia Gould (United States Of America) | 0:04:47 |
| 14 | Blaza Klemencic (Slovenia) | 0:05:07 |
| 15 | Tanja Zakelj (Slovenia) | 0:05:26 |
| 16 | Annie Last (Great Britain) | 0:05:59 |
| 17 | Eva Lechner (Italy) | 0:06:01 |
| 18 | Sabine Spitz (Germany) | 0:06:19 |
| 19 | Elisabeth Osl (Austria) | 0:06:34 |
| 20 | Esther Süss (Switzerland) | 0:06:55 |
| 21 | Barbara Benko (Hungary) | 0:07:19 |
| 22 | Githa Michiels (Belgium) | 0:07:20 |
| 23 | Isabella Moreira Lacerda (Brazil) | 0:07:25 |
| 24 | Chengyuan Ren (People's Republic of China) | 0:07:27 |
| 25 | Yana Belomoina (Ukraine) | 0:07:40 |
| 26 | Chloe Woodruff (United States Of America) | 0:07:49 |
| 27 | Peta Mullens (Australia) | 0:07:50 |
| 28 | Adelheid Morath (Germany) | |
| 29 | Aleksandra Dawidowicz (Poland) | 0:08:04 |
| 30 | Anna Oberparleiter (Italy) | 0:08:36 |
| 31 | Erin Huck (United States Of America) | 0:09:12 |
| 32 | Karla Stepanova (Czech Republic) | 0:09:24 |
| 33 | Anne Terpstra (Netherlands) | 0:09:28 |
| 34 | Raiza Goulao-Henrique (Brazil) | |
| 35 | Nathalie Schneitter (Switzerland) | 0:09:45 |
| 36 | Marine Groccia (Switzerland) | 0:10:13 |
| 37 | Nina Wrobel (Germany) | 0:10:23 |
| 38 | Hanna Klein (Germany) | 0:11:03 |
| 39 | Janka Keseg Stevkova (Slovakia) | 0:11:11 |
| 40 | Jovana Crnogorac (Serbia) | 0:11:14 |
| 41 | Alice Pirard (Belgium) | 0:11:15 |
| 42 | Paula Gorycka (Poland) | 0:11:37 |
| 43 | Jitka Skarnitzlova (Czech Republic) | 0:11:45 |
| 44 | Sabrina Enaux (France) | 0:12:10 |
| 45 | Corina Gantenbein (Switzerland) | 0:12:13 |
| 46 | Sandra Walter (Canada) | 0:12:19 |
| 47 | Pavlina Sulcova (Czech Republic) | 0:12:26 |
| 48 | Nataliia Krompets (Ukraine) | |
| 49 | Agustina Maria Apaza (Argentina) | 0:12:46 |
| 50 | Mary Mcconneloug (United States Of America) | 0:12:47 |
| 51 | Kathrin Stirnemann (Switzerland) | 0:13:25 |
| 52 | Ekateryna Anoshina (Russian Federation) | 0:13:40 |
| 53 | Cindy Montambault (Canada) | 0:13:57 |
| 54 | Hielke Elferink (Netherlands) | 0:14:07 |
| 55 | Elisabeth Brandau (Germany) | 0:14:34 |
| 56 | Lisa Mitterbauer (Austria) | 0:14:37 |
| 57 | Mikaela Kofman (Canada) | |
| 58 | Tereza Hurikova (Czech Republic) | 0:14:42 |
| 59 | Cherie Vale (South Africa) | 0:16:23 |
| 60 | Anna Villar Argente (Spain) | 0:16:42 |
| 61 | Rebecca Beaumont (Canada) | 0:16:48 |
| 62 | Lucia Vazquez Crespo (Spain) | |
| 63 | Lucie Vesela (Czech Republic) | |
| 64 | Nadine Rieder (Germany) | |
| 65 | Iryna Popova (Ukraine) | |
| 66 | Helle Haugaard Jessen (Denmark) | |
| 67 | Aurélia Perry (France) | |
| 68 | Kerry Macphee (Great Britain) | |
| 69 | Ingrid Boe Jacobsen (Norway) | |
| 70 | Rocio Martin Rodriguez (Spain) | |
| 71 | Lisette Rosenbech (Denmark) | |
| 72 | Anna Konovalova (Russian Federation) | |
| 73 | Noelia Rodriguez (Argentina) | |
| 74 | Mariske Strauss (South Africa) | |
| 75 | Nina Baum (United States Of America) | |
| 76 | Dagmara Drabik (Poland) | |
| DNF | Kate Fluker (New Zealand) | |
| DNF | Serena Calvetti (Italy) | |
Cyclingnews Newsletter
Sign up to the Cyclingnews Newsletter. You can unsubscribe at any time. For more information about how to do this, and how we hold your data, please see our privacy policy