Tirreno-Adriatico stage 5 - Live coverage
Tirreno-Adriatico race home

Tirreno-Adriatico start list

Tirreno-Adriatico 2022 – Preview

Stage 4: Pogacar powers to victory

How to watch Tirreno-Adriatico 2022 – live TV and streaming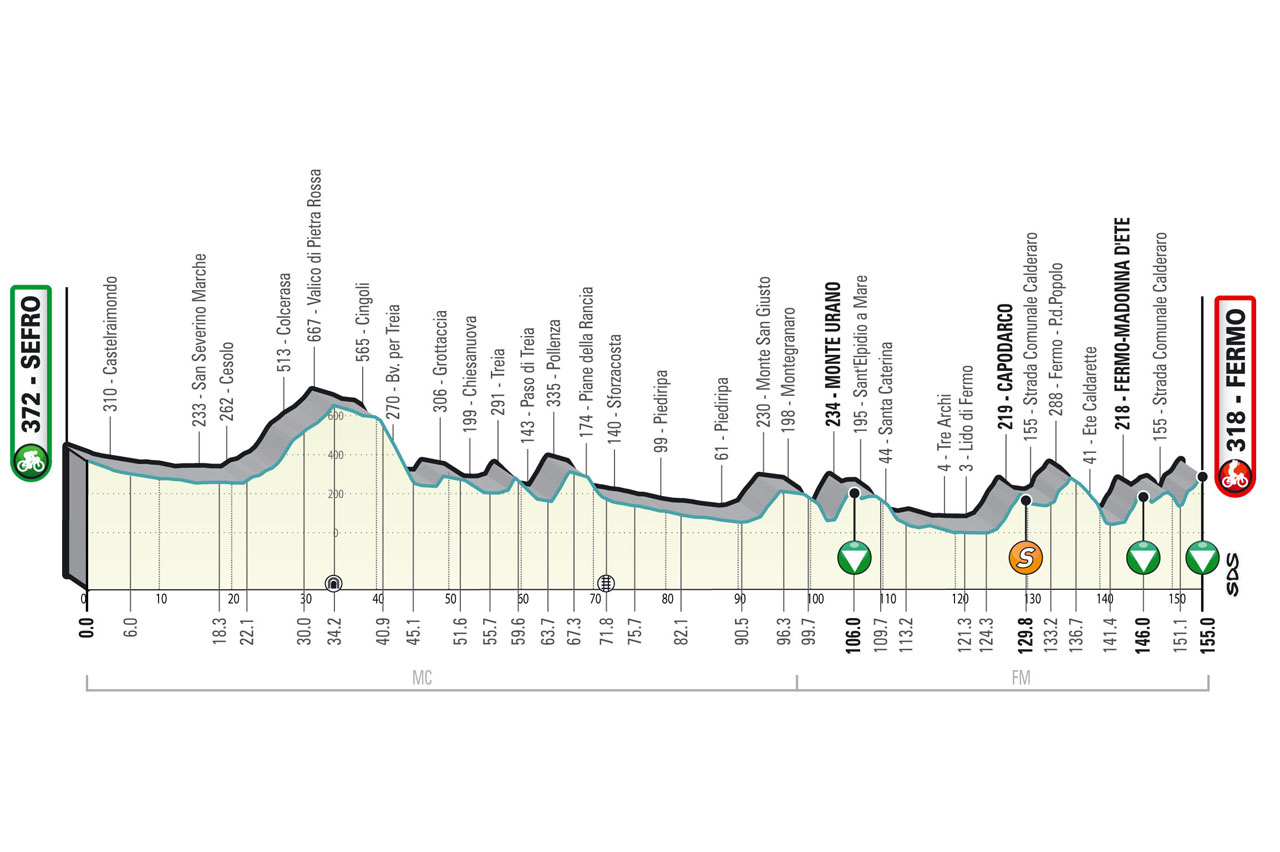 Situation
Tirreno-Adriatico: Warren Barguil takes solo victory on stage 5
Refresh
Hello and welcome along as we head deeper into Tirreno-Adriatico. After yesterday's trio of climbs in Bellante, today we have a stage that's weighted even more heavily towards the puncheurs, with a series of short climbs and some severe gradients.
We're off. The riders are rolling out of Sfero and heading towards kilometre-zero for the proper start of the stage.
The 'Tappa dei Muri' (or the 'Stage of the Walls') has become a bit of a Tirreno-Adriatico tradition. This year, we have a number of short steep climbs on what is a short stage at 155km. The most serious stuff comes in the final 30km, with up and down almost all the way.
The final haul to the line features a 750-metre 'wall' at 21 per cent, before a brief plateau and then another couple of steep pitches to the line.
Here's a look at those final few kilometres.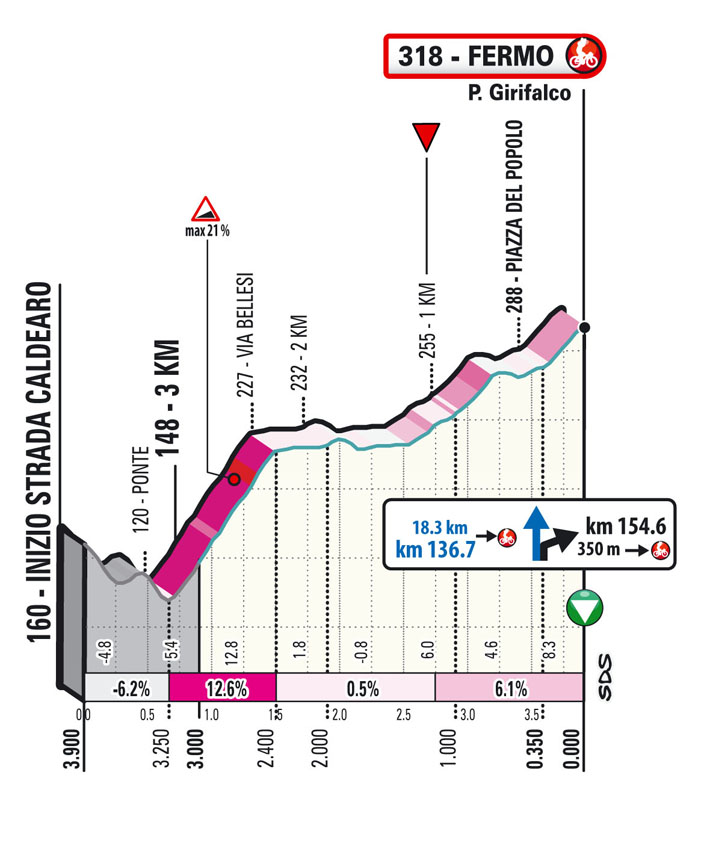 Richard Carapaz (Ineos Grenadiers) is out of the race. He has stomach problems and is one of three non-starters today along with Nacer Bouhanni (Arkea-Samsic) and Simone Consonni (Cofidis).
We're properly off. The flag has been waved and the stage is underway. Here come the first attacks.
It's a gentle downhill start and, as such, it's fast. Nothing sticking in the opening kilometres.
There's plenty of interest in the breakaway today, it seems. Lots of attacks but nothing being allowed to go clear.
A group of 12 goes clear but is pegged back.
We've got a climb coming up after 25km which is where we should see a proper selection.
We're on the climb now and it's still all together. Remco Evenepoel's QuickStep-AlphaVinyl teammates - including world champ Julian Alaphilippe - are very active and guarding a watchful eye over proceedings.
Thibaut Pinot is among those looking to break clear on the upper reaches of our early climb.
35km ridden
The race reaches the top of the Valico de Pietra Rossa climb and still we have no breakaway. It's been a blistering start and it's only going to get quicker as we now dive downhill.
A few more attempts on this gentle dip before the main plunge, but nothing sticking.
This Tirreno-Adriatico was billed as a first battle between Tadej Pogacar and Remco Evenepoel. It was Evenepoel who drew a little blood in the opening time trial but Pogacar since went after bonus seconds and then moved into the race lead with his victory yesterday. Evenepoel finished a couple of seconds back but also missed out on the finish line bonuses and so ended up conceding 12 seconds, leaving him now trailing Pogacar by nine seconds. Anyway, here's Evenepoel's reaction to yesterday's events.
Evenepoel faces questions after Pogacar takes flight at Tirreno-Adriatico
111km to go
The riders are flying down this descent. Given the speed, it's hard for differences to be made here, and it'll be on the next couple of lumps that a breakaway is likely to finally form.
The clock has just ticked over to one hour and we've done around 46km already, so that gives an indication of the intensity.
Over that first little lump and the peloton has split.
New attacks go and we have a trio on the move. Nelson Oliveira (Movistar), Valentin Ferron (TotalEnergies) and Clement Rousso (Arkea-Samsic) have moved clear.
95km to go
It's still rapid and the peloton is still split as we hit another kicker. It's unclear at the moment if any big names have been caught out.
The gap between the two bunches goes out to a minute!
Race leader Pogacar is present and correct up front.
Here's Alaphilippe marking a move a little earlier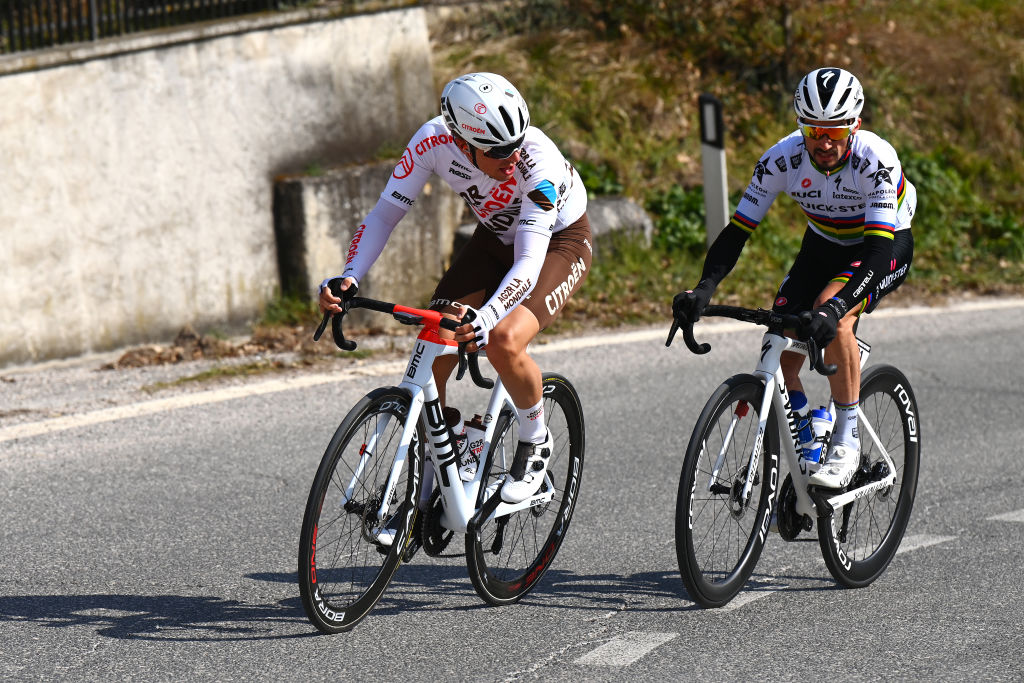 Ferron, Oliveira, and Russo have opened a lead of 40 seconds, but now counter attacks come from the main peloton.
We've got a group of seven riders chasing the leading trio. And now two more are counter-attacking, so it could soon be nine.
The dropped group of riders from the peloton are coming back, so we could be heading for a regrouping, a bit of organisation, and possibly some calm.
Indeed, things have eased markedly in the main group of favourites, and everyone's getting back in to form one big peloton.
Up the road, that group of nine has now formed and they're 15 seconds behind the leading trio, so we'll soon have a group of 12 ahead of a whole peloton, and a return to normality.
89km to go
And breathe...
That's it. After 65km of breathless racing, the stage finally settles down. The breakaway groups come together to form a 12-man escape, and the peloton takes a nature break as the gap rises towards two minutes.
The 12 leaders are:
Warren Barguil, Clement Russo (Arkea-Samsic)
Vincenzo Albanese, Francesco Gavazzi (Eolo-Kometa)
Davide Ballerini (QuickStep-AlphaVinyl)
Nelson Oliveira (Movistar)
Gianluca Brambilla (Trek-Segafredo)
Simone Velasco (Astana Qazaqstan)
Benjamin Thomas (Cofidis)
Xandro Meurisse (Alpecin-Fenix)
Valentin Ferron (Total Energies)
Jhonatan Restrepo (Drone Hopper-Androni Giocattoli)
83km to go
It's calm, but not really. What we've got is a pattern, at last. However, we've only got 80-odd kilometres to go and there are some well-placed riders in this break, so the peloton can't afford much of a rest.
Pogacar's UAE teammates come to the fore and set about working to keep these 12 escapees under control.
The gap stabilises at around 1:50.
Benjamin Thomas is the best-placed rider in this break in terms of the general classification. He started the day 12th overall, 1:08 down on Pogacar, so he's the virtual leader of the race as things stand.
69km to go
UAE continue to control the peloton but they've allowed the break a little more ground as the gap rises to three minutes.
60km to go
The gap continues to stretch out. It's up to 3:30 now.
We're on a short incline here and we'll soon dip down before a sharper kick up to the intermediate sprint in Monte Urano. After that, we have a 20km stretch to our finale, where the climbs don't let up.
Here's Pogacar in the UAE line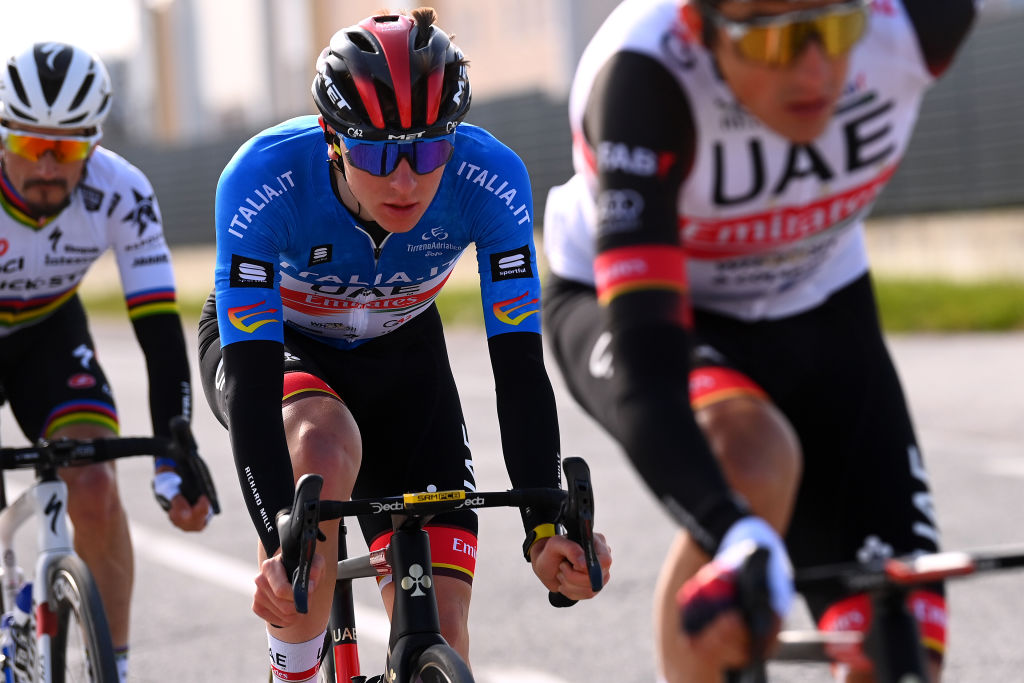 Chris Froome has come out with some interesting comments on the rise of data in modern cycling. He says it has pushed general performance levels to new heights but also made the sport more dangerous. You can read his full thoughts here.
52km to go
The leading 12 riders hit the steep climb to Monte Urano with a lead of 3:45.
The leaders come towards the top of the climb and Restrepo accelerates in search of the mountains classification points.
Barguil shows an interest but Gavazzi comes through to take the maximum 5 KOM points.
48km to go
The breakaway regroups for the descent. They've taken their lead out to almost four minutes on that climb.
UAE lead the bunch over the top of the climb four minutes down.
40km to go
After that short descent, the road flattens out now as we head into the final 40km. We've got a 10km run-in to our finale, with things set to really heat up with 30km to go.
Plenty of short sharp hills coming up but here's a reminder of how the final one looks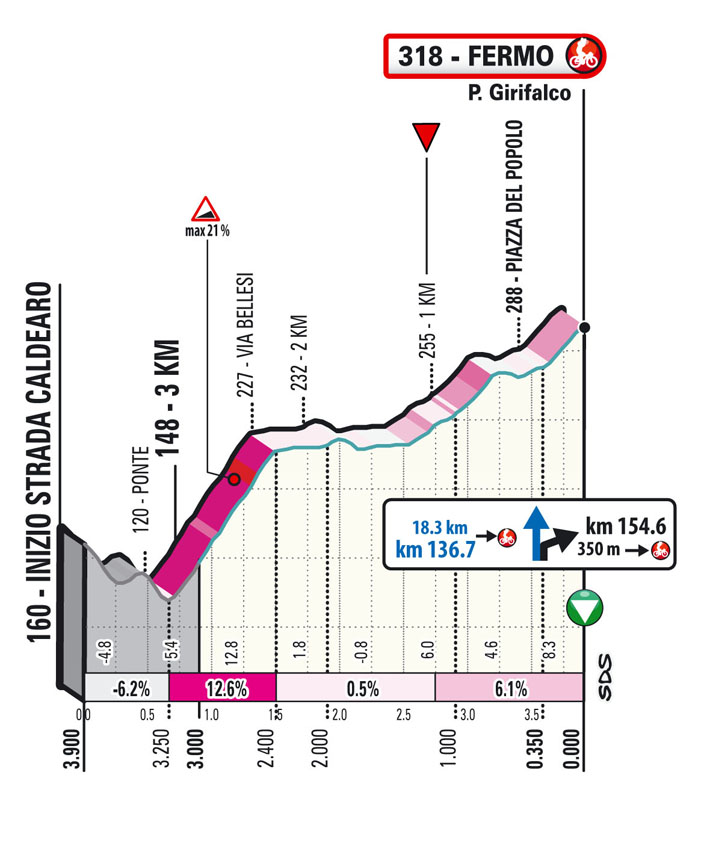 Here's a shot of our breakaway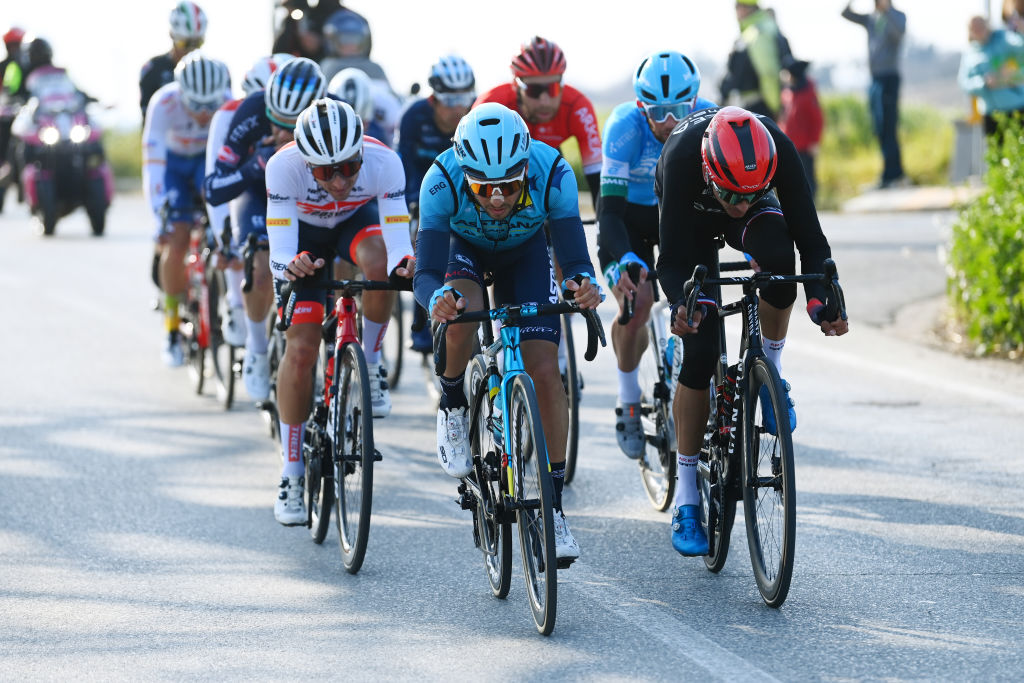 The pace has picked up in the peloton on the approach to this series of climbs in the final 30km. As a result, the gap is down to 3:15.
Mikkel Bjerg is really starting to motor along now for UAE at the head of the bunch.
30km to go
The 12 leaders still have 3:12 in hand but the race favourites will have fresh legs and if things kick off early that could come down quickly.
29km to go
The road kicks uphill and the climbing begins. 3.5km up to Capodarco, where we'll have a somewhat incongruous intermediate 'sprint'.
Bahrain Victorious come to the fore as the peloton make their approach.
UAE's pacing is over and teams are now getting organised in what's looking like a lead-out into this climb that opens the finale.
The peloton is on the climb now and the gap is reducing all the time. 2:45 now.
Up front it's Russo setting pace on behalf of his teammate Barguil. No one dropped so far.
Now Velasco and Thomas come to the fore on double-digit gradients.
It's 19% now on narrow cobbled streets.
Thomas takes the initiative through this village and he duly leads them to the top of the climb and over the intermediate sprint, where he helps himself to three bonus seconds.
He started the day as the best-placed overall in this break, 12th at 1:08 from Pogacar.
24km to go
The break tuck as they dive downhill now. Meanwhile the peloton hit the steep stuff 2:22 in arrears.
This is only a brief respite. The road flattens out and will soon be kicking up again to take us up to Fermo, where we'll finish today.
21km to go
We hit the next little 'wall' and Barguil attacks!
Russo immediately goes pop. He'd done all the work to set this up.
Thomas goes after Barguil
20km to go
Barguil takes it over the top but Thomas claws his way back on. They're going to form a two-up here.
The peloton hits the climb now and explodes!
All the favourites are up towards the front but the bigger frames are swinging at the back.
Majka is working for Pogacar now.
The road kicks back uphill on the upper reaches of this climb into Fermo, which will also act as the final climb. It's viciously steep again on smooth cobbled streets.
Barguil and Thomas stay together and they lead by 11 seconds over Meurisse, Restrepo, Oliveira, Velasco, and Ferron.
18km to go
We cross the finish line for the first time with 18km to go.
Barguil and Thomas lead.
The rest of the breakaway follow, led by those five riders and with the others in fragments.
The peloton take on the final ramps still 2:15 in arrears.
The peloton cross the line at 2:12. With just 16km to go, this is looking more and more like a breakaway day.
Regrouping up the front. Those five riders make contact with Barguil and Thomas to form a lead group of seven.
We have a more sustained descent now and the escapees will love that.
Pogacar has two teammates leading him and the peloton down this descent.
Ballerini, Gavazzi, and Albanese get back in the break. So that's 10 again out front. Russo is back in the bunch and Brambilla is still dropped.
11km to go
Here we go then! The road kicks up again for our latest wall. It heads up to Fermo via a different route.
Meurisse takes it up as Ballerini and the Eolo riders fall away.
Attack from the peloton! It's Tim Wellens (Lotto Soudal)
That confirms it's a breakaway day. There'd be no attacks here if the bunch were going full gas for the stage win. The gap is still a massive 2:05 with just 10.5km to go.
If they're not bothered about the stage win, how concerned will they be about the leader's jersey. Thomas started just over a minute down...
10km to go
The breakaway realise what's happening and look around at eachother on a brief plateau.
But now UAE suddenly hit it at the front of the bunch. It's Soler, who's now the last man standing with Pogacar.
Alaphilippe is dropped as the bunch continues to thin out on these latest steep ramps.
It's super steep again on the upper reaches of this penultimate climb. Meurisse and Velasco lead the way but Oliveira, Thomas, Barguil, Ferron, Restrepo, Gavazzi, and Albanese are still there.
Meurisse kicks again towards the top.
Meurisse leads them over the top and through the KOM point, with Velasco second and Oliveira third.
That earlier lull and the surge in the bunch has seen the gap tumble to 1:25. This is still on a knife-edge.
Big acceleration on the double digits right at the top. Pogacar is straight onto it.
Vingegaard is alive to it as well and they go over the top as a trio.
7.5km to go
A dip down and false flat before another drop down to the foot of our final climb.
The Evenepoel acceleration knocks another chunk out of the break. 1:05 now with 6.5km to go
Geoghegan Hart scrambles to respond now as Pogacar, Evenepoel, and Vingegaard start to collaborate. They pick up Brambilla from the break.
And now the breakaway hit the next little rise. It's another brutal one with super steep ramps.
Evenepoel, Pogacar, and Vingegaard have gone off course. Incredible.
None of them noticed the right-hand turn and they went straight on. Brambilla realised but they didn't Evenepoel was on the front and was the last to stop and turn around.
Pogacar has dragged his way back to the front. Incredible. But Evenepoel is scrambling to get himself back on.
5km to go
Meanwhile the breakaway plough on and they're 55 seconds up with 5 to go
Evenepoel is still chasing and he's 20 seconds down on the main group!
Barguil attacks up front!
Ferron responds and they're away with 4.5km to go
Evenepoel finds Ballerini for support.
Barguil and Ferron find 10 seconds. They're dipping downhill now and holding the peloton at 55 seconds, but we're about to hit the final climb.
Final climb time!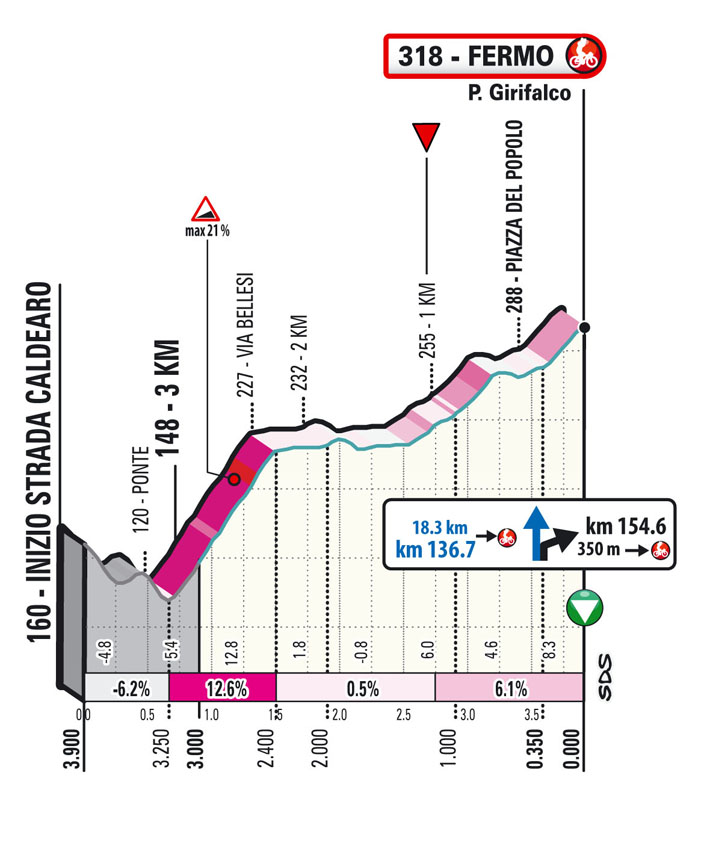 Barguil immediately drops Ferron!
Meurisse lights up the response as Ferron falls away
Barguil is on that super steep 20 per cent opening section and looking good as Thomas starts to drop away now.
Barguil springs from the saddle once more. The bunch is still at 55 seconds and he's in with a huge shout now.
Meurisse starts to struggle. Velasco overtakes him.
2.3km to go and Barguil has 12 seconds now!
Barguil completes the final part of the steep section. A nice little respite on the flat now.
The road will soon pitch up again but he has now got 22 seconds as the clock shoots up!
This is Barguil's to lose now. He looked so strong on that first section and just has to avoid implosion on the upper reaches.
Barguil hits those cobbles on the narrow streets in Fermo.
1km to go
He passes under the flamme rouge with a lead of 25 seconds
Oliveira joins Meurisse and Velasco in pursuit but they're racing for second place now.
The gradients hit the double digits again and Barguil looks composed, pedalling fluently in the circumstances.
As I write that, his head starts bobbing wildly...
600 metres to go and he ticks off the last super steep ramp. A flatter section now through the old town.
20 seconds is his lead with 300 metres to go.
One more ramp now, and he springs out of the saddle once again.
He looks around as he grimaces. He can see his pursuers now but he knows he has enough.
Barguil sits up and raises his arms. The win is his.
Meurisse punches clear to take second ahead of Velasco and Oliveira.
And here comes the bunch, hot on the heels. Pogacar is up there towards the front.
Evenepoel is there with him. Good recovery. Vingegaard was alongside them. Geoghegan Hart loses some time.
Results

| Pos. | Rider Name (Country) Team | Result |
| --- | --- | --- |
| 1 | Warren Barguil (Fra) Arkea-Samsic | 3:39:53 |
| 2 | Xandro Meurisse (Bel) Alpecin-Fenix | 0:00:10 |
| 3 | Simone Velasco (Ita) Astana Qazaqstan Team | 0:00:14 |
| 4 | Nelson Oliveira (Por) Movistar Team | 0:00:15 |
| 5 | Richie Porte (Aus) Ineos Grenadiers | 0:00:26 |
| 6 | Tadej Pogacar (Slo) UAE Team Emirates | 0:00:28 |
| 7 | Jonas Vingegaard (Den) Jumbo-Visma | |
| 8 | Enric Mas Nicolau (Spa) Movistar Team | |
| 9 | Remco Evenepoel (Bel) Quick-Step Alpha Vinyl Team | |
| 10 | Jai Hindley (Aus) Bora-Hansgrohe | |
General classification after stage 5

| Pos. | Rider Name (Country) Team | Result |
| --- | --- | --- |
| 1 | Tadej Pogacar (Slo) UAE Team Emirates | 18:17:08 |
| 2 | Remco Evenepoel (Bel) Quick-Step Alpha Vinyl Team | 0:00:09 |
| 3 | Thymen Arensman (Ned) Team DSM | 0:00:43 |
| 4 | Jonas Vingegaard (Den) Jumbo-Visma | 0:00:45 |
| 5 | Miguel Angel Lopez Moreno (Col) Astana Qazaqstan Team | 0:01:00 |
| 6 | Richie Porte (Aus) Ineos Grenadiers | |
| 7 | Tao Geoghegan Hart (GBr) Ineos Grenadiers | 0:01:02 |
| 8 | Jai Hindley (Aus) Bora-Hansgrohe | 0:01:06 |
| 9 | Enric Mas Nicolau (Spa) Movistar Team | 0:01:11 |
| 10 | Wilco Kelderman (Ned) Bora-Hansgrohe | 0:01:14 |