Tirreno-Adriatico stage 4 - Live coverage
Refresh
Hello and welcome along to our live coverage of Tirreno-Adriatico. Another 200+km stage today but one that should see the race liven up after a time trial and a couple of sprints. It's a puncheur's delight today, with a finishing circuit that will see riders take on the short climb at Bellante three times, the last one being the ascent to the finish.
The riders have all signed on for the stage and we're about to get going.
Stunning stage start today in front of the Cascata delle Marmore waterfalls just outside Terni, in what is pretty much central Italy.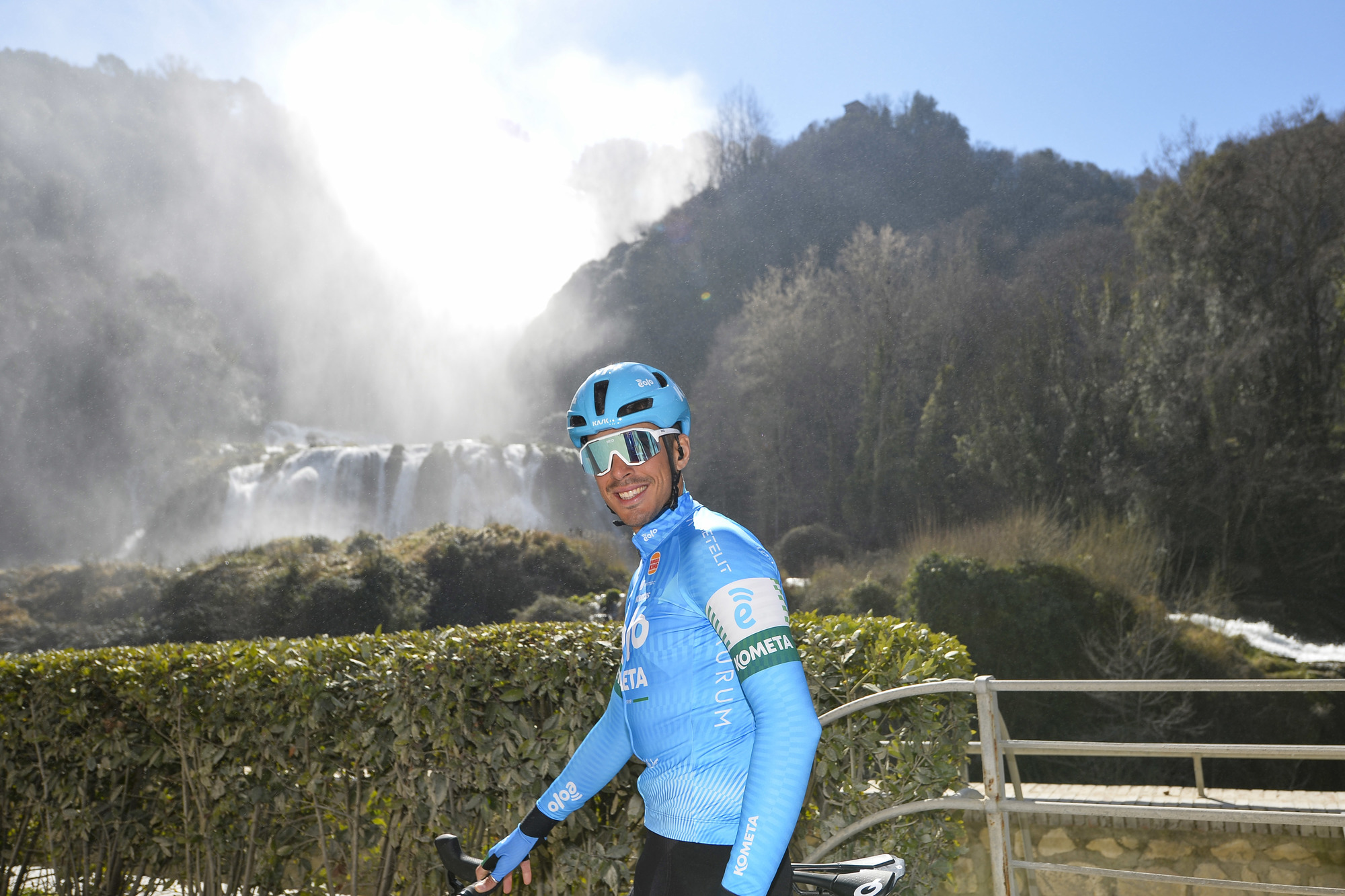 We're off, and it should be an action-packed start. After just 4km, the road tilts uphill for a short kick ahead of a longer climb to Valico Torre to Fuscello. The first 40km of this stage are largely pointing uphill.
Plenty of digs on the opening climb but nothing getting away yet. It's a fast start.
We're over that first kicker and now dipping downhill ahead of the more sustained climb.
Gogl, Ferron, and Sutterlin go clear but are brought back on the climb.
We've got a bigger group going clear now. Around 10 riders in there.
The peloton has sat up towards the top of the first section of the climb and the group is going clear. Names to follow shortly.
33km ridden
Here are the riders up the road as they begin the upper part of the early climb:
Lilian Calmejane (AG2R Citroën Team)
Jasha Sutterlin (Bahrain-Victorious)
Jhonatan Restrepo (Drone Hopper-Androni Giocattoli)
Jonathan Caicedo (EF Education-EasyPost)
Diego Rosa (Eolo-Kometa)
Einer Rubio (Movistar)
Warren Barguil (Arkéa Samsic)
Tsgabu Grmay (BikeExchange–Jayco)
Chris Hamilton (Team DSM)
Quinn Simmons (Trek-Segafredo)
The attackers have already got three minutes on the bunch
The gap rises towards five minutes now. This is a strong break and they could work their way into a chance if the peloton doesn't react before long.
This was the order at the KOM point at the top of the Valico Torre Fuscello climb
1° Quinn Simmons
2° Diego Rosa
3° Jhonatan Restrepo
4° Chris Hamilton
Ineos Grenadiers have the leader's jersey on the shoulders of Filippo Ganna but they've not done much to stop this dangerous break slipping away. Tadej Pogacar's UAE Team Emirates men have had to get involved.
157km to go
The gap is up to 5:30 as we hit a little plateau. There's a long gentle downhill to come soon, where the breakaway should be able to hold their ground.
Caleb Ewan (Lotto Soudal) has abandoned
No word yet on the reason for Ewan's abandon, but yesterday's stage winner is out of the race.
145km to go
The gap between break and bunch starts to come down as UAE and Ineos combine. It's below five minutes again now.
We're heading downhill now, then we've got another small climb before that long old downhill section. The race has settled into a pattern now with the bunch pegging the break at around 4:30, which seems manageable after all.
Remco Evenepoel is out there in the bunch and that meant he couldn't be in court in person yesterday as he received a driving ban. The QuickStep-AlphaVinyl rider was caught speeding in November 2020. Full story here.
The average speed so far is 37.1km/h
127km to go
The gap is still fluctuating around the five-minute mark as the riders take on this uncategorised climb.
117km to go
We're over that climb and now zipping gently downhill for some 40km.
One of our top stories this week has concerned spare bikes on top of cars. This latest TT aero hack has caused a bit of a stir, and my colleague Stephen Farrand caught up with specialist Alex Dowsett at Tirreno yesterday to get his thoughts. Dowsett raised ethical question marks relating to fair play. Full story at the link below.
Dowsett sees 'grey area' in stacking team cars for time trial aero gains
Once we're done with this long descent, we'll have another short kicker before we head to the finishing circuit and the three crucial ascents of the Bellante climb. Here's how it looks.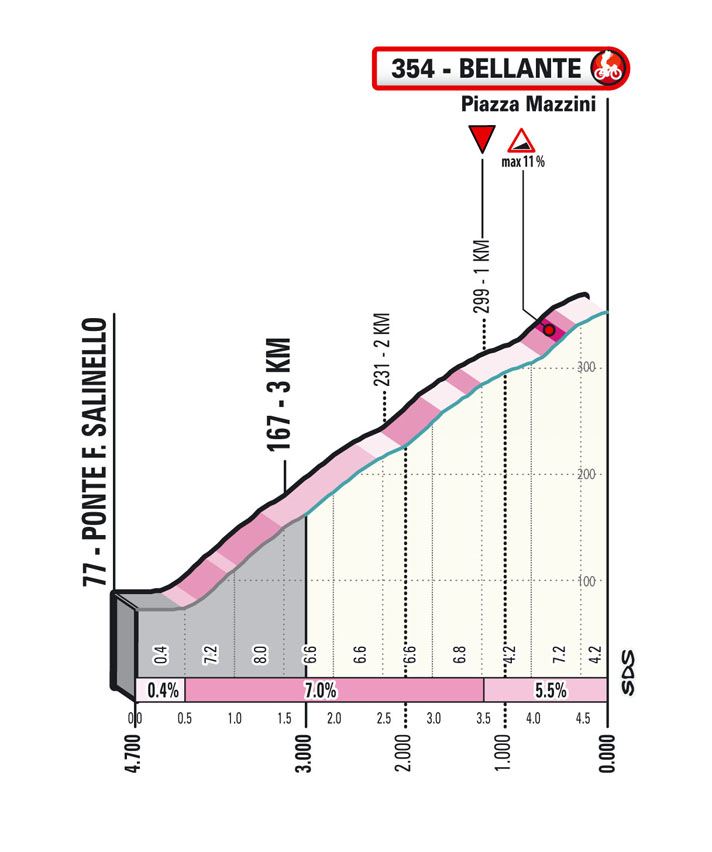 100km to go
The gap eases back out to six minutes. The breakaway riders do have a chance today, but it'll all depend on how the chase unfolds now and the gap with which they hit the finishing circuit.
The peloton have picked it back up again, with UAE taking command, and the gap is starting to fall again.
87km to go
The gap drops to five minutes as the descent starts to shallow out. This is tricky ground for the breakaway as it's not been the sort of descent where you can really conserve energy. It's a heavy pedalling affair. They'll want to keep something in reserve for the finishing circuit but it appears they're already having to go all-in.
83km to go
4:30 now. The escapees are turning faultlessly and pushing hard but they're bleeding time.
We've finally got word from Lotto Soudal regarding Caleb Ewan's earlier abandon.
"He suffered a bit from yesterday's small crash and today's furious start. He and the team decided that it was best not to push it and quit the race. Caleb will now recover and focus on his final preparations for Milan-San Remo."
73km to go
We're approaching the intermediate sprint at Ascoli Piceno, which almost signals the end of our long descent.
Jumbo-Visma are helping out UAE with the chase. They're here with Jonas Vingegaard as their leader.
Simmons took maximum points at the intermediate sprint with a small effort, followed by Calmejane and Hamilton.
68km to go
The gap now drops below the four-minute mark and we're just a couple of kilometres away from the small uncategorised climb that opens the door to our finishing circuit.
The gap is tumbling again now. 3:16 for our 10 breakaway riders.
So, the teams of Pogacar and Vingegaard have been doing the work today, and they are two of the big favourites for the overall. The leader's jersey is on the shoulders of Filippo Ganna but for all his talents, Ineos are going to get behind Richard Carapaz or possibly Tao Geoghegan Hart for the hilly stages.
Meanwhile, Remco Evenepoel, second overall, remains a key contender in what is his first stage race battle with Pogacar, but today's stage looks well suited to his teammate Julian Alaphilippe.
60km to go
The gap falls to three minutes as the breakaway reach the top of that uncategorised climb.
We now have a 15km run to the foot of the first of our three ascents of the Bellante climb.
QuickStep have started to come to the fore in the bunch now.
It's now looking a bit lead-out-y. We're still 57km from the finish but we're seeing a battle for position ahead of the first climb.
Astana, Lotto, Movistar, TotalEnergies among the teams looking to move up now.
A reminder of the Bellante climb, which features three times in today's finale.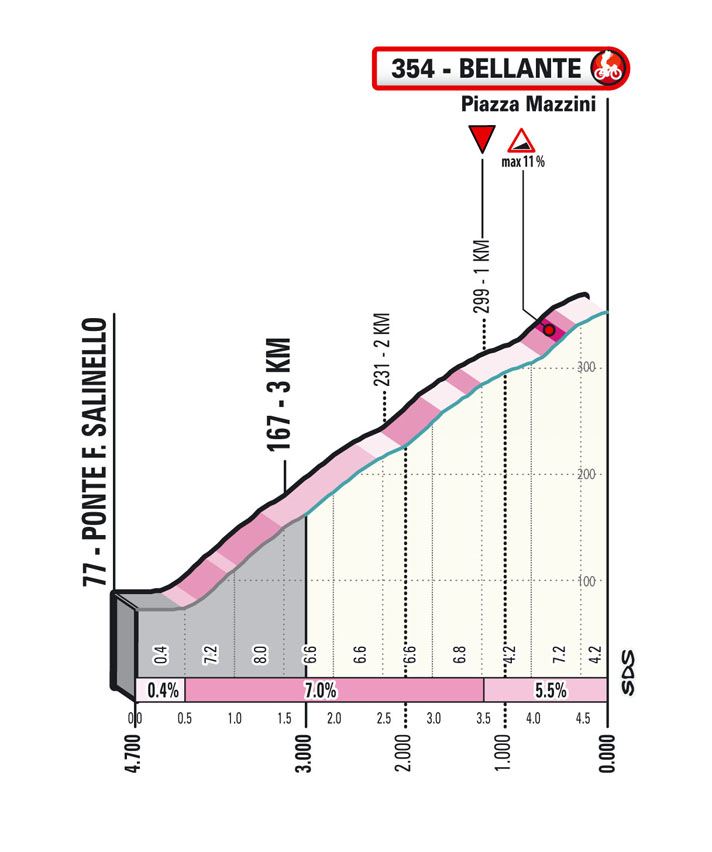 Magnus Cort (EF) crashes at speed through a roundabout. He's got some nasty road rash but is back on his bike.
50km to go
Into the final 50 now and the breakaway continue as a 10 but their lead is still falling and now stands at 2:45.
Just a few kilometres to go until we hit the first ascent of Bellante.
Another big push in the peloton on this final downhill section ahead of the climb.
Ineos hit the front through Ben Swift. Geoghegan Hart is in the wheel.
45km to go
Here we go then.
The road tilts uphill and the breakaway hit the Bellante climb for the first time. It's just over 4km long with an average gradient of just under seven per cent.
Sutterlin is the first rider dropped from the break.
QuickStep take it back up as the peloton hit the climb
The breakaway continues to fragment rapidly. Calmejane and Rubio are dropped.
It's Josef Cerny doing the early work for QuickStep and the bunch is quickly stretching out.
And now Kasper Asgreen takes it up. Alaphilippe and Evenepoel are tucked in his wheel. Could we see long-range fireworks today?
Simmons attacks up front!
Caicedo can't get on terms and Simmons kicks again. He still has more than a kilometre to go on this climb, and 42km to go on the stage.
Pogacar and Ganna are there right behind Evenepoel. Everyone's on high alert as Asgreen grimaces and keeps the pace high.
Simmons has 16 seconds in hand as he heads towards the top of this climb. The gradient hits double digits now.
Simmons leads the race alone at the first summit of Bellante and the first crossing of the finish line. He picks up maximum mountains points, as he did on today's early climb.
Simmons is followed at 12 seconds by Rosa, Restrepo, Hamilton, Caicedo, Barguil.
Grmay has also been dropped and is now with Calmejane much further back.
The world champion kicks on the steep stuff towards the top of the climb. Evenepoel is in the wheel. Ganna is tracking it.
Pogacar is alert as they accelerate beyond the summit.
40km to go
1:30 was the gap between Simmons and the peloton at the top of the climb.
Alaphilippe takes a back seat as Evenepoel tries to drive this on and split it over the top!
Evenepoel is away with Pogacar and Ganna! Plus a Bora rider
Remarkable stuff once again as the Tour de France champion Pogacar once again shows no fear in hitting out from range.
Jai Hindley is the Bora rider. They have 10 seconds or so over a reduced peloton.
The Pogacar-Evenepoel-Ganna-Hindley group picks up Calmejane and Grmay from the break.
Pogacar and Ganna are both working with Evenepoel here.
They have 22 seconds over the rest of the peloton.
33km to go
Meanwhile Simmons continues to lead the race down the gentle descent that will take us back round to the foot of the climb. He has taken his lead out to 28 seconds over the first chase group. The Evenepoel group is at 54 seconds.
Evenepoel, Pogacar, Ganna, and Hindley still only have around 10 seconds over the bunch.
31km to go
The fun is over. Pogacar, Evenepoel, Ganna, Hindley are caught by the bunch.
Simmons takes his lead out to 45 seconds now. Barguil, Restrepo, and Rosa have distinguished themselves in what's now a chasing trio.
Simmons has a kilometre left on the flat now before he takes on the Bellante climb for a second time. He's putting in a great ride here.
A few more riders have managed to get back into the peloton on that descent, especially when it calmed down following the catch of Pogacar, Evenepoel, and Ganna. It's still a sizeable bunch but could split further on the second ascent of Bellante.
25km to go
Simmons hits the climb for the second time. All his breakaway companions have now been caught so he leads solo with a minute in hand on the peloton.
Jumbo-Visma take it up now in the bunch, working for Vingegaard
Jumbo have four on the front now. QuickStep burned some matches on the previous ascent but the Dutch squad have kept men in reserve. It's Tosh Van der Sande, Koen Bouwman leading Vingegaard and Sepp Kuss.
The pace is steady and Simmons is holding strong at just under a minute.
Van der Sande pulls aside. It's over to Bouwman.
Simmons turns onto the upper part of this climb with 50 seconds in hand.
Let's see what the favourites do this time. It looks a lot quieter, and we may well be heading for a mass charge the third and final time up this climb.
Simmons springs out of the saddle and drags himself to the summit of Bellante for a second time. Once again, he crosses the finish line alone. Will that be the case for a third time?
20.5km to go
Here comes the peloton. Still Bouwman leads a big bunch up there.
They've brought the gap down to 30 seconds.
But now the clock nips back up to 38 seconds. Either way, Simmons has his work cut out. He has a little dip downhill, then a plateau, then a longer gradual downhill, but with 19km to go it's advantage peloton.
If this big peloton hits the final climb together we'll get an interesting battle between the climbers, the puncheurs and even the sprinty types who can climb, like Michael Matthews. Much will depend on how the bottom couple of kilometres are taken.
A lull in the peloton and now an attack comes. It's Emanuel Buchmann (Bora).
Others look to jump on board now and it doesn't go clear.
The peloton can see Simmons as he takes on a short kicker on a straight road. These attacks will hurt his cause.
A big move is threatening to go clear here...
Carapaz and Kuss are in this testing little move. The gaps are slim. Will anyone commit?
Formolo is there for UAE and really wants to drive it on.
Pogacar is on the back of it! Of course he is.
Alaphilippe attacks to try and get across the gap.
Vingegaard looks to do the same.
14.5km to go
These accelerations are bringing Simmons back quickly. 10 seconds now.
The gaps are stitched back up and that group doesn't succeed in getting away but the bunch is stretched and the tone is set.
Simmons looks over his shoulder and sees the advancing bunch. He knows it's over.
11km to go
Simmons is caught as a TotalEnergies rider attacks. It's Valentin Ferron.
Ferron tried to attack at the start of today's stage but didn't get in the break. He's away here, though.
10km to go
Into the final 10 and Ferron leads by 11 seconds as the bunch get organised ahead of the final ascent of Bellante.
Simmons' day is not done. He's back on the front working for Trek now, with Brambilla, Skujins, Ciccone in his wheel.
And now Brambilla does a turn for Trek.
Onto the flat final approach to the climb and Ferron dangles at eight seconds as Trek give chase.
Simmons is still drilling it. Remarkable ride.
A final reminder of our final climb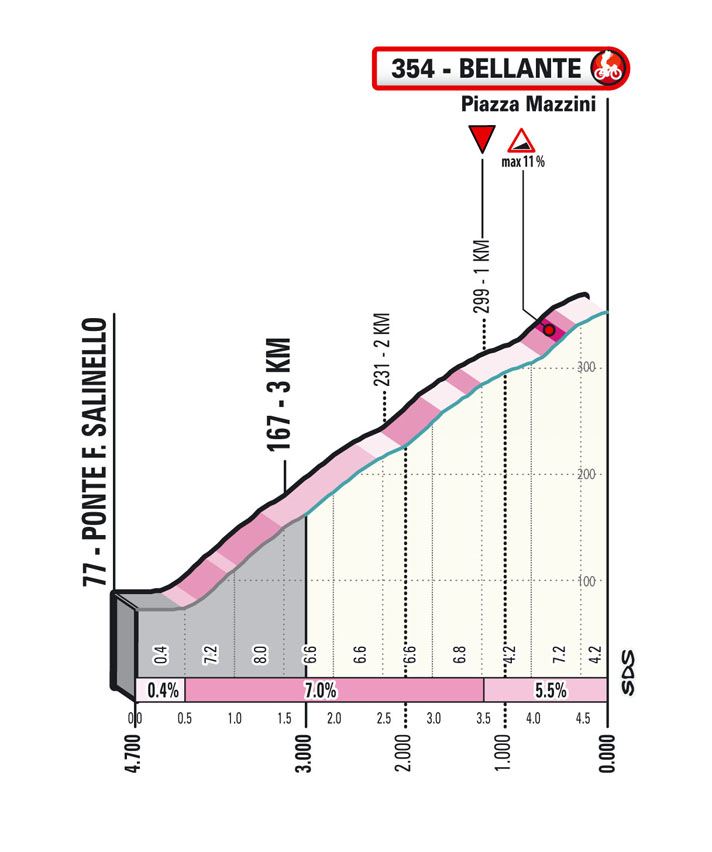 On paper it looks harder than it seems on tarmac. It's not really one for the climbers - more for the puncheurs and even the sprinty types who can climb well.
4.5km to go
Ferron is caught, so it's all together and we're about to turn onto the climb.
FDJ take it up now, with Pinot prominent.
And now they hit the climb and Bouwman takes it up once again for Jumbo.
Enric Mas sits third wheel for Movistar.
Attack! It's Romain Bardet
The Frenchman isn't waiting for a final kick. He goes from the bottom and he's joined by Damiano Caruso.
It's shut down by a Pogacar domestique.
The next attack comes from Benjamin Thomas (Cofidis) and now Pogacar is up there in third wheel looking lively.
3km to go
The bunch is stretched and reduced slightly.
Miguel Angel Lopez attacks!
Pogacar responds! An all-action display once again
A lull and now Kelderman goes!
Will this be the one that snaps the elastic? Landa tracks it, Pogacar still up there
2.3km to go
But now Evenepoel attacks! Here we go!
Victor Lafay (Cofidis) follow and Pogacar is still third wheel. Evenepoel looks around. That was a tester.
Lopez goes again after another lull!
Evenepoel jumps on it and Soler looks to support Pogacar. 2km to go
Soler himself attacks now.
Landa follows it and now it's really getting selective. Alaphilippe is dropped
1.4km to go
Another lull and now Narvaez is the next attacker
Richie Porte goes now in an Ineos one-two punch
Pogacar gets on it. Then Ciccone and Lafay.
Porte kicks again. The group strings out but doesn't split
1km to go
30 riders in contention under the flamme rouge!
Pogacar is primed in second place.
Lafay attacks now! Pogacar responds again
He gets a gap. Wow. 300 to go
Pogacar is away and he's going to take this
Lafay responds and now Vingegaard goes after it but too late. Pogacar wins.
Vingegaard second, Lafay third, Evenepoel fourth.
Results

| Pos. | Rider Name (Country) Team | Result |
| --- | --- | --- |
| 1 | Tadej Pogacar (Slo) UAE Team Emirates | 4:48:39 |
| 2 | Jonas Vingegaard (Den) Jumbo-Visma | 0:00:02 |
| 3 | Victor Lafay (Fra) Cofidis | |
| 4 | Remco Evenepoel (Bel) Quick-Step Alpha Vinyl Team | |
| 5 | Giulio Ciccone (Ita) Trek-Segafredo | 0:00:05 |
| 6 | Tao Geoghegan Hart (GBr) Ineos Grenadiers | |
| 7 | Enric Mas Nicolau (Spa) Movistar Team | |
| 8 | Wilco Kelderman (Ned) Bora-Hansgrohe | |
| 9 | Mikel Landa Meana (Spa) Bahrain Victorious | |
| 10 | Jai Hindley (Aus) Bora-Hansgrohe | |
General classification after stage 4

| Pos. | Rider Name (Country) Team | Result |
| --- | --- | --- |
| 1 | Tadej Pogacar (Slo) UAE Team Emirates | 14:36:47 |
| 2 | Remco Evenepoel (Bel) Quick-Step Alpha Vinyl Team | 0:00:09 |
| 3 | Filippo Ganna (Ita) Ineos Grenadiers | 0:00:21 |
| 4 | Thymen Arensman (Ned) Team DSM | 0:00:36 |
| 5 | Tao Geoghegan Hart (GBr) Ineos Grenadiers | 0:00:43 |
| 6 | Jonas Vingegaard (Den) Jumbo-Visma | 0:00:45 |
| 7 | Miguel Angel Lopez Moreno (Col) Astana Qazaqstan Team | 0:00:50 |
| 8 | Marc Soler (Spa) UAE Team Emirates | 0:00:56 |
| 9 | Richie Porte (Aus) Ineos Grenadiers | 0:01:02 |
| 10 | Wilco Kelderman (Ned) Bora-Hansgrohe | 0:01:04 |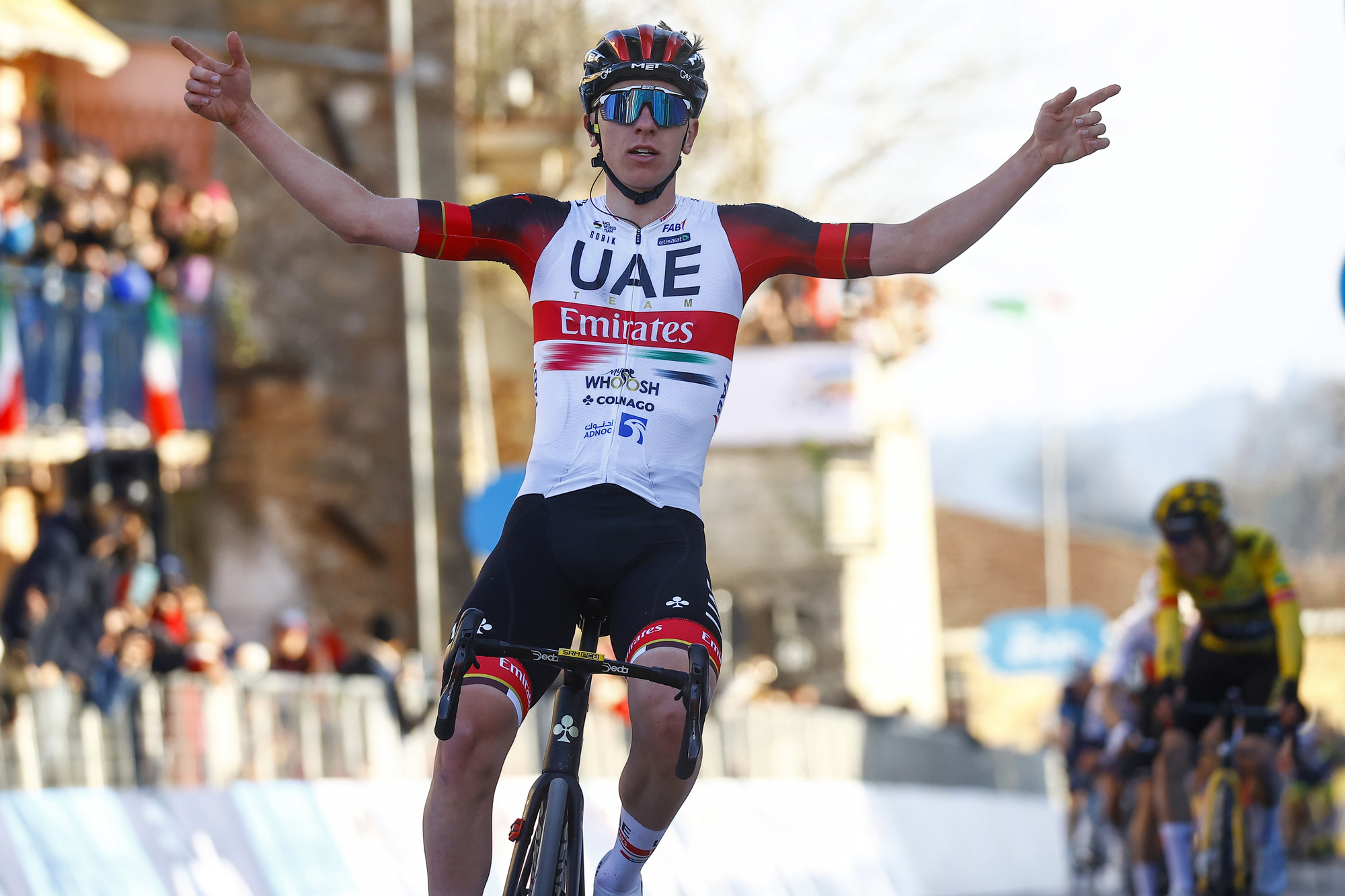 Let's hear from the winner
"After a hard effort from the team, we pulled all day and I was thinking if I don't give it a go, it will be a bad day for us. So we did everything right and in the end, it was a good day for the victory."