Wout Van Aert wins Schaal Sels
Cyclo-cross world champion escapes to win, Dupont, Steels round out podium
Image 1 of 39
Image 2 of 39
Image 3 of 39
Image 4 of 39
Image 5 of 39
Image 6 of 39
Image 7 of 39
Image 8 of 39
Image 9 of 39
Image 10 of 39
Image 11 of 39
Image 12 of 39
Image 13 of 39
Image 14 of 39
Image 15 of 39
Image 16 of 39
Image 17 of 39
Image 18 of 39
Image 19 of 39
Image 20 of 39
Image 21 of 39
Image 22 of 39
Image 23 of 39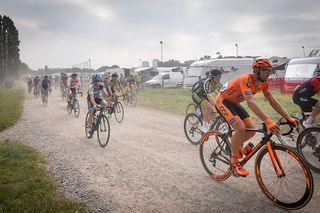 Image 24 of 39
Image 25 of 39
Image 26 of 39
Image 27 of 39
Image 28 of 39
Image 29 of 39
Image 30 of 39
Image 31 of 39
Image 32 of 39
Image 33 of 39
Image 34 of 39
Image 35 of 39
Image 36 of 39
Image 37 of 39
Image 38 of 39
Image 39 of 39
Wout Van Aert showcased the skills that secured the 2016 'cross world championship title on the challenging Schaal Sels parcours to secure a second road victory of the season for his Crelan-Vastgoedservice squad. The 21-year-old Belgian attacked in the closing kilometres of the cobble and gravel road UCI 1.1 race to take the victory, 15 seconds ahead of Timothy Dupont (Veranda's Willems) and Stijn Steels (Topsport Vlaanderen-Baloise).
"Now I will again be asked whether I would be better road racer but I've already made my choice," Van Aert told Het Nieuwsblad. "I want to shine in the coming weeks back in my rainbow jersey. I will do my cyclocross season. This victory is a good sign. It is a sign that my form is ready to go into the field and I want to shine again.
"People start to watch me more and more in road races. Today I was even regarded as the top favourite. That's why I waited as long as possible to ride away. I knew it had to be done on the last gravel section that was just about five kilometers from the finish line."
The race took its toll on the peloton with just 46 finishers compared to 99 DNF's and two DNS'.
Full Results
| # | Rider Name (Country) Team | Result |
| --- | --- | --- |
| 1 | Wout Van Aert (Bel) Crelan-Vastgoedservice Continental Team | 4:51:20 |
| 2 | Timothy Dupont (Bel) Veranda's Willems Cycling Team | 0:00:15 |
| 3 | Stijn Steels (Bel) Topsport Vlaanderen - Baloise | |
| 4 | Baptiste Plackaert (Bel) Wallonie Bruxelles - Group Protect Elites | |
| 5 | Xandro Meurisse (Bel) Wanty - Groupe Gobert | |
| 6 | Brian Van Goethem (Ned) Roompot - Oranje Peloton | |
| 7 | Tim Declercq (Bel) Topsport Vlaanderen - Baloise | 0:00:18 |
| 8 | Joeri Stallaert (Bel) Cibel-Cebon | 0:01:56 |
| 9 | Taco Van Der Hoorn (Ned) Cyclingteam Join-S / De Rijke Elites | 0:01:57 |
| 10 | Ludwig De Winter (Bel) Wallonie Bruxelles - Group Protect | 0:02:04 |
| 11 | Dries De Bondt (Bel) Veranda's Willems Cycling Team | 0:05:55 |
| 12 | Mihkel Räim (Est) Cycling Academy Team Elites | |
| 13 | Sjoerd Kouwenhoven (Ned) Metec Tkh Continental Cycling Team p/b Mantel | |
| 14 | Wesley Kreder (Ned) Roompot - Oranje Peloton | 0:05:59 |
| 15 | Gerry Druyts (Bel) Crelan-Vastgoedservice Continental Team | 0:06:12 |
| 16 | Michael Reihs (Den) Stölting Service Group | |
| 17 | Gorik Gardeyn (Bel) Superano Ham - Isorex | |
| 18 | Raymond Kreder (Ned) Roompot - Oranje Peloton | |
| 19 | Nicolas Vereecken (Bel) An Post - Chain Reaction | |
| 20 | Fraser Gough (NZl) Avanti Isowhey Sport Elites | |
| 21 | Kevin Van Melsen (Bel) Wanty - Groupe Gobert | |
| 22 | Lawrence Naesen (Bel) Cibel-Cebon | |
| 23 | Coen Vermeltfoort (Ned) Cyclingteam Join-S / De Rijke Elites | |
| 24 | Michel Kreder (Ned) Roompot - Oranje Peloton | |
| 25 | Mark McNally (GBr) Wanty - Groupe Gobert | |
| 26 | Igor Boev (Rus) Gazprom-Rusvelo | |
| 27 | Laurent Evrard (Bel) Team 3M | |
| 28 | Thomas Joseph (Bel) Marlux-Napoleon Games Cycling Team | |
| 29 | Sven Reutter (Ger) Stölting Service Group | |
| 30 | Alexander Geuens (Bel) Crelan-Vastgoedservice Continental Team | |
| 31 | Tijmen Eising (Ned) Metec Tkh Continental Cycling Team p/b Mantel | |
| 32 | Michael Thompson (GBr) Team Wiggins Elites | |
| 33 | Michiel Dieleman (Bel) Cibel-Cebon | |
| 34 | Jonas Rickaert (Bel) Topsport Vlaanderen - Baloise | |
| 35 | Robin Stenuit (Bel) Wanty - Groupe Gobert | |
| 36 | Josef Cerny (Cze) Ccc Sprandi Polkowice | |
| 37 | Robert Partridge (GBr) Nfto Elites | 0:06:19 |
| 38 | Martin Mortensen (Den) One Pro Cycling | 0:06:21 |
| 39 | Marcel Meisen (Ger) Team Kuota-Lotto | |
| 40 | Julien Van Den Brande (Bel) Veranclassic-Ago | 0:06:24 |
| 41 | Tim Merlier (Bel) Crelan-Vastgoedservice Continental Team | 0:06:40 |
| 42 | Laurens Sweeck (Bel) Era - Murprotec | |
| 43 | Kelly Jake (GBr) Team Wiggins Elites | 0:07:08 |
| 44 | Frederik Veuchelen (Bel) Wanty - Groupe Gobert | 0:07:21 |
| 45 | Frederique Robert (Bel) Crelan-Vastgoedservice Continental Team | |
| 46 | Dale Appleby (GBr) Nfto Elites | |
| DNF | Dan Craven (Nam) Cycling Academy Team Elites | |
| DNF | Eli Iserbyt (Bel) Marlux-Napoleon Games Cycling Team | |
| DNF | Jelle Cant (Bel) Era - Murprotec | |
| DNF | Kevin Cant (Bel) Era - Murprotec | |
| DNF | Diether Sweeck (Bel) Era - Murprotec | |
| DNF | Michael Boros (Cze) Era - Murprotec | |
| DNF | Julien Taramarcaz (Swi) Era - Murprotec | |
| DNF | Andrew Tennant (GBr) Team Wiggins Elites | |
| DNF | Samuel Lowe (GBr) Team Wiggins Elites | |
| DNF | Michael O'Loughlin (Irl) Team Wiggins Elites | |
| DNF | Daniel Patten (GBr) Team Wiggins Elites | |
| DNF | Ian Bibby (GBr) Nfto Elites | |
| DNF | Edmund Bradbury (GBr) Nfto Elites | |
| DNF | Jacob Scott (GBr) An Post - Chain Reaction | |
| DNF | Liam Stones (GBr) Nfto Elites | |
| DNF | Yorben Van Tichelt (Bel) Marlux-Napoleon Games Cycling Team | |
| DNF | Aimé Degendt (Bel) Topsport Vlaanderen - Baloise | |
| DNF | Roy Goldstein (Isr) Cycling Academy Team | |
| DNF | Jonas Tenbrock (Ger) Stölting Service Group | |
| DNF | Daniel Turek (Cze) Cycling Academy Team Elites | |
| DNF | Aviv Yechzkel (Isr) Cycling Academy Team | |
| DNF | Liam Aitcheson (NZl) Avanti Isowhey Sport Elites | |
| DNF | Sean Lake (Aus) Avanti Isowhey Sport Elites | |
| DNF | Luke Mudgway (NZl) Avanti Isowhey Sport Elites | |
| DNF | Neil Van Der Ploeg (Aus) Avanti Isowhey Sport Elites | |
| DNF | Mathew Zenovich (NZl) Avanti Isowhey Sport Elites | |
| DNF | Jasper Bovenhuis (Ned) An Post - Chain Reaction Elites | |
| DNF | Oliver Kent-Spark (Aus) An Post - Chain Reaction Elites | |
| DNF | Jonathan McEvoy (GBr) Nfto Elites | |
| DNF | Roman Kustadinchev (Rus) Gazprom-Rusvelo | |
| DNF | Pieter Vanspeybrouck (Bel) Topsport Vlaanderen - Baloise | |
| DNF | Jens Wallays (Bel) Topsport Vlaanderen - Baloise | |
| DNF | Berden De Vries (Ned) Roompot - Oranje Peloton | |
| DNF | Johnny Hoogerland (Ned) Roompot - Oranje Peloton | |
| DNF | Kenny De Haes (Bel) Wanty - Groupe Gobert | |
| DNF | Yanto Barker (GBr) One Pro Cycling | |
| DNF | Matthew Harley Goss (Aus) One Pro Cycling | |
| DNF | Joshua Hunt (GBr) One Pro Cycling | |
| DNF | Sebastian Lander (Den) One Pro Cycling | |
| DNF | Steele von Hoff (Aus) One Pro Cycling | |
| DNF | Eryk Laton (Pol) Ccc Sprandi Polkowice | |
| DNF | Nikolay Mihaylov (Bul) Ccc Sprandi Polkowice | |
| DNF | Dieter Vanthourenhout (Bel) Marlux-Napoleon Games Cycling Team | |
| DNF | Grzegorz Stepniak (Pol) Ccc Sprandi Polkowice | |
| DNF | Kevin Pauwels (Bel) Marlux-Napoleon Games Cycling Team | |
| DNF | Roman Maikin (Rus) Gazprom-Rusvelo | |
| DNF | Alexander Serov (Rus) Gazprom-Rusvelo | |
| DNF | Andrei Solomennikov (Rus) Gazprom-Rusvelo | |
| DNF | Sergey Nikolaev (Rus) Gazprom-Rusvelo | |
| DNF | Yannick Peeters (Bel) Crelan-Vastgoedservice Continental Team | |
| DNF | Vincent Baestaens (Bel) Beobank - Corendon | |
| DNF | Wietse Bosmans (Bel) Beobank - Corendon Elites | |
| DNF | Adam Toupalik (Cze) Beobank - Corendon Elites | |
| DNF | David Van Der Poel (Ned) Beobank - Corendon | |
| DNF | Philipp Walsleben (Ger) Beobank - Corendon Elites | |
| DNF | Daan Hoeyberghs (Bel) Beobank - Corendon | |
| DNF | Angelo De Clercq (Bel) Marlux-Napoleon Games Cycling Team | |
| DNF | Omer Goldshtein (Isr) Cycling Academy Team | |
| DNF | Tomasz Kiendys (Pol) Ccc Sprandi Polkowice | |
| DNF | Kenneth Van Compernolle (Bel) Superano Ham - Isorex | |
| DNF | Arjen Livyns (Bel) Veranda's Willems Cycling Team | |
| DNF | Jari Verstraeten (Bel) Veranda's Willems Cycling Team | |
| DNF | Kevin Verwaest (Bel) Superano Ham - Isorex | |
| DNF | Piotr Havik (Ned) Team 3M Elites | |
| DNF | Jelle Goderis (Bel) Team 3M | |
| DNF | Jimmy Janssens (Bel) Team 3M | |
| DNF | Emiel Vermeulen (Bel) Team 3M | |
| DNF | Jerome Kerf (Bel) Team 3M Elites | |
| DNF | Rasmus Guldhammer (Den) Stölting Service Group | |
| DNF | Alex Kirsch (Lux) Stölting Service Group | |
| DNF | Thomas Koep (Ger) Stölting Service Group | |
| DNF | Massimo Vanderaerden (Bel) Veranclassic-Ago | |
| DNF | Jetse Bol (Ned) Cyclingteam Join-S / De Rijke Elites | |
| DNF | Felix Drumm (Ger) Team Kuota-Lotto | |
| DNF | Christophe Masson (Fra) Veranclassic-Ago | |
| DNF | Hendrik Hamm (Ger) Team Kuota-Lotto | |
| DNF | Kobus Hereijgers (Ned) Cyclingteam Join-S / De Rijke Elites | |
| DNF | Frederik Dombrowski (Ger) Team Kuota-Lotto Elites | |
| DNF | Tobias Knaup (Ger) Team Kuota-Lotto Elites | |
| DNF | Robert Retschke (Ger) Team Kuota-Lotto Elites | |
| DNF | Johim Ariesen (Ned) Metec Tkh Continental Cycling Team p/b Mantel | |
| DNF | Stefan Kreder (Ned) Metec Tkh Continental Cycling Team p/b Mantel | |
| DNF | Dries Hollanders (Bel) Metec Tkh Continental Cycling Team p/b Mantel | |
| DNF | Damien Shaw (Irl) An Post - Chain Reaction Elites | |
| DNF | Daan Meijers (Ned) Cyclingteam Join-S / De Rijke Elites | |
| DNF | Wouter Mol (Ned) Cyclingteam Join-S / De Rijke Elites | |
| DNF | Robbie Van Bakel (Ned) Metec Tkh Continental Cycling Team p/b Mantel | |
| DNF | Jimmy Duquennoy (Bel) Wallonie Bruxelles - Group Protect | |
| DNF | Julien Stassen (Bel) Wallonie Bruxelles - Group Protect | |
| DNF | Justin Jules (Fra) Veranclassic-Ago Elites | |
| DNF | Wim Reynaerts (Bel) Cibel-Cebon | |
| DNF | Emiel Wastyn (Bel) An Post - Chain Reaction | |
| DNF | Benjamin Verraes (Bel) Cibel-Cebon | |
| DNF | Yannick Mayer (Ger) Veranclassic-Ago Elites | |
| DNF | Dimitri Peyskens (Bel) Veranclassic-Ago | |
| DNF | Tim De Troyer (Bel) Veranda's Willems Cycling Team | |
| DNF | Jelle Donders (Bel) Superano Ham - Isorex | |
| DNF | Glenn Rotty (Bel) Cibel-Cebon | |
| DNF | Jorden Bothuyne (Bel) Superano Ham - Isorex | |
| DNS | Mathias Depypere (Bel) Superano Ham - Isorex | |
| DNS | Gregory Habeaux (Bel) Wallonie Bruxelles - Group Protect | |
Cyclingnews Newsletter
Sign up to the Cyclingnews Newsletter. You can unsubscribe at any time. For more information about how to do this, and how we hold your data, please see our privacy policy