Boeckmans wins Nokere Koerse
Lotto Soudal rider nets victory on cobbles
Image 1 of 14
Image 2 of 14
Image 3 of 14
Image 4 of 14
Image 5 of 14
Image 6 of 14
Image 7 of 14
Image 8 of 14
Image 9 of 14
Image 10 of 14
Image 11 of 14
Image 12 of 14
Image 13 of 14
Image 14 of 14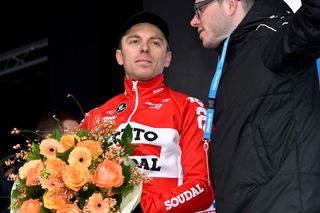 Kris Boeckmans finished off the fine work from his Lotto Soudal team to win the 2015 Nokere Koerse on the cobbles of the Nokeredorpstraat by a clean set of wheels over Veranclassic - Ekoi's Justin Jules and Scott Thwaites (Bora-Argon 18).
Lotto Soudal battled with Etixx-Quick Step in the final kilometers, but a surge from the Topsport Vlaanderen-Baloise team disrupted the trains as they entered the final 300m. Boeckmans took advantage of the shift to attack on the opposite side of the road and steal the win.
The day's first breakaway containing Alphonse Vermote (Vastgoedservice - Golden Palace), Jonas Rickaert (Topsport Vlaanderen-Baloise), David Boucher (FDJ), Frederik Backaert (Wanty-Groupe Gobert), and Dieter Bouvry (Roubaix Lille Metropole) was caught prematurely, with 50km still left to race, throwing the usual script to the wind.
There were then a number of attacks, primarily from the Continental teams, but it wasn't until BMC's Dylan Teuns went with two laps to go that another group went clear. He was joined by Stef Van Zummeren (Verandas Willems), Rick Ottema (Colba-Superano Ham) and Vergard Stake Laengen (Team Joker), and the quartet held half a minute's advantage.
On the bell lap, the peloton had closed to 18 seconds, and it wasn't long before the bunch was all back together and battling for control on the wide-open highways.
But as the course turned off onto the narrow route into town, it was Etixx-Quick Step, Lotto Soudal and Bora-Argon 18 fighting for the lead. Trek Factory Racing pushed to the front in the final kilometer, but it was Topsport Vlaanderen who led into the final turn. Boeckmans shot out to the left and sped to the line a full bike length ahead of Jules.
Full Results
| # | Rider Name (Country) Team | Result |
| --- | --- | --- |
| 1 | Kris Boeckmans (Bel) Lotto Soudal | 4:26:50 |
| 2 | Justin Jules (Fra) Veranclassic - Ekoi | |
| 3 | Scott Thwaites (GBr) Bora-Argon 18 | |
| 4 | Phil Bauhaus (Ger) Bora-Argon 18 | |
| 5 | Baptiste Plackaert (Bel) Roubaix Lille Metropole | |
| 6 | Danny Van Poppel (Ned) Trek Factory Racing | |
| 7 | Barry Markus (Ned) Team LottoNL-Jumbo | |
| 8 | Roy Jans (Bel) Wanty - Groupe Gobert | |
| 9 | Remco Te Brake (Ned) Metec - TKH Continental Cyclingteam p/b Mantel | |
| 10 | Nikolas Maes (Bel) Etixx - Quick-Step | |
| 11 | Christian Delle Stelle (Ita) CCC Sprandi Polkowice | |
| 12 | Gerry Druyts (Bel) Vastgoedservice - Golden Palace Continental Team | |
| 13 | Rick Zabel (Ger) BMC Racing Team | |
| 14 | Frederique Robert (Bel) Wanty - Groupe Gobert | |
| 15 | Edward Theuns (Bel) Topsport Vlaanderen - Baloise | |
| 16 | Benjamin Verraes (Bel) Cibel | |
| 17 | Bert Van Lerberghe (Bel) Topsport Vlaanderen - Baloise | |
| 18 | Lorenzo Manzin (Fra) FDJ.fr | |
| 19 | Robin Stenuit (Bel) Veranclassic - Ekoi | |
| 20 | John Murphy (USA) UnitedHealthcare Pro Cycling | |
| 21 | Antoine Demoitie (Bel) Wallonie - Bruxelles | |
| 22 | Melvin Rulliere (Fra) Veranclassic - Ekoi | |
| 23 | Timothy Dupont (Bel) Roubaix Lille Metropole | |
| 24 | Kevin Ista (Bel) Wallonie - Bruxelles | |
| 25 | Dries De Bondt (Bel) Verandas Willems Cycling Team | |
| 26 | Raymond Kreder (Ned) ROP | |
| 27 | Timo Roosen (Ned) Team LottoNL-Jumbo | |
| 28 | Mads Pedersen (Den) Cult Energy Pro Cycling | |
| 29 | Michael Carbel Svendgaard (Den) Cult Energy Pro Cycling | |
| 30 | Marc Sarreau (Fra) FDJ.fr | |
| 31 | Daniel Hoelgaard (Nor) Team Joker | |
| 32 | Jaap De Man (Ned) Team 3M | |
| 33 | Xandro Meurisse (Bel) An Post - Chainreaction | |
| 34 | Edvin Wilsson (Swe) Team Joker | |
| 35 | Tim Van Speybroeck (Bel) Team 3M | |
| 36 | Mike Teunissen (Ned) Team LottoNL-Jumbo | |
| 37 | Klaas Lodewyck (Bel) BMC Racing Team | 0:00:08 |
| 38 | Jens Vandenbogaerde (Bel) An Post - Chainreaction | 0:00:09 |
| 39 | Christoph Pfingsten (Ger) Bora-Argon 18 | |
| 40 | Timothy Stevens (Bel) Vastgoedservice - Golden Palace Continental Team | |
| 41 | Davide Frattini (Ita) UnitedHealthcare Pro Cycling | |
| 42 | Alistair Slater (GBr) An Post - Chainreaction | |
| 43 | Boris Vallee (Bel) Lotto Soudal | |
| 44 | Sander Cordeel (Bel) Vastgoedservice - Golden Palace Continental Team | |
| 45 | Guillaume Van Keirsbulck (Bel) Etixx - Quick-Step | |
| 46 | Gorik Gardeyn (Bel) Veranclassic - Ekoi | |
| 47 | Jesper Asselman (Ned) ROP | |
| 48 | Fumiyuki Beppu (Jpn) Trek Factory Racing | |
| 49 | Mike Terpstra (Ned) ROP | |
| 50 | Truls Engen Korsaeth (Nor) Team Joker | |
| 51 | Joseph Rosskopf (USA) BMC Racing Team | |
| 52 | Grzegorz Stepniak (Pol) CCC Sprandi Polkowice | |
| 53 | Vegard Stake Laengen (Nor) Team Joker | |
| 54 | Sjoerd Kouwenhoven (Ned) Metec - TKH Continental Cyclingteam p/b Mantel | |
| 55 | Wouter Leten (Bel) Metec - TKH Continental Cyclingteam p/b Mantel | |
| 56 | Michael Reihs (Den) Cult Energy Pro Cycling | |
| 57 | Matteo Trentin (Ita) Etixx - Quick-Step | |
| 58 | Jean-Pierre Drucker (Lux) BMC Racing Team | |
| 59 | Carlos Barbero Cuesta (Spa) Caja Rural-Seguros RGA | 0:00:19 |
| 60 | Fabricio Ferrari Barcelo (Uru) Caja Rural-Seguros RGA | 0:00:21 |
| 61 | Jef Van Meirhaeghe (Bel) Topsport Vlaanderen - Baloise | |
| 62 | Egidijus Juodvalkis (Ltu) Colba - Superano Ham | |
| 63 | Victor Campenaerts (Bel) Topsport Vlaanderen - Baloise | 0:00:23 |
| 64 | Rasmus Guldhammer (Den) Cult Energy Pro Cycling | |
| 65 | Kevin Peeters (Bel) Vastgoedservice - Golden Palace Continental Team | |
| 66 | Lukasz Wisniowski (Pol) Etixx - Quick-Step | |
| 67 | Maxime Vantomme (Bel) Roubaix Lille Metropole | 0:00:26 |
| 68 | Daan Myngheer (Bel) Verandas Willems Cycling Team | |
| 69 | Iljo Keisse (Bel) Etixx - Quick-Step | |
| 70 | Alessandro Bazzana (Ita) UnitedHealthcare Pro Cycling | |
| 71 | Gert Steegmans (Bel) Trek Factory Racing | 0:00:29 |
| 72 | Bjorn Tore Nilsen Hoem (Nor) Team Joker | |
| 73 | Jelle Wallays (Bel) Topsport Vlaanderen - Baloise | |
| 74 | Angel Madrazo Ruiz (Spa) Caja Rural-Seguros RGA | 0:00:32 |
| 75 | Tosh Van Der Sande (Bel) Lotto Soudal | |
| 76 | Adriaan Aas Stien (Nor) Team Joker | |
| 77 | Moreno Hofland (Ned) Team LottoNL-Jumbo | |
| 78 | Kenny De Haes (Bel) Lotto Soudal | |
| 79 | Jan Ghyselinck (Bel) Wanty - Groupe Gobert | |
| 80 | Floris De Tier (Bel) Topsport Vlaanderen - Baloise | |
| 81 | Yves Lampaert (Bel) Etixx - Quick-Step | |
| 82 | Huub Duyn (Ned) ROP | 0:00:37 |
| 83 | Niels De Rooze (Bel) Veranclassic - Ekoi | |
| 84 | Dimitri Claeys (Bel) Verandas Willems Cycling Team | |
| 85 | Frederik Backaert (Bel) Wanty - Groupe Gobert | |
| 86 | Gregory Habeaux (Bel) Wallonie - Bruxelles | |
| 87 | Amund Groendahl Jansen (Nor) Team Joker | |
| 88 | Anthony Geslin (Fra) FDJ.fr | |
| 89 | Olivier Pardini (Bel) Verandas Willems Cycling Team | |
| 90 | Michael Vingerling (Ned) Team 3M | |
| 91 | Sébastien Rosseler (Bel) Veranclassic - Ekoi | |
| 92 | Adrian Honkisz (Pol) CCC Sprandi Polkowice | |
| 93 | Jimmy Janssens (Bel) Team 3M | 0:00:40 |
| 94 | Julien Antomarchi (Fra) Roubaix Lille Metropole | |
| 95 | Martin Velits (Svk) Etixx - Quick-Step | |
| 96 | Frederik Veuchelen (Bel) Wanty - Groupe Gobert | |
| 97 | Nicolas Vereecken (Bel) Team 3M | |
| 98 | Nick Van Der Lijke (Ned) Team LottoNL-Jumbo | |
| 99 | Maurits Lammertink (Ned) ROP | 0:00:45 |
| 100 | Boy Van Poppel (Ned) Trek Factory Racing | |
| 101 | Troels Ronning Vinther (Den) Cult Energy Pro Cycling | 0:00:51 |
| 102 | Andreas Schillinger (Ger) Bora-Argon 18 | 0:00:53 |
| 103 | Ralf Matzka (Ger) Bora-Argon 18 | |
| 104 | Dries Hollanders (Bel) Metec - TKH Continental Cyclingteam p/b Mantel | |
| 105 | Kevin Suarez Martinez (Bel) Colba - Superano Ham | |
| 106 | Thomas Sprengers (Bel) Topsport Vlaanderen - Baloise | |
| 107 | Stef Van Zummeren (Bel) Verandas Willems Cycling Team | |
| 108 | Jeremy Leveau (Fra) Roubaix Lille Metropole | |
| 109 | Brian Bulgac (Ned) Team LottoNL-Jumbo | |
| 110 | Kai Reus (Ned) Verandas Willems Cycling Team | |
| 111 | Stijn Devolder (Bel) Trek Factory Racing | |
| 112 | Bertjan Lindeman (Ned) Team LottoNL-Jumbo | |
| 113 | Marc Demaar (Ned) ROP | |
| 114 | Dylan Teuns (Bel) BMC Racing Team | |
| 115 | Alphonse Vermote (Bel) Vastgoedservice - Golden Palace Continental Team | |
| 116 | Fabio Silvestre (Por) Trek Factory Racing | |
| 117 | Stijn Van Couter (Bel) Colba - Superano Ham | |
| 118 | Thomas Edward Gibbons (USA) Cibel | |
| 119 | Jack Wilson (Irl) An Post - Chainreaction | |
| 120 | Gert Dockx (Bel) Lotto Soudal | |
| 121 | Jarno Gmelich (Ned) Metec - TKH Continental Cyclingteam p/b Mantel | |
| 122 | Christophe Premont (Bel) Verandas Willems Cycling Team | |
| 123 | Michel Kreder (Ned) ROP | |
| 124 | Gaëtan Pons (Bel) Wallonie - Bruxelles | |
| 125 | Louis Vervaeke (Bel) Lotto Soudal | 0:01:06 |
| 126 | Jasper Stuyven (Bel) Trek Factory Racing | |
| 127 | Jonas Rickaert (Bel) Topsport Vlaanderen - Baloise | |
| 128 | Tiesj Benoot (Bel) Lotto Soudal | 0:01:18 |
| 129 | Sean De Bie (Bel) Lotto Soudal | |
| 130 | Michael Schwarzmann (Ger) Bora-Argon 18 | 0:01:32 |
| 131 | David Boucher (Fra) FDJ.fr | 0:01:38 |
| 132 | Daniel Summerhill (USA) UnitedHealthcare Pro Cycling | |
| 133 | Kevin Hulsmans (Bel) Vastgoedservice - Golden Palace Continental Team | 0:01:43 |
| 134 | Dieter Bouvry (Bel) Roubaix Lille Metropole | 0:01:56 |
| 135 | Kristof Vandewalle (Bel) Trek Factory Racing | 0:01:58 |
| 136 | Rick Ottema (Ned) Colba - Superano Ham | 0:02:45 |
| 137 | Rasmus Christian Quaade (Den) Cult Energy Pro Cycling | |
| 138 | Alex Kirsch (Lux) Cult Energy Pro Cycling | |
| 139 | Romain Pillon (Fra) Roubaix Lille Metropole | |
| 140 | Tim De Troyer (Bel) Wanty - Groupe Gobert | 0:02:52 |
| 141 | Tom Devriendt (Bel) Wanty - Groupe Gobert | |
| 142 | Jérôme Baugnies (Bel) Wanty - Groupe Gobert | 0:03:24 |
| 143 | Olivier Chevalier (Bel) Wallonie - Bruxelles | 0:03:33 |
| 144 | Julien Stassen (Bel) Wallonie - Bruxelles | |
| 145 | Geert Van Der Weijst (Ned) Team 3M | 0:07:28 |
| 146 | Kevin Callebaut (Bel) Cibel | |
| 147 | Russell Downing (GBr) Cult Energy Pro Cycling | |
| 148 | Stefan Kreder (Ned) Metec - TKH Continental Cyclingteam p/b Mantel | |
| 149 | Nikolay Mihaylov (Bul) CCC Sprandi Polkowice | |
| 150 | Jelle Donders (Bel) Colba - Superano Ham | |
| 151 | Rob Ruijgh (Ned) Vastgoedservice - Golden Palace Continental Team | |
| 152 | Tanner Putt (USA) UnitedHealthcare Pro Cycling | |
| 153 | Paulius Siskevicius (Ltu) An Post - Chainreaction | |
| 154 | Conor Dunne (Irl) An Post - Chainreaction | |
| 155 | Reidar Bohlin Borgersen (Nor) Team Joker | |
| 156 | Campbell Flakemore (Aus) BMC Racing Team | |
| 157 | Hugh Carthy (GBr) Caja Rural-Seguros RGA | |
| 158 | Jan Hirt (Cze) CCC Sprandi Polkowice | |
| 159 | Ludwig De Winter (Bel) Wallonie - Bruxelles | |
| 160 | Mateusz Taciak (Pol) CCC Sprandi Polkowice | |
| 161 | Jaroslaw Marycz (Pol) CCC Sprandi Polkowice | |
| 162 | Pierre-Henri Lecuisinier (Fra) FDJ.fr | |
| 163 | Kurt Geysen (Bel) Vastgoedservice - Golden Palace Continental Team | |
| 164 | Joeri Stallaert (Bel) Cibel | |
| 165 | Shane Archbold (NZl) Bora-Argon 18 | |
| 166 | Glenn Vandemaele (Bel) Colba - Superano Ham | |
Cyclingnews Newsletter
Sign up to the Cyclingnews Newsletter. You can unsubscribe at any time. For more information about how to do this, and how we hold your data, please see our privacy policy