Andrea Pasqualon wins 2017 Coppa Sabatini
Italian beats Colbrelli in sprint in Peccioli
Image 1 of 40
Image 2 of 40
Image 3 of 40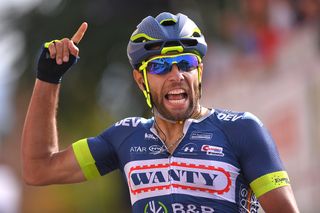 Image 4 of 40
Image 5 of 40
Image 6 of 40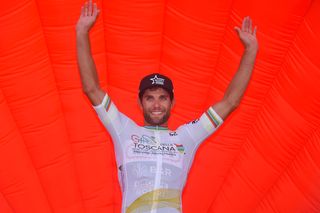 Image 7 of 40
Image 8 of 40
Image 9 of 40
Image 10 of 40
Image 11 of 40
Image 12 of 40
Image 13 of 40
Image 14 of 40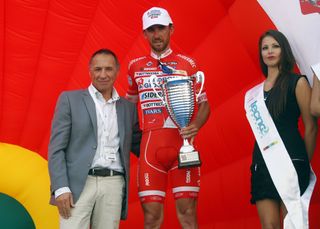 Image 15 of 40
Image 16 of 40
Image 17 of 40
Image 18 of 40
Image 19 of 40
Image 20 of 40
Image 21 of 40
Image 22 of 40
Image 23 of 40
Image 24 of 40
Image 25 of 40
Image 26 of 40
Image 27 of 40
Image 28 of 40
Image 29 of 40
Image 30 of 40
Image 31 of 40
Image 32 of 40
Image 33 of 40
Image 34 of 40
Image 35 of 40
Image 36 of 40
Image 37 of 40
Image 38 of 40
Image 39 of 40
Image 40 of 40
Andrea Pasqualon (Wanty-Groupe Gobert) claimed the biggest win of his career when he sprinted to victory in the Coppa Sabatini, beating Sonny Colbrelli (Bahrain-Merida) into second place in the uphill group sprint in Peccioli.
The result was a reverse of the outcome of the 2016 edition of the race, when Colbrelli pipped Pasqualon to the win on the same finale in Tuscany. Colbrelli was chasing his third Coppa Sabatini win in four years, and he opened his sprint from distance, but was overhauled by Pasqualon in the closing metres.
Colbrelli appealed the result immediately after the stage, claiming that Pasqualon had deviated from his line, but the commissaires promptly confirmed that that the Wanty-Groupe Gobert man was the winner.
Francesco Gavazzi (Androni-Sidermec) took third place in the bunch finish, ahead of Diego Ulissi (UAE-Team Emirates) and Eduard Prades (Caja Rural-Seguros RGA).
Pasqualon had racked up a series of placings at the Coppa Sabatini in recent years and was determined to win this year, telling his teammates before the race that he would open up the sprint after the last sweeping corner.
"I know the finish after being beaten in recent years and this time I had the courage to go for it. I didn't have that courage in the pat but this year I'm a lot stronger and more confident in what I can do in the finale of races. Changing teams and riding the Tour de France has made a huge difference. I can feel I'm stronger and have more endurance," Pasqualon said.
"Colbrelli led out the sprint but I came off his wheel quickly so that I could chose my own line. That's what I did. He claimed I squeezed him against the barriers but I don't think I did anything wrong. My chain jumped with 150m to go and I moved a bit but I didn't change my line to stop him coming through. I think I deserved this win."
Pasqualon revealed he had decided to put off signing a new contract until after the races in Tuscany because he was convinced he get a result. He revealed he has several offers but is "90 per cent" sure to stay at Wanty-Groupe Gobert in 2018.
The race was animated by an early break featuring Eugert Zhupa (Wilier-Selle Italia), Alessandro Tonelli (Bardiani-CSF), Andrea Vendrame (Androni), Patrick Gamper (Tirol Cycling), Daniel Turek (Israel Cycling Academy), Oscar Pelegri (Caja Rural-Seguros RGA) and Hideto Nakane (Nippo-Vini Fantini).
The seven escapees built a maximum lead just shy of six minutes before UAE-Team Emirates and Bahrain-Merida began to police affairs at the head of the peloton around the midway point.
By the time the break reached the six laps of the 12-kilometre finishing circuit around Peccioli, the gap was down just over two minutes, though attempts from counter-attackers Jacopo Mosca (Wilier-Selle Italia) and Francesco Manuel Bongiorno (Sangemini–MG.K Vis) to bridge across on the finishing circuit in Peccioli proved unsuccessful.
With two laps of the finishing circuit left, the break's buffer had been thinned down to just over a minute, and the move would splinter by the final lap, where only Vendrame and Tonelli remained just ahead of the closing peloton.
Vendrame and Tonelli were eventually swept up with seven kilometres to go, as Bahrain-Merida continued their forcing on behalf of Colbrelli, though Team Sky and Wanty-Groupe Gobert were increasingly prominent on the approach to final haul towards Peccioli, with Elia Viviani and Pasqualon in mind.
In the keenly-contested finishing sprint, it was Pasqualon who emerged victorious to claim his first win of 2017 and the biggest victory of a career that began in 2011 in the colours of Colnago-CSF.
The 29-year-old later spent three seasons at Continental level before stepping up again this season with Wanty-Groupe Gobert. Pasqualon was among the nine race debutants Wanty named for the Tour de France, reaching Paris in 137th overall.
Pasqualon's victory was Wanty-Groupe Gobert's third in two days in Tuscany after his teammate Guillaume Martin won stage 2 and the final overall title at the Giro della Toscana in Volterra on Wednesday.
Full Results
| # | Rider Name (Country) Team | Result |
| --- | --- | --- |
| 1 | Andrea Pasqualon (Ita) Wanty - Groupe Gobert | 4:44:04 |
| 2 | Sonny Colbrelli (Ita) Bahrain-Merida | |
| 3 | Francesco Gavazzi (Ita) Androni Giocattoli | |
| 4 | Diego Ulissi (Ita) UAE Team Emirates | |
| 5 | Eduard Prades (Spa) Caja Rural-Seguros RGA | |
| 6 | Elia Viviani (Ita) Team Sky | |
| 7 | Guillaume Martin (Fra) Wanty - Groupe Gobert | |
| 8 | Marco Canola (Ita) Nippo - Vini Fantini | |
| 9 | Nicola Gaffurini (Ita) Sangemini - Mg. K Vis | |
| 10 | Mattia Cattaneo (Ita) Androni Giocattoli | |
| 11 | Matteo Busato (Ita) Wilier Triestina | |
| 12 | Guillaume Boivin (Can) Israel Cycling Academy | |
| 13 | Pier Paolo De Negri (Ita) Nippo - Vini Fantini | |
| 14 | Armindo Fonseca (Fra) Team Fortuneo - Oscaro | |
| 15 | Sebastian Schönberger (Aut) Tirol Cycling Team | |
| 16 | Maxime Bouet (Fra) Team Fortuneo - Oscaro | 0:00:10 |
| 17 | Ettore Carlini (Ita) D'Amico Utensilnord | |
| 18 | Giovanni Visconti (Ita) Bahrain-Merida | |
| 19 | Simone Velasco (Ita) Bardiani CSF | |
| 20 | Paolo Totò (Ita) Sangemini - Mg. K Vis | 0:00:12 |
| 21 | Enrico Gasparotto (Ita) Bahrain-Merida | |
| 22 | Enrico Barbin (Ita) Bardiani CSF | |
| 23 | Nikolay Trusov (Rus) Gazprom – Rusvelo | 0:00:16 |
| 24 | Federico Canuti (Ita) D'Amico Utensilnord | 0:00:18 |
| 25 | Egan Bernal (Col) Androni Giocattoli | |
| 26 | Matthias Krizek (Aut) Tirol Cycling Team | |
| 27 | Dylan Page (Swi) Caja Rural-Seguros RGA | |
| 28 | Giacomo Berlato (Ita) Nippo - Vini Fantini | |
| 29 | Darwin Atapuma (Col) UAE Team Emirates | 0:00:25 |
| 30 | Iuri Filosi (Ita) Nippo - Vini Fantini | 0:00:28 |
| 31 | Daniel Teklehaimanot (Eri) Dimension Data | |
| 32 | Sergey Lagutin (Rus) Gazprom – Rusvelo | |
| 33 | Cristian Rodriguez (Spa) Wilier Triestina | |
| 34 | Jonathan Lastra (Spa) Caja Rural-Seguros RGA | |
| 35 | Maximilian Kuen (Aut) Tirol Cycling Team | |
| 36 | Yonder Godoy (Ven) Wilier Triestina | 0:00:32 |
| 37 | Vincenzo Albanese (Ita) Bardiani CSF | |
| 38 | Metkel Eyob (Eri) Dimension Data | |
| 39 | Markus Wildauer (Aut) Tirol Cycling Team | |
| 40 | Michele Scartezzini (Ita) Sangemini - Mg. K Vis | 0:00:38 |
| 41 | Frederik Backaert (Bel) Wanty - Groupe Gobert | 0:00:40 |
| 42 | Marco Frapporti (Ita) Androni Giocattoli | 0:00:43 |
| 43 | Fausto Masnada (Ita) Androni Giocattoli | |
| 44 | Lukasz Wisniowski (Pol) Team Sky | 0:00:51 |
| 45 | Daniel Turek (Cze) Israel Cycling Academy | 0:00:55 |
| 46 | Daniel Martinez (Col) Wilier Triestina | 0:00:56 |
| 47 | Grega Bole (Slo) Bahrain-Merida | 0:00:58 |
| 48 | Niccolo' Salvietti (Ita) Sangemini - Mg. K Vis | 0:01:08 |
| 49 | Dario Puccioni (Ita) Sangemini - Mg. K Vis | |
| 50 | Nicolas Sessler (Bra) Israel Cycling Academy | |
| 51 | Enrico Salvador (Ita) Tirol Cycling Team | |
| 52 | Eduardo Sepulveda (Arg) Team Fortuneo - Oscaro | 0:01:11 |
| 53 | Damiano Cunego (Ita) Nippo - Vini Fantini | 0:01:12 |
| 54 | Ivan Santaromita (Ita) Nippo - Vini Fantini | |
| 55 | Mattia Frapporti (Ita) Androni Giocattoli | |
| 56 | Anthony Delaplace (Fra) Team Fortuneo - Oscaro | |
| 57 | Umberto Orsini (Ita) Bardiani CSF | |
| 58 | Fabricio Ferrari (Uru) Caja Rural-Seguros RGA | |
| 59 | Christopher Butler (USA) Caja Rural-Seguros RGA | |
| 60 | Alessandro Tonelli (Ita) Bardiani CSF | |
| 61 | Davide Ballerini (Ita) Androni Giocattoli | |
| 62 | Manuel Belletti (Ita) Wilier Triestina | |
| 63 | Xandro Meurisse (Bel) Wanty - Groupe Gobert | |
| 64 | Simone Antonini (Ita) Wanty - Groupe Gobert | |
| 65 | Fabien Doubey (Fra) Wanty - Groupe Gobert | |
| 66 | Brice Feillu (Fra) Team Fortuneo - Oscaro | |
| 67 | Marco Minnaard (Ned) Wanty - Groupe Gobert | |
| 68 | Aleksandr Riabushenko (Blr) UAE Team Emirates | |
| 69 | Francesco Manuel Bongiorno (Ita) Sangemini - Mg. K Vis | |
| 70 | Igor Boev (Rus) Gazprom – Rusvelo | |
| 71 | Kristian Sbaragli (Ita) Dimension Data | |
| 72 | Edoardo Zardini (Ita) Bardiani CSF | 0:01:32 |
| 73 | Kristijan Durasek (Cro) UAE Team Emirates | 0:01:35 |
| 74 | Mekseb Debesay (Eri) Dimension Data | 0:01:38 |
| 75 | Michele Gazzara (Ita) Sangemini - Mg. K Vis | 0:01:40 |
| 76 | Arnaud Gerard (Fra) Team Fortuneo - Oscaro | 0:01:42 |
| 77 | Alexander Porsev (Rus) Gazprom – Rusvelo | 0:01:45 |
| 78 | Florian Vachon (Fra) Team Fortuneo - Oscaro | 0:01:50 |
| 79 | Filippo Fortin (Ita) Tirol Cycling Team | |
| 80 | Patrick Gamper (Aut) Tirol Cycling Team | |
| 81 | Simone Bernardini (Ita) Sangemini - Mg. K Vis | 0:01:56 |
| 82 | Kenny Elissonde (Fra) Team Sky | 0:02:03 |
| 83 | Diego Rosa (Ita) Team Sky | |
| 84 | Jacopo Mosca (Ita) Wilier Triestina | |
| 85 | Franco Pellizotti (Ita) Bahrain-Merida | |
| 86 | Danilo Napolitano (Ita) Wanty - Groupe Gobert | 0:02:31 |
| 87 | Antonio Nibali (Ita) Bahrain-Merida | 0:02:38 |
| 88 | Mark Cavendish (GBr) Dimension Data | |
| 89 | Tao Geoghegan Hart (GBr) Team Sky | 0:02:52 |
| 90 | Jonathan Dibben (GBr) Team Sky | |
| 91 | Dan Craven (Nam) Israel Cycling Academy | |
| 92 | Mihkel Räim (Est) Israel Cycling Academy | |
| 93 | Andrea Vendrame (Ita) Androni Giocattoli | |
| 94 | Marino Kobayashi (Jpn) Nippo - Vini Fantini | |
| 95 | Manuele Mori (Ita) UAE Team Emirates | 0:03:14 |
| 96 | Simone Andreetta (Ita) Bardiani CSF | |
| 97 | Simone Sterbini (Ita) Bardiani CSF | |
| 98 | Angelo Raffaele (Ita) D'Amico Utensilnord | |
| 99 | Ian Boswell (USA) Team Sky | 0:03:30 |
| 100 | José Manuel Díaz (Spa) Israel Cycling Academy | 0:04:16 |
| 101 | Josu Zabala (Spa) Caja Rural-Seguros RGA | |
| 102 | Oscar Pelegri Ferrandis (Spa) Caja Rural-Seguros RGA | |
| 103 | Anton Vorobyev (Rus) Gazprom – Rusvelo | 0:04:31 |
| 104 | Johann Van Zyl (RSA) Dimension Data | |
| 105 | Dmitriy Kozontchuk (Rus) Gazprom – Rusvelo | |
| 106 | Guy Sagiv (Isr) Israel Cycling Academy | |
| 107 | Sergey Nikolaev (Rus) Gazprom – Rusvelo | |
| 108 | Hideto Nakane (Jpn) Nippo - Vini Fantini | 0:04:41 |
| DNF | Manuele Boaro (Ita) Bahrain-Merida | |
| DNF | Andrea Garosio (Ita) Bahrain-Merida | |
| DNF | Johann Van Zyl (RSA) Dimension Data | |
| DNF | Nicolas Dougall (RSA) Dimension Data | |
| DNF | Bernhard Eisel (Aut) Dimension Data | |
| DNF | Matteo Bono (Ita) UAE Team Emirates | |
| DNF | Filippo Ganna (Ita) UAE Team Emirates | |
| DNF | Manuele Mori (Ita) UAE Team Emirates | |
| DNF | Federico Zurlo (Ita) UAE Team Emirates | |
| DNF | Ilia Koshevoy (Blr) Wilier Triestina | |
| DNF | Eugert Zhupa (Alb) Wilier Triestina | |
| DNF | Evgeny Shalunov (Rus) Gazprom – Rusvelo | |
| DNF | Danilo Celano (Ita) Caja Rural-Seguros RGA | |
| DNF | Guy Niv (Isr) Israel Cycling Academy | |
| DNF | Pietro Di Genova (Ita) D'Amico Utensilnord | |
| DNF | Francesco Petrini (Ita) D'Amico Utensilnord | |
| DNF | Angelo Vitiello (Ita) D'Amico Utensilnord | |
Cyclingnews Newsletter
Sign up to the Cyclingnews Newsletter. You can unsubscribe at any time. For more information about how to do this, and how we hold your data, please see our privacy policy