Nizzolo wins sprint at GP Nobili
Italian beats Ponzi and Haller
Image 1 of 51
Image 2 of 51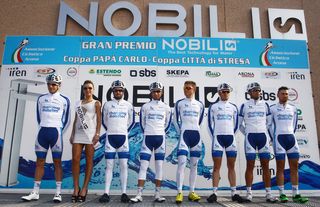 Image 3 of 51
Image 4 of 51
Image 5 of 51
Image 6 of 51
Image 7 of 51
Image 8 of 51
Image 9 of 51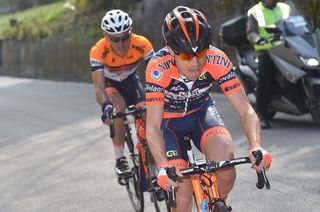 Image 10 of 51
Image 11 of 51
Image 12 of 51
Image 13 of 51
Image 14 of 51
Image 15 of 51
Image 16 of 51
Image 17 of 51
Image 18 of 51
Image 19 of 51
Image 20 of 51
Image 21 of 51
Image 22 of 51
Image 23 of 51
Image 24 of 51
Image 25 of 51
Image 26 of 51
Image 27 of 51
Image 28 of 51
Image 29 of 51
Image 30 of 51
Image 31 of 51
Image 32 of 51
Image 33 of 51
Image 34 of 51
Image 35 of 51
Image 36 of 51
Image 37 of 51
Image 38 of 51
Image 39 of 51
Image 40 of 51
Image 41 of 51
Image 42 of 51
Image 43 of 51
Image 44 of 51
Image 45 of 51
Image 46 of 51
Image 47 of 51
Image 48 of 51
Image 49 of 51
Image 50 of 51
Image 51 of 51
Giacomo Nizzolo (Trek Factory Racing) claimed his first victory of the 2015 season at the GP Nobili. The Italian beat last year's winner Simone Ponzi (Southeast), by more than a bike's length with Marco Haller (Katusha) taking third.
Following a late attack from Alejandro Valverde (Movistar) and Davide Rebellin (CCC Sprandi), the peloton came back together with eight kilometres to the finish. Without a victory for 2015, Cannondale-Garmin took to the front along with Katusha, but once Nizzolo launched his sprint no one could catch him.
"In the end I took the wheel of Valverde who was helping take Lobato to the front, but I was left with 300 meters to go and I had no choice but to go long. It was a long sprint and I was scared I would be passed in the last meters," said Nizzolo.
"The first lap I was suffering more over the climb and I was feeling better the second time. I must say a big thanks to all my team. Fabian (Cancellara) was a big help to pace me over the two climbs and then Fabio (Felline) was there at the end; I don't want to miss naming anyone because everyone on the team played a big part of this win today."
Valverde and, Nizzolo's teammate, Fabian Cancellara were among some of the riders using the 18th GP Nobili Rubinetterie as a tester before Milan-San Remo this weekend. A total of 22 teams, including seven WorldTour outfits, started in the province of Novara. Defending champion Ponzi was also present, hoping for a repeat performance. There were two abandons before the race got underway, with Magnus Cort Nielsen (Orca-GreenEdge) and Martijn Verschoor (Novo Nordisk) not signing on.
There was plenty of action from the flag with CCC Sprandi and Team Idea the most active on the front: many tried and failed to get away. Lucas Gaday (Unieuro Wilier Treviso), Matteo Montaguti (AG2R La Mondiale) and Bartlomiej Matysiak (CCC Sprandi), managed to build up an advantage of 52 seconds after 24 kilometres of racing but they were soon reeled back.
By 40 kilometres no group or individual had managed to make a meaningful break from the clutches of the peloton, so it was no surprise when the news came in that the peloton had averaged 49kph in the opening hour of racing. Many tried and continued to fail and finally the pace forced a split in the peloton, with 27 riders going clear after more than 80 kilometres of racing.
Almost every team was represented in the move with only AG2R-La Mondiale, Caja Rural, Rusvelo, GM Cycling Team, MG. Kvis-Vega and D'Amico Bottecchia not making the split. Among the men to make it away were Winner Anacona (Lampre-Merida), Lasse Norman Hansen (Cannondale-Garmin), Marco Canola (Italian) and Franco Pelizotti (Androni Giocattoli). The large group built up an advantage of 3:08 on the peloton but those who had failed to get a sprinter into that group were keen to bring them back, and with more than 50 kilometres remaining that had been reduced to less than a minute.
Gradually riders began to be shelled out of the front group over the climbs and, led by the Italian national team, the peloton finally brought them back with a touch over 20 kilometres to go. The catch initiated another flurry of attempts to make a break for the line, the most notable of which was a move from Valverde and Rebellin – perhaps a prelude to Valverde's intentions at this weekend's Milan-San Remo. The paring were never too far from the front of the peloton and it was gruppo compatto at eight kilometres to go, setting things up for the bunch sprint.
Full Results
| # | Rider Name (Country) Team |
| --- | --- |
| 1 | Giacomo Nizzolo (Ita) Trek Factory Racing |
| 2 | Simone Ponzi (Ita) Southeast |
| 3 | Marco Haller (Aut) Team Katusha |
| 4 | Juan Jose Lobato Del Valle (Spa) Movistar Team |
| 5 | Grega Bole (Slo) CCC Sprandi Polkowice |
| 6 | Oscar Gatto (Ita) Androni Giocattoli |
| 7 | Iuri Filosi (Ita) Nippo - Vini Fantini |
| 8 | Matteo Montaguti (Ita) AG2R La Mondiale |
| 9 | Antonino Parrinello (Ita) d'Amico Bottecchia |
| 10 | Francesco Reda (Ita) Team Idea 2010 ASD |
| 11 | Nicola Gaffurini (Ita) Mg.Kvis-Vega |
| 12 | Miguel Angel Rubiano Chavez (Col) Colombia |
| 13 | Alberto Bettiol (Ita) Cannondale-Garmin Pro Cycling Team |
| 14 | Luis Mas Bonet (Spa) Caja Rural-Seguros RGA |
| 15 | Sonny Colbrelli (Ita) Italy |
| 16 | Matej Mohoric (Slo) Cannondale-Garmin Pro Cycling Team |
| 17 | Jan Bakelants (Bel) AG2R La Mondiale |
| 18 | Yonattah Monsalve (Ven) Southeast |
| 19 | Francesco Gavazzi (Ita) Southeast |
| 20 | Simone Petilli (Ita) Unieuro Wilier |
| 21 | Eduard Prades Reverte (Spa) Caja Rural-Seguros RGA |
| 22 | Davide Rebellin (Ita) CCC Sprandi Polkowice |
| 23 | Lachlan Norris (Aus) Drapac Professional Cycling |
| 24 | Nathan Brown (USA) Cannondale-Garmin Pro Cycling Team |
| 25 | Enrico Gasparotto (Ita) Italy |
| 26 | Kenny Elissonde (Fra) FDJ.fr |
| 27 | Fabio Taborre (Ita) Androni Giocattoli |
| 28 | Janier Alexis Acevedo Colle (Col) Cannondale-Garmin Pro Cycling Team |
| 29 | Mauro Finetto (Ita) Southeast |
| 30 | Antonio Santoro (Ita) Mg.Kvis-Vega |
| 31 | David Arroyo Duran (Spa) Caja Rural-Seguros RGA |
| 32 | Franco Pellizotti (Ita) Androni Giocattoli |
| 33 | Heiner Rodrigo Parra Bustamente (Col) Caja Rural-Seguros RGA |
| 34 | Eduard Vorganov (Rus) Team Katusha |
| 35 | Benoît Vaugrenard (Fra) FDJ.fr |
| 36 | Ricardo Vilela (Por) Caja Rural-Seguros RGA |
| 37 | Damiano Cunego (Ita) Nippo - Vini Fantini |
| 38 | Sergio Pardilla Bellon (Spa) Caja Rural-Seguros RGA |
| 39 | Ivan Santaromita (Ita) Orica GreenEdge |
| 40 | Alejandro Valverde Belmonte (Spa) Movistar Team |
| 41 | Alan Marangoni (Ita) Cannondale-Garmin Pro Cycling Team |
| 42 | Salvatore Puccio (Ita) Italy |
| 43 | Simon Clarke (Aus) Orica GreenEdge |
| 44 | Pavel Kochetkov (Rus) Team Katusha |
| 45 | Maciej Paterski (Pol) CCC Sprandi Polkowice |
| 46 | Alexander Kolobnev (Rus) Team Katusha |
| 47 | Sylwester Szmyd (Pol) CCC Sprandi Polkowice |
| 48 | Dmitrii Kozonchuk (Rus) Team Katusha |
| 49 | Alexandre Geniez (Fra) FDJ.fr |
| 50 | Simone Stortoni (Ita) Androni Giocattoli |
| 51 | Hubert Dupont (Fra) AG2R La Mondiale |
| 52 | Luca Paolini (Ita) Team Katusha |
| 53 | Sergey Lagutin (Rus) Team Katusha |
| 54 | Fabio Felline (Ita) Trek Factory Racing |
| 55 | Gatis Smukulis (Lat) Team Katusha |
| 56 | Laurent Didier (Lux) Trek Factory Racing |
| 57 | Lorenzo Rota (Ita) Unieuro Wilier |
| 58 | Leigh Howard (Aus) Orica GreenEdge |
| 59 | Jasha Sütterlin (Ger) Movistar Team |
| 60 | Igor Anton Hernandez (Spa) Movistar Team |
| 61 | Enrique Sanz (Spa) Movistar Team |
| 62 | Giovanni Carboni (Ita) Unieuro Wilier |
| 63 | Tomasz Kiendys (Pol) CCC Sprandi Polkowice |
| 64 | Johan Le Bon (Fra) FDJ.fr |
| 65 | Joonas Henttala (Fin) Team Novo Nordisk |
| 66 | Matteo Spreafico (Ita) Team Idea 2010 ASD |
| 67 | Davide Vigano (Ita) Team Idea 2010 ASD |
| 68 | Niccolò Pacinotti (Ita) Italy |
| 69 | Simone Consonni (Ita) Italy |
| 70 | David Lozano Riba (Spa) Team Novo Nordisk |
| 71 | Ildar Arslanov (Rus) RusVelo |
| 72 | Roman Maikin (Rus) RusVelo |
| 73 | Eugenio Alafaci (Ita) Trek Factory Racing |
| 74 | Filippo Ganna (Ita) Italy |
| 75 | Marco Tecchio (Ita) Unieuro Wilier |
| 76 | Dylan Girdlestone (RSA) Drapac Professional Cycling |
| 77 | Timothy Roe (Aus) Drapac Professional Cycling |
| 78 | Juan Pablo Valencia (Col) Colombia |
| 79 | José Hernández (Col) GM Cycling Team |
| 80 | Edwin Alcibiades Avila Vanegas (Col) Colombia |
| 81 | Pierre-Roger Latour (Fra) AG2R La Mondiale |
| 82 | Julien Berard (Fra) AG2R La Mondiale |
| 83 | Jussi Veikkanen (Fin) FDJ.fr |
| 84 | Matthieu Ladagnous (Fra) FDJ.fr |
| 85 | Branislau Samoilau (Blr) CCC Sprandi Polkowice |
| 86 | Walter Fernando Pedraza Morales (Col) Colombia |
| 87 | Alessandro Malaguti (Ita) Nippo - Vini Fantini |
| 88 | Pier Paolo De Negri (Ita) Nippo - Vini Fantini |
| 89 | Daniele Colli (Ita) Nippo - Vini Fantini |
| 90 | Andrea Cacciotti (Ita) GM Cycling Team |
| 91 | Manuel Belletti (Ita) Southeast |
| 92 | Marco Canola (Ita) Italy |
| 93 | Daniele Ratto (Ita) Italy |
| 94 | Paolo Ciavatta (Ita) d'Amico Bottecchia |
| 95 | Marco D'urbano (Ita) GM Cycling Team |
| 96 | Silvio Giorni (Ita) d'Amico Bottecchia |
| 97 | Giacomo Berlato (Ita) Nippo - Vini Fantini |
| 98 | Riccardo Stacchiotti (Ita) Nippo - Vini Fantini |
| 99 | Bartlomiej Matysiak (Pol) CCC Sprandi Polkowice |
| 100 | Marco Bandiera (Ita) Androni Giocattoli |
| 101 | Giuseppe Fonzi (Ita) Southeast |
| 102 | Eugert Zhupa (Alb) Southeast |
| 103 | Serghei Tvetcov (Rom) Androni Giocattoli |
| 104 | Calvin Watson (Aus) Trek Factory Racing |
| 105 | Winner Anacona Gomez (Col) Movistar Team |
| 106 | Marco Coledan (Ita) Trek Factory Racing |
| 107 | Ruben Zepuntke (Ger) Cannondale-Garmin Pro Cycling Team |
| 108 | Kristoffer Skjerping (Nor) Cannondale-Garmin Pro Cycling Team |
| 109 | Andrea Peron (Ita) Team Novo Nordisk |
| 110 | Alessandro Pettiti (Ita) Team Idea 2010 ASD |
| 111 | Christopher Williams (Aus) Team Novo Nordisk |
| 112 | Mamyr Stash (Rus) RusVelo |
| 113 | Manabu Ishibashi (Jpn) Nippo - Vini Fantini |
| 114 | Charles Planet (Fra) Team Novo Nordisk |
| 115 | Lasse Norman Hansen (Den) Cannondale-Garmin Pro Cycling Team |
| 116 | Brenton Jones (Aus) Drapac Professional Cycling |
| 117 | Aleksandr Komin (Rus) RusVelo |
| 118 | Johan Van Summeren (Bel) AG2R La Mondiale |
| 119 | Peter Koning (Ned) Drapac Professional Cycling |
| 120 | Kirill Pozdnyakov (Rus) RusVelo |
| 121 | Adriano Brogi (Ita) d'Amico Bottecchia |
| 122 | Kevin De Mesmaeker (Bel) Team Novo Nordisk |
| 123 | Adrian Kurek (Pol) CCC Sprandi Polkowice |
| 124 | Antonio Di Sante (Ita) GM Cycling Team |
| 125 | Manuel Todaro (Ita) Team Idea 2010 ASD |
| 126 | Giorgio Bocchiola (Ita) d'Amico Bottecchia |
| 127 | Mattia Frapporti (Ita) Unieuro Wilier |
| 128 | Marco Tizza (Ita) Team Idea 2010 ASD |
| 129 | Marco Frapporti (Ita) Androni Giocattoli |
| 130 | Michele Gazzara (Ita) Mg.Kvis-Vega |
| 131 | Moreno Giampaolo (Ita) Mg.Kvis-Vega |
| 132 | Alexander Serov (Rus) RusVelo |
| 133 | William Bonnet (Fra) FDJ.fr |
| 134 | Cayetano José Sarmiento Tunarrosa (Col) Colombia |
| 135 | Fabio Andres Duarte Arevalo (Col) Colombia |
| 136 | Carlos Mario Ramirez Botero (Col) Colombia |
| 137 | Jonathan Paredes (Col) Colombia |
| 138 | Gian Marco Di Francesco (Ita) Mg.Kvis-Vega |
| 139 | Daniele Cavasin (Ita) GM Cycling Team |
| 140 | Filippo Fortin (Ita) GM Cycling Team |
| 141 | Rory Sutherland (Aus) Movistar Team |
| DNF | Carlos Alberto Betancur Gomez (Col) AG2R La Mondiale |
| DNF | Fabian Cancellara (Swi) Trek Factory Racing |
| DNF | Yaroslav Popovych (Ukr) Trek Factory Racing |
| DNF | Sébastien Chavanel (Fra) FDJ.fr |
| DNF | Alex Dowsett (GBr) Movistar Team |
| DNF | Cameron Meyer (Aus) Orica GreenEdge |
| DNF | Adam Blythe (GBr) Orica GreenEdge |
| DNF | Jens Mouris (Ned) Orica GreenEdge |
| DNF | Tiziano Dall'antonia (Ita) Androni Giocattoli |
| DNF | Roman Kustadinchev (Rus) RusVelo |
| DNF | Alexander Evtushenko (Rus) RusVelo |
| DNF | Mirko Tedeschi (Ita) Southeast |
| DNF | Martin Kohler (Swi) Drapac Professional Cycling |
| DNF | Samuel Spokes (Aus) Drapac Professional Cycling |
| DNF | Javier Megias Leal (Spa) Team Novo Nordisk |
| DNF | Sebastian Stamegna (Ita) GM Cycling Team |
| DNF | Alessandro Mario Ferrarotti (Ita) GM Cycling Team |
| DNF | Fabio Chinello (Ita) Unieuro Wilier |
| DNF | Lucas Gaday Orozco (Arg) Unieuro Wilier |
| DNF | Davide Plebani (Ita) Unieuro Wilier |
| DNF | Luca Muffolini (Ita) Mg.Kvis-Vega |
| DNF | Michele Scartezzini (Ita) Mg.Kvis-Vega |
| DNF | Emiliano Faieta (Ita) Mg.Kvis-Vega |
| DNF | Francesco Baldi (Ita) d'Amico Bottecchia |
| DNF | Gabriele Campello (Ita) d'Amico Bottecchia |
| DNF | Iltjan Nika (Alb) d'Amico Bottecchia |
Cyclingnews Newsletter
Sign up to the Cyclingnews Newsletter. You can unsubscribe at any time. For more information about how to do this, and how we hold your data, please see our privacy policy