Flahaut flies to GP de Denain win
Vachon, Rossi round out podium
Image 1 of 26
Image 2 of 26
Image 3 of 26
Image 4 of 26
Image 5 of 26
Image 6 of 26
Image 7 of 26
Image 8 of 26
Image 9 of 26
Image 10 of 26
Image 11 of 26
Image 12 of 26
Image 13 of 26
Image 14 of 26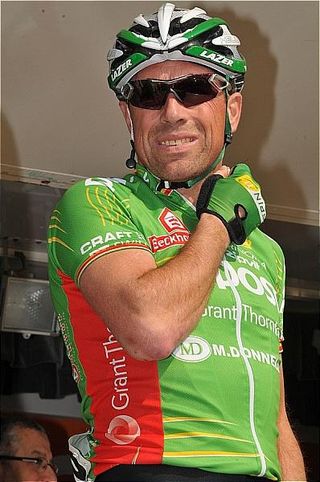 Image 15 of 26
Image 16 of 26
Image 17 of 26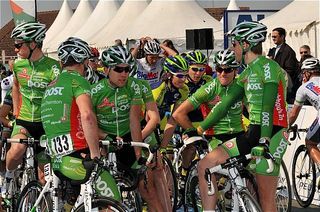 Image 18 of 26
Image 19 of 26
Image 20 of 26
Image 21 of 26
Image 22 of 26
Image 23 of 26
Image 24 of 26
Image 25 of 26
Image 26 of 26
Frenchman Denis Flahaut (ISD Continental Team) took his second victory of the season in the 51st edition of the Grand Prix of Denain-La Porte du Hainaut, the 4th round of the Coupe de France.
The 31-year-old topped Florian Vachon (Bretagne Schuller) and Enrico Rossi (Ceramica Flaminia) in the bunch sprint.
Cofidis' Leonardo Duque maintained his 18-point lead in the Coupe de France over Paris-Camembert winner Sebastien Minard and GP La Marseillaise winner Jonathan Hivert (Saur Sojasun).
"Saur-Sojasun did a lot of work in the end for Jimmy Casper. I was cautious because there was a strong headwind on the finish," said Flahaut. "I was super motivated. I felt good throughout the day. I live near Denain and I know the roads by heart. This is just a dream come true - it was one of my objectives of my season. "
Vachon was disappointed to miss out on the win after having to let up when a crash happened with 400m to go, but said, "I am very satisfied with this result. I could not do anything against Denis Flahaut. "
Enrico Rossi (Ceramica Flaminia), winner of last week's Dwars door Drenthe, was not pleased with the circuit today, saying it was too dangerous, but added he has been pleased with his Classics campaign. "I won Dwars door Drenthe, and finished 3rd in the Rund um Köln and 6th Grand Prix de l'Escaut. It has been a good week! "
Full Results
| # | Rider Name (Country) Team | Result |
| --- | --- | --- |
| 1 | Denis Flahaut (Fra) ISD Continental Team | 4:30:45 |
| 2 | Florian Vachon (Fra) Bretagne - Schuller | |
| 3 | Enrico Rossi (Ita) Ceramica Flaminia | |
| 4 | Denis Galimzyanov (Rus) Team Katusha | |
| 5 | Daniele Colli (Ita) Ceramica Flaminia | |
| 6 | Sébastien Chavanel (Fra) Française Des Jeux | |
| 7 | Yauheni Hutarovich (Blr) Française Des Jeux | |
| 8 | Jimmy Casper (Fra) Saur - Sojasun | |
| 9 | Thomas Fothen (Ger) Team Milram | |
| 10 | Kris Boeckmans (Bel) Topsport Vlaanderen - Mercator | |
| 11 | Guillaume Blot (Fra) Cofidis, Le Credit En Ligne | |
| 12 | Benoit Daeninck (Fra) Roubaix Lille Metropole | |
| 13 | Anthony Ravard (Fra) AG2R La Mondiale | |
| 14 | Romain Feillu (Fra) Vacansoleil Pro Cycling Team | |
| 15 | Jimmy Engoulvent (Fra) Saur - Sojasun | |
| 16 | Kenny Lisabeth (Bel) An Post - Sean Kelly | |
| 17 | Fabien Bacquet (Fra) Big Mat - Auber 93 | |
| 18 | Jens Keukeleire (Bel) Cofidis, Le Credit En Ligne | |
| 19 | Matic Strgar (Slo) Vorarlberg - Corratec | |
| 20 | Cédric Pineau (Fra) Roubaix Lille Metropole | |
| 21 | Romain Lemarchand (Fra) Big Mat - Auber 93 | |
| 22 | Pieter Ghyllebert (Bel) An Post - Sean Kelly | |
| 23 | Lloyd Mondory (Fra) AG2R La Mondiale | |
| 24 | Nadir Haddou (Fra) Big Mat - Auber 93 | |
| 25 | Stijn Neirynck (Bel) Topsport Vlaanderen - Mercator | |
| 26 | Sep Vanmarcke (Bel) Topsport Vlaanderen - Mercator | |
| 27 | Josef Benetseder (Aut) Vorarlberg - Corratec | |
| 28 | Saïd Haddou (Fra) BBox Bouygues Telecom | |
| 29 | Andrea Piechele (Ita) Carmiooro NGC | |
| 30 | Jonathan Thire (Fra) Big Mat - Auber 93 | |
| 31 | Laurent Pichon (Fra) Bretagne - Schuller | |
| 32 | Morgan Kneisky (Fra) Roubaix Lille Metropole | |
| 33 | Steven Tronet (Fra) Roubaix Lille Metropole | |
| 34 | Lilian Jegou (Fra) Bretagne - Schuller | |
| 35 | Florian Morizot (Fra) Big Mat - Auber 93 | |
| 36 | Arnoud Van Groen (Ned) Vacansoleil Pro Cycling Team | |
| 37 | Reto Hollenstein (Swi) Vorarlberg - Corratec | |
| 38 | Artem Ovechkin (Rus) Team Katusha | |
| 39 | Markus Eichler (Ger) Team Milram | |
| 40 | Matthieu Ladagnous (Fra) Française Des Jeux | |
| 41 | Maxim De Busschere (Bel) An Post - Sean Kelly | |
| 42 | Borut Bozic (Slo) Vacansoleil Pro Cycling Team | 0:00:06 |
| 43 | Yoann Offredo (Fra) Française Des Jeux | 0:00:07 |
| 44 | Tom Van Den Haute (Bel) Landbouwkrediet | 0:00:09 |
| 45 | Kristof Goddaert (Bel) AG2R La Mondiale | 0:00:12 |
| 46 | Giovanni Bernaudeau (Fra) BBox Bouygues Telecom | 0:00:13 |
| 47 | Rostislav Mykhaylov (Ukr) ISD Continental Team | |
| 48 | Romain Zingle (Bel) Cofidis, Le Credit En Ligne | 0:00:14 |
| 49 | Egor Silin (Rus) Team Katusha | |
| 50 | Gael Malacarne (Fra) Bretagne - Schuller | |
| 51 | Maxime Vantomme (Bel) Team Katusha | |
| 52 | Steven Caethoven (Bel) Landbouwkrediet | |
| 53 | Maksym Polischuk (Ukr) ISD Continental Team | |
| 54 | Mathieu Halleguen (Fra) Bretagne - Schuller | |
| 55 | Edoardo Girardi (Ita) Ceramica Flaminia | |
| 56 | Kim Borry (Bel) An Post - Sean Kelly | |
| 57 | Stéphane Poulhies (Fra) Saur - Sojasun | |
| 58 | Connor Mcconvey (Irl) An Post - Sean Kelly | |
| 59 | Jean-Luc Delpech (Fra) Bretagne - Schuller | |
| 60 | David Boucher (Fra) Landbouwkrediet | |
| 61 | Nikita Eskov (Rus) Team Katusha | |
| 62 | Grégory Joseph (Bel) Topsport Vlaanderen - Mercator | |
| 63 | Kristof Vandewalle (Bel) Topsport Vlaanderen - Mercator | |
| 64 | Renaud Dion (Fra) Roubaix Lille Metropole | |
| 65 | Olivier Bonnaire (Fra) Française Des Jeux | |
| 66 | Yukiya Arashiro (Jpn) BBox Bouygues Telecom | |
| 67 | Kevin Neirynck (Bel) Landbouwkrediet | |
| 68 | Maksym Vasilyev (Ukr) ISD Continental Team | |
| 69 | Dominik Hrinkow (Aut) Vorarlberg - Corratec | |
| 70 | Fabrice Jeandesboz (Fra) Saur - Sojasun | |
| 71 | Anthony Delaplace (Fra) Saur - Sojasun | |
| 72 | Christophe Riblon (Fra) AG2R La Mondiale | |
| 73 | Martin Elmiger (Swi) AG2R La Mondiale | |
| 74 | Pavel Brutt (Rus) Team Katusha | |
| 75 | Frédéric Amorison (Bel) Landbouwkrediet | |
| 76 | Cyril Lemoine (Fra) Saur - Sojasun | |
| 77 | Tristan Valentin (Fra) Cofidis, Le Credit En Ligne | |
| 78 | Johan Le Bon (Fra) Bretagne - Schuller | |
| 79 | Pierre Rolland (Fra) BBox Bouygues Telecom | |
| 80 | Fabrizio Lucciola (Ita) Ceramica Flaminia | |
| 81 | Fabio Terrenzio (Ita) Carmiooro NGC | 0:00:25 |
| 82 | Frederik Veuchelen (Bel) Vacansoleil Pro Cycling Team | |
| 83 | Laszlo Bodrogi (Fra) Team Katusha | 0:00:27 |
| 84 | Alexandre Lemair (Fra) Roubaix Lille Metropole | |
| 85 | Dimitri Le Boulch (Fra) Big Mat - Auber 93 | |
| 86 | John Gadret (Fra) AG2R La Mondiale | |
| 87 | Nicolas Rousseau (Fra) AG2R La Mondiale | 0:00:29 |
| 88 | Stijn Joseph (Bel) Topsport Vlaanderen - Mercator | |
| 89 | Vincent Jerome (Fra) BBox Bouygues Telecom | |
| 90 | Benjamin Gourgue (Bel) Landbouwkrediet | |
| 91 | Thomas Voeckler (Fra) BBox Bouygues Telecom | |
| 92 | Julien Fouchard (Fra) Cofidis, Le Credit En Ligne | |
| 93 | Alessandro Maserati (Ita) Ceramica Flaminia | 0:00:39 |
| 94 | Frédéric Guesdon (Fra) Française Des Jeux | 0:00:43 |
| 95 | Gorik Gardeyn (Bel) Vacansoleil Pro Cycling Team | 0:00:53 |
| 96 | Arnaud Molmy (Fra) Roubaix Lille Metropole | 0:00:58 |
| 97 | Alexandre Usov (Blr) ISD Continental Team | 0:01:07 |
| 98 | Mark Mcnally (GBr) An Post - Sean Kelly | 0:01:14 |
| 99 | Dominik Roels (Ger) Team Milram | 0:01:16 |
| 100 | Rony Martias (Fra) Saur - Sojasun | 0:01:22 |
| 101 | Stéphane Bonsergent (Fra) Bretagne - Schuller | 0:01:39 |
| 102 | Alberto Ongarato (Ita) Vacansoleil Pro Cycling Team | 0:01:50 |
| 103 | Wouter Mol (Ned) Vacansoleil Pro Cycling Team | |
| 104 | Perrig Quemeneur (Fra) BBox Bouygues Telecom | 0:02:15 |
| 105 | Yohann Gene (Fra) BBox Bouygues Telecom | |
| 106 | Kevin Ista (Bel) Cofidis, Le Credit En Ligne | 0:03:09 |
| 107 | Nico Sijmens (Bel) Cofidis, Le Credit En Ligne | 0:03:30 |
| 108 | Matheus Pronk (Ned) Vacansoleil Pro Cycling Team | 0:03:56 |
| 109 | Björn Schröder (Ger) Team Milram | 0:04:34 |
| 110 | Michael Van Stayen (Bel) Topsport Vlaanderen - Mercator | 0:06:00 |
Cyclingnews Newsletter
Sign up to the Cyclingnews Newsletter. You can unsubscribe at any time. For more information about how to do this, and how we hold your data, please see our privacy policy