DVV Krawatencross: Alvarado beats Worst in sprint
New world champion shows off her rainbow stripes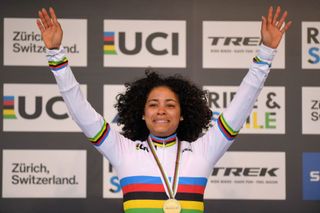 (Image credit: Getty Images)
Ceylin Alvarado won the Krawatencross in Lille in her first race as world champion, repeating her duel and sprint finish compatriot Annemarie Worst. T
he world champion was again faster, with Junior world champion Shirin van Anrooij completed the Dutch party at 26 seconds.
Alvarado and Worst powered away from the opposition during the first round lap. They exchanged attacks but the race again ended in a sprint, with Alvarado again stronger and faster.
Alvarado is also the final winner of the women's DVV trophy, Worst is second and European champion Yara Kastelijn, who raced despite a cracked vertebrae finished third.
Results
Results

| Pos. | Rider Name (Country) Team | Result |
| --- | --- | --- |
| 1 | Ceylin del Carmen Alvarado (Ned) Alpecin - Fenix | 0:42:18 |
| 2 | Annemarie Worst (Ned) 777 | 0:00:01 |
| 3 | Shirin Van Anrooij (Ned) | 0:00:27 |
| 4 | Inge Van Der Heijden (Ned) Ccc - Liv | 0:00:29 |
| 5 | Katherine Compton (USA) | 0:00:38 |
| 6 | Aniek Van Alphen (Ned) | 0:00:41 |
| 7 | Denise Betsema (Ned) Pauwels Sauzen – Bingoal | 0:00:44 |
| 8 | Sanne Cant (Bel) Iko - Crelan | 0:00:47 |
| 9 | Alice Maria Arzuffi (Ita) 777 | 0:00:53 |
| 10 | Anna Kay (GBr) Experza Pro Cx | 0:01:02 |
| 11 | Loes Sels (Bel) Iko - Crelan | 0:01:06 |
| 12 | Eva Lechner (Ita) Creafin - Fristads | 0:01:07 |
| 13 | Yara Kastelijn (Ned) 777 | 0:01:15 |
| 14 | Lucia Gonzalez Blanco (Spa) Nesta - Skoda Alecar Cx Team | 0:01:35 |
| 15 | Laura Verdonschot (Bel) Pauwels Sauzen – Bingoal | 0:01:40 |
| 16 | Marion Norbert Riberolle (Fra) Experza Pro Cx | 0:01:44 |
| 17 | Ellen Van Loy (Bel) Telenet Baloise Lions | 0:01:50 |
| 18 | Alicia Franck (Bel) Experza Pro Cx | 0:01:51 |
| 19 | Manon Bakker (Ned) Experza Pro Cx | 0:02:10 |
| 20 | Geerte Hoeke (Ned) | 0:02:28 |
| 21 | Rebecca Gariboldi (Ita) | 0:02:29 |
| 22 | Veerle Goossens (Ned) | 0:02:37 |
| 23 | Maud Kaptheijns (Ned) Pauwels Sauzen – Bingoal | 0:02:45 |
| 24 | Karen Verhestraeten (Bel) Iko - Crelan | 0:02:48 |
| 25 | Lindy Van Anrooij (Ned) | 0:03:12 |
| 26 | Pauliena Rooijakkers (Ned) | 0:03:25 |
| 27 | Marthe Truyen (Bel) Telenet Baloise Lions | 0:03:28 |
| 28 | Rebecca Fahringer (USA) | 0:04:04 |
| 29 | Harriet Harnden (GBr) | 0:04:07 |
| 30 | Fem Van Empel (Ned) | |
| 31 | Kiona Crabbé (Bel) | |
| 32 | Pauline Delhaye (Fra) | 0:04:22 |
| 33 | Esther Van Der Burg (Ned) | 0:04:29 |
| 34 | Julie Brouwers (Bel) | 0:04:39 |
| 35 | Mascha Mulder (Ned) Group Hens - Maes Containers | 0:04:42 |
| 36 | Jinse Peeters (Bel) | 0:04:56 |
| 37 | Kata Blanka Vas (Hun) | 0:05:03 |
| 38 | Suzanne Verhoeven (Bel) | 0:05:07 |
| 39 | Mirthe Van Den Brande (Bel) | 0:05:14 |
| 40 | Meg De Bruyne (Bel) | 0:05:21 |
| 41 | Elodie Kuijper (Ned) | 0:05:26 |
| 42 | Sterre Vervloet (Bel) | 0:05:27 |
| 43 | Tessa Zwaenepoel (Bel) | 0:05:33 |
| 44 | Tinne Vermeiren (Bel) | 0:05:53 |
| 45 | Emily Werner (USA) | |
| 46 | Julie De Wilde (Bel) | 0:05:57 |
| 47 | Laura Van Der Zwaan (Ned) | 0:06:10 |
| 48 | Shana Maes (Bel) | 0:06:31 |
| 49 | Lise Van Wunsel (Bel) | 0:07:03 |
| 50 | Lotte Baele (Bel) | |
| 51 | Ishbel Strathdee (GBr) | |
| 52 | Britt Jochems (Ned) | |
| 53 | Kristien Nelen (Bel) | |
| 54 | Kiona Dhont (Bel) | |
| 55 | Valerie Boonen (Bel) | |
| 56 | Laetitia Maus (Lux) | |
| 57 | Corey Coogan Cisek (USA) | |
| 58 | Lina Beirinckx (Bel) | |
| 59 | Jolien Verschueren (Bel) Pauwels Sauzen – Bingoal | |
| 60 | Lies´L Schevenels (Bel) | |
| 61 | Lisette Schoon (Ned) | |
| 62 | Karen De Keulenaer (Bel) | |
| DNS | Diana Steffenhagen (Ger) | |
Cyclingnews Newsletter
Sign up to the Cyclingnews Newsletter. You can unsubscribe at any time. For more information about how to do this, and how we hold your data, please see our privacy policy