Ceylin del Carmen Alvarado wins elite women's Azencross
Sanne Cant and Annemarie Worst round out podium in Loenhout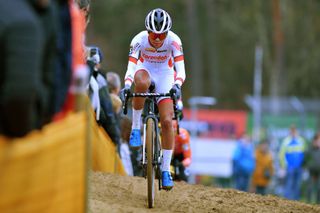 (Image credit: Getty Images)
Ceylin del Carmen Alvarado (Corendon-Circus) won the DVV Verzekeringen trofee Azencross in Loenhout on Friday. The Dutch rider soloed to victory by 1:45 ahead of world champion Sanne Cant (Iko-Crelan) and Annemarie Worst (777).
The race started with several crashes that took down Loes Sels and Yara Kastelijn. The accidents did not affect Alvarado, who distanced herself from her rivals early in the opening lap.
Worst and Katie Compton chased the solo leader but they continued to lose time as Alvarado raced flawlessly around the muddy circuit to gain over a minute at the halfway point of the race.
Cant caught up to Worst and Compton, and the trio raced for second place. It was the world champion who claimed second, Worst third and Compton fourth.
Swipe to scroll horizontally
Results

| Pos. | Rider Name (Country) Team | Result |
| --- | --- | --- |
| 1 | Ceylin del Carmen Alvarado (Ned) Corendon - Circus | 0:43:52 |
| 2 | Sanne Cant (Bel) Iko-Crelan | 0:01:45 |
| 3 | Annemarie Worst (Ned) 777 | 0:01:48 |
| 4 | Katherine Compton (USA) | 0:01:53 |
| 5 | Alice Maria Arzuffi (Ita) 777 | 0:02:26 |
| 6 | Eva Lechner (Ita) Creafin – Fristads | 0:02:30 |
| 7 | Laura Verdonschot (Bel) Pauwels Sauzen – Bingoal | 0:02:50 |
| 8 | Ruby West (Can) | 0:02:54 |
| 9 | Yara Kastelijn (Ned) 777 | 0:02:55 |
| 10 | Rebecca Fahringer (USA) | |
| 11 | Ellen Van Loy (Bel) Telenet Baloise Lions | 0:03:09 |
| 12 | Kim Van De Steene (Bel) Tarteletto - Isorex | 0:03:21 |
| 13 | Aniek Van Alphen (Ned) | 0:03:34 |
| 14 | Kata Blanka Vas (Hun) | 0:03:42 |
| 15 | Francesca Baroni (Ita) Selle Italia - Guerciotti - Elite | 0:03:45 |
| 16 | Maud Kaptheijns (Ned) Pauwels Sauzen – Bingoal | 0:03:48 |
| 17 | Maghalie Rochette (Can) | 0:03:49 |
| 18 | Lucia Gonzalez Blanco (Spa) Nesta - Skoda Alecar Cx Team | 0:03:55 |
| 19 | Karen Verhestraeten (Bel) Iko – Crelan | 0:04:02 |
| 20 | Jana Dobbelaere (Bel) | 0:04:08 |
| 21 | Pauliena Rooijakkers (Ned) | 0:05:25 |
| 22 | Nikola Bajgerová (Cze) | 0:05:43 |
| 23 | Veerle Goossens (Ned) | 0:06:02 |
| 24 | Elisabeth Brandau (Ger) | 0:06:35 |
| 25 | Zina Barhoumi (Swi) | 0:06:48 |
| 26 | Mari-Liis Mõttus (Est) | 0:06:58 |
| 27 | Tereza Vaníčková (Cze) | 0:07:07 |
| 28 | Hannah Arensman (USA) | 0:07:11 |
| 29 | Monique Van De Ree (Ned) | 0:07:38 |
| 30 | Emily Werner (USA) | 0:07:39 |
| 31 | Noemi Rüegg (Swi) | 0:07:42 |
| 32 | Barbara Borowiecka (Pol) | 0:07:45 |
| 33 | Janine Schneider (Ger) | 0:07:47 |
| 34 | Kiona Crabbé (Bel) | 0:07:49 |
| 35 | Susanne Meistrok (Ned) | 0:07:50 |
| 36 | Raylyn Nuss (USA) | 0:08:07 |
| 37 | Amy Perryman (GBr) | 0:08:14 |
| 38 | Letizia Borghesi (Ita) | 0:08:21 |
| 39 | Jinse Peeters (Bel) | |
| 40 | Sophie Thackray (GBr) | 0:08:44 |
| 41 | Samantha Runnels (USA) | |
| 42 | Kateřina Mudříková (Cze) | |
| 43 | Kätlin Kukk (Est) | |
| 44 | Famke Van Waterschoot (Ned) | |
| 45 | Katie Scott (GBr) | |
| 46 | Irene Trabazo Bragado (Spa) | |
| 47 | Sara Cueto Vega (Spa) | |
| 48 | Corey Coogan Cisek (USA) | |
| 49 | Tessa Zwaenepoel (Bel) | |
| 50 | Rebecca Gross (USA) | |
| 51 | Paula Diaz Lopez (Spa) | |
| 52 | Abbie Manley (GBr) | |
| 53 | Meg De Bruyne (Bel) | |
| 54 | Lise Van Wunsel (Bel) | |
| 55 | Caren Commissaris (Bel) | |
| 56 | Tinne Vermeiren (Bel) | |
| 57 | Tine Rombouts (Bel) | |
| 58 | Sandra Trevilla Samperio (Spa) | |
| 59 | Nele De Vos (Bel) | |
| 60 | Jolien Verschueren (Bel) Pauwels Sauzen – Bingoal | |
| 61 | Julia Nikolopoulos (Ger) | |
| 62 | Maïté Barthels (Lux) | |
| 63 | Kristien Nelen (Bel) | |
| 64 | Michelle Geoghegan (Irl) | |
| 65 | Lieke Van Weereld (Ned) | |
| DNF | Lucinda Brand (Ned) Telenet Baloise Lions | |
| DNF | Loes Sels (Bel) Iko – Crelan | |
| DNF | Naomi De Roeck (Bel) | |
| DNF | Mascha Mulder (Ned) Group Hens - Maes Containers | |
| DNF | Marie Lynn (GBr) | |
| DNF | Sara Beeckmans (Bel) | |

Thank you for reading 5 articles in the past 30 days*
Join now for unlimited access
Enjoy your first month for just £1 / $1 / €1
*Read any 5 articles for free in each 30-day period, this automatically resets
After your trial you will be billed £4.99 $7.99 €5.99 per month, cancel anytime. Or sign up for one year for just £49 $79 €59

Join now for unlimited access
Try your first month for just £1 / $1 / €1