Back-to-back Australian ITT titles for Durbridge
Dennis rides to silver while Matthews claims bronze
Elite men's time trial: Lake Wendouree - Lake Wendouree
Image 1 of 15
Image 2 of 15
Image 3 of 15
Image 4 of 15
Image 5 of 15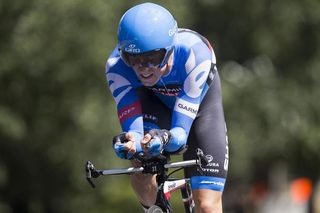 Image 6 of 15
Image 7 of 15
Image 8 of 15
Image 9 of 15
Image 10 of 15
Image 11 of 15
Image 12 of 15
Image 13 of 15
Image 14 of 15
Image 15 of 15
Luke Durbridge gave his Orica GreenEdge team another reason to celebrate on Wednesday as the second-year professional defended his title in the time trial at the Cycling Australian Road National Championships. Rohan Dennis (Garmin-Sharp) couldn't follow-up on his under-23 TT win from last year but his time of 43:47.98 was good enough for second place while Durbridge's teammate Michael Matthews took home the bronze medal in 44:11.45.
"I knew if I didn't win, it wouldn't be a failure but very dissapointing," said Durbridge. "I felt a bit of pressure but that comes with the territory.
Changes to the time trial course were made for this year's race with full road closures being the biggest feature along the entire route. Re-crowned Australian time trial champion Durbridge was grateful for the addition and believed it played a big part in tackling the wind-swept roads.
"It was great to have the full road closure this year," added Durbridge. "Especially with the wind conditions, you had to have your head down to go as fast as possible. Thanks to Cycling Australia for that. I'm really looking forward to the road race on Sunday."
The challenging conditions for the men's time trial meant that riders who pushed too hard early on payed for there mistakes in the later part of the 37km championships course. Blair Windsor (Budget Forlifts) was one of the early leader's of the day, stopping the clock in a time of 47:18.85. With a little under half the field still to come in it wouldn't be long until he was pushed off the hot seat.
Orica GreenEdge's newest member Matthews set the next fastest time, over three minutes quicker than Windsor. While his average speed of more than 50km/h at the half-way mark was impressive, both Dubridge, Richie Porte (Team Sky) and Dennis were on course and battling for the fastest times at the turnaround.
Durbridge had put nearly 20 seconds into his 'minute-man' Dennis hinting that his crash just the day before his title defence had not impacted his preparation. At the split 'Turbo' Durbridge was riding at a speed just over 53km/h and looked to be putting time into the next fastest rider Dennis.
The reigning national time trial champion had to work hard to maintain his gap over Dennis while Porte slowed to finish just outside the medals in fourth-place. At the finish it was a lean-looking Durbridge who took his second elite title, continuing the trend earlier in the day when Shara Gillow (Orica-AIS) won her third consecutive TT championship.
"I saw it was pretty close between us [Dennis], and I know Rohan is a fighter and it was a great ride by 'Bling' [Matthews] so I really fought all the way to the finish," said Durbridge. "I'm just glad that I held on for the win."
Dennis also knew he was nipping at the heels of the reigning champion Durbridge and while he couldn't take home the gold, he was pleased with his first official outing in the Garmin-Sharp colours.
"At the turnaround I could see it was pretty close and I just put my head down and went to the max," said an elated Dennis. "Hats off to 'Durbo' doing it two years in a row."
Matthews was a little surprised at his bronze-medal ride but as a noted time triallist, his performance is encouraging considering the race for the national road title is held in just a four days.
"I didn't come out today expecting to be in the top-three against these guys [Durbridge and Dennis]," said Matthews after receiving his bronze medal. "But I thought I'd give it go before the road race on Sunday. I ended up with a pretty good ride and I'm really stoked with a top-three."
Porte was satisfied with his time, falling outside the medals by just three seconds but stated that his goals lie further into the season. With little specific preparation the Sky rider added that wasn't too concerned with not stepping onto the podium.
"I'm happy with that to be honest," said Porte. "It's not really a focus for me this year, all I've done is just ride my bike. Durbridge is a big talent. Obviously it would have been nice to finish on the podium but it all starts from here."
Results
| # | Rider Name (Country) Team | Result |
| --- | --- | --- |
| 1 | Luke Durbridge (WA) | 0:43:26.71 |
| 2 | Rohan Dennis (SA) | 0:00:21.27 |
| 3 | Michael Matthews (ACT) | 0:00:45.14 |
| 4 | Richard Porte (Tas) | 0:00:48.15 |
| 5 | Jacob Kauffmann (NSW) | 0:02:43.68 |
| 6 | William Clarke (Tas) | 0:02:54.74 |
| 7 | Nick Bensley (Vic) | 0:03:11.15 |
| 8 | Jack Anderson (Qld) | 0:03:16.41 |
| 9 | Cameron Wurf (Tas) | 0:03:18.57 |
| 10 | Shane Miller (Vic) | 0:03:26.62 |
| 11 | Michael Cupitt (ACT) | 0:03:29.71 |
| 12 | Marc Williams (ACT) | 0:03:38.47 |
| 13 | Blair Windsor (NSW) | 0:03:52.14 |
| 14 | Joseph Lewis (NSW) | 0:03:58.00 |
| 15 | Brodie Talbot (NSW) | 0:04:02.99 |
| 16 | Ben Dyball (NSW) | 0:04:17.23 |
| 17 | Michael Gallagher (Vic) | 0:04:18.19 |
| 18 | Jack Bobridge (SA) | 0:04:29.75 |
| 19 | Nicholas Squillari (Vic) | 0:04:40.47 |
| 20 | Peter Herzig (Qld) | 0:04:49.95 |
| 21 | Stephen Lane (Vic) | 0:05:06.51 |
| 22 | Karl Evans (SA) | 0:05:21.73 |
| 23 | Michael Troy (NSW) | 0:05:22.74 |
| 24 | David Kelly (Vic) | 0:05:28.08 |
| 25 | Mark Fenner (NSW) | 0:05:31.13 |
| 26 | Jay Bourke (Vic) | 0:05:46.79 |
| 27 | Joel Strachan (Vic) | 0:05:57.34 |
| 28 | Benjamin Johnson (Vic) | 0:06:14.45 |
| 29 | Thomas Donald (Qld) | 0:06:16.18 |
| 30 | Correy Edmed (Qld) | 0:06:39.85 |
| 31 | Jacob Sutherland (Vic) | 0:07:07.18 |
| 32 | Mark Facey (Vic) | 0:08:01.60 |
| 33 | Samuel Rix (Vic) | 0:08:47.35 |
| 34 | Paul Fleuren (Qld) | 0:09:09.14 |
| 35 | Peter Donahoe (Vic) | 0:09:27.05 |
| 36 | Reece-Emerson Van Beek (Vic) | 0:09:52.28 |
| 37 | David Fairburn (Vic) | 0:10:28.50 |
| DNS | David Stevens (NSW) | |
| DNS | Jonathan Lovelock (Vic) | |
| DNS | Michael Freiberg (WA) | |
| DNS | Scott Butler (NSW) | |
Cyclingnews Newsletter
Sign up to the Cyclingnews Newsletter. You can unsubscribe at any time. For more information about how to do this, and how we hold your data, please see our privacy policy