Laurens Sweeck wins Belgian cyclo-cross title
Eli Iserbyt and Toon Aerts complete podium with Wout van Aert fifth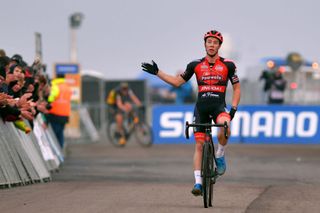 (Image credit: Getty Images Sport)
Laurens Sweeck captured a deserved win at the Belgian cyclo-cross championships in a race that was dominated by his Pauwels Sauzen-Bingoal team.
Sweeck completed a long solo ride on a dry day with calm weather in Antwerp at the Scheldt banks, winning ahead of teammate and co-favourite Eli Iserbyt and defending champion Toon Aerts (Telenet Baloise Lions).
With his win in the elite category, Sweeck managed to complete a unique series of Belgian titles in all categories.
"The circle is round now, but I will not say no if there's more to come," Sweeck told Sporza TV. It was an emotional win for the 26-year-old who lost his grandfather last month. "These flowers will get a nice spot by him. I would have loved that he saw this, but he was here."

Two years ago, Sweeck nearly captured the Belgian title in the sand dunes of Koksijde, but back then he was halted by a strong Wout van Aert. This time around his great sand-riding skills at the banks of the Scheldt river, the lack of form with Van Aert, an injured defending champion Toon Aerts and a strong team resulted in a one-man show, despite a poor start when he missed his pedal.
"That wasn't perfect even though everybody knew the start was important here. I felt good straight away so I didn't panic. I tried to move up steadily and rode my own race, which turned out to be a good choice," Sweeck said.
Together with Van Aert, Sweeck bridged back up with early leaders Tim Merlier (Creafin-Fristads), brothers Toon and Thijs Aerts (Telenet Baloise Lions) and teammates Michael Vanthourenhout and Iserbyt in the second of seven laps.
"It was clear who was the strongest rider in the race," Iserbyt said. "I tried to do something in the second lap but that didn't go too well. That's when Michael and I knew we had to go for Laurens."
When hitting the third lap the three teammates led out the group. Merlier managed to throw himself into second position thanks to his strong shoulders and avoid the team tactics that would be used. Sweeck set a fierce pace and only Merlier and Vanthourenhout were able to keep up.
Just before the pit area Merlier, slipped away and that's when Sweeck went the distance. Vanthourenhout and Iserbyt were the perfect teammates and the pace in the chase group dropped dramatically in the sand sections. Toon Aerts briefly managed to lead the group again, but when Iserbyt sneaked back in front of him, he literally tumbled away on his painful ribs.
"I'm very grateful for what my teammates did," Sweeck said. "We were all on the same line, even though others said we were not."
Despite a minor crash in the beginning of the fourth lap, he collected a bonus of more than half a minute. At one point, his lead was the size of a pontoon, the much-discussed part of the course on the Scheldt river.
From there, he rode focused and kept extending his lead. Van Aert said that Sweeck was the deserved winner.
"He received a bonus, but he didn't need it to become the champion. Just like Laurens I missed my start but he moved up to the front of the race very quickly. It was clear that he was going great. I didn't expect that those boys would not chase each other so that was nice of them," Van Aert said about the Pauwels Sauzen - Bingoal team tactics.
"Personally, I hoped to have been in the race more than I was. I had to fight all race long to stay in the mix. Right now, I'm keen to go to the world championships. We'll look at my planning and hopefully we can announce good news for the fans," Van Aert said.
With Sweeck making no more mistakes and going smoothly through the sand section, the race for the tricolor jersey was decided. The battle for the remaining podium spots was still wide open though. No rider was able to break the chasing group apart and six riders were still in the mix for two medals.
During the penultimate lap, Iserbyt was able to ride away in the sand towards second place. Even though he seemed to be going smoothly, he explained that his sensations were different.
"The race shouldn't have been one lap longer because they were closing in on me quite fast," Iserbyt said. Tim Merlier was riding solo in third place during the penultimate lap but he started to fade a bit. A 1-2-3 for Pauwels Sauzen-Bingoal seemed to be coming up when Vanthourenhout blasted to the front of the chase group when hitting the final lap.
He passed Tim Merlier but then he started to struggle in the sand sections. Aerts surged forward and only Merlier was able to keep him in sight. Fast man Merlier was nearly able to get back on Aerts' wheel before the finishing straight but fell just short of a first medal at the cyclo-cross championships.
For now, he'll have to do with his road title. Defending champion Aerts was happy with third place.
"I haven't been on the podium at the Belgian championships on many occasions apart from last year's win. I'm pleased to have the bronze medal. Hopefully I can be on the podium more often in the future," Aerts told Sporza.
"Sweeck was the deserved winner. He was on another level and found a course that suited him perfectly. He was also able to cope with the pressure," Aerts said. "I was too far when he attacked and got beaten in the battle for positions. He quickly collected a massive bonus, and the fight for the win was quickly over. I suffered a lot today but that's probably good training with the eye on the World Cup and the world championships."
Next year, the Belgian championships will be contested in Meulebeke.
Results

| # | Rider Name (Country) Team | Result |
| --- | --- | --- |
| 1 | Laurens Sweeck (Bel) Pauwels Sauzen – Bingoal | 1:01:45 |
| 2 | Eli Iserbyt (Bel) Pauwels Sauzen – Bingoal | 0:00:30 |
| 3 | Toon Aerts (Bel) Telenet Baloise Lions | 0:00:35 |
| 4 | Tim Merlier (Bel) Creafin - Fristads | 0:00:37 |
| 5 | Wout Van Aert (Bel) | 0:00:48 |
| 6 | Gianni Vermeersch (Bel) Creafin - Fristads | |
| 7 | Michael Vanthourenhout (Bel) Pauwels Sauzen – Bingoal | 0:01:19 |
| 8 | Thijs Aerts (Bel) Telenet Baloise Lions | 0:01:41 |
| 9 | Jens Adams (Bel) | 0:01:47 |
| 10 | Tom Meeusen (Bel) Group Hens - Maes Containers | 0:01:56 |
| 11 | Quinten Hermans (Bel) | 0:02:02 |
| 12 | Jim Aernouts (Bel) Telenet Baloise Lions | 0:02:09 |
| 13 | Dieter Vanthourenhout (Bel) Pauwels Sauzen – Bingoal | 0:02:17 |
| 14 | Wietse Bosmans (Bel) | 0:03:17 |
| 15 | Yannick Peeters (Bel) Pauwels Sauzen – Bingoal | 0:04:26 |
| 16 | Gert Smets (Bel) Creafin - Fristads | 0:04:45 |
| 17 | Ingmar Uytdewilligen (Bel) Tarteletto - Isorex | 0:05:27 |
| 18 | Kenneth Van Compernolle (Bel) | 0:05:39 |
| 19 | Lander Loockx (Bel) Group Hens - Maes Containers | 0:05:58 |
| 20 | Thomas Verheyen (Bel) | 0:06:07 |
| 21 | Berne Vankeirsbilck (Bel) | 0:06:44 |
| 22 | Robin Alderweireld (Bel) | 0:07:03 |
| 23 | Kenny Roelandt (Bel) | 0:07:10 |
| 24 | Jens Gys (Bel) | 0:07:28 |
| 25 | Dario Tielen (Bel) | 0:07:58 |
| 26 | Sean De Bie (Bel) | 0:08:15 |
| 27 | Senne De Meyer (Bel) | 0:08:23 |
| 28 | Mathieu Willemyns (Bel) | 0:08:51 |
| 29 | Yelle Leaerts (Bel) | |
| 30 | Loic Hennaux (Bel) | |
| 31 | Wouter Goosen (Bel) | |
| 32 | Niels Vandenbroucke (Bel) | |
| 33 | Niels Koyen (Bel) | |
| 34 | Gianni Quintelier (Bel) | |
| 35 | Yoni De Bock (Bel) | |
| 36 | Thomas Van de Velde (Bel) | |
| 37 | Ward Van Laer (Bel) | |
| 38 | Jelle De Bock (Bel) | |
| 39 | Killian De Groodt (Bel) | |
| 40 | Vincent Oger (Bel) | |
| 41 | Jochem Danckaers (Bel) | |
| DNF | Hendrik Sweeck (Bel) | |
| DNF | Siebe Tormans (Bel) | |
| DNF | Diether Sweeck (Bel) Pauwels Sauzen – Bingoal | |
| DNF | Yves Coolen (Bel) | |
| DNF | Nicolas Cleppe (Bel) Telenet Baloise Lions | |
| DNF | Vincent Baestaens (Bel) Group Hens - Maes Containers | |
| DNF | Pieter Meelberghs (Bel) | |
| DNF | Edwin De Wit (Bel) | |
| DNF | Gianni Vermeiren (Bel) | |
| DNS | Braam Merlier (Bel) Creafin - Fristads | |
| DNS | Daan Soete (Bel) Pauwels Sauzen – Bingoal | |
| DNS | Xandro Meurisse (Bel) | |
Cyclingnews Newsletter
Sign up to the Cyclingnews Newsletter. You can unsubscribe at any time. For more information about how to do this, and how we hold your data, please see our privacy policy