Sanne Cant wins Belgian national cyclo-cross championships
11th straight national title for Belgian rider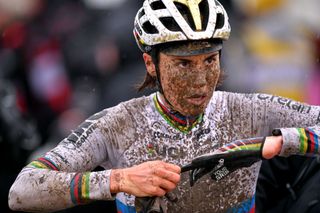 (Image credit: Getty Images Sport)
World champion Sanne Cant (IKO-Crelan) won an 11th consecutive Belgian title on the banks of the Scheldt river in Antwerp on Saturday afternoon. The 29-year-old favourite lived up to the expectations and won solo ahead of Laura Verdonschot (Pauwels Sauzen-Bingoal) and Ellen Van Loy (Telenet Baloise Lions).
"It's quite unique. It's fun to have achieved this already. I hope to add a few more to my palmares and reach the 15 wins of Compton, but with four more wins that's still quite far away. One step at a time," Cant told Sporza in the flash interview.
Cant was asked if it was a comfortable victory.
"More or less, but every race has to be raced and one has to wait and see how the legs are. Once you start making mistakes it can quickly go the wrong way on a course like this," she said. "I didn't have great sensations, but that's probably because it's a race that is only mine to lose; it gives more stress."
Only eight women battled for the Belgian tricolore jersey on a calm and rather warm Saturday afternoon. Ten-fold winner Sanne Cant was expected to get most opposition from her younger rival Laura Verdonschot. The latter tried to live up to those expectations, but she failed to come up with a proper fight partly due to recent illness issues.
Verdonschot took a furious start, but Cant never gave her any space to move. Verdonschot, Cant, Ellen Van Loy and Loes Sels (IKO-Crelan) blasted away from the rest of the field straight from the start, with Joyce Vanderbeken quickly running into mechanical problems.
Halfway through the opening lap, Cant moved into the lead just ahead of the first major sand passage along the Scheldt river. By the time the riders reached a much-discussed part of the course, a temporary pontoon on the Scheldt river, the world champion gained a sizeable gap over Verdonschot and Van Loy; Sels lost sight of the podium spots.
Cant then got stuck in a short muddy section, which allowed Verdonschot and Van Loy to bridge back up. By the end of the opening lap, the trio had a bonus of 15 seconds over Sels.
Cant kept the pace high during the second of four laps and even though Verdonschot tried to get ahead of her at the sand section, Cant fought back and once again blasted away from her rivals with great sand-riding skills.
Halfway through the race, Cant had a bonus of eight seconds over Verdonschot and 11 seconds over Van Loy; Sels was more than 40 seconds down on the leader. Verdonschot continued to struggle in the sand during the penultimate lap, which resulted in an even bigger bonus of nearly half a minute for Cant, with Van Loy keeping Verdonschot in sight.
"I'll have to wait until she retires before I can grab the title," Verdonschot told Sporza. "This is a tough course and I always reached the sand section with nothing left in my legs."
None of the three women made major mistakes throughout the final lap, and the positions remained the same. Cant grabbed her 11th Belgian title ahead of a content Verdonschot and Van Loy, who was high-fiving with the fans. Marthe Truyen grabbed the women's U23 title.
"During the first lap I already managed to ride away, but I completely missed the right track in the mud and ended up into the course wiring," Cant said. "I managed to ride away once again during the second lap, and then it was a matter of riding at my own pace until the finish."
From here, Cant has only one more race in her mind, and that's the UCI Cyclo-cross World Championships in Dübendorf, Switzerland, on February 1. For now, the Dutch women seem to be riding on another level, but Cant hopes that her season planning will land her in the perfect form to defend her rainbow title.
"Tonight I head to Spain and I hope to come back in top form,"she said. "It's all or nothing."
Results

| # | Rider Name (Country) Team | Result |
| --- | --- | --- |
| 1 | Sanne Cant (Bel) Iko-crelan | 0:42:42 |
| 2 | Laura Verdonschot (Bel) Pauwels Sauzen-bingoal | 0:00:28 |
| 3 | Ellen Van Loy (Bel) Telenet Baloise Lions | 0:00:38 |
| 4 | Loes Sels (Bel) Iko-crelan | 0:01:23 |
| 5 | Karen Verhestraeten (Bel) Iko-crelan | 0:01:38 |
| 6 | Alicia Franck (Bel) Experza pro Cx | 0:02:00 |
| 7 | Suzanne Verhoeven (Bel) | 0:02:43 |
| 8 | Kim Van de Steene (Bel) Tarteletto-isorex | 0:03:25 |
| 9 | Marthe Truyen (Bel) Telenet Baloise Lions | 0:03:30 |
| 10 | Kiona Crabbé (Bel) | 0:03:45 |
| 11 | Jana Dobbelaere (Bel) | 0:03:55 |
| 12 | Joyce Vanderbeken (Bel) | 0:04:36 |
| 13 | Jinse Peeters (Bel) | 0:04:42 |
| 14 | Lise Van Wunsel (Bel) | 0:05:11 |
| 15 | Tessa Zwaenepoel (Bel) | 0:05:25 |
| 16 | Axelle Bellaert (Bel) | 0:05:39 |
| 17 | Kim Van de Putte (Bel) | 0:05:53 |
| 18 | Shana Maes (Bel) | 0:06:08 |
| 19 | Meg De Bruyne (Bel) | 0:07:39 |
| 20 | Tinne Vermeiren (Bel) | |
| 21 | Caren Commissaris (Bel) | 0:08:39 |
| 22 | Laure Michels (Bel) | 0:09:02 |
| 23 | Tine Rombouts (Bel) | 0:09:39 |
| 24 | Nele De Vos (Bel) | 0:10:33 |
| 25 | Jolien Verschueren (Bel) Pauwels Sauzen-bingoal | 0:11:05 |
| 26 | Aurelie Vermeir (Bel) | 0:11:44 |
| 27 | Nathalie Verschelden (Bel) | 0:12:41 |
| 28 | Karen De Keulenaer (Bel) | |
| 29 | Sara Beeckmans (Bel) | |
| 30 | Jo Blanchaert (Bel) | |
| 31 | Valerie Boonen (Bel) | |
| DNF | Yana Van Staeyen (Bel) | |

Thank you for reading 5 articles this month* Join now for unlimited access
Enjoy your first month for just £1 / $1 / €1
*Read 5 free articles per month without a subscription

Join now for unlimited access
Try your first month for just £1 / $1 / €1
Sign up to the Cyclingnews Newsletter. You can unsubscribe at any time. For more information about how to do this, and how we hold your data, please see our privacy policy
Thank you for signing up to Cycling News. You will receive a verification email shortly.
There was a problem. Please refresh the page and try again.