Van Vleuten fractures elbow in mixed relay TTT crash, road race still an option
Dutchwoman's chain dropped from the big ring to little ring causing crash after Mollema's mechanical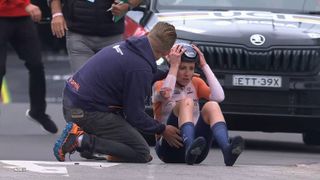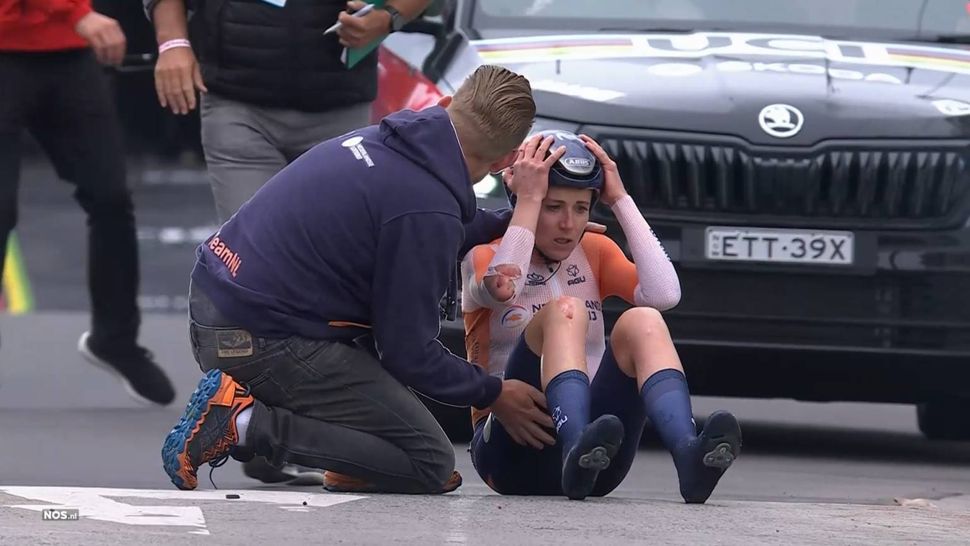 (Image credit: NOS)
The Netherlands' hopes of another world title in the Team Relay time trial were wrecked by a mechanical problem for Bauke Mollema and a crash that took out Annemiek van Vleuten soon after the women's team started their ride.
The Dutch national team has confirmed to Cyclingnews that Van Vleuten was taken to hospital where doctors confirmed that she sustained a fracture to her elbow and that her participation in the elite women's road race on Saturday will be decided later in the week.
"Annemiek has a small fracture in her elbow. She is allowed to ride with it, but we don't know in how much pain she will be the coming days. Together with national coach Loes Gunnewijk and the doctor Annemiek will decide later this week whether she can start. If not, there will be no replacement," the Dutch Federation told Cyclingnews.
Van Vleuten was second in line as the Netherlands trio set off. Just as she was getting up to speed her bike went from under her, veered to her left and into the barriers, throwing her onto the ground. She later suggested the crash was caused by her front tyre exploding. She appeared to be using a tubeless set-up.
However, upon further detailed analysis (opens in new tab), it seems the crash wasn't caused by an exploding tyre, as initially suggested. Rather the crash seems to have happened when Van Vleuten's chain dropped from the big ring to the little ring, throwing her weight off balance.
Van Vleuten was left shocked following the crash, with road rash on several parts of her body, including her elbow, as her two teammates were obliged to continue their ride.
The Tour de France Femmes winner was able to get up and walk to a medical station and then to an ambulance, but she was concerned about her injuries and their consequences for Saturday's road race.
"My elbows in particular don't feel good. My whole side is bruised. I'm in a lot of pain, we're going to the hospital to take an x-ray," Van Vleuten told Dutch broadcaster Nos, directly following the crash.
She also recalled the moment of the crash on a social media post (opens in new tab).
"Don't know what happened but looks the tire exploded after I did hit the side of the road. So that was not the problem. Something caused I got out of balance, but what ever caused it: it will not help or change my situation. Now in the hospital," Van Vleuten wrote.
"I'm just in pain and it doesn't feel right. I haven't recovered from it anyway. I can't believe what happened," she told Nos.
The Dutch Federation issued a statement following her medical check at the hospital confirming a stable fracture to her elbow, and stating that she will remain on the roster for the elite women's road race, however, a decision on her participation would be made later in the week.
''Annemiek is allowed to cycle with this stable fracture, but the question is of course with how much pain that will be. We will see that in the coming days. We hope that Annemiek can still start, but that has to be justified," said national coach Loes Gunnewijk.
Upon leaving the hospital, Van Vleuten told Nos that it is safe to ride as long as she can tolerate the pain.
"The fracture is stable and it's safe to ride, as long as I can tolerate the pain. The doctors have wished me luck for Saturday," she said.
Switzerland went on to win the Team Relay world title, beating Italy and Australia.
The Netherland's performance in the team time trial was already compromised due to Bauke Mollema losing his chain mid-way through the men's time trial.
Mathieu van der Poel and Daan Hoole rode on but were 40 seconds down on the best time. When Van Vleuten crashed, Ellen van Dijk and Riejanne Markus rode on but could only finish fifth, 52 seconds slower than Switzerland.
She always insists to us: 'I'm not superhuman.' And even if we don't believe her, it's moments like this that remind ourselves we all are so fragile.@AvVleuten on her way to exams to check on her right side after #Wollongong2022 crash. Wishing for the best 🙏📸 @UCI_cycling pic.twitter.com/5kP6DOlAk1September 21, 2022

Thank you for reading 5 articles in the past 30 days*
Join now for unlimited access
Enjoy your first month for just £1 / $1 / €1
*Read any 5 articles for free in each 30-day period, this automatically resets
After your trial you will be billed £4.99 $7.99 €5.99 per month, cancel anytime. Or sign up for one year for just £49 $79 €59

Join now for unlimited access
Try your first month for just £1 / $1 / €1