It's Ride Like A Pro Week on Cyclingnews
By Cyclingnews
An index of all our interviews, features, and tech content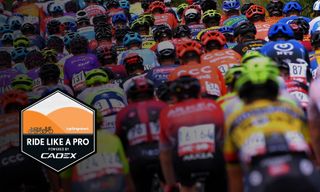 (Image credit: Getty Images)
It's Ride Like A Pro Week on Cyclingnews, which means we're doing what we do best, and taking you inside the WorldTour to give you an insight into the world of professional cycling.
Ride Like A Pro week, sponsored by CADEX, will provide you with training and tactical tips from inside the pro peloton as well as a host of the latest pro race tech. All of which will be interspersed among the latest news and results from the men's and women's WorldTour in a week that sees the Tour de Wallonie, Tour du Limousin, as well as analysis from the Critérium du Dauphiné as the peloton builds towards the Tour de France.
So far during Ride Like A Pro week, we've spoken to pro riders from the pinnacle of women's cycling, Ashleigh Moolman-Pasio, Leah Kirchmann and Lisa Klein, who have shared their cycling racing tips surrounding training, nutrition and equipment. We've also had coaching tips from Jarred Salzwedel to help you ramp up your training, a guide on how to dress like a pro, and a guide on how to make your bike lighter from tech editor, Aaron.
Still to come, we have early reviews of two products from CADEX, including the Boost saddle and the brand's aero road bike wheels, the CADEX 65, as well as a Q&A with one of the most well-known riders in today's men's peloton, .
We'll also be taking a deep dive into road bike tech, why deeper wheels are faster, a guide on how to use a power meter to maximise your training time and much more.
Keep an eye on the home page for Ride Like A Pro week content, or check back here where we'll list a full index of the week's stories, tech, features and more.
Features
How to
Reviews

Thank you for reading 5 articles this month* Join now for unlimited access
Enjoy your first month for just £1 / $1 / €1
*Read 5 free articles per month without a subscription

Join now for unlimited access
Try your first month for just £1 / $1 / €1
Sign up to the Cyclingnews Newsletter. You can unsubscribe at any time. For more information about how to do this, and how we hold your data, please see our privacy policy
Thank you for signing up to Cycling News. You will receive a verification email shortly.
There was a problem. Please refresh the page and try again.