Best folding bikes 2023: Space-saving bikes for your urban riding needs
The best folding bikes are comfortable and capable bikes, but small when folded, light enough to carry, and durable enough to deal with the rigours of daily commuting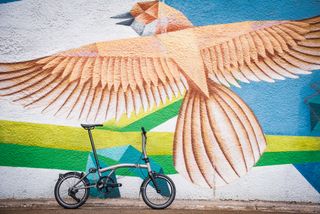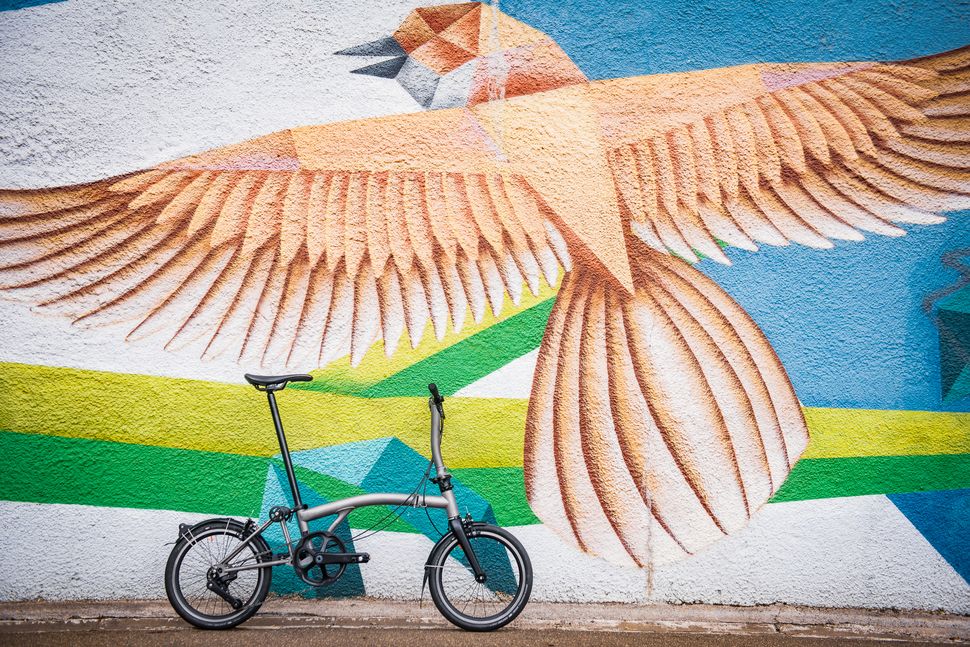 (Image credit: Future/ Peter Stuart)
The best folding bikes can fold down into incredibly small and compact shapes. Allowing for more versatility for travel or just simply taking up less room in your house or at work. The best folding electric bikes make things even easier and give you a best-of-both-worlds combo, their popularity is certainly on the rise given the time and effort they can save.
Folding bikes can just be downright fun to ride, there's a playfulness to them that makes riding one, especially commuting or zipping around busy streets rather enjoyable. Using one to travel with can just feel seamless, unfold the bike and travel under your own steam, reach your destination and fold it back down and bring it inside with you.
Folding bikes due to their convenient size and weight can also be carried onto a train or bus or even plane. What could be more convenient? If you need to combine different modes of transport when travelling or commuting a folding bike is possibly the best commuter bike for you.
You don't need to worry about locking a folding bike up whilst worrying about it being left outside, the best folding bikes can be carried easily into your workplace, office, or home and stored neatly without taking up the space a traditional non-folding bike does, this ease of use really helps make sustainable travel a viable option for more people.
Explore our guide to the best folding bikes if your looking for an upgrade or are intrigued by the idea of slashing that commute time or ditching public transport for a healthier way of getting to work. Head to the bottom of the page for our advice on how to choose the best folding bike for you.
If you have found your ideal folding bike, it's a good idea to check out our commuter bike accessories checklist, and while you're there why not have a look at our best commuter helmets and best waterproof cycling jackets to go with it?
We have tested a range of folding bikes to produce our guide to the best folding bikes. We have considered the weight of each bike, how small and easily it folds as well as the technical specs in the same way we would for any bike. Our team at Cyclingnews has years of combined of experience and we have tested all the bikes in real-world conditions and for their intended purpose.
Best folding bikes available today
Why you can trust Cyclingnews Our expert reviewers spend hours testing and comparing products and services so you can choose the best for you. Find out more about how we test.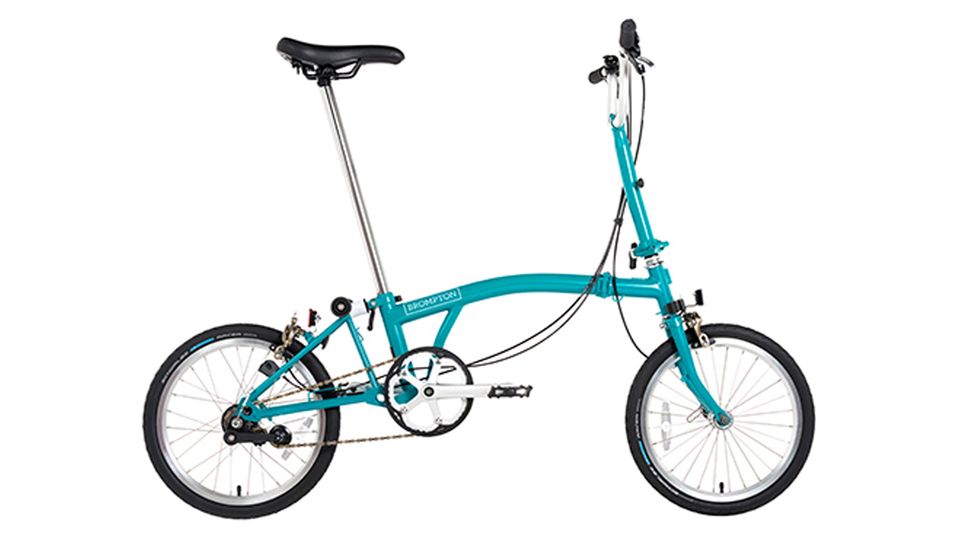 Brompton C Line
The best folding bike for tried and tested performance
Specifications
Folded size:
58.5 x 56.5 x 27.0 cm
Reasons to buy
+
Super compact when folded
+
Brompton quality
Reasons to avoid
-
You need to pay quite a bit more for extra gears
Brompton bikes are considered the gold standard in folding bikes for their foldability, reliability and comfort. The C Line is Brompton's standard build, which sits between the more basic A Line and the significantly lighter P Line and the titanium and carbon T Line.
You get a choice of gearing, with the Urban spec getting two derailleur gears, while the Utility has three-speed hub gears. Go for the C Line Explore and you get both, for six speeds and a 300% gear range that's great for hilly routes. The C Line weighs in at 11.3 kilos, not as light as the titanium T-line model below, but still light enough to tackle all but the steepest climbs with ease.
At the back, all Bromptons have an elastomer between the front and rear triangles, which acts as a simple-yet-effective bump absorber. With seven colours to choose from and loads of accessories and luggage options, it's easy to spec the bike just as you want it.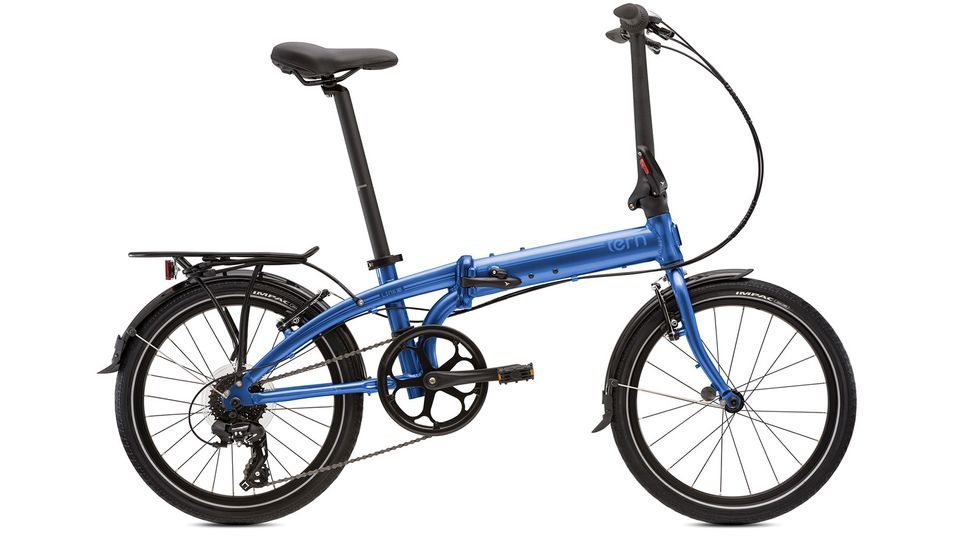 Tern Link C8
The best folding bike for low maintenance ownership
Specifications
Folded size:
39.5 x 80 x 73cm
Reasons to buy
+
Eight-speed drivetrain
+
Magnetic dropout clips
Reasons to avoid
-
Not as compact as a Brompton
The Tern C8 is one of the brand's entry-level folding bikes, which transitions easily and compacts right down. Using the brand's FBL two-joint frame design, the top tube breaks away in the middle, and the wheels are stuck together with the brand's Magnetix 2.0 dropout latch.
The C8 has 20-inch wheels that are finished in Schwalbe's Impact BigPack tyres, which have decent air volume and good puncture protection. The C8 has eight gears at the back, complete with a Shimano Tourney mech and grip shifter on the bars for maximum reliability with minimal maintenance. At the front, the bike uses Tern's Physis 3D Handlepost, which is made using 3D-forging so the structure is a single piece, removing the need for welds and increasing stiffness.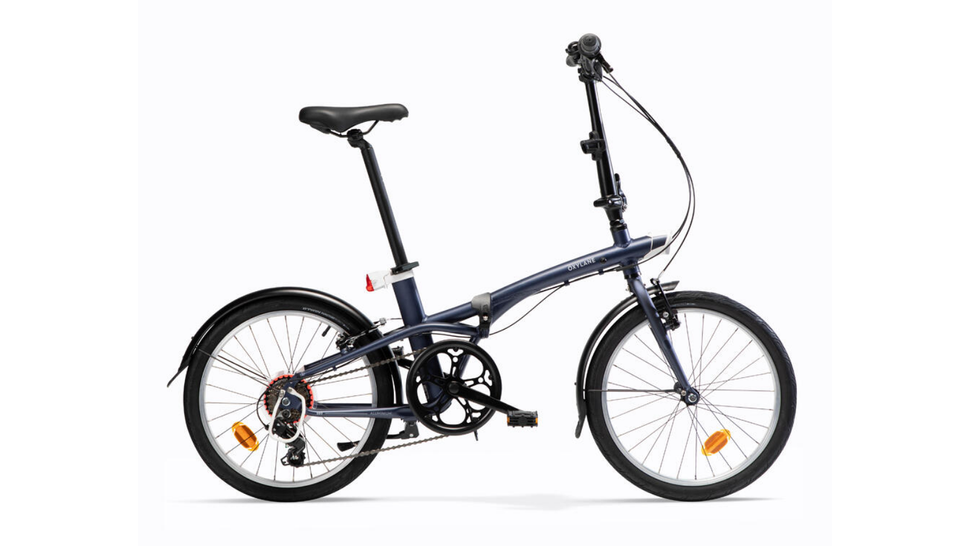 B'Twin Tilt 500
The best folding bike for smaller budgets
Specifications
Folded size:
78 x 66 x 44 cm
Reasons to buy
+
Very affordable
+
Mudguards included
+
Lifetime warranty
For a cheap and cheerful option, look no further than the B'Twin Tilt 500, equipped with a Shimano 1x7 drivetrain, front and rear mudguards, 20-inch wheels with 1.75in tyres complete with anti-puncture reinforcement, and a stand for convenience.
It also comes supplied with front and rear battery-powered lights, and is compatible with a range of accessories, including a transportation cover, a pannier rack, and Hamax and Bike Original kids' bike trailers. At 12.9kg, the Tilt isn't among the heaviest folding bikes available, and it's covered under Decathlon's lifetime warranty.
Lightweight and innovative high end folder.
Specifications
Folded size:
58.5 x 56.5 x 27.0 cm
Reasons to buy
+
Super light weight
+
New components and features
+
Fantastic ride quality
+
Durable and strong
Reasons to avoid
-
An excessive price point for commuting
The T-Line is the new range-topping model - and therefore the best folding bike - from British brand Brompton. It also happens to be the lightest Brompton ever. The T-Line represents a massive overhaul and a host of new developments from Brompton. Weighing in at 7.45 kilograms in its lightest single-speed form with a titanium frame and over 150 specially developed lightweight components.
Head to our Brompton T-Line review to see why we were so impressed with its new lower weight and brilliant ride qualities thanks to the new titanium frame and overhaul. The bike is available in two forms; the single speed slightly more stripped-back 'one' model or the 'urban' which gets a four-speed transmission, roller wheels and full-length mudguards.
The difference between the two is a paltry 500 grams, and for us, that's the model we'd choose. If you want a high-end, visually stunning folding bike the T-line could be the model for you.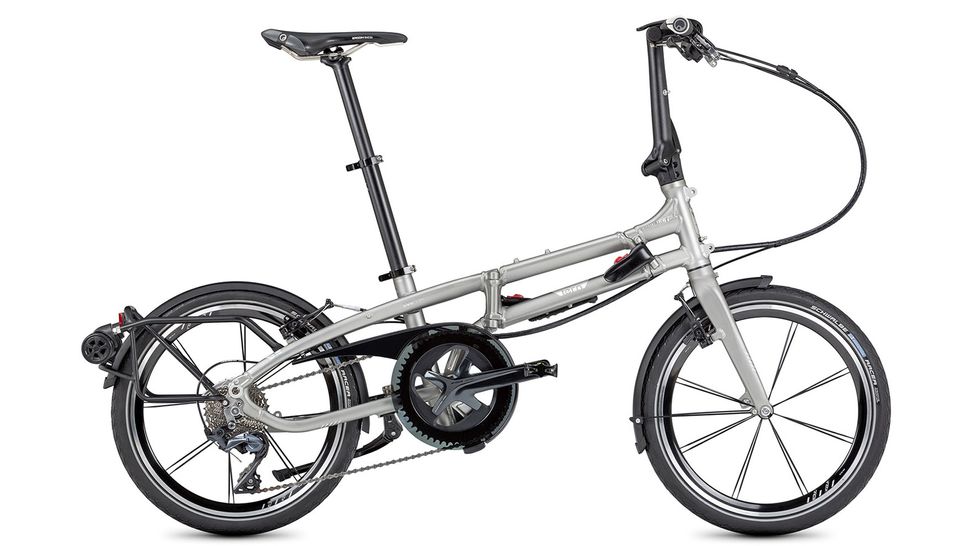 Tern BYB S11
The best folding bike for normal ride feel
Specifications
Folded size:
33 x 78.7 x 51cm
Reasons to buy
+
Normal bike handling
+
11-speed gearing
Reasons to avoid
-
You'll need deep pockets
The Tern BYB (Bring Your Bike) S11 is a 20-inch folder that aims to bring the ride quality of your regular bike to one that folds small enough to fit comfortably under your desk. The brand says that its double-joint design collapses down 30 per cent smaller than traditional folding models, but the joint and lock design makes for a robust frame that doesn't ride like a wet noodle.
When folded, built-in spinner wheels allow you to roll the BYB S11 along without needing to lift it, while an anchor bolt connects the front and rear dropouts, so it doesn't unfold as you make your way through train turnstiles or as you board the bus. With 20in wheels and tyres, the Tern sees a 1x11 Shimano Ultegra drivetrain – including a Shadow rear mech – with an 11-32T cassette paired with a 54T front chainring. That's a flashy spec even for a road bike and the BYB has a price tag to match.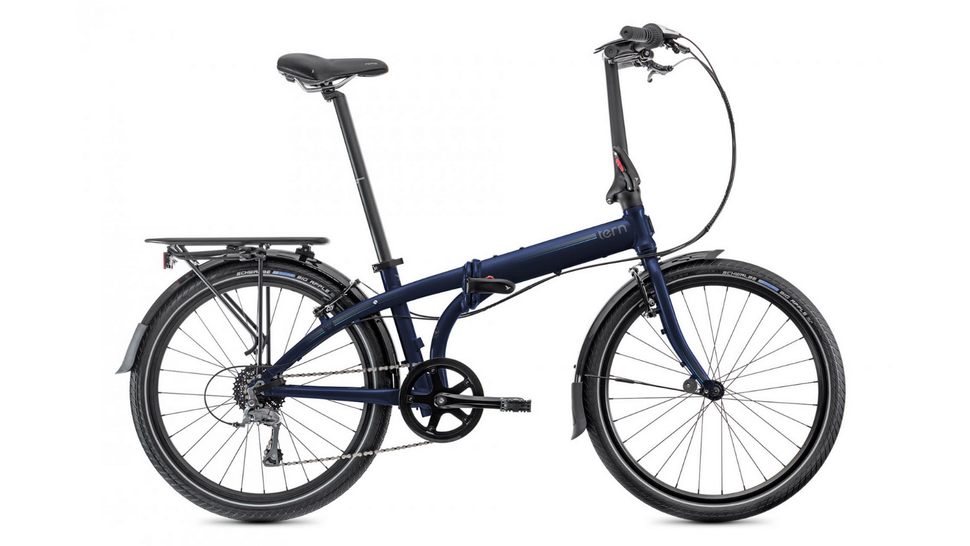 Tern Node D8
Best folding bike for longer journeys
Specifications
Folded size:
39 x 86 x 84 cm
Reasons to buy
+
24in wheels offer faster rolling
+
Simple folding procedure
+
Rack and mudguards included
Reasons to avoid
-
Not as compact as others
Rolling on 24-inch wheels and tyres, the Tern Node D8 is the ideal folding bike if you have a longer commute. With the bigger wheels, the Node D8 also has an 8-speed Shimano Claris drivetrain, with an 11-30T cassette and a 52T chainring to satisfy your need for speed. When a stoplight turns red, or the busy-busy businessperson who is too busy to look up from their phone steps out in front of you, the mechanical disc brakes with 160mm rotors will help you avoid a collision.
With the large wheels, the bike isn't as compact as some of the others, but it'll still fit under your desk, and it only takes about 20 seconds to transition. With an aluminium frame and the bigger wheels, it's not offensively heavy, either, and shouldn't give you too much trouble as you climb the stairs up to a train platform.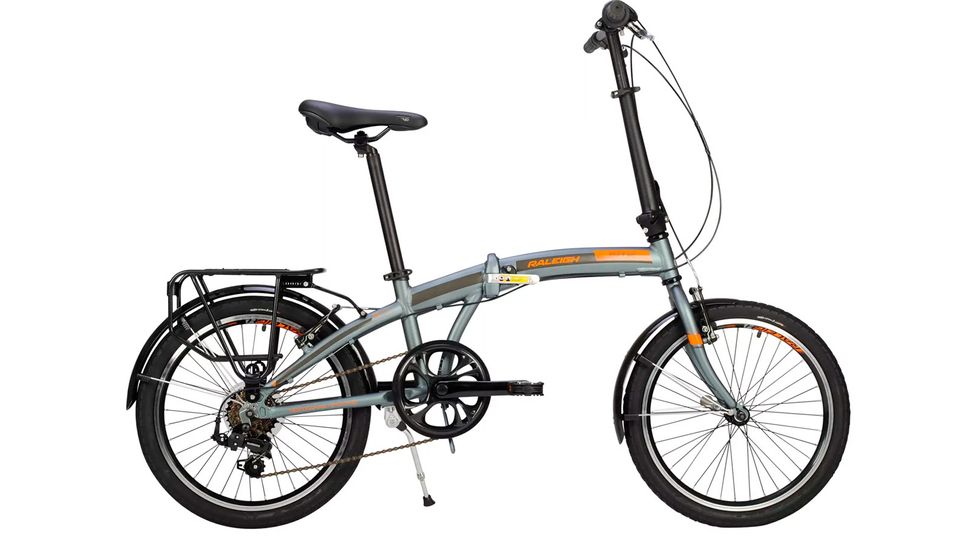 Raleigh Stowaway 7
Best folding bike for foolproof stowage
Specifications
Folded size:
41 x 80 x 75cm
Reasons to buy
+
Simple folding procedure
+
7-speed
Reasons to avoid
-
Heavier than similarly-sized options
-
UK-only
Raleigh's Stowaway sees an aluminium frame and a single-hinge design for a simple folding process. There are magnets to hold the 20-inch wheels together in storage mode, and the bike comes stock with mudguards and a rear rack.
The majority of the components are Raleigh's own, including the tyres, crank and bars, although the drivetrain is a Shimano Revo/Tourney 7-speed mix, with a 14-28T cassette and 48T crankset.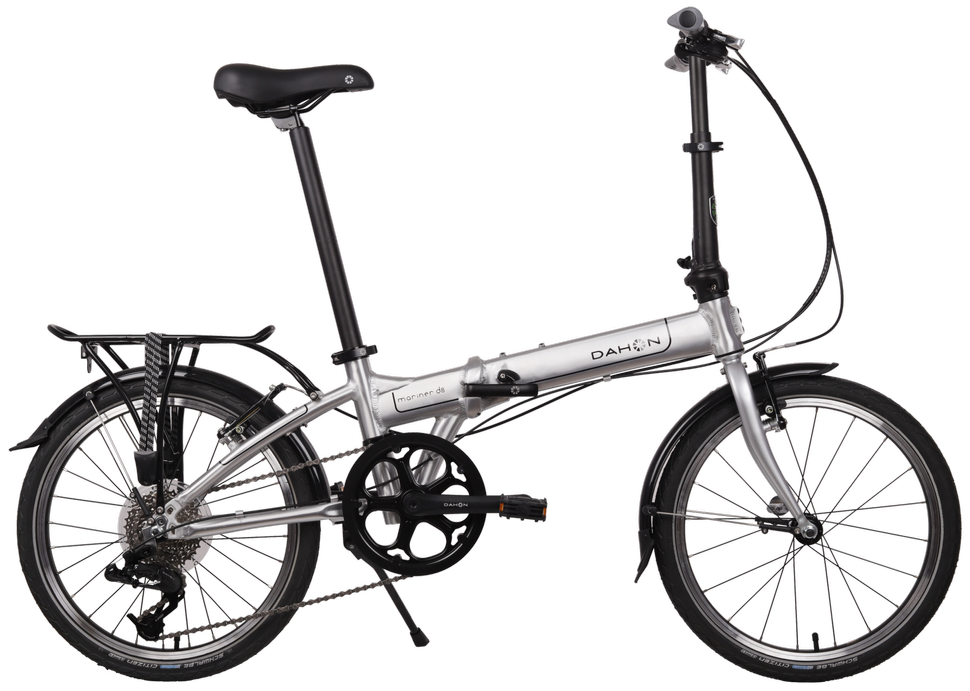 Dahon Mariner D8
Best folding bike for accessories
Specifications
Folded size:
66.5 x 33 x 81 cm
Reasons to buy
+
Not expensive
+
Lots of accessories
+
Folds quickly
The Mariner is part of Dahon's extensive range of folders. It's fully loaded with mudguards, rack and kickstand - just add lights and you're ready to go. It's also relatively inexpensive for a quality folder and comes with Dahon's proprietary eight speed shifting and an 11-32 tooth cassette for plenty of gear options.
Dahon says that it will accommodate riders from 4'9" right up to 6'3", so it's a bike that will fit a wide range of riders. Despite rolling on 20" wheels, the folded size is pretty compact, it's quick to fold and at 12.5kg not that heavy either.
How to choose a folding bike
If you are considering purchasing a folding bike, there a few key things to consider. The key point to consider is how the bike folds. If you are buying the bike to use for commuting regularly and will be doing a lot of folding and potentially carrying, check which models fold down smallest and whether they meet required sizes to take onto public transport. This won't be so much of a worry if you only see yourself folding the bike occasionally. After this, check which models are within your budget and compare the differing specs of each one, does it come with mudguards and a rack? Is the gearing range suitable for where you live? Use our guide below to help you make a decision.
What wheel size do I need on my folding bike?
Bigger wheels roll faster, carry speed better and offer more stability, while smaller wheels are lighter, more manoeuvrable and allow a bike to fold down smaller. Folding bikes come with wheels in sizes ranging from pint-sized 16-inch hoops like Brompton's all the way up to traditional 700c rollers, with most folding bikes based around 20-inch wheels.
If you have a long distance to cover, consider upping the wheel size for increased efficiency. Alternatively, if you have heaps of stairs to climb before boarding a packed train, smaller wheels and tyres may suit you better.
Do folding bikes only come in one size?
Quite a lot of bikes have a one-size-fits-all frame but have a glut of quick releases and miles of adjustments to make the bikes fit most bodies.
That said, if you can dunk a basketball without jumping, you may struggle to find a folder that fits, while the more vertically challenged will have a much easier time.
You can sometimes get extra-long seat posts or different handlebar rises to accommodate different riders - that's something that Brompton specialises in.
What's the best folding mechanism on folding bikes?
The whole selling point of a folding bike is the fact that in a few seconds it can go from bike to compacted storage. However, if it takes as many steps as an origami crane, steer clear.
Also, consider the quality and number of joints. The more joints, the smaller the bike will be folded. However, it also introduces more points for flex, which can make for vague handling and woolly pedalling. Since the bikes are designed to be folded, robust, reliable hinges are something that most folding bike makers will concentrate on.
Also, look out for where the mechanical parts end up in the folded package. If they're in the centre they'll be better protected when moving around with the folding bike. They'll also be less likely to smear your clothes with grease.
How do I keep my folding bike safe and well-maintained?
When buying a new folding bike, it's likely that you're trying to avoid leaving it at the train station or on the bike rack outside. It'll certainly be safer parked under your desk, but a bike is never completely safe from bike theft.
The last thing you want for your new bike is for it to be stolen, so ensure you take steps to reduce this risk. We have an article dedicated to advising how to prevent bike theft, but the key takeaways are to ensure you choose the best bike lock, know how to lock a bike correctly, and shop around to ensure you are covered by the best bike insurance policy for your needs.
The latest race content, interviews, features, reviews and expert buying guides, direct to your inbox!
Mildred joined as Reviews Writer for Cyclingnews and BikePerfect in December 2020. She loves all forms of cycling from long-distance audax to daily errand-running by bike, and does almost everything on two wheels, including moving house, and started out her cycling career working in a bike shop. For the past five years she's volunteered at The Bristol Bike Project as a mechanic and session coordinator, and now sits on its board of directors.
Since then she's gone on to write for a multitude of cycling publications, including Bikeradar, Cycling Plus, Singletrack, Red Bull, Cycling UK and Total Women's Cycling. She's dedicated to providing more coverage of women's specific cycling tech, elevating under-represented voices in the sport, and making cycling more accessible overall.
Height: 156cm (5'2")
Weight: 75kg
Rides: Stayer Groadinger UG, Triban RC520 Women's Disc, Genesis Flyer, Marin Larkspur, Cotic BFe 26, Clandestine custom bike
The latest race content, interviews, features, reviews and expert buying guides, direct to your inbox!
Thank you for signing up to The Pick. You will receive a verification email shortly.
There was a problem. Please refresh the page and try again.