European Championships: Elite Women's Road Race – Live report
Who will win in the rain in Plouay?
2020 European Championships hub page
European Championships: Anna van der Breggen wins elite women's time trial title
European Championships: Stefan Küng wins elite men's time trial title (opens in new tab)
European Championships: Nizzolo wins elite men's road race title (opens in new tab)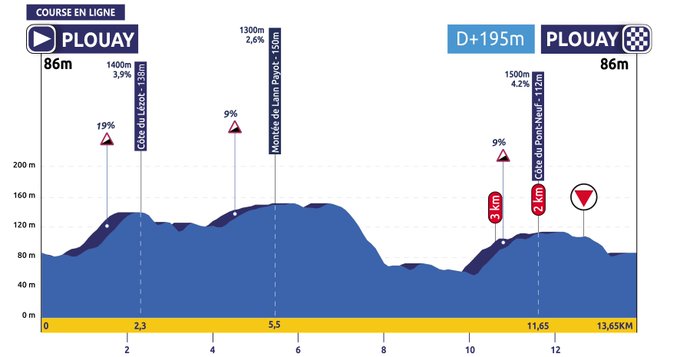 Refresh
Hello and welcome to our live coverage of the UEC European Road Championships in Plouay, France.
Today sees the elite women fight for the distinctive jersey and we'll have all the action from the race.
It's a rainy day in Brittany but the racing has been intense so far.
The riders have covered three laps of the 12km Plouay circuit and face another five laps.
The race will cover a total of 109km.
There are a total of 95 riders in the race. However an early crash saw around 20 riders go down hard.
This was the roll out from the start in the rain.
Et c'est le départ pour les femmes !! #EuroRoad20 #Plouay2020 pic.twitter.com/A9Re1KeS2YAugust 27, 2020
This tweet shows the tough weather conditions the riders face today.
Fortunately the weather is improving and we have a peloton of 30 riders chasing the attackers.
There are 63km left to race and so it's a delicate moment in the race. There are some strong riders up front, including two from the Netherlands and two from Italy.
Up front are Cordon-Ragot, Blaak, Brennauer, Chabey, Demey, Vollering, Lach, H Barnes, Majerus, Paladin and Cecchini.
So who will lead the chase behind?
The gap between the break and the peloton is now 45 seconds.
Earlier the U23 men also raced in the rain, with Jonas Iversby Hvideberg of Norway dominating the finish.
🏁 Resultat #EuroRoad20 Straßenrennen Männer U23:1 🇳🇴 Jonas Iversby Hvideberg2 🇩🇰 Anthon Charmig3 🇨🇿 Vojtech Epa>https://t.co/Mg2o9mERGc https://t.co/rirzEX5AQiAugust 27, 2020
The biggest names in women's racing are on the front of the peloton but the gap to the break is rising.
Behind the Dutch riders are attacking and have split the peloton. Van der Breggen has dragged a group clear.
Van Vleuten joins them, making four Ditch riders in the chase. There are also two in the break.
As the race hits the finish area, the chasers are 15 seconds down on the 11 attackers. The peloton is 20 seconds further back.
The 13km circuit includes three short climbs and other rolling roads that inspire attacks and chases.
Indeed the 11 have been joined by the chasers as each attack and each climbs makes a further selection.
The Netherlands are sending riders on the attack one after another.
These are just some of thew names now in the front group:
Chabbey, Paladin, Barnes, Brennauer, Lach, Blaak, Cecchini, Vollering, Cordon-Ragot, Majerus, Kopecki, Van der Breggen, Reusser, Pieters, Van Vleuten, Deignan, Niewadoma, Longo Borghini, Fahlin, Van Dijk, Ludwig, Vos and Cavalli.
50km to go
There are 23 riders up front.
The Netherlands have a huge numerical advantage. They have 7 riders in the 23-rider move. Italy has 4 and Great Britain 2.
The pace has slowed as the riders wait for the hardest parts of the 13km circuit.
Behind Denmark is leading the chase behind but it will be difficult for them.
Now van Vleuten ups the pace but others are on her wheel.
The group dives down to the finish area. They face three more laps, so 40km of racing.
The chasers are now 50 seconds back. The race will be fought out by the 23 riders up front.
#EuroRoad20 🇪🇺World champion @AvVleuten has been doing plenty of work for her Dutch teammates in the women's road race 💪She's on the front of a small leading group with 40km left to race in Plouay. pic.twitter.com/VXt0GTdQHGAugust 27, 2020
Italy have 4 riders up front but their sprinter and arguably team leader Marta Bastianelli is stick behind in the chase group.
Van Vleuten lines out the front group again but puts here own teammates into the red.
There was a touch of wheels and several riders went down at speed on the wet roads.
35km to go
The Netherlands are back in control of the front group and attacking again.
There are only 12 or so riders left up front now.
Van Vleuten attacks again!
Longo Borghini chases and joins Van Vleuten.
Niewadoma is also there for Poland. The others are further behind.
The Netherlands cannot now chase Van Vleuten surely?
The chase group has split behind. This is aggressive racing.
Up front Niewadoma, Van Vleuten and Longo Borghini are working together.
These are the riders up front:
Attack: Van Vleuten, Longo Borghini and Niewiadoma.
Chasers: Vos, Van Dijk, Van der Breggen, Barnes, Pieters, Blaak, Vollering, Cavalli/Cecchini, Lach, Majerus & Cordon-Ragot.
Lizzie Deignan has abandoned after her crash.
Barnes and Majerus are leading the chase of the trio.
But now the chase group has eased up.
The trio lead by just 24 seconds. They're working together with two laps to race.
There are some chasers between the lead trio and the chase group.
Ludwig is the most aggressive behind as she tries to jump across or at least close the gap to the trio.
Ludwig's surges is inspiring the chase and other riders are helping with the work.
Chantal van den Broek-Blaak has attacked from the chase group to try to go across to the Van Vleuten, Longo Borghini and Niewiadoma attack.
The chase group has eased up now as they reach the 20km to go point.
Blaak is just 10 seconds behind the trio of Van Vleuten, Longo Borghini and Niewiadoma now.
16km to go and the gap to the chasers is up to 1:00. This is now a four-rider race.
#EuroRoad20 🇪🇺@AvVleuten now has a teammate for company as the lead group grows to 4 with 15km left.Their gap is around 1minute over the chasers ⏱ pic.twitter.com/nMCkVdxitrAugust 27, 2020
The bell rings out for the final lap. 13km to go.
The sun comes out as the chases pass the finish but they are now 50 seconds behind.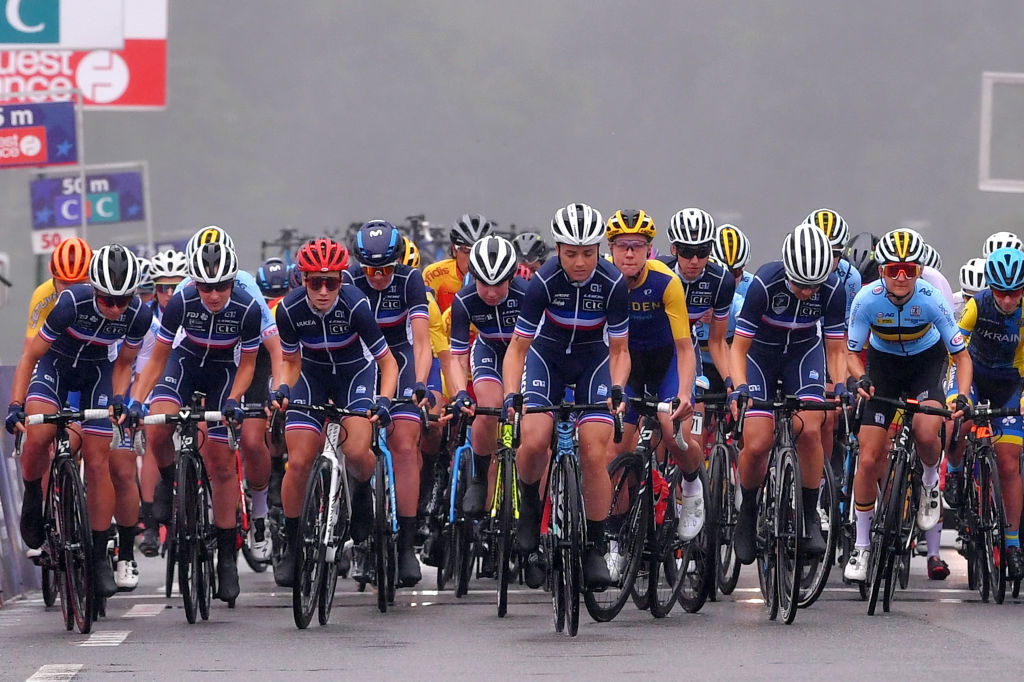 Up front we have the Dutch duo of Van Vleuten and Blaak and then Longo Borghini and Niewiadoma.
The Italian got a gap on the longest climb but Van Vleuten is there, as is Niewiadoma.
Blaak has been dropped. That was a clever attack from the Italian after Blaak made a big effort to get across to them.
Niewiadoma has cracked but Longo Borghini is trying to close the gap.
This was Van Vleuten's attack.
Van Vleuten laat de rest achter op 9 kilometer van het einde pic.twitter.com/RdEtfmS7wJAugust 27, 2020
7km to go.
Niewiadoma has been joined by Blaak but Van Vleuten and Longo Borghini are 15 seconds ahead.
5km to go.
Van Vleuten and Longo Borghini have eased, allowing Niewiadoma and Blaak to get back on.
The last climb of Pont Neuf will be decisive and surely see attacks.
#EuroRoad20 🇪🇺The leading duo have been caught and it's back to a group of 4! Less than 5km to go... pic.twitter.com/F4nw0trrQLAugust 27, 2020
Even Van Vleuten is struggling to hold the way.
But she digs deep and makes her own attack. Longo Borghini is on her wheel.
Niewiadoma is distanced but is chasing.
2km to go!
Niewiadoma is suffering. This will be a Van Vleuten -v- Longo Borghini sprint for the European title.
1km to go.
Van Vleuten begins to play games.
Longo Borghini does a turn to keep the speed high.
It's sprint time!
Van Vleuten holds on as the road rises and wins the European title!
The world champion went deep and Longo Borghini couldn't stay in her slipstream and fight back.
Niewiadoma distanced Blaak behind to take the bronze medal.
Cordon-Ragot has attacked and so takes fifth place.
The other riders sprint for sixth place.
Van Vleuten can hardly believe she's won after such an intense battle with Longo Borghini.
Van Vleuten confirmed she will race for another two years but did not say with which team.
She could stay with Mitchelton-Scott but can pick her future, with Jumbo-Visma to also create a women's team for 2021.
The Netherlands tactics seemed complex and possibly in conflict but Van Vleuten praised her team after his victory.
"Thanks to the Dutch squad because we lined up with a dream team," Van Vleuten, who has not raced a European Championships during her career prior to her victory in Plouay, said.
"We had eight super-strong girls and we decided that it was in our advantage to make the race really hard.
"Between myself and Anna van der Breggen, it was both our jobs to make the ace super hard to set something up for the other girls. I was so proud to race together with my team and I am so proud to do this together."
On the podium, Van Vleuten pulls on the European jersey herself due to the COVID-19 protocol but she's happy and sings the Netherlands national anthem.
Of course, as world champion, Van Vleuten will not wear the European champion's jersey, as the rainbow jersey has priority in races.
Van Vleuten will race next at La Course in Nice on Saturday.
6 wins in 8 races. That's an incredible strike rate from Van Vleuten.
#EuroRoad20 🇪🇺6️⃣ wins from 8️⃣ starts in 2020 for @AvVleuten! 🔥She now adds the European title to her palmares 👏 pic.twitter.com/TzxChJO6B0August 27, 2020
Here's the moment Van Vleuten hits the finish line in Plouay, with Longo Borghini just behind her.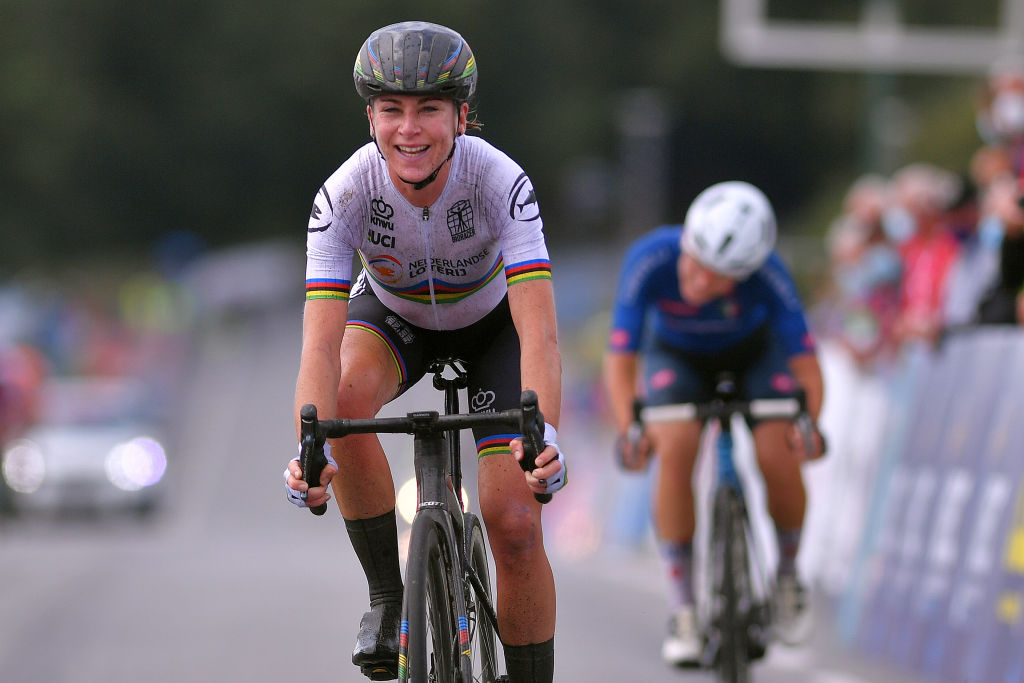 And this is the video of the sprint finish.
Van Vleuten sprint sneller dan Longo Borghini en is de nieuwe Europese kampioene pic.twitter.com/47IcLqSKDNAugust 27, 2020
Th rain made for a hard and ultimately selective race in Plouay.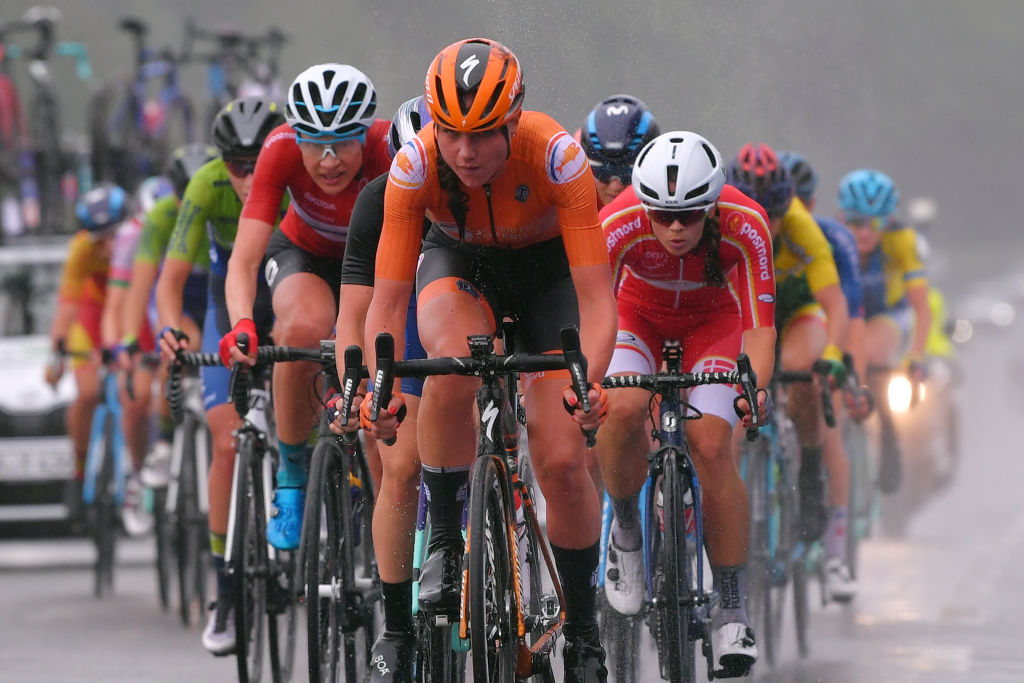 We're also live from the Tour de France Grand Depart in Nice, with all the latest news, interviews, photos and social posts.
Click this link to stay up to date with the latest news as riders gather for the team presentation.
Tour de France countdown: 2 days to go – Live (opens in new tab)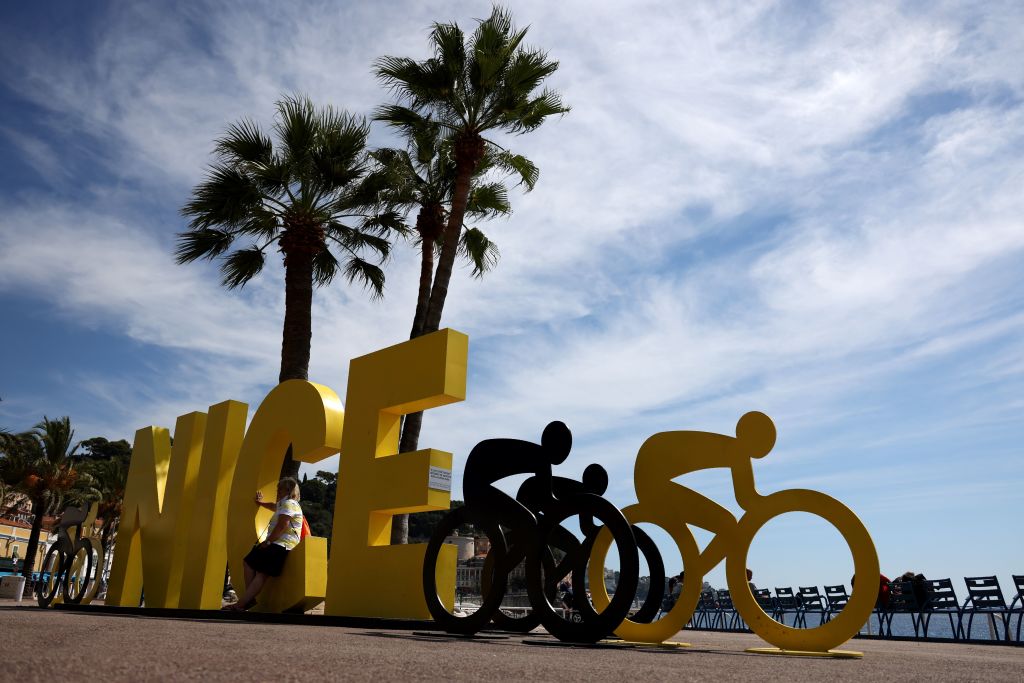 Security and COVID-19 measures are tight in Nice to keep everyone safe.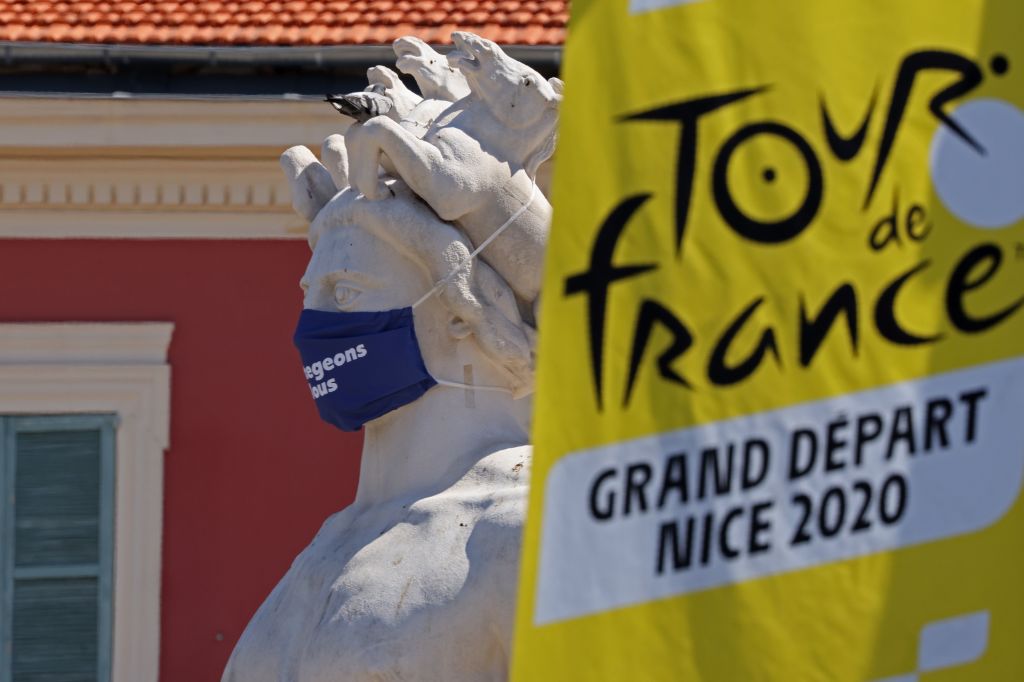 Despite finishing second, Italy and Elisa Longo Borghini rightly celebrated their place on the podium.
Fantastica @ElisaLongoB, fantastica #NazionaleCiclismo🇮🇹 👏👏👏🥇🥇🥈🥉🥉 #EuroRoad20 pic.twitter.com/4ADqi1SuIxAugust 27, 2020
To read Kirsten Frattini's full race report and to see our photo gallery and full results, click on this link:
European Championships: Van Vleuten wins elite women's road race title (opens in new tab)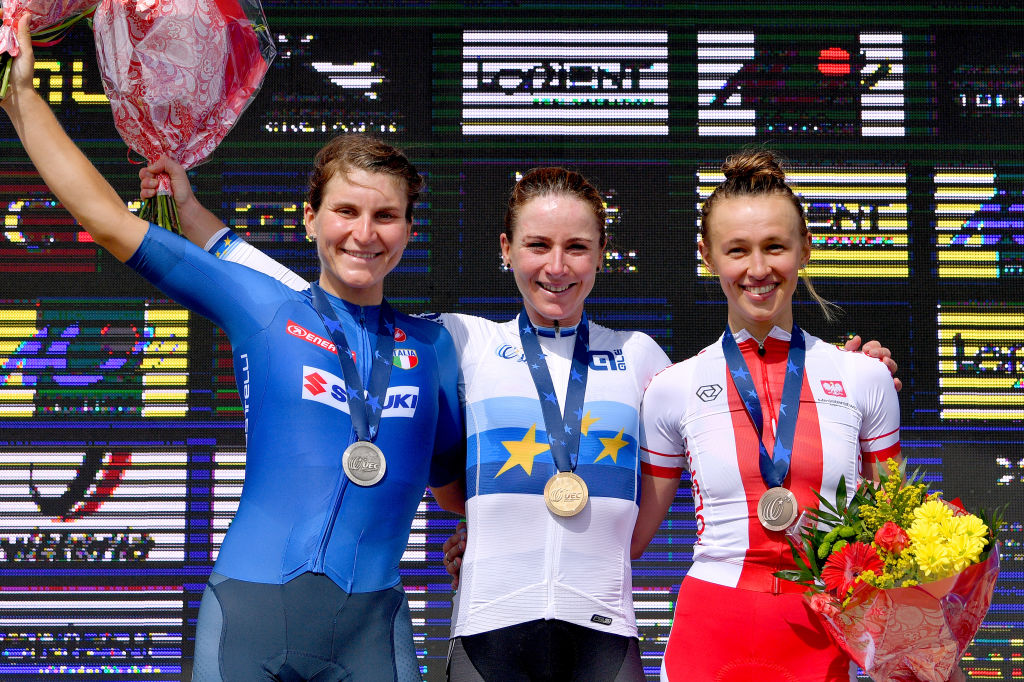 Thank you for reading 5 articles in the past 30 days*
Join now for unlimited access
Enjoy your first month for just £1 / $1 / €1
*Read any 5 articles for free in each 30-day period, this automatically resets
After your trial you will be billed £4.99 $7.99 €5.99 per month, cancel anytime. Or sign up for one year for just £49 $79 €59

Join now for unlimited access
Try your first month for just £1 / $1 / €1
Get The Leadout Newsletter
The latest race content, interviews, features, reviews and expert buying guides, direct to your inbox!
Thank you for signing up to The Pick. You will receive a verification email shortly.
There was a problem. Please refresh the page and try again.