Local heros dominate day one of World Cup season
Image 1 of 25
Image 2 of 25
Image 3 of 25
Image 4 of 25
Image 5 of 25
Image 6 of 25
Image 7 of 25
Image 8 of 25
Image 9 of 25
Image 10 of 25
Image 11 of 25
Image 12 of 25
Image 13 of 25
Image 14 of 25
Image 15 of 25
Image 16 of 25
Image 17 of 25
Image 18 of 25
Image 19 of 25
Image 20 of 25
Image 21 of 25
Image 22 of 25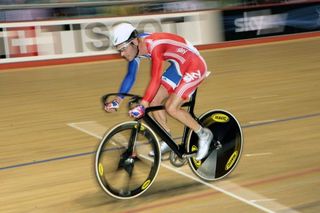 Image 23 of 25
Image 24 of 25
Image 25 of 25
Men's 4000m Individual Pursuit final
Great Britain's Geraint Thomas was an emphatic winner of the men's 4000m individual pursuit at the track World Cup in Manchester on Friday night. The Welshman caught his opponent Dominique Cornu (Belgium) with fewer than two laps to go, to claim the first gold medal of the World Cup season.
"I didn't expect to catch him but I was on him quickly," said Thomas. "Job done, get the medal, go home and have a pint. Now I wish I'd carried on but I knew it wasn't going to be a world record time so what's it matter? I thought I'd have a lot more of a race on my hands to be honest. It's a big surprise and I knew I was going well, I just didn't know how well."
Thomas got off to a fast start as he moved out to a lead of three quarters of a second after the first lap. Three laps later, at 1000m covered, Cornu countered and dragged his opponent's lead back within two tenths of a second. While it did well to build tension within the velodrome, the Belgian was only able to stem the tide for a few laps. The excitement in the British crowd began to approach fever pitch as Thomas's race plan began to unfold.
With 2000m covered the Team GB rider had lit the afterburners. One and a half seconds behind Thomas, Cornu began to falter as he showed the effects of a long road season and limited preparation in the lead up to the opening World Cup event. Five hundred meters later, Thomas was three seconds ahead. He continued to press his advantage and with 3000 meters covered could see the sky blue of Cornu's jersey at the far end of the straight.
Less than three laps later the race was over as Thomas swung past Cornu in the approach to his home straight. A visibly elated Thomas took his time to enjoy the applause of a sell-out crowd.
"I've come away with silver and given it everything I had," said Cornu. "I was trying to follow him from the start and was right in it for the first two kilometres but after that my legs just blew up and I had nothing left in the tank.
"But if you'd said to me at the start of the event that I'd finish second I'd have told you, you were mad. Coming off the back of a hard road season this is a great result. Hats off to Thomas, he was really fast today."
In the bronze medal race, Vitaliy Shchedov (Ukraine) claimed a near three-second victory over Spain's David Muntaner Juaneda. After a fast start Shchedov settled into a smooth rhythm and although his opponent pulled back some of his disadvantage in the second 2000m, the Ukrainian had done enough to take his first individual World Cup medal.
Women's Scratch Race final

Belinda Goss of Australia won her first World Cup event in the women's scratch race in Manchester on Friday. The Australian was part of a six-rider break which formed midway through the race and lapped the field. Goss outsprinted her breakaway companions to earn the victory. Evgeniya Romanyuta (Russia) and Shelly Olds (Proman Racing Team) finished in second and third.
The field began to fragment early on and after fifteen laps Leire Olaberria (Spain) broke clear. She was initially marked by World Champion Yumari Gonzalez Valdivieso (Cuba). However, Olaberria's persistence paid off and she moved free altogether before the pack chased her down.
With 28 laps remaining Goss, Romanyuta, Jarmila Machacova (Czech Republic), Olds, Skye Lee Armstrong (Rodin) and Vera Koedoorer (Netherlands) went clear. The six-strong move quickly built up a lead and caught the back of the disorganised pack despite the efforts of home favourite Lizzie Armitstead (Great Britain) and Kelly Druyts (Belgium) who both tried to bridge the gap.
For the USA's Olds, the break was a good opportunity to test herself against her international colleagues. "I would have liked to have won but I'm feeling happy," she said. "We had a really strong group and some of the strongest in the race. The biggest thing was staying focused. At the finish I was trying to watch the girls I was in a break with, but it was difficult. They're all good so I didn't know who to watch exactly. I had teammates in there and used them a bit more."
"I'm really stoked," Goss said after her victory. "I've managed a few podiums on the track but it's really exciting to win one. The group worked really well but I wasn't quite sure at the end whether I had won. It was an anxious wait. You put in everything you've got left after being in a group and treat it as a bunch sprint."
Goss will compete in both the women's points race and team pursuit over the coming two days.
Men's Keirin final
Chris Hoy (Sky+ HD) completed a grand return to World Cup competition as he claimed his first and Britain's second gold medal of the Manchester World Cup. Hoy led from start-to-finish to defeat Christos Volikakis (Greece) and Maximilian Levy (Germany).
Hoy's stubborn refusal to shift from the front of the final was a response to the second round of the event, where he had been forced to come from behind in order to seal his place in the gold medal race.
"The semifinal's unpredictable and it was the hard way to do it, but that gave me the confidence that if I had to be in that position I could still get out of it," said Hoy afterwards. "In the final I didn't want to be in that position so I took it from the front as I like to do. I hit it pretty hard, tried to string them out and then just kept looking back to see where they were. As soon as they'd start creeping up I'd just turn it on a little bit more."
With the derny clear of the track it was Francesco Ceci who was the first to launch his sprint. Despite the attention of the Italian, Hoy never really looked to be under pressure and he measured his effort in the approach to the final lap. As the race entered the last 250 metres Hoy finally lifted himself from his saddle to force Volikakis the long way round in the final bend. Unfortunately for the Greek rider he ran out of track and Hoy recorded his victory by half a length.
"It was a measured performance, but I can tell you, in the last half a lap, I was giving it everything," said Hoy. "It was just half a bike at the line, so it was quite a close race, but it was enough to win it."
Winner of the bronze medal was the current Keirin World Champion Maximilian Levy. The German had played his part in setting up a clash between the discipline's World and Olympic Champions for the final. While he was unable to unseat Hoy in Manchester, Levy was pleased with his performance to make the final after injuring himself in the track's off-season.
"It's nice to race here because there are a lot of spectators and they give all the riders a big push," he said. "I'm surprised that it's gone so well. I broke my hand in the summer and it's my first race, so I'm happy to be in the final."
For the Keirin winner, Hoy, the immediate priority was his next two events. He returns to competition on Saturday in the qualification for the sprint and team sprint. If successful in those events he will face a busy Sunday as he will line up for the team sprint final in addition to the Japanese JKA International Keirin, which is being run in conjunction with the World Cup.
"Last week's [British national championships] was a good warm-up for this weekend," said Hoy. "If I can just keep my legs moving until Sunday night then I'll be happy. This is the biggest workload I'll do in three days. The important thing is to get the points in the sprint and the team sprint."
Men's Points Race final
Chris Newton (Great Britain) stormed to victory in the first men's World Cup points race event of the track season in Manchester, ahead of Ho Ting Kwok (Hong Kong) and Roger Kluge (Germany). It was Newton's second win in a row at Manchester having taken the victory in the corresponding race last year. However, unlike in 2008 when he won by a massive 20 points, this year's event was far closer with his margin of victory just four points.
The first sprint went to Wai Cheung (Giant Pro Cycling) who collected five points, while danger man Michael Markov (Denmark) claimed two and Newton one. However, the experienced Newton claimed maximum points in the third and fourth sprints to open a healthy lead over Eloy Teruel (Spain) and Cheung and despite a brief rally from Christophe Riblon (France), Newton had only to consolidate his lead, claiming points in all but five of the sprints.
"I got my rough point in the race but had a little bit of a buffer at that point and the other guys were forced to chase the race, Newton told Cyclingnews. "From 40 laps out I could afford to pick off points when I needed them.
"The crowds were fantastic. You can hear them. Not much when you're flat out but when you're recovering you can and it helps to keep you going."
Heading into the final three rounds of sprinting Newton's lead was briefly threatened by Kluge who broke free and took the tenth sprint and the five points on offer. However in the next sprint a group of four riders went clear meaning that Kluge would need to take maximum points and hope that Newton wouldn't score in the remaining rounds. "I had okay legs," Kluge told Cyclingnews. "But I paid for my effort when I went away and the gap to Newton was too big. In the end I was hanging on a bit."
Second placed Kwok overtook Kluge in the standings in the final sprint, winning his first points race medal to add to his gold in last year's scratch race from the Melbourne round of the World Cup.
"This feels great," said Kwok. "I'm really happy with my performance and especially with how strong I felt at the end of the race."
Women's Sprint final
In a thrilling finale at the Manchester Velodrome Victoria Pendleton beat Shuang Guo of China 2-1. However, the World and Olympic Champion was given a rough time by her opponent to win the decider by less than half a wheel. Earlier, the Chinese rider had silenced the home crowd by winning the second sprint to force a third race after Pendleton took the opener.
"I've learnt a lot today," Pendleton told Cyclingnews as she warned down on the rollers. "It's been a wake up call and I feel very annoyed with myself for my lack of technical expertise, especially for someone in a World Champion's jersey. But it's given me motivation to work on that for the Worlds and come back a different rider."
Pendlton had dominated the earlier rounds of the sprint compeition, but ran up against stronger opposition in the semi-finals when Olga Panarina (Belarus) won the first of their best-of-three semi-final. Panarina had already dispatched Worlds silver medallist Willy Kanis (Netherlands) in a one-sided quarter-final contest. However, it would be Guo who would provide the sternest opposition, after Pendleton took her two subsequent sprints against Panarina.
Guo had finished third in the Olympics – behind Pendleton – but won her semi-final against Simona Krupeckaite (Lithuania) and looked to be on course for an upset in the final race of the session. However Pendleton, just like she'd done at the Worlds, held her mettle to take the deciding sprint.
Men's 1km Time Trial
World Kilo Champion Stefan Nimke lived up to his title as he took a last gasp victory in the men's kilo at the Manchester World Cup. The German stopped the clock in 1:01.298 to finish a mere four tenths of a second in front of Great Britain's David Daniell. The Bronze medal was taken by early leader Chongyang Wang (China).
"I'm really happy with that. It was a really good time. okay, it wasn't my best race but it's the start of the season so to come away with a win, I really can't ask for more. The last lap was very fast and I was down in second until the final half of a lap," said Nimke.
Wang's time, set in the fourth of 12 heats, remained firmly attached to the top of the leaderboard until the final two pairings. His 1:02.228 remained untouched until the winner of the equivalent event a year earlier, Daniell, burst out of the starthouse in the penultimate heat. The 19-year-old product of the British talent development programme locked in the best times at each of the intermediate time checks and at was the first to record a sub-1:02 time, with 1:01.698 at the finish.
"It's brilliant to finish so high up at my home venue and against someone like Nimke. I pushed him all the way," said second place Daniell. "I'm looking forward to my future and this season. It's a stepping stone to 2012 and the Olympics."
Nimke started in the final pair and was left to chase the benchmark set moments earlier by Daniell. The Briton had clearly got a better start as Nimke slipped behind at each of his own intermediate checks. However, in a triumphant final lap the German rallied to finish a shade under half a second clear of his 12 year younger rival.

Men's 4000m individual pursuit-Gold medal round

| | |
| --- | --- |
| 1 | Geraint Thomas (GBr) Great Britain |
| 2 | Dominique Cornu (Bel) Belgium |
Men's 4000m individual pursuit-Bronze medal round

| | | |
| --- | --- | --- |
| 3 | Vitaliy Shchedov (Ukr) Ukraine | 0:04:25.902 |
| 4 | David Muntaner Juaneda (Spa) Spain | 0:04:28.609 |
Men's keirin second round-Heat 1

| | |
| --- | --- |
| 1 | Maximilian Levy (Ger) Germany |
| 2 | Francesco Ceci (Ita) Italy |
| 3 | Christos Volikakis (Gre) Greece |
| 4 | Shane Perkins (Aus) Australia |
| 5 | Qi Tang (Chn) People's Republic of China |
| 6 | Andrii Vynokurov (Ukr) Ukraine |
Men's keirin second round-Heat 2

| | |
| --- | --- |
| 1 | Chris Hoy (GBr) Team Sky + HD |
| 2 | Jason Niblett (Aus) Team Jayco |
| 3 | Yondi Schmidt (Ned) Netherlands |
| 4 | Adrian Teklinski (Pol) Alks Stal Grudziaduz |
| 5 | Jason Kenny (GBr) Great Britain |
| 6 | François Pervis (Fra) Cofidis |
Men's keirin final - 1st-6th

| | |
| --- | --- |
| 1 | Chris Hoy (GBr) Team Sky + HD |
| 2 | Christos Volikakis (Gre) Greece |
| 3 | Maximilian Levy (Ger) Germany |
| 4 | Jason Niblett (Aus) Team Jayco |
| 5 | Yondi Schmidt (Ned) Netherlands |
| 6 | Francesco Ceci (Ita) Italy |
Men's keirin final - 7th-12th

| | |
| --- | --- |
| 7 | Jason Kenny (GBr) Great Britain |
| 8 | François Pervis (Fra) Cofidis |
| 9 | Shane Perkins (Aus) Australia |
| 10 | Andrii Vynokurov (Ukr) Ukraine |
| 11 | Qi Tang (Chn) People's Republic of China |
| 12 | Adrian Teklinski (Pol) Alks Stal Grudziaduz |
Women's scratch race-Final

| | | |
| --- | --- | --- |
| 1 | Belinda Goss (Aus) Australia | |
| 2 | Evgeniya Romanyuta (Rus) Russian Federation | |
| 3 | Shelley Olds (USA) Proman Racing Team | |
| 4 | Skye Lee Armstrong (Aus) Rodin | |
| 5 | Vera Koedooder (Ned) Netherlands | |
| 6 | Jarmila Machacova (Cze) Czech Republic | |
| 7 | Lada Kozlikova (Cze) Czech Republic | -1lap |
| 8 | Monia Baccaille (Ita) Gruppo Sportivo Fiamme Azzurre | |
| 9 | Leire Olaberria Dorronsoro (Spa) Spain | |
| 10 | Elizabeth Armitstead (GBr) Great Britain | |
| 11 | Barbara Guarischi (Ita) Italy | |
| 12 | Wan Yiu Jamie Wong (HKg) Hong Kong | |
| 13 | Coryn Rivera (USA) United States of America | |
| 14 | Ana Usabiaga Balerdi (Spa) Cespa-Euskadi | |
| 15 | Alena Prudnikova (Rus) Russian Federation | |
| 16 | Pascale Jeuland (Fra) France | |
| 17 | Alzbeta Pavlendova (Svk) Slovakia | |
| 18 | Jolien D'hoore (Bel) Belgium | |
| 19 | Tatsiana Sharakova (Blr) Belarus | |
| 20 | Yumari Gonzalez Valdivieso (Cub) Cuba | |
| 21 | Tess Downing (Aus) Australia | |
| 22 | Cari Higgins (USA) Proman Racing Team | |
| REL | Elke Gebhardt (Ger) Germany | |
| DNF | Kelly Druyts (Bel) Belgium | |
Women's sprint semifinal heat 1-Race 1

| | | |
| --- | --- | --- |
| 1 | Olga Panarina (Blr) Belarus | 0:00:11.549 |
| 2 | Victoria Pendleton (GBr) Team Sky + HD | |
Women's sprint semifinal heat 1-Race 2

| | | |
| --- | --- | --- |
| 1 | Victoria Pendleton (GBr) Team Sky + HD | 0:00:11.236 |
| 2 | Olga Panarina (Blr) Belarus | |
Women's sprint semifinal heat 1-Race 3

| | | |
| --- | --- | --- |
| 1 | Victoria Pendleton (GBr) Team Sky + HD | 0:00:11.681 |
| 2 | Olga Panarina (Blr) Belarus | |
Women's sprint semifinal heat 2-Race 1

| | | |
| --- | --- | --- |
| 1 | Shuang Guo (Chn) People's Republic of China | 0:00:11.771 |
| 2 | Simona Krupeckaite (Ltu) Lithuania | |
Women's sprint semifinal heat 2-Race 2

| | | |
| --- | --- | --- |
| 1 | Shuang Guo (Chn) People's Republic of China | 0:00:11.457 |
| 2 | Simona Krupeckaite (Ltu) Lithuania | |
Women's sprint final-Gold medal round race 1

| | | |
| --- | --- | --- |
| 1 | Victoria Pendleton (GBr) Team Sky + HD | 0:00:11.547 |
| 2 | Shuang Guo (Chn) People's Republic of China | |
Women's sprint final-Gold medal round race 2

| | | |
| --- | --- | --- |
| 1 | Shuang Guo (Chn) People's Republic of China | 0:00:11.494 |
| 2 | Victoria Pendleton (GBr) Team Sky + HD | |
Women's sprint final-Gold medal round race 3

| | | |
| --- | --- | --- |
| 1 | Victoria Pendleton (GBr) Team Sky + HD | 0:00:11.599 |
| 2 | Shuang Guo (Chn) People's Republic of China | |
Women's sprint final-Bronze medal round race 1

| | | |
| --- | --- | --- |
| 1 | Simona Krupeckaite (Ltu) Lithuania | 0:00:11.870 |
| 2 | Olga Panarina (Blr) Belarus | |
Women's sprint final-Bronze medal round race 2

| | | |
| --- | --- | --- |
| 1 | Simona Krupeckaite (Ltu) Lithuania | 0:00:11.657 |
| 2 | Olga Panarina (Blr) Belarus | |
Men's points race-Final

| | | | |
| --- | --- | --- | --- |
| 1 | Chris Newton (GBr) Great Britain | 37 | pts |
| 2 | Ho Ting Kwok (HKg) Hong Kong Pro Cycling | 33 | |
| 3 | Roger Kluge (Ger) Germany | 33 | |
| 4 | Lukasz Bujko (Pol) Poland | 31 | |
| 5 | Peter Schep (Ned) Netherlands | 29 | |
| 6 | Kazuhiro Mori (Jpn) Japan | 27 | |
| 7 | Eloy Teruel Rovira (Spa) Spain | 25 | |
| 8 | Kenny De Ketele (Bel) Belgium | 23 | |
| 9 | Andreas Muller (Aut) Austria | 23 | |
| 10 | Milan Kadlec (Cze) Czech Republic | 22 | |
| 11 | Vasili Kiryienka (Blr) Belarus | 21 | |
| 12 | Daniel Holloway (USA) United States of America | 21 | |
| 13 | Angelo Ciccone (Ita) Gruppo Sportivo Fiamme Azzurre | 20 | |
| 14 | Christophe Riblon (Fra) France | 19 | |
| 15 | King Wai Cheung (HKg) Giant Pro Cycling | 8 | |
| 16 | Kam­Po Wong (HKg) Hong Kong | 3 | |
| 17 | Michael Morkov (Den) Denmark | 2 | |
| 18 | Sergiy Lagkuti (Ukr) Ukraine | -18 | |
| 19 | David Boily (Can) Canada | -20 | |
| DNF | Ivan Kovalev (Rus) Russian Federation | | |
| DNF | Ignacio Sarabia Diaz (Mex) Mexico | | |
| DNF | Gediminas Bagdonas (Ltu) Lithuania | | |
| DNF | Thomas Scully (NZl) New Zealand | | |
| DNF | Javier Azkue Prieto (Spa) Fullgasnutrition.net | | |
Men's 1km time trial

| | | |
| --- | --- | --- |
| 1 | Stefan Nimke (Ger) Germany | 0:01:01.293 |
| 2 | David Daniell (GBr) Great Britain | 0:01:01.698 |
| 3 | Chongyang Wang (Chn) People's Republic of China | 0:01:02.228 |
| 4 | Tomas Babek (Cze) Czech Republic | 0:01:02.485 |
| 5 | Scott Sunderland (Aus) Team Jayco | 0:01:02.626 |
| 6 | Adrian Teklinski (Pol) Alks Stal Grudziaduz | 0:01:02.974 |
| 7 | Quentin Lafargue (Fra) Cofidis | 0:01:03.046 |
| 8 | Francesco Ceci (Ita) Italy | 0:01:03.193 |
| 9 | Yevhen Bolibrukh (Ukr) Ukraine | 0:01:03.585 |
| 10 | Yudai Nitta (Jpn) Japan | 0:01:03.831 |
| 11 | Anton Lapshinau (Blr) Belarus | 0:01:04.091 |
| 12 | Clemens Selzer (Aut) AUT | 0:01:04.374 |
| 13 | Thomas Bonafos (Fra) France | 0:01:04.443 |
| 14 | Christian Ranneries (Den) Denmark | 0:01:04.906 |
| 15 | David Askurava (Geo) Georgia | 0:01:05.244 |
| 16 | Hafiz Sufian (Mas) Malaysia | 0:01:05.797 |
| 17 | Gregory Hugentobler (Swi) Switzerland | 0:01:05.955 |
| 18 | Konstantinos Karageorgos (Gre) Greece | 0:01:07.324 |
| 19 | Robson Dias (Bra) Brazil | 0:01:07.655 |
| 20 | Sergio Aliaga Chivite (Spa) Calapie-Reyno de Navarra | 0:01:07.716 |
| 21 | Javier Azkue Prieto (Spa) Fullgasnutrition.net | 0:01:07.922 |
| 22 | Adria Sabate Masip (Spa) Catalunya | 0:01:08.697 |
| DNS | Azikiwe Kellar (Tri) Trinidand and Tobago | |
Cyclingnews Newsletter
Sign up to the Cyclingnews Newsletter. You can unsubscribe at any time. For more information about how to do this, and how we hold your data, please see our privacy policy