Bötticher challenges Lavreysen in men's sprint overall
By Laura Weislo published
UCI Track Champions League threatened before final night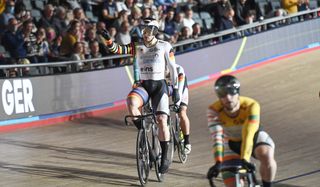 (Image credit: UCI Track Champions League)
Men's Sprint Standings

| Pos. | Rider Name (Country) Team | Result |
| --- | --- | --- |
| 1 | Harrie Lavreysen (Netherlands) | 110 |
| 2 | Stefan Botticher (Germany) | 96 |
| 3 | Vasilijus Lendel (Lithuania) | 64 |
| 4 | Nicholas Paul (Trinidad & Tabago) | 56 |
| 5 | Mikhail Iakovlev (Russian Federation) | 52 |
| 6 | Jeffrey Hoogland (Netherlands) | 47 |
| 7 | Rayan Helal (France) | 43 |
| 8 | Denis Dmitriev (Russian Federation) | 40 |
| 9 | Kevin Santiago Quintero Chavarro (Colombia) | 39 |
| 10 | Tom Derache (France) | 36 |
| 11 | Jai Angsuthasawit (Thailand) | 29 |
| 12 | Hugo Barrette (Canada) | 29 |
| 13 | Mateusz Rudyk (Poland) | 28 |
| 14 | Maximilian Levy (Germany) | 27 |
| 15 | Jordan Castle (New Zealand) | 20 |
| 16 | Jair Tjon en Fa (Suriname) | 17 |
| 17 | Kento Yamasaki (Japan) | 15 |
| 18 | Jean Spies (South Africa) | 10 |
Men's Sprint Round 1 - Heat 1

| Pos. | Rider Name (Country) Team | Result |
| --- | --- | --- |
| 1 | Vasilijus Lendel (Lithuania) | |
| 2 | Mikhail Iakovlev (Russian Federation) | |
| 3 | Jean Spies (South Africa) | |
Men's Sprint Round 1 - Heat 2

| Pos. | Rider Name (Country) Team | Result |
| --- | --- | --- |
| 1 | Tom Derache (France) | |
| 2 | Maximilian Levy (Germany) | |
| 3 | Nicholas Paul (Trinidad & Tabago) | |
Men's Sprint Round 1 - Heat 3

| Pos. | Rider Name (Country) Team | Result |
| --- | --- | --- |
| 1 | Denis Dmitriev (Russian Federation) | |
| 2 | Hugo Barrette (Canada) | |
Men's Sprint Round 1 - Heat 4

| Pos. | Rider Name (Country) Team | Result |
| --- | --- | --- |
| 1 | Stefan Botticher (Germany) | |
| 2 | Jordan Castle (New Zealand) | |
| 3 | Kento Yamasaki (Japan) | |
Men's Sprint Round 1 - Heat 5

| Pos. | Rider Name (Country) Team | Result |
| --- | --- | --- |
| 1 | Harrie Lavreysen (Netherlands) | |
| 2 | Jai Angsuthasawit (Thailand) | |
| 3 | Mateusz Rudyk (Poland) | |
Men's Sprint Round 2 - Heat 1

| Pos. | Rider Name (Country) Team | Result |
| --- | --- | --- |
| 1 | Harrie Lavreysen (Netherlands) | |
| 2 | Jair Tjon en Fa (Suriname) | |
| 3 | Denis Dmitriev (Russian Federation) | |
Men's Sprint Round 2 - Heat 2

| Pos. | Rider Name (Country) Team | Result |
| --- | --- | --- |
| 1 | Stefan Botticher (Germany) | |
| 2 | Vasilijus Lendel (Lithuania) | |
| 3 | Tom Derache (France) | |
Men's Sprint Final

| Pos. | Rider Name (Country) Team | Result |
| --- | --- | --- |
| 1 | Harrie Lavreysen (Netherlands) | |
| 2 | Stefan Botticher (Germany) | |
Men's Keirin Round 1 - Heat 1

| Pos. | Rider Name (Country) Team | Result |
| --- | --- | --- |
| 1 | Harrie Lavreysen (Netherlands) | |
| 2 | Jair Tjon en Fa (Suriname) | |
| 3 | Rayan Helal (France) | |
| 4 | Jai Angsuthasawit (Thailand) | |
| 5 | Kevin Santiago Quintero Chavarro (Colombia) | |
| 6 | Mateusz Rudyk (Poland) | |
Men's Keirin Round 1 - Heat 2

| Pos. | Rider Name (Country) Team | Result |
| --- | --- | --- |
| 1 | Harrie Lavreysen (Netherlands) | |
| 2 | Jair Tjon en Fa (Suriname) | |
| 3 | Rayan Helal (France) | |
| 4 | Jai Angsuthasawit (Thailand) | |
| 5 | Kevin Santiago Quintero Chavarro (Colombia) | |
| 6 | Mateusz Rudyk (Poland) | |
Men's Keirin Round 1 - Heat 3

| Pos. | Rider Name (Country) Team | Result |
| --- | --- | --- |
| 1 | Nicholas Paul (Trinidad & Tabago) | |
| 2 | Maximilian Levy (Germany) | |
| 3 | Tom Derache (France) | |
| 4 | Hugo Barrette (Canada) | |
| REL | Denis Dmitriev (Russian Federation) | |
Men's Keirin Final

| Pos. | Rider Name (Country) Team | Result |
| --- | --- | --- |
| 1 | Stefan Botticher (Germany) | |
| 2 | Vasilijus Lendel (Lithuania) | |
| 3 | Jair Tjon en Fa (Suriname) | |
| 4 | Harrie Lavreysen (Netherlands) | |
| 5 | Maximilian Levy (Germany) | |
| 6 | Nicholas Paul (Trinidad & Tabago) | |

Thank you for reading 5 articles this month*
Join now for unlimited access
Enjoy your first month for just £1 / $1 / €1
*Read 5 free articles per month without a subscription

Join now for unlimited access
Try your first month for just £1 / $1 / €1
Laura Weislo has been with Cyclingnews since 2006 after making a switch from a career in science. As Deputy Editor, she coordinates coverage for North American events and global news. As former elite-level road racer who dabbled in cyclo-cross and track, Laura has a passion for all three disciplines. When not working she likes to go camping and explore lesser traveled roads, paths and gravel tracks.
Sign up to the Cyclingnews Newsletter. You can unsubscribe at any time. For more information about how to do this, and how we hold your data, please see our privacy policy
Thank you for signing up to Cycling News. You will receive a verification email shortly.
There was a problem. Please refresh the page and try again.