UCI Road World Championships 2020: Elite Men Time Trial – Live Coverage
All the action as Rohan Dennis defends his title in Imola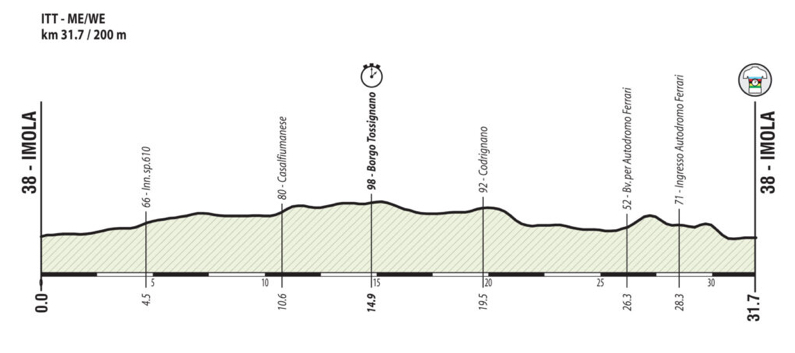 UCI Road World Championships 2020

UCI Road World Championships 2020 - Preview

UCI Road World Championships 2020 - Elite Men's ITT Start List

Marco Pinotti's favourites for the UCI World Championships men's time trial
Final result
1 Filippo Ganna (Italy) 0:35:54
2 Wout van Aert (Belgium) 0:36:21
3 Stefan Küng (Switzerland) 0:36:24
4 Geraint Thomas (Great Britain) 0:36:31
5 Rohan Dennis (Australia) 0:36:34
6 Kasper Asgreen (Denmark) 0:36:41
7 Rémi Cavagna (France) 0:36:42
8 Victor Campenaerts (Belgium) 0:36:47
9 Alex Dowsett (Great Britain) 0:37:00
10 Tom Dumoulin (Netherlands) 0:37:08
Refresh
Hello and welcome to our live coverage of the men's time trial at the Road World Championships. We're half an hour away from the start of the race.
The men will be taking on the same course as the women did yesterday. It's a 31.7km loop starting and ending in Imola taking in rolling roads along the way.
A look at the map of today's course. It's not the most technical of routes, and should favour a powerful rider.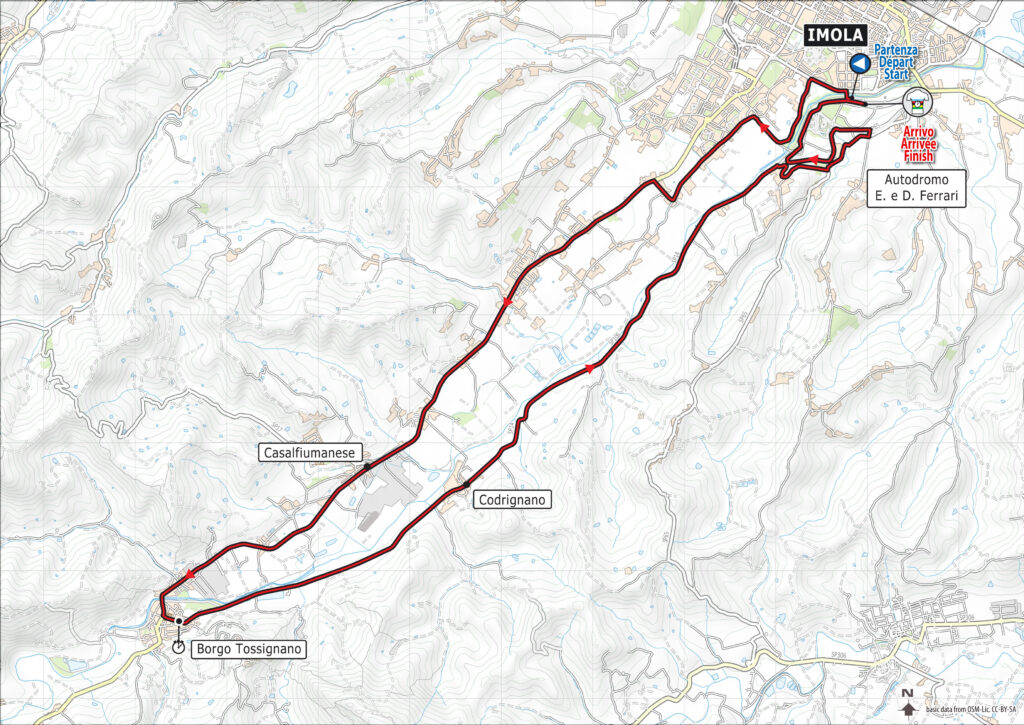 We've taken a look at the favourites for the time trial – well, ex-time trialist Marco Pinotti has.
He rates defending champion Rohan Dennis of Australia as a top favourite, along with home favourite Filippo Ganna.

Marco Pinotti's favourites for the UCI World Championships men's time trial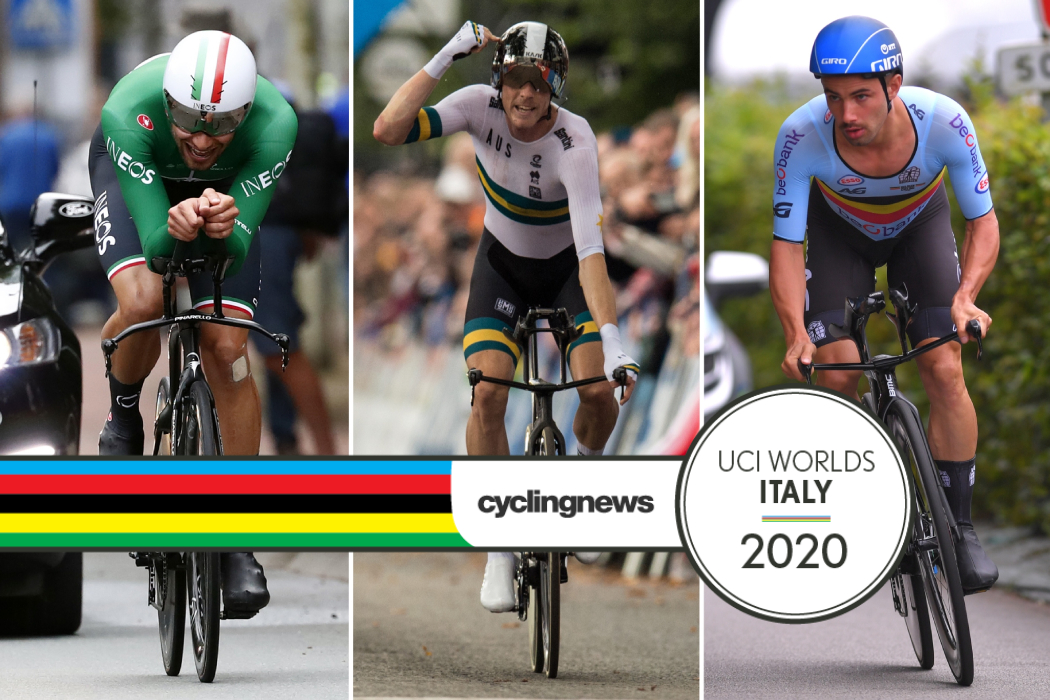 We're five minutes away from the first rider setting off. It'll be Syria's Ahmad Badreddin Wais.
Switzerland's Stefan Küng is also among the favourites for a medal today. The European champion will be aboard a LaPierre featuring a classy paintjob in Imola.
Reports out on the course suggest a headwind on the way out and a tailwind coming back to the finish. The first half of the race is uphill, too, so we should get a good idea of who is the strongest at the first checkpoint, 14.9km into the day.
Ahmad Badreddin Wais sets off to kick off the action.
The Syrian is out there on a black Argon 18 E-117 disc TT bike, kitted out in a dark grey skinsuit and a red Kask Bambino Pro helmet. He's looking good.
Canada's Alexander Cataford is the third rider off, after Viktor Filutás of Hungary.
Dmitriy Gruzdev of Kazakhstan is the most notable of the last few riders to set off. Nicolas Roche (Republic of Ireland) set off in two minutes.
Six-time Polish time trial champion Maciej Bodnar starts his effort. He'll be among the fastest of the early riders.
Brandon McNulty is off, and there are some strong time trialists setting off in the next five minutes. Benjamin Thomas (France), Jos Van Emden (Netherlands), Edoardo Affini (Italy) and Luke Durbridge (Australia) will all be out on course soon.
Meanwhile, our first riders are approaching the checkpoint.
22:07 for Wais after 14.9km. That's an average of 40.4kph.
Filutas went through at 21:25 but Cataford is even faster, 54 seconds up for a time of 20:31.
Durbridge is off, following Thomas, Van Emden and Affini down the start ramp.
Gruzdev sets a time of 20:15 at the check. Bodnar is around halfway there.
A number of lesser-known riders from nations such as Greece, Bulgaria and Iceland are starting their efforts now.
Germany's Max Walscheid has set the quickest time at the checkpoint. His 19:39 is much faster than Gruzdev.
Bodnar goes through the checkpoint, but he's actually slower than Walscheid. He's 15 seconds down. That's unexpected.
It's spitting rain out on course now. We'll monitor that in case it's something that could seriously affect the favourites who set off later on.
Mikkel Bjerg (Denmark) is off next. He's a three-time time trial world champion at U23 level.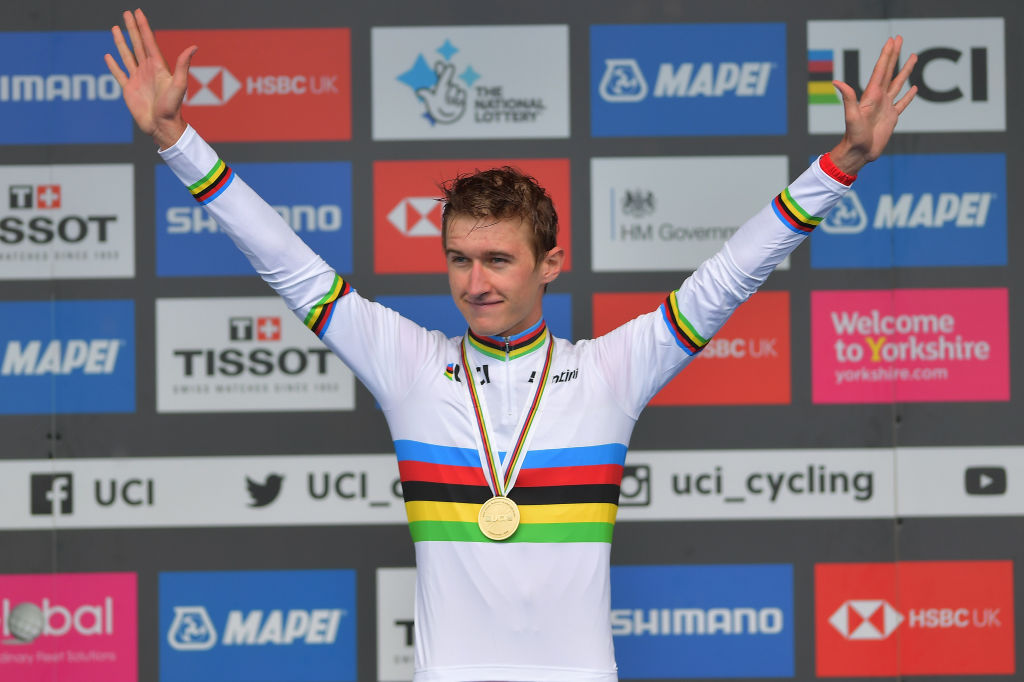 We're round about the midway point of the starters now. Wais kicked things off 40 minutes ago, while Rohan Dennis (Australia) will start his ride in 45 minutes.
Thomas, Van Emden, Affini and Durbridge are close to the checkpoint. This will be interesting. Walscheid is still the fastest.
Benjamin Thomas goes quickest, three seconds up on Walscheid with a time of 19:36.
Van Emden beats that time by 3.8 seconds for a time of 19:32.
Wais finished his effort but Filutas and Cataford go faster. The Canadian finishes with a time of 39:43.
Meanwhile, Affini is quickest at the checkpoint with a time of 19:06 – quite a bit quicker than Van Emden. Affini was a bronze medallist at the European Championships last season.
Walscheid smashes the top time at the finish on the Imola circuit. He completed the course in 37:51.
Durbridge just missed out on besting Affini's time at the checkpoint. He was just over a tenth of a second down after 14.9km.
Geraint Thomas (Great Britain) is off in six minutes. Former Hour Record holder Matthias Brändle (Austria) will follow him.
Bodnar heads onto the circuit, nearing the end of his ride.
He's slower than Walscheid at the finish, 40 seconds down.
Geraint Thomas on the start ramp. He gets his effort underway.
Brändle heads off and he'll be followed by Irish time trial specialist Ryan Mullen.
Brandon McNulty is coming in to finish now. He takes third at 54 seconds down on Walscheid.
Benjamin Thomas finishes now, falling short of Walscheid's time. He slots in second place, 18 seconds down.
Van Emden isn't going to go faster either...
The Dutchman goes second, just ahead of Thomas. Affini is flying however, and should be fastest.
Affini beats Walscheid by 25 seconds on the line. A new rider in the hotseat.
Durbridge was right with Affini at the check and will be the next man in. This should be an interesting finish.
Durbridge lost four seconds since the checkpoint. He goes second.
Tobias Ludvigsson (Sweden), Pello Bilbao (Spain) and Victor Campenaerts (Belgium) are next to start.
No real threats for the top of the standings among the next crop of riders on course. Bjerg, who passed the checkpoint 16 seconds down on Affini, is around 16 minutes from the finish.
Victor Campenaerts sets off. No visor on his time trial helmet, as per usual.
Alexander Cataford called it "a bit stormy out there" and said "it was technical because of the wind... pretty crosswind-y on the way back."
18:41 for Geraint Thomas at the 14.9km checkpoint. He smashed Affini's time by 25 seconds.
Meanwhile, more big names are setting off – Alex Dowsett (Great Britain) next, thne Rémi Cavagna (France), Wout van Aert (Belgium), Stefan Küng (Switzerland), Filippo Ganna (Italy) and Rohan Dennis (Australia) in ten minutes.
Still no changes in the standings at the finish.
Dowsett and Cavagna are off.
Bjerg is on the circuit now, closing in on the finish.
Bjerg crosses the line in third place, a strong effort from him as Wout van Aert sets off.
Küng and Dumoulin set off, too. Ganna and Dennis next up.
Here's a shot of Affini racing to the finish on the motor racing circuit in Imola earlier.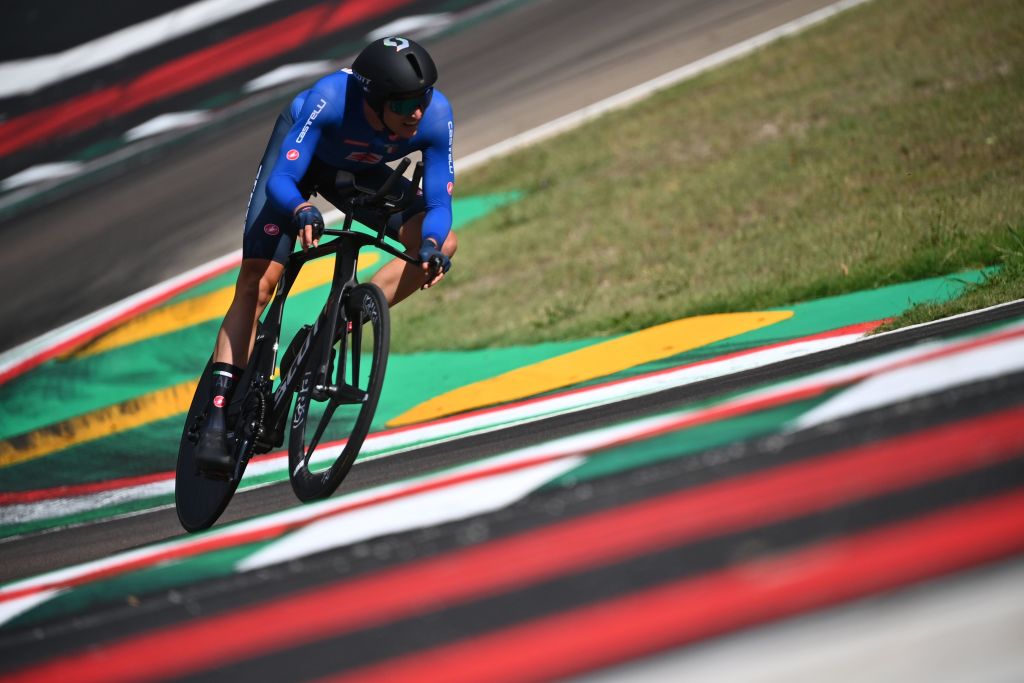 Affini's teammate Ganna had a snazzy paintjob on his helmet – the Italian tricolor across the front and a chequered flag up the top. A Stefano Barzaghi special, maybe.
All riders are out on course now.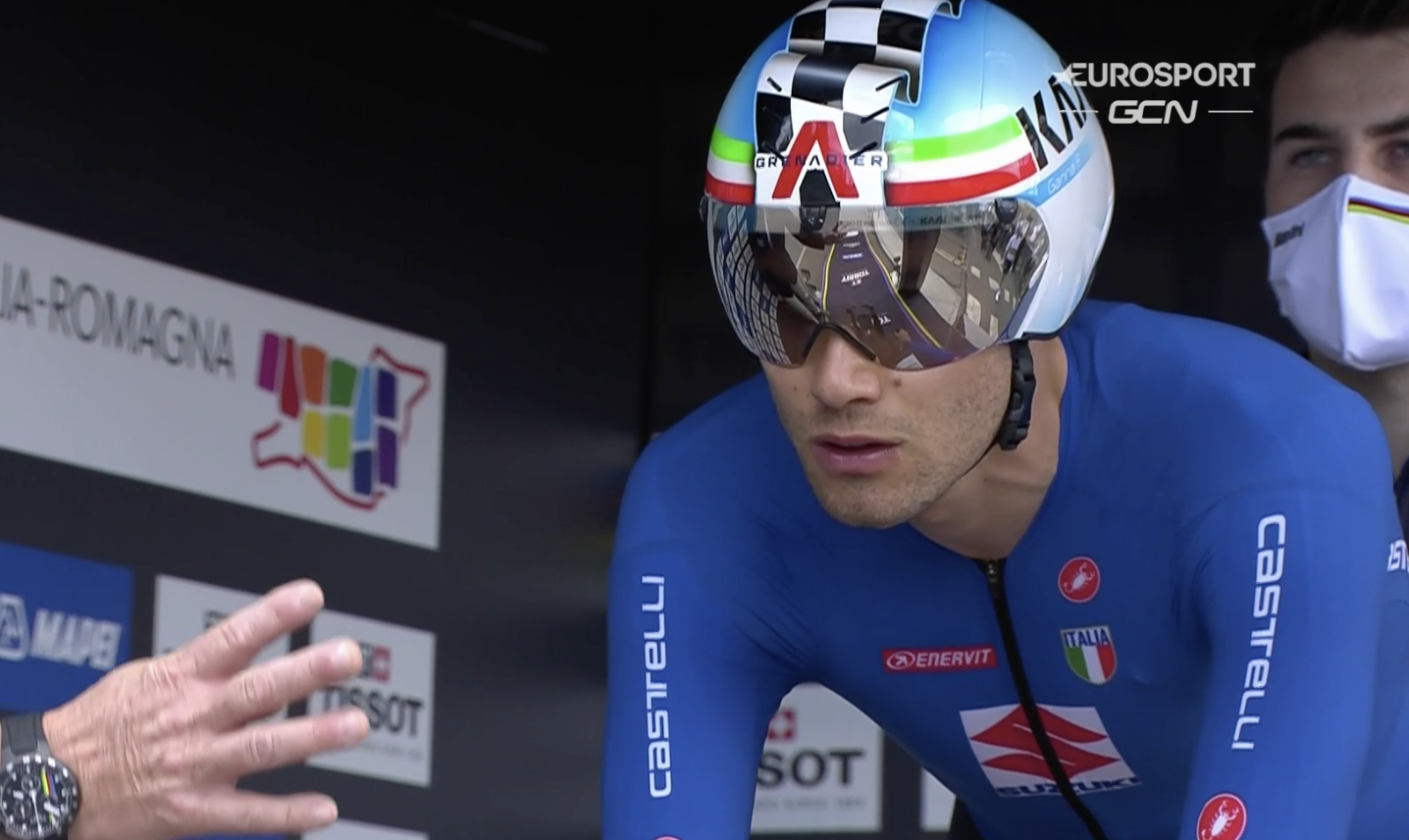 Campenaerts goes second-fastest at the checkpoint, 17 seconds down on Geraint Thomas.
Kasper Asgreen (Denmark) in third after 14.9km, 24 seconds down.
Benjamin Thomas said the wind made it a very hard day out – two or three times he almost fell because of it.
Wow, his namesake Geraint has smashed it today. He puts in a time of 36:31 to beat Affini by almost a minute.
Brändle and Mullen will be next to finish.
Bevin, Dowsett and Cavagna are closing in on the 14.9km checkpoint.
Dowsett is third at the checkpoint, 23 seconds down on Thomas.
Cavagna goes second but still a way off Thomas. 16 seconds down at the check.
Van Aert, Küng, Dumoulin, Ganna and Dennis left to pass through.
Van Aert passes through just ten seconds down on Thomas. A great ride by the Belgian over the opening 14.9km.
Dani Martínez goes sixth at the finish, while Küng is just six seconds down on Thomas at the checkpoint.
Andreas Leknessund (Norway) goes second at the finish. That's some ride from Uno-X rider.
Dumoulin passes through the check 10 seconds down on Thomas. That's three men within 10 seconds of him so far.
Oh, wow. Filippo Ganna is flying! He just beat Thomas' time at the check by 36 seconds! 18:05 after 14.9km...
Will Dennis best his teammates at the checkpoint?
Dennis slots in at second place at the checkpoint. He's 20 seconds down on Ganna, who averaged 49.4kph over that uphill early section, into a headwind.
Ludvigsson, Pello Bilbao and Victor Campenaerts will be the next men to finish.
Second place at the finish for Campenaerts, 15 seconds down on Thomas.
Kasper Asgreen slotted in second at the finish, 10 seconds down on Thomas. He was the fastest man over the second half at 57.3kph.
So 49kph is the quickest in the first half, 57kph in the second. The difference is very stark.
Dowsett, Bevin, Craddock are next to the finish.
Bevin passed Craddock out on course and he slots in at fifth at the finish.
Dowsett finishes in fourth, in a time of 37 minutes flat. Cavagna goes quicker to take third.
36:20.82 for Van Aert at the finish. That's the first time to beat Thomas!
Tom Dumoulin almost loses it on a corner heading onto the circuit. He looks OK though.
Stefan Küng just misses out on Van Aert's time, three seconds down on Van Aert.
Dumoulin, Ganna and Dennis left now. Who will take the rainbow jersey?
Dumoulin only eighth at the finish, 1:48 down.
Ganna beats Van Aert by 26 seconds! Only Dennis can stop him now.
A 53kph average from Ganna. Brilliant stuff.
He's not going to make it. He's just passing Ganna's time now as the barriers start.
Fifth place for Dennis at the finish with a time of 36:33.
Filippo Ganna is the new world time trial champion! An Italian takes the win in Italy.
Ganna, Van Aert and Küng on the podium.
That's Italy's first-ever time trial gold medal.
Here's what Ganna had to say after the finish.
"It's a dream for me and I'm really happy. I give my personal thank you for the whole team of Italy and also for Ineos Grenadiers.
"It's like a dream. I don't have the words. I've won four rainbow jerseys on the track; this is my first in the time trial. I will celebrate with my family."
Check out the full results and a photo gallery here.
Look at what it means to @GannaFilippo 🇮🇹 2020 UCI ITT World Champion! 🌈 #Imola2020 pic.twitter.com/q7mgcKxqZ8September 25, 2020
Here's today's final podium in Imola.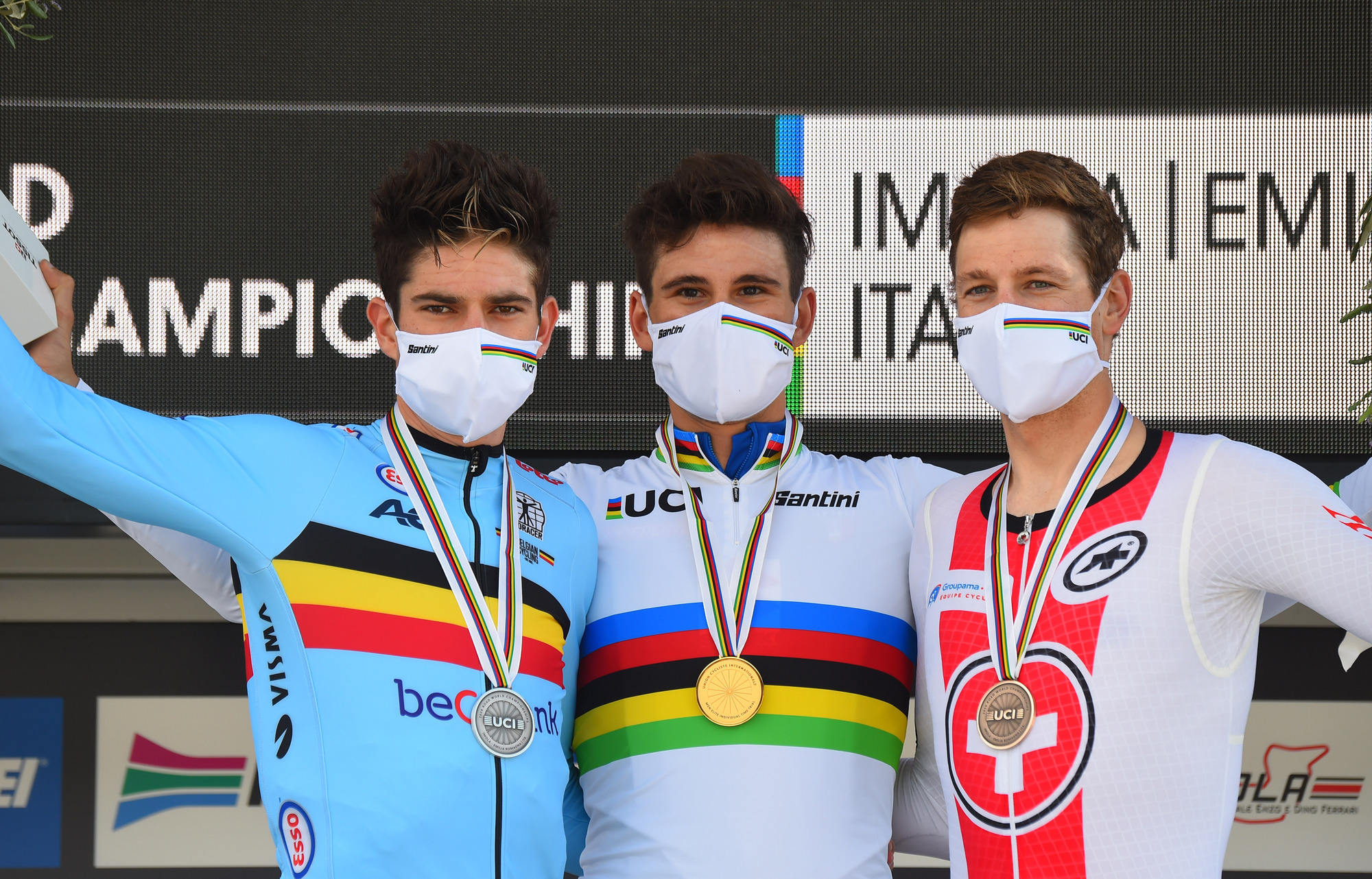 Thank you for reading 5 articles in the past 30 days*
Join now for unlimited access
Enjoy your first month for just £1 / $1 / €1
*Read any 5 articles for free in each 30-day period, this automatically resets
After your trial you will be billed £4.99 $7.99 €5.99 per month, cancel anytime. Or sign up for one year for just £49 $79 €59

Join now for unlimited access
Try your first month for just £1 / $1 / €1