Tour de France 2019: Stage 3
January 1 - July 28, Binche, France, Road - WorldTour
Refresh
The Tour leaves Belgium and heads into France for a puncheur's delight
Stage 2: Jumbo-Visma win team time trial in Brussels

Analysis: GC winners and losers after TTT

Greg LeMond: If he's really lost 5kg Valverde should win the Tour de France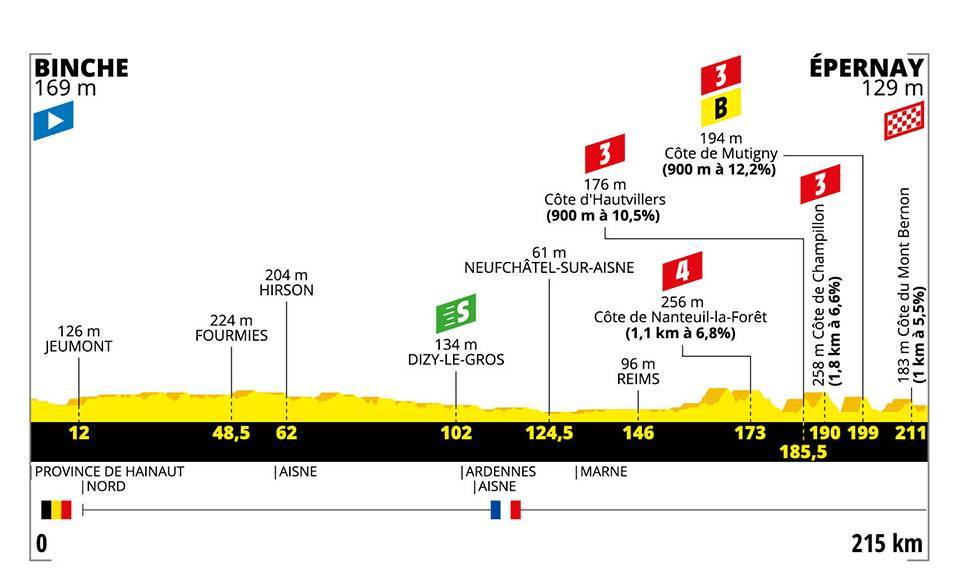 Good morning. Into France we go. The Brussels Grand Départ is over, and stage 3 takes us from Binche over the border and down to Epernay, in the heart of the Champagne region. It's pretty flat and straight forward until we reach Reims, beyond which we have a string of short-but-steep climbs, plus an uphill finish on double-digit gradients.
Basically, Julian Alaphilippe could barely have come out with a more favourable parcours if he'd held a gun to Thierry Gouvenou's head.
This is the scene in Binche. The riders are signing on and going through their pre-race rituals. The roll-out is coming up at 12.10 local time (just over 20 minutes), and the race proper will get underway around 12.20.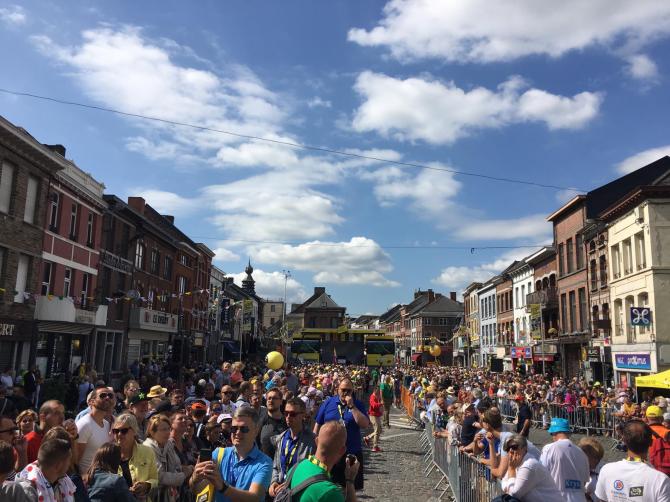 Here's what the riders are facing today
The first climb, the Nanteuil-la-Forêt (42km to go), is the easiest, but things ramp up with the Côte d'Hautvillers (30km to go), which averages 10% for almost a kilometre. That's immediately followed by the Côte de Champillon (25km to go), which is not as steep but still difficult. Then comes the brute, the Côte de Mutigny (16km to go), which averages 12%. If they haven't provided enough of a shake-up, there's the uncategorised Côte du Mont Bernon ahead of the final kick to the line in Epernay, which itself touches double digits.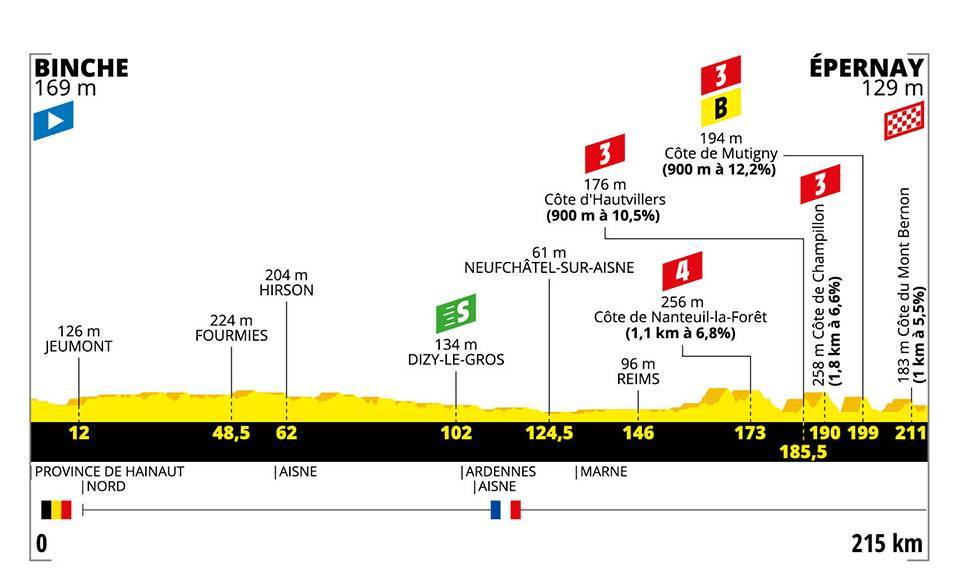 The climbs will make for a selective race, and the narrow, twisting nature of the country roads past Reims will only add to that. There was talk of wind being a potential factor but it seems it's an almost direct tailwind, and not too strong.
This Tour is all about Jumbo-Visma so far, and the crowds and media outside their bus today reflects that. Mike Teunissen is in the yellow jersey, winning the opening stage and then extending his lead thanks to Jumbo's convincing win in yesterday's team time trial. You can also see Wout Van Aert, who's now in the white jersey for best young rider. Both could in fact be in the mix today...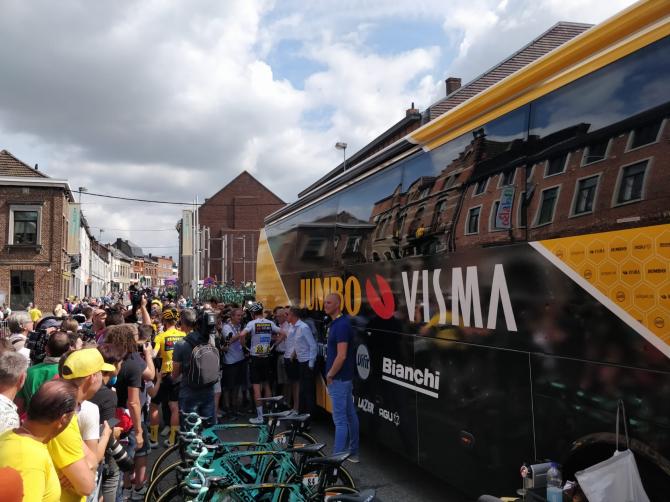 The riders are rolling and are currently making their way through the neutralised zone.
Here was the start line, with Alaphilippe in blue there ushered forward to join the maillots distinctifs.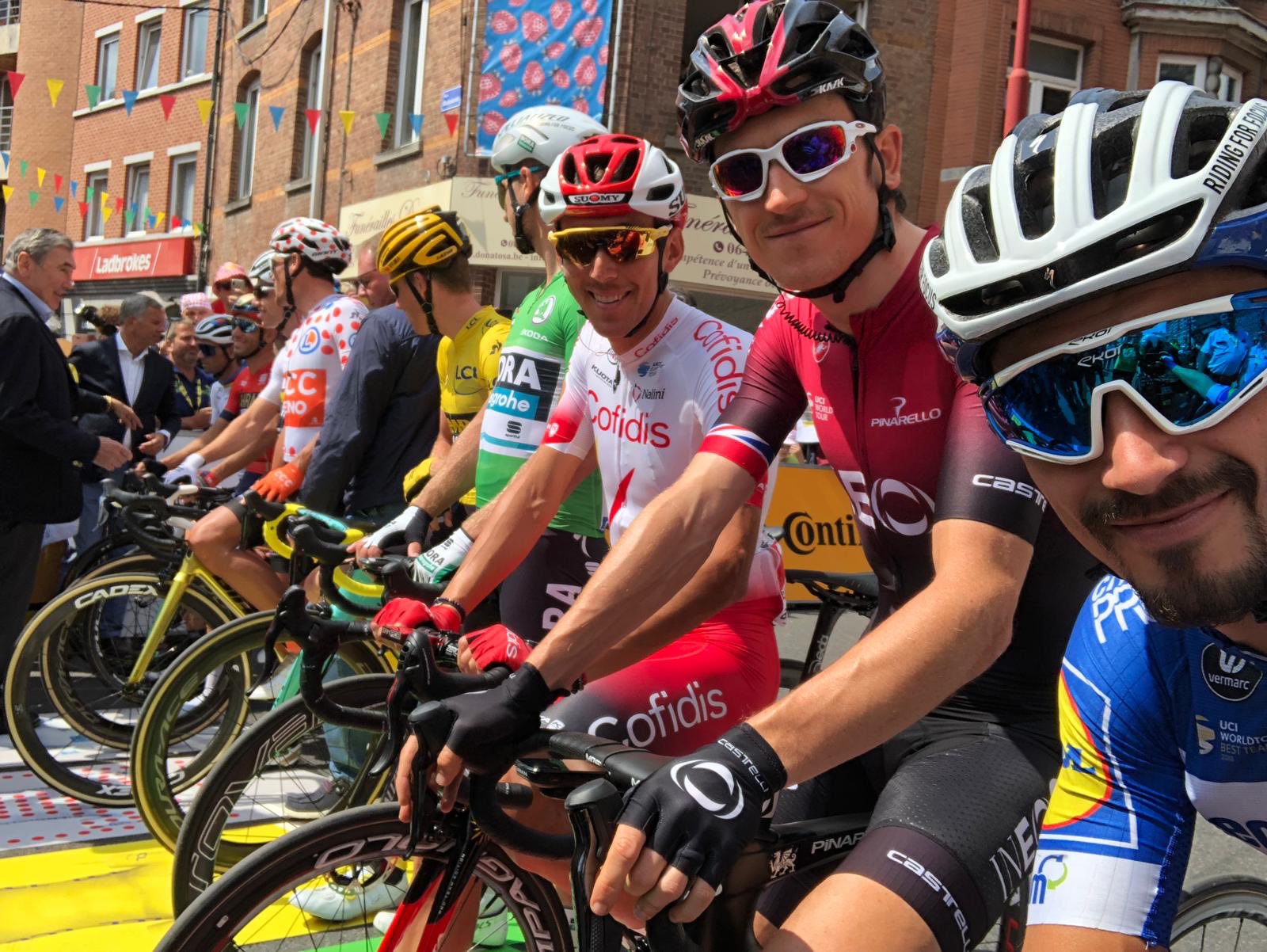 Peter Sagan, already in green, is another of the big favourites today.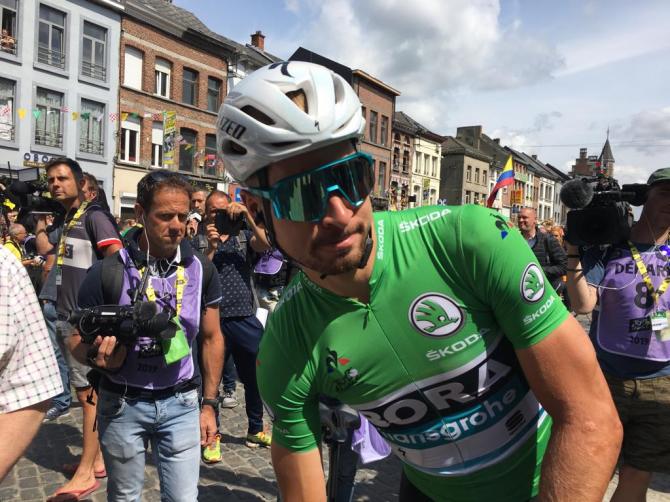 We're off!
The race is waved underway and the fight for the breakaway is go.
You know it's a good day for a break when you see Thomas De Gendt (Lotto Soudal) at the front. It's fluid, though, and small groups are coming and going.
De Gendt comes through to push on again. Jumbo-Visma have sent Tony Martin up to police things, and the German is sitting on the Belgian's wheel with the rest of the bunch strung out behind.
De Gendt eases up and it bunches up again. Martin sticks to the wheel even as they move back down the peloton. Maybe this is a man-marking job. Total Direct Energie look keen and kick off the next wave.
And this one looks like it it's going clear. There are five riders, including Tim Wellens...
Here's our breakaway
Tim Wellens (Lotto Soudal)
Stephane Rossetto (Cofidis)
Yoann Offredo (Wanty-Gobert)
Anthony Delaplace (Arkea-Samsic)
Paul Ourselin (Total Direct Energie)
205km remaining from 215km
The peloton is happy with the composition of this break. The gap moves out to one minute and the riders in the bunch are stopping for toilet breaks.
So, the four wildcard teams are present and correct. Plus an interesting one in Wellens, a top-level rider who is well suited to punchy terrain. His presence will keep the other teams in the peloton well on their toes.
200km remaining from 215km
15km on the clock, and the gap stands at 2:18 as Jumbo-Visma send Tony Martin to the front of the bunch to set the pace.
The five escapees aren't being allowed much leeway at all. The gap is still below 2:30, with Astana and then Ineos amassing behind Tony Martin.
The gap to the break nudges out to 3:05. Still Tony Martin, mouth now open in that characteristic manner, leads the peloton ahead of Astana and Ineos.
Here's what Peter Sagan had to say this morning
"My plan is to finish the stage, as best as we can. It's going to be hard, for sure, because it's a very tricky finale and also the last 500 metres are pretty hard. We'll see who's going to be at the front.
"I have only seen the finish on paper. I don't know if that's the best way, but we'll see. We'll have to make some improvisation."
We also grabbed a word with 2018 Tour de France champion Geraint Thomas this morning.
"It's going to be a challenge, for sure," says the Ineos rider of today's stage. "There are lots of climbs and a tough finish. A lot could happen. It'll try to be up front and stay out of trouble."
167km remaining from 215km
The five breakaway riders have found some more ground. Their lead stands at 4:25.
Stéphane Rossetto is wearing a red dossard (race number). That's because he was deemed the 'most combative' rider on the previous road stage, having been away solo in the second half of the opening stage. He can keep that dossard today - it typically goes to the last rider standing from the day's break.
157km remaining from 215km
The gap reaches the five-minute mark, with almost 60km on the clock.
The kilometres are passing quickly, thanks to that tailwind. The average speed so far is almost 47km/h, putting us well up on the fastest predicted time schedule.
Speaking ahead of the stage, Wellens said his team would be working "100 per cent" for Caleb Ewan, who he predicted would be able to cope with the climbs and even go for victory on the steep finish. Wellens' presence in the break does give their rivals something to worry about but means he might not be able to play a big role in the finale.
"It's a nice area – I love to drink Champagne – and it's a good finish for me."
That's Greg Van Avermaet (CCC Team), who went out and grabbed the polka-dot jersey on the opening day and is eyeing an even bigger prize today. Here's the full story.
143km remaining from 215km
It's still just Tony Martin on the front of the peloton - no one else has done a single turn. As such, the gap to the break continues to grow slowly but surely, and now stands at 5:40.
Race leader Teunissen drops back to his team car for an adjustment to his saddle. It looks like his mechanic has just whipped his live data tracker off with a pair of pliers.
133km remaining from 215km
A change at the front of the peloton and, finally, Tony Martin receives some assistance. The gap had yawned out to 6:15 and Alaphilippe's Deceuninck-QuickStep decide they need to start contributing. Kasper Asgreen has been posted up there.
129km remaining from 215km
Asgreen's presence has seen the pace increase and the gap is back down to 5:20.
The pace has been upped in the peloton as there's a slight breeze and teams don't want to be caught out.
Richeze has been down on the ground and he's sporting blood on one of his knees. He's near the front of the peloton, so the damage looks minimal.
113km remaining from 215km
That injection of pace has cut the gap to 4'09 with 113km to go.
Ourselin takes the bonus sprint. He's making his Tour de France debut and is probably the least established rider in the break.
Simon Yates, who lost time yesterday, rides at the back of the bunch as the peloton wind things up for the intermediate sprint.
Viviani and then Sagan, Colbrelli and Matthews.
Meanwhile, Astana's Jakob Fuglsang has dropped back to the medical car for some advice and assistance. He fell on stage 1 and needed stitches for a cut he sustained.
Here's the breakdown of the points at the intermediate sprint
1. Paul Ourselin, 20 points
2. Yoann Offredo, 17
3. Stéphane Rossetto, 15
4. Anthony Delaplace, 13
5. Tim Wellens, 11
6. Elia Viviani, 10
7. Peter Sagan, 9
8. Sonny Colbrelli, 8
9. Michael Matthews, 7
10. Andrea Pasqualon, 6
11. Michael Morkov, 5
12. Daniel Oss, 4
13. Giacomo Nizzolo, 3
14. Tony Martin, 2
15. Kasper Asgreen, 1
Into your tech? Well, Josh Evans has a bumper round-up of all the gear in use in yesterday's TTT.
Tour de France mega tech gallery: 99 images from stage 2 team time trial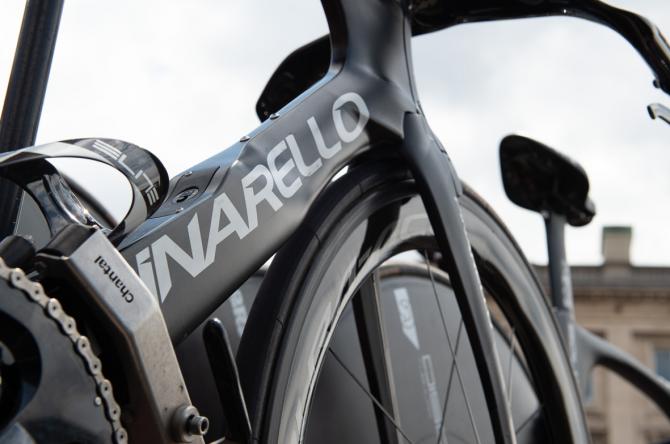 93km remaining from 215km
The gap to the five leaders has been brought back down to the three-minute mark.
Here's Michael Woods (EF Education First), who is very much at home on steep climbs.
"I think it's going to be a risky one, so I'll have to weigh the risk vs. reward, whether it's worth going after a stage now or staying safe for later on - especially with guys like Wout Van Aert, [Peter] Sagan and [Julian] Alaphilippe in there. It's also a good stage for my teammate Alberto Bettiol, winner of the Tour of Flanders. Hopefully I'll be helping him for a win."
Asgreen leads the peloton with almost the whole Jumbo team behind him, and almost his whole QuickStep team behind them. The gap continues to fall - 2:20 now as we head towards the key portion of today's stage.
We grabbed a word with Elia Viviani this morning (proof is in the photo). He confirms he's in talks with Cofidis for next year, but says he could still stay at QuickStep. Either way, he feels he 'deserves' a 'big contract'. Stephen Farrand and Barry Ryan have the story in the link below.
Viviani: The Tour de France will decide my future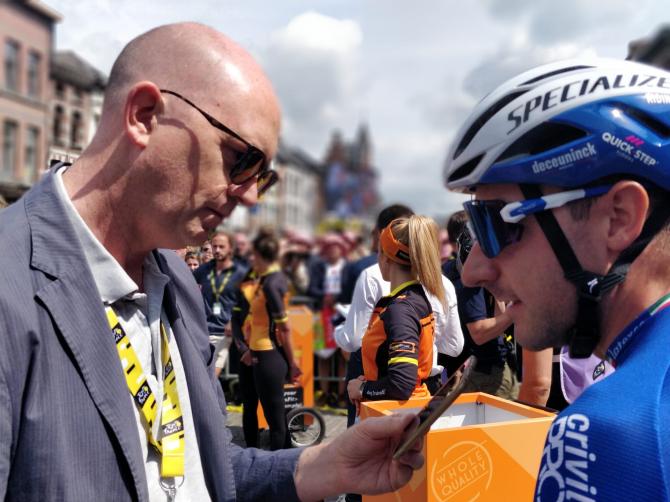 Teunissen is back in the cars after a mechanical issue. He makes his way back up without the need for teammates. Dan Martin was in a similar situation but they're both back in comfortably.
Here's Wellens on the front of the break.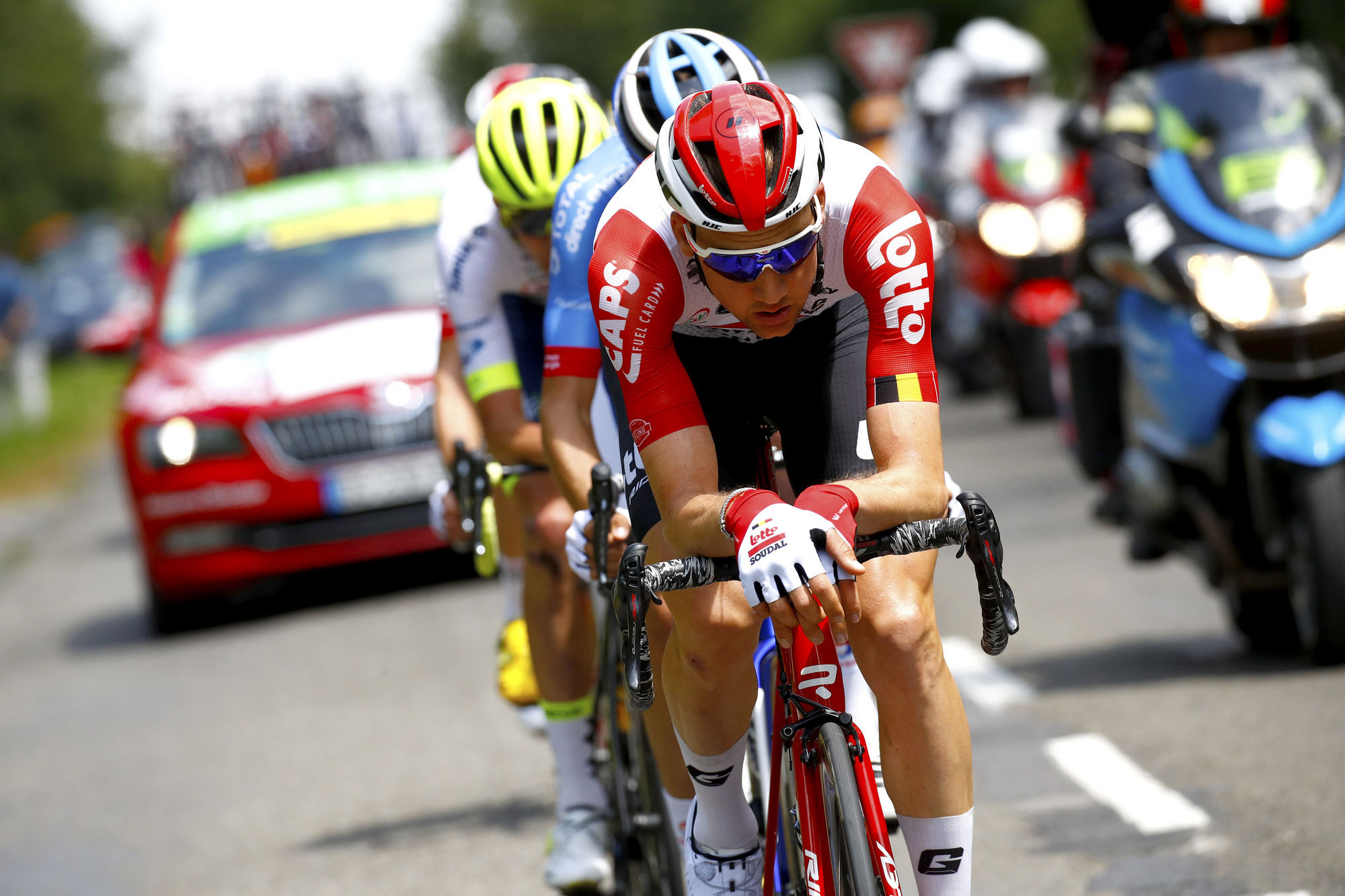 63km remaining from 215km
64km to go and the five breakaway riders continue to see their advantage chiselled away. It's down to 1:45 now.
We're nearing the business end of the stage now. The first climb comes with 43km to go.
Small crash in the bunch as the road narrows into a left-hand bend. It's towards the back of the peloton and only a couple of riders go down. The CCC duo of Paddy Bevin and Simon Geschke were involved, along with Ben King (Dimension Data). They're all back up and running.
Michael Matthews (Sunweb) was caught up in that crash, it seems. He's being paced back by Nicolas Roche.
Matthews, along with Bevin, gets back on, just as a couple of riders crash on the right-hand side. It's a soft landing into the grass verge.
Jumbo-Visma have taken this Tour by storm - could they make it three-from-three? In Mike Teunissen and Wout Van Aert, they have two options today. Here's Van Aert...
"Of course we want to have the yellow jersey tonight, and I think we are strong enough to keep it. It's also a finish that suits Mike and we have two cards to play. The best we can do is make a good plan to go for the stage victory and the rest will follow. I would like to but I think Mike is strong as well and most important is that we're not third or fourth or something. We need a clear plan who is going for the sprint and during the race we will see how we feel."
52km remaining from 215km
Trouble now for Thibaut Pinot, who had a great day yesterday with FDJ in the TTT. He has had a puncture and is being helped back to the bunch by a combination of William Bonnet and the FDJ car.
5km away from the first of the four climbs, the Belgian - the highest-calibre rider in this break - takes flight, and he's quickly and cleanly away.
Wellens could ride himself into the polka-dot jersey here. He could even snatch the stage victory, but that looks a really tall order with the gap to the peloton at 2:15.
Mechanical for Romain Bardet, who has three AG2R teammates to help him back to the bunch. Puncture, too, for Ilnur Zakarin (Katusha-Alpecin).
44km remaining from 215km
Bardet makes it back to the peloton.
Wellens is moving. The gap to the peloton has moved out to 2:35. It was 1:40 not so long ago.
Zakarin makes it back now, too.
Wellens already has 45 seconds on his former breakaway companions as he hits the first climb - Côte de Nanteuil-la-Forêt (1.1km at 6.8%)
42km remaining from 215km
Wellens springs out of the saddle as the road ramps uphill, and helps himself to the single mountains classification point at the summit.
Rossetto, Offredo, Delaplace, and Ourselin crest the climb one minute in arrears now.
The peloton hits the climb now and the battle for position intensifies. UAE and Lotto Soudal both prominent.
Wellens takes on a fast descent now and gets into full aero tuck on a long straight section.
33km remaining from 215km
Wellens is looking impressive here and maintains his buffer of 2:30 over the peloton.
Wellens is a couple of kilometres away from the foot of the Côte d'Hautvillers (900m at 10.5%). A short descent will then lead him straight into the Côte de Champillon.
Amund Grondahl Jansen hits the front for Jumbo-Visma and raises the pace. It's strung out at the back of the bunch, with plenty fighting to hang in.
Wellens' four former breakaway companions are about to be caught by the peloton.
Wellens hits the Côte d'Hautvillers. He remains in the saddle for now but the head is bobbing all over the place.
Ourselin, Delaplace, Rossetto, and Offredo tip a nod to each other and call it a day, settling back into the bunch.
QuickStep take it up on the Côte d'Hautvillers!
The fierce injection of pace has seen the gap to Wellens come down to 1:40.
29km remaining from 215km
Wellens reaches the summit and helps himself to another two KOM points for the third-category ascent.
Alaphilippe sits second wheel as QuickStep turn it up on the steep gradients.
Omar Fraile (Astana) accelerates.
Nairo Quintana is up at the front, and it looks like he comes through to pip Fraile for the remaining KOM point. Odd.
27km remaining from 215km
Wellens said Lotto were working "100 per cent" for Ewan, but that was a pretty clear bluff. The Belgian folds his arms over the bars on the downhill section, trying to stem the tide as the peloton advance behind at 1:25.
Wellens hits the third climb
Côte de Champillon
Category 3
1.8km
6.6%
Bora take it up in the bunch now as they approach the climb.
Wellens reaches the summit but he's losing time, all the time. 1:14 now.
Teunissen is towards the very rear of the peloton, which has already been reduced.
Bora lead the bunch up but Fraile accelerates through again.
The peloton is well stretched out as they reach the top, 1:09 behind Wellens. Teunissen has managed to hang on.
Astana take it up as the road tilts downhill once again. Ineos are getting organised near the front, too.
Wellens hits 70km/h as he flies down this smooth descent. He has around 7km to the foot of the final categorised climb.
The next climb is the Côte de Mutigny, which averages 12% over 900 metres. It's worth pointing out that this is the first hilltop sprint bonus - a new initiative for this year's Tour in which bonus seconds for GC are positioned at the top of certain climbs. There are bonuses of 8 seconds, 5 seconds, 2 seconds for the first three. Just Wellens out front, so we could see the overall contenders trying to nip through to grab the remaining seconds...
19km remaining from 215km
Wellens has used the descent to stem the tide, and he still leads by 1:07.
Astana continue their charge at the head of affairs.
Bora come through again now with Marcus Burghardt. Max Schachmann is up there behind him. Peter Sagan still in the mix.
Wellens hits the Côte de Mutigny. He leads by 56 seconds as he springs out of the saddle, the gradients immediately biting.
QuickStep take over now as the peloton negotiate the narrow roads on the approach.
Dries Devenyns really turns it up for QuickStep. Big increase in pace.
Alaphilippe looks comfortable a couple of places back. Fraile accelerates once again!
Fraile eases up, leaving Alaphilippe on the front now that Devenyns is done. That causes a brief lull but Lutsenko is taking it up again now.
Alaphilippe shadows Lutsenko.
Zakarin in trouble with Simon Yates.
16km remaining from 215km
That surge in pace is doing for Wellens, who can now see the bunch as he looks over his shoulder.
Huge attack from the Frenchman, who was everyone's favourite for today's stage. He soars past Wellens just beyond the summit.
Wellens takes maximum points and the KOM jersey but his day his done. He has a mechanical and climbs off his bike.
Alaphilippe is away. 15km to go alone...
Jumbo-Visma take it up in what is now a heavily reduced bunch. Teunissen is slipping out of yellow but Wout Van Aert is still there and is set to inherit it. Alaphilippe would need to put 31 seconds into him.
Alaphilippe hits 80km/h as he flies downhill. The country roads are narrow and twisting and this will only aid his cause and disrupt a bunch chase.
11km remaining from 215km
Behind Alaphilippe a chase group has emerged, and it's a belter.
Mikel Landa (Movistar)
Alexey Lutsenko (Astana)
Max Schachmann (Bora)
Michael Woods (EF Education First)
Alaphilippe grits his teeth, giving it everything. The finishing kick suits him down to the ground but he has made the bold decision to go long, and go it alone.
10km remaining from 215km
Alaphilippe heads under the 10km-to-go banner. He leads by around 25 seconds.
That move with Landa, Schachmann, Woods, and Lutsenko comes to nothing. They're caught by the reduced bunch.
Teunissen is well dropped, 1:20 behind the lone leader.
Race radio says 50 seconds between Alaphilippe and the bunch. If correct, it's well in his hands.
Jumbo-Visma are on the back foot and lead the chase. Sunweb also have a man near the front for Matthews.
8km remaining from 215km
8km to go and Alaphilippe has 50 seconds. His mouth is agape, his tongue wagging, but it's all paying off.
Ineos hit the front in the bunch behind.
Alaphilippe is heading for the stage win and heading into the yellow jersey. If he wins the stage, he'll get 10 bonus seconds, to add to the five he picked up over the top of the last climb, meaning he'd only need to finish 6 seconds clear of the bunch.
Alaphilippe sees 10 seconds cut from his lead. 40 seconds now as CCC contribute to the chase.
Alaphilippe springs out of the saddle. 5.5km to go and here's what the final 5km look like.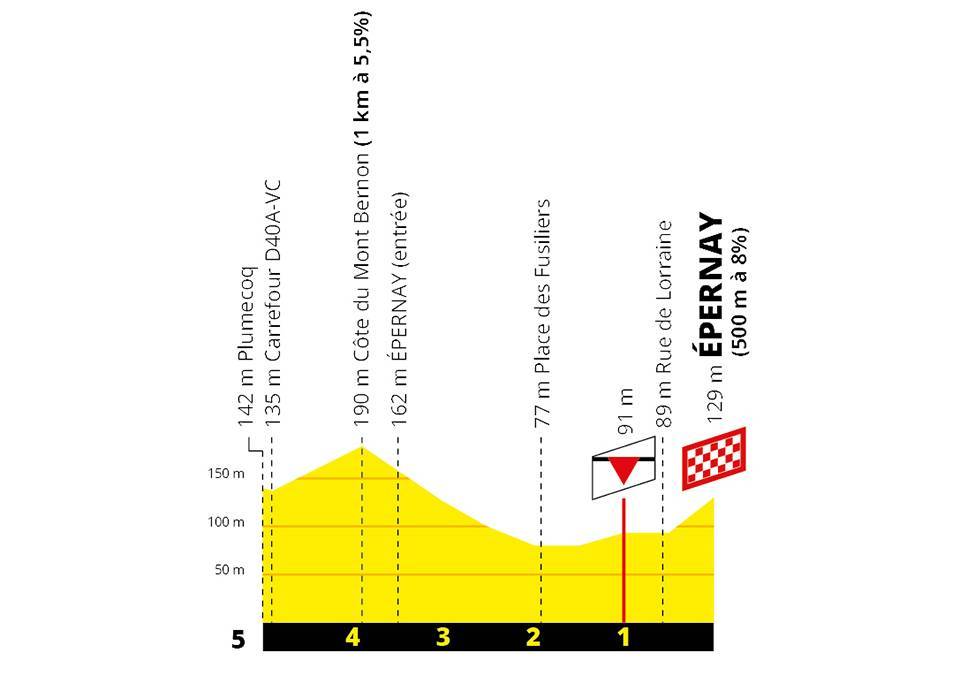 Alaphilippe is on the Côte du Mont Bernon. It's not a categorised climb but is still significant. This is make or break for him.
Ineos are chasing hard here and the gap falls to 35 seconds...
EF now come through. They're hungry to bring Alaphilippe back.
EF now come through. They're hungry to bring Alaphilippe back.
Alaphilippe looks to be fading but as I write that he springs out of the saddle, swaying from side to side, producing a big acceleration.
3km remaining from 215km
That takes him over the top of the climb. Downhill section now, where he should stem the tide.
Alaphilippe gets into full aero tuck and doesn't even come up to steer. He's back in the saddle as he comes into town but he's going all-in, taking all the risky lines.
This is where it plays into his favour. The peloton will go no faster than him down here.
2km remaining from 215km
Final 2km!
Alaphilippe has taken his lead back out to 35 seconds
The Frenchman hits the cobbles and the road tilts uphill again towards the flamme rouge.
1km remaining from 215km
Under the red kit and out of the saddle, and still he has 35 seconds. This is pretty much in the bag now.
The final 350 metres, remember, are wickedly steep.
Alaphilippe comes into the barriers and the crowds of fans. Here we go. Into the final 400m.
He takes the final left-hander and springs out of the saddle once more. The gradients bite hard at 10%
He does not falter and is getting ready to celebrate here...
He punches the air harder than it's ever been punched before.
Julian Alaphilippe (Deceuninck-QuickStep) wins stage 3 of the Tour de France
Here comes the bunch. Van Avermaet leads them up the final ramp, but it's Matthews who comes through at the last to take second place, ahead of Jasper Stuyven.
The bunch finished 25 seconds back, meaning Alaphilippe is in yellow.
Two stage wins and the polka-dots last year, an unbelievable string of success in 2019... the Julian Alaphilippe fairytale continues.
Van Avermaet held on for fourth, with Sagan fifth.
Top 10
1 Julian Alaphilippe (Fra) Deceuninck-QuickStep 4:40:29
2 Michael Matthews (Aus) Team Sunweb 4:40:55
3 Jasper Stuyven (Bel) Trek-Segafredo 4:40:55
4 Greg Van Avermaet (Bel) CCC Team 4:40:55
5 Peter Sagan (Svk) Bora-Hansgrohe 4:40:55
6 Matteo Trentin (Ita) Mitchelton-Scott 4:40:55
7 Sonny Colbrelli (Ita) Bahrain-Merida 4:40:55
8 Xandro Meurisse (Bel) Wanty-Gobert 4:40:55
9 Wout Van Aert (Bel) Team Jumbo-Visma 4:40:55
10 Thibaut Pinot (Fra) Groupama-FDJ 4:40:55
Teunissen trudges across the line, almost five minutes back.
Zakarin, by the way, never regained contact and finished 3:52 down. That seems to be his GC bid over already.
"Third is good result. It means that I'm good. Then again, nobody will talk about it in a few days," says Stuyven.
"Alaphilippe was clearly the strongest, staying ahead despite the wind. I didn't see him go. I was behind on that climb."
General Classification after stage 3
1 Julian Alaphilippe (Fra) Deceuninck-QuickStep 9:32:19
2 Wout Van Aert (Bel) Team Jumbo-Visma 9:32:39
3 Steven Kruijswijk (Ned) Team Jumbo-Visma 9:32:44
4 George Bennett (NZl) Team Jumbo-Visma 9:32:44
5 Michael Matthews (Aus) Team Sunweb 9:32:59
6 Egan Bernal (Col) Team Ineos 9:32:59
7 Geraint Thomas (GBr) Team Ineos 9:33:04
8 Enric Mas (Spa) Deceuninck-QuickStep 9:33:05
9 Greg Van Avermaet (Bel) CCC Team 9:33:10
10 Wilco Kelderman (Ned) Team Sunweb 9:33:10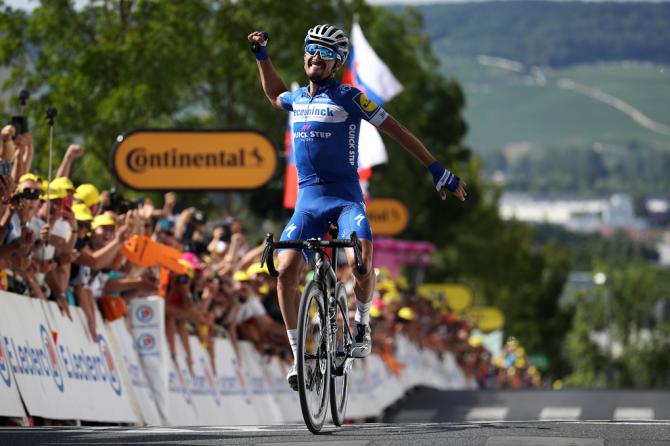 The winner speaks
"I'm speechless. I don't realize what's happening to me. I knew this stage suited me. I managed to avoid any pitfalls and crashes. I felt good so I accelerated in the Mutigny climb but I didn't think I'd go alone. I gave everything. I heard I was 30 or 40' seconds ahead. It's difficult to meet the expectations of being the favourite but I made it. I'm delighted."
Kasper Asgreen crashed heavily towards the end. He finished the stage but we'll see how banged up he is. He's been remarkable this season and is an important workhorse for QuickStep.
Here's a quick word from Deceuninck-QuickStep boss Patrick Lefevere
"Luckily there are still guys like Julian. He rides with his heart and is unpredictable. He's the best in the world at this. I hope we can recover Asgreen. He's the engine of our team."
Full results are in, and it's confirmed that there was a time gap given for that small split in the bunch at the line. That means Pinot, Benoot and Bernal, who were on the right side of it, have gained five seconds on Thomas and the rest of the GC contenders.
Full results can be found here
We've grabbed a shot of Asgreen's bike. Wow...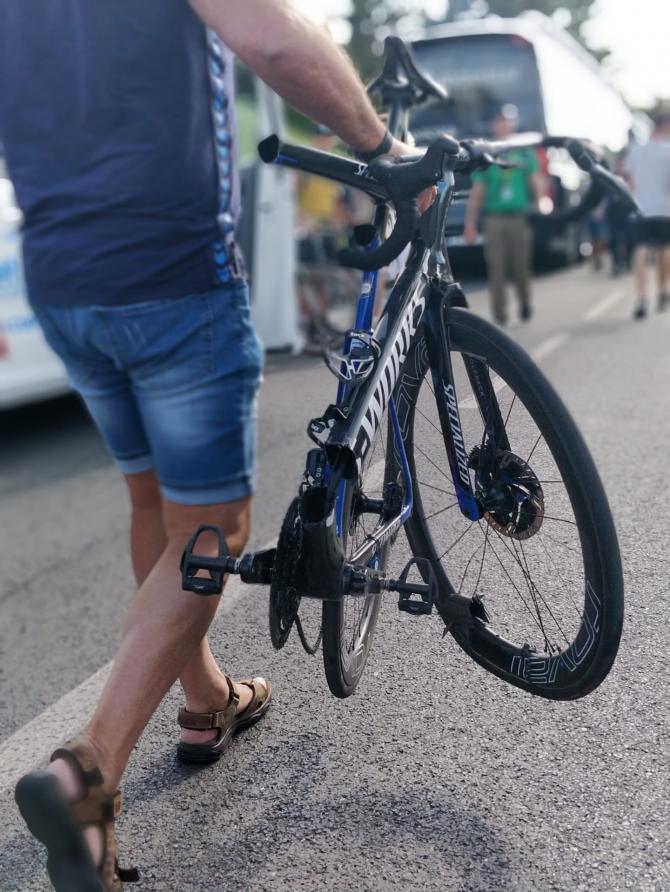 We can hear from Thomas now
"I only just heard there was about 40 or 50 guys just there, which was surprising. Obviously that climb where Alaphilippe went was steep and it was hard but I just knew I didn't have the legs to go for the bonus sprint, or at least if I had tried, it would've been 100 per cent maximum effort and I wasn't keen for that. When you see the guys that were going with Alaphilippe it was a hard one. Then it was just a case of getting to the finish and being safe. I think today was a punchy day and one where I'd normally struggle the most and with limited racing coming in here but I was ok."
Julian Alaphilippe pulls on the famous maillot jaune, the first Frenchman to do so since Tony Gallopin in 2014.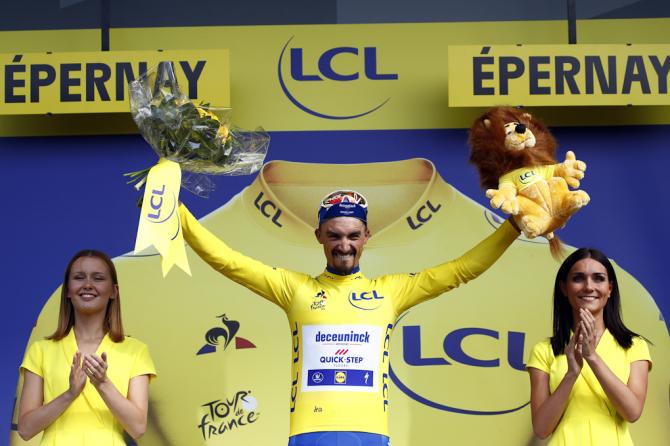 Wellens ended up finishing nearly 10 minutes down on Alaphilippe, but has the polka-dots as a consolation prize.
Mountains classification
1 Tim Wellens (Bel) Lotto Soudal 7 pts
2 Xandro Meurisse (Bel) Wanty-Gobert 3
3 Greg Van Avermaet (Bel) CCC Team 2
4 Julian Alaphilippe (Fra) Deceuninck-QuickStep 1
5 Nairo Quintana (Col) Movistar Team 1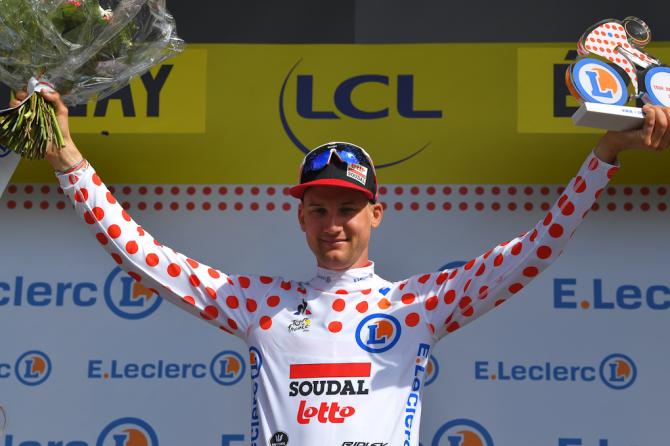 Sagan keeps the green jersey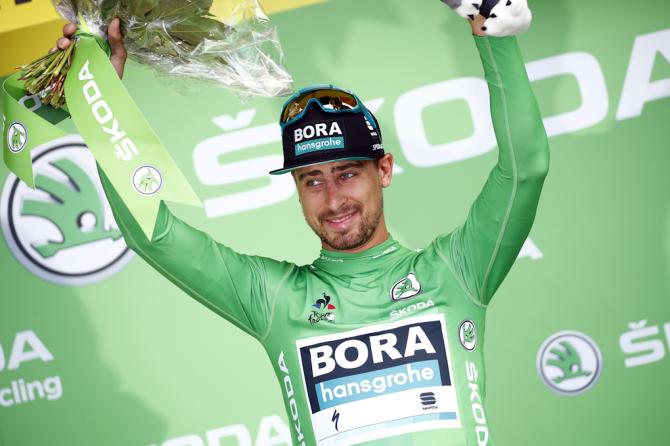 And Van Aert keeps the white jersey, reportedly telling Alaphilippe he was "too strong today"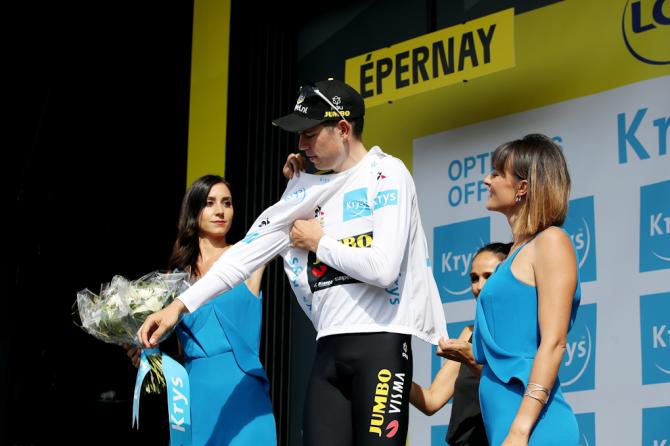 Want to see Julian Alaphilippe finishing it off? We have a video of the final kilometre in our report page.

Thank you for reading 5 articles in the past 30 days*
Join now for unlimited access
Enjoy your first month for just £1 / $1 / €1
*Read any 5 articles for free in each 30-day period, this automatically resets
After your trial you will be billed £4.99 $7.99 €5.99 per month, cancel anytime. Or sign up for one year for just £49 $79 €59

Join now for unlimited access
Try your first month for just £1 / $1 / €1
Get The Leadout Newsletter
The latest race content, interviews, features, reviews and expert buying guides, direct to your inbox!
Thank you for signing up to The Pick. You will receive a verification email shortly.
There was a problem. Please refresh the page and try again.