Guarnier wins Strade Bianche 2015
Armitstead second, Longo Borghini third
Image 1 of 25
Image 2 of 25
Image 3 of 25
Image 4 of 25
Image 5 of 25
Image 6 of 25
Image 7 of 25
Image 8 of 25
Image 9 of 25
Image 10 of 25
Image 11 of 25
Image 12 of 25
Image 13 of 25
Image 14 of 25
Image 15 of 25
Image 16 of 25
Image 17 of 25
Image 18 of 25
Image 19 of 25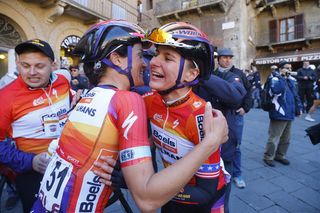 Image 20 of 25
Image 21 of 25
Image 22 of 25
Image 23 of 25
Image 24 of 25
Image 25 of 25
Megan Guarnier of Boels-Dolman won the first edition of the women's Strade Bianche, with a powerful solo attack, with teammate Lizzie Armitstead taking second ahead of Elisa Longo Borghini (Wiggle Honda).
The steep gravel roads and strong wind tore the field apart during the long second sector of dirt roads after 58km of the 103km race.
A lead group of 14 riders formed with most of the major teams represented. However a series of attacks by Ashleigh Moolman-Pasio (Bigla) reduced the group even further, with the twisting descents causing as much damage as the climbs and strong winds.
The group dwindled to five riders on the final sectors of dirt roads, with Guarnier, Armitstead, Longo Borghini, Moolman and Anna Van Der Breggen (Rabo Liv) going clear.
Armistead and Guarnier combined to attack their rivals. First Armitstead made a move on a steep section of the second to last sector of gravel. When she was pulled back, Guarnier went hard as the gradient eased. She created a gap and managed to open a lead of 40 seconds. The final kilometres dipped and rose in the suburbs of Siena but Guarnier had the strength to stay and even extended her lead.
She tackled the final climb up to the city centre calmly and was able to celebrate her solo victory in the spectacular Piazza il Campo in Siena.
Guarnier hugged Armitstead in celebration after their one-two result.
"I remember watching the men's race last year and said 'Wow, what an incredible race, I want to do that'. Then I thought about it more and decided that I wanted to win. It's not every day you can say that you say it and it happens. This was a big win for me," Guarnier told Cyclingnews after singing the USA national anthem on the podium.
"This was our first on the gravel of the Strade Bianche. It was technical but I loved it. You wouldn't want to get in the soft stuff, so you had to look way ahead to take the correct line. But it was a nice."
Guarnier explained how she and Armitstead combined to take first and second place.
"We had to be conservative because initially other teams were more strongly represented but as the race went on, the course selected out some of the others," she said.
"Lizzie went on the steep part but then it flattened out and so I kept powering through. I got gap and then kept holding,"
Lizzie went on the attack on the second to last gravel section and I countered and stayed away. Lizzie had her work cut out behind covering everything but we did it."
Full Results
| # | Rider Name (Country) Team | Result |
| --- | --- | --- |
| 1 | Megan Guarnier (USA) Boels Dolmans Cycling Team | 2:59:17 |
| 2 | Elizabeth Armitstead (GBr) Boels Dolmans Cycling Team | 0:00:37 |
| 3 | Elisa Longo Borghini (Ita) Wiggle Honda | |
| 4 | Ashleigh Moolman-Pasio (RSA) Bigla Pro Cycling Team | 0:00:39 |
| 5 | Anna Van Der Breggen (Ned) Rabo Liv Women Cycling Team | 0:00:46 |
| 6 | Katarzyna Niewiadoma (Pol) Rabo Liv Women Cycling Team | 0:00:52 |
| 7 | Alena Amialiusik (Blr) Velocio - SRAM | 0:00:54 |
| 8 | Anna Solovey (Ukr) Astana - Acca Due O | 0:01:04 |
| 9 | Annemiek Van Vleuten (Ned) Bigla Pro Cycling Team | 0:01:10 |
| 10 | Elena Cecchini (Ita) Lotto Soudal Ladies | 0:04:01 |
| 11 | Christine Majerus (Lux) Boels Dolmans Cycling Team | |
| 12 | Emma Johansson (Swe) Orica AIS | 0:04:03 |
| 13 | Rossella Ratto (Ita) Inpa Sottoli Giusfredi | |
| 14 | Audrey Cordon (Fra) Wiggle Honda | 0:04:07 |
| 15 | Shelley Olds (USA) Bigla Pro Cycling Team | |
| 16 | Carlee Taylor (Aus) Lotto Soudal Ladies | 0:04:08 |
| 17 | Shara Gillow (Aus) Rabo Liv Women Cycling Team | |
| 18 | Lucinda Brand (Ned) Rabo Liv Women Cycling Team | 0:04:15 |
| 19 | Loren Rowney (Aus) Velocio - SRAM | |
| 20 | Romy Kasper (Ger) Boels Dolmans Cycling Team | 0:04:19 |
| 21 | Trixi Worrack (Ger) Velocio - SRAM | |
| 22 | Tiffany Cromwell (Aus) Velocio - SRAM | |
| 23 | Eugenia Bujak (Pol) BTC City Ljubljana | |
| 24 | Rasa Leleivyte (Ltu) Aromitalia Vaiano | 0:04:36 |
| 25 | Jessie Daams (Bel) Lotto Soudal Ladies | 0:07:12 |
| 26 | Gracie Elvin (Aus) Orica AIS | 0:07:31 |
| 27 | Valentina Scandolara (Ita) Orica AIS | 0:08:09 |
| 28 | Elizabeth Williams (Aus) Orica AIS | |
| 29 | Mia Radotic (Cro) BTC City Ljubljana | 0:08:13 |
| 30 | Roxane Knetemann (Ned) Rabo Liv Women Cycling Team | 0:08:14 |
| 31 | Francesca Cauz (Ita) Ale Cipollini | |
| 32 | Anna Potokina (Rus) Servetto Footon | 0:08:16 |
| 33 | Mayuko Hagiwara (Jpn) Wiggle Honda | 0:08:21 |
| 34 | Anna Zita Maria Stricker (Ita) Inpa Sottoli Giusfredi | |
| 35 | Olena Pavlukhina (Aze) BTC City Ljubljana | |
| 36 | Chiara Pierobon (Ita) Top Girls Fassa Bortolo | 0:08:23 |
| 37 | Malgorzta Jasinska (Pol) Ale Cipollini | |
| 38 | Elena Berlato (Ita) Ale Cipollini | |
| 39 | Iris Slappendel (Ned) Bigla Pro Cycling Team | |
| 40 | Arianna Fidanza (Ita) Ale Cipollini | 0:08:27 |
| 41 | Maria Giulia Confalonieri (Ita) Ale Cipollini | |
| 42 | Spela Kern (Slo) BTC City Ljubljana | 0:08:29 |
| 43 | Marta Bastianelli (Ita) Aromitalia Vaiano | |
| 44 | Santesteban Gonzalez A (Spa) Inpa Sottoli Giusfredi | 0:08:38 |
| 45 | Chloe Hosking (Aus) Wiggle Honda | 0:08:41 |
| 46 | Marta Tagliaferro (Ita) Ale Cipollini | 0:08:52 |
| 47 | Giorgia Bronzini (Ita) Wiggle Honda | |
| 48 | Joelle Numainville (Can) Bigla Pro Cycling Team | 0:10:38 |
| 49 | Simona Bortolotti (Ita) Bepink Laclassica | 0:10:43 |
| 50 | Katrin Garfoot (Aus) Orica AIS | |
| 51 | Soraya Paladin (Ita) Top Girls Fassa Bortolo | |
| 52 | Amanda Spratt (Aus) Orica AIS | 0:10:45 |
| 53 | Milda Jankauskaite (Ltu) Astana - Acca Due O | 0:11:34 |
| 54 | Tatiana Antoshina (Rus) Servetto Footon | |
| 55 | Lieselot Decroix (Bel) Lotto Soudal Ladies | 0:11:37 |
| 56 | Ewelina Szybiak (Pol) Aromitalia Vaiano | 0:11:47 |
| 57 | Lija Laizane (Lat) Aromitalia Vaiano | 0:12:00 |
| 58 | Eva Lechner (Ita) BTC City Ljubljana | 0:15:07 |
| 59 | Allison Elizabet Linnell (USA) Aromitalia Vaiano | 0:15:11 |
| 60 | Michela Pavin (Ita) Servetto Footon | 0:15:54 |
| 61 | Ilaria Sanguineti (Ita) Bepink Laclassica | 0:18:02 |
| 62 | Anna Trevisi (Ita) Inpa Sottoli Giusfredi | |
| 63 | Alice Maria Arzuffi (Ita) Inpa Sottoli Giusfredi | |
| 64 | Irene Bitto (Ita) Top Girls Fassa Bortolo | |
| 65 | Sarah Rijkes (Aut) Lotto Soudal Ladies | |
| 66 | Mara Abbott (USA) Wiggle Honda | |
| 67 | Barbara Guarischi (Ita) Velocio - SRAM | |
| 68 | Lisa Brennauer (Ger) Velocio - SRAM | |
| 69 | Elena Franchi (Ita) Servetto Footon | 0:19:47 |
| 70 | Eyerusalem Kelil (Eth) Michela Fanini Rox Record | 0:21:56 |
| 71 | Asja Paladin (Ita) Top Girls Fassa Bortolo | 0:23:09 |
| 72 | Nina Gulino (Ita) Michela Fanini Rox Record | 0:24:27 |
| 73 | Azzurra D'Intino (Ita) Michela Fanini Rox Record | |
Cyclingnews Newsletter
Sign up to the Cyclingnews Newsletter. You can unsubscribe at any time. For more information about how to do this, and how we hold your data, please see our privacy policy