Jakobsen wins GP Monseré
By Cyclingnews
Dutchman finishes off Deceuninck-QuickStep lead out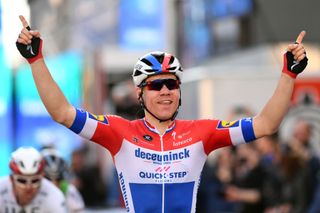 (Image credit: Getty Images Sport)
In the absence of Tirreno-Adriatico, Fabio Jakobsen (Deceuninck-QuickStep) claimed a convincing victory at the GP Jean-Pierre Monsere on Sunday.
The Dutch champion had an armchair ride as his Deceuninck-QuickStep dominated the closing stages and provided a text-book lead-out.
When Jakobsen opened his sprint, he made no mistake, and comfortably held off the Circus-Wanty Gobert duo of Timothy Dupont and Alfdan de Decker.
Jakobsen, who won stages at the tours of Valencia and the Algarve earlier in the season, wasn't due to line up at the Belgian one-day race. He was supposed to be travelling to Italy for Tirreno-Adriatico but the week-long race, which was due to begin on Wednesday, was postponed due to the coronavirus outbreak.
Deceuninck-QuickStep therefore fielded a strong team for the GP Monsere and were the dominant force on the 196.8km race, which was based on 10 laps of a 19km circuit between Hooglede and Roeselare.
An early three-man breakaway – Lionel Taminiaux (Bingoal-Wallonie Bruxelles), Jens Van der Dool (Metec-TKH), Justin Wolf – BikeAid) – established a lead of four minutes over the peloton but that steadily dropped as the laps – which contained one key climb in the Gitsberg – ticked down.
With seven laps to go, Taminiaux fell away, then Van den Dool with two laps to go and finally Wolf with 25km to go.
There was little interest in attacking and Deceuninck-QuickStep arrived at the last few kilometres ready to take the reigns.
Shane Archbold, Sam Bennett's usual lead-out man did the early work, leading under the flamme rouge, before another sprinter, Alvaro Hodeg, took it to 500m. Florian Senechal then performed last-man duties and Jakobsen finished the job.
Results

| # | Rider Name (Country) Team | Result |
| --- | --- | --- |
| 1 | Fabio Jakobsen (Ned) Deceuninck-QuickStep | 4:41:27 |
| 2 | Timothy Dupont (Bel) Circus-Wanty Gobert | |
| 3 | Alfdan De Decker (Bel) Circus-Wanty Gobert | |
| 4 | Luca Mozzato (Ita) B&b Hotels-Vital Concept p / b Ktm | |
| 5 | Thomas Boudat (Fra) Team Arkea-Samsic | |
| 6 | Boris Vallee (Bel) Wallonie Bruxelles | |
| 7 | Florian Senechal (Fra) Deceuninck-QuickStep | |
| 8 | Christophe Noppe (Bel) Team Arkea-Samsic | |
| 9 | Oscar Gatto (Ita) Bora-Hansgrohe | |
| 10 | Enzo Wouters (Bel) Tarteletto-Isorex | |
| 11 | Aaron Grosser (Ger) Bike Aid | |
| 12 | Emiel Vermeulen (Bel) Natura4ever-Roubaix-Lille Metropole | |
| 13 | Stanislaw Aniolkowski (Pol) Ccc Development Team | |
| 14 | Nikolas Maes (Bel) Lotto Soudal | |
| 15 | Jesper Asselman (Ned) Metec-tkh Continental Cyclingteam p / b Mantel | |
| 16 | Fabio Van den Bossche (Bel) Sport Vlaanderen-Baloise | |
| 17 | Rory Townsend (Irl) Canyon dhb p / b Soreen | |
| 18 | Daragh O'Mahony (Irl) Swiftcarbon pro Cycling | |
| 19 | Jens Van den Dool (Ned) Metec-tkh Continental Cyclingteam p / b Mantel | |
| 20 | Louis Bendixen (Den) Team Coop | |
| 21 | Thimo Willems (Bel) Sport Vlaanderen-Baloise | |
| 22 | Piotr Havik (Ned) Riwal Readynez Cycling Team | |
| 23 | Alex Vogel (Swi) Swiss Racing Academy | |
| 24 | Justin Timmermans (Ned) Volkerwessels Merckx Cycling Team | |
| 25 | August Jensen (Nor) Riwal Readynez Cycling Team | |
| 26 | Martijn Budding (Ned) Riwal Readynez Cycling Team | |
| 27 | Nick Brabander (Ned) Volkerwessels Merckx Cycling Team | |
| 28 | Olav Hjemsæter (Nor) Team Coop | |
| 29 | Jason Van Dalen (Ned) Metec-tkh Continental Cyclingteam p / b Mantel | |
| 30 | Ivan Centrone (Lux) Natura4ever-Roubaix-Lille Metropole | |
| 31 | Timon Rüegg (Swi) Swiss Racing Academy | |
| 32 | Dylan Bouwmans (Ned) Metec-tkh Continental Cyclingteam p / b Mantel | |
| 33 | Matthias Reutimann (Swi) Swiss Racing Academy | |
| 34 | Ryan Christensen (NZl) Canyon dhb p / b Soreen | |
| 35 | Szymon Krawczyk (Pol) Ccc Development Team | |
| 36 | Ivar Slik (Ned) A Bloc Ct | |
| 37 | Aksel Nõmmela (Est) Wallonie Bruxelles | |
| 38 | Stefano Oldani (Ita) Lotto Soudal | |
| 39 | Yves Lütolf (Swi) Swiss Racing Academy | |
| 40 | Thomas Joseph (Bel) Tarteletto-Isorex | |
| 41 | Niels Van Ekeren (Ned) Volkerwessels Merckx Cycling Team | |
| 42 | Daniel Oss (Ita) Bora-Hansgrohe | |
| 43 | Lucas Carstensen (Ger) Bike Aid | |
| 44 | William Bjergfelt (GBr) Swiftcarbon pro Cycling | |
| 45 | Iver Johan Knotten (Nor) Team Coop | |
| 46 | Fredrik Dversnes (Nor) Team Coop | |
| 47 | Adrien Garel (Fra) B&b Hotels-Vital Concept p / b Ktm | |
| 48 | Kenneth Van Rooy (Bel) Sport Vlaanderen-Baloise | |
| 49 | Alvaro Jose Hodeg Chagui (Col) Deceuninck-QuickStep | |
| 50 | Stijn Appel (Ned) A Bloc Ct | |
| 51 | Szymon Tracz (Pol) Ccc Development Team | |
| 52 | Maxime Vantomme (Bel) Tarteletto-Isorex | |
| 53 | Patrick Gamper (Aut) Bora-Hansgrohe | |
| 54 | Sjoerd Bax (Ned) Metec-tkh Continental Cyclingteam p / b Mantel | |
| 55 | Robert Scott (GBr) Canyon dhb p / b Soreen | |
| 56 | Jacob Eriksson (Swe) Team Coop | |
| 57 | Ross Lamb (GBr) Swiftcarbon pro Cycling | |
| 58 | Alan Riou (Fra) Team Arkea-Samsic | |
| 59 | Damian Papierski (Pol) Ccc Development Team | |
| 60 | Peter Williams (GBr) Swiftcarbon pro Cycling | |
| 61 | Adriaan Janssen (Ned) A Bloc Ct | 0:00:10 |
| 62 | Aden James Paterson (Aus) | |
| 63 | Wesley Kreder (Ned) Circus-Wanty Gobert | |
| 64 | Rens Tulner (Ned) Volkerwessels Merckx Cycling Team | 0:00:10 |
| 65 | Meindert Weulink (Ned) A Bloc Ct | |
| 66 | Jérémy Lecroq (Fra) B&b Hotels-Vital Concept p / b Ktm | |
| 67 | Ben Hardy (GBr) Swiftcarbon pro Cycling | |
| 68 | Brian Van Goethem (Ned) Lotto Soudal | |
| 69 | Benoit Jarrier (Fra) Team Arkea-Samsic | |
| 70 | Jérémy Leveau (Fra) Natura4ever-Roubaix-Lille Metropole | |
| 71 | Jeroen Eyskens (Bel) Evopro Racing | |
| 72 | Andreas Schillinger (Ger) Bora-Hansgrohe | |
| 73 | Marco Doets (Ned) A Bloc Ct | |
| 74 | Tobias Mørch Kongstad (Den) Riwal Readynez Cycling Team | |
| 75 | Kevin Ledanois (Fra) Team Arkea-Samsic | |
| 76 | Erik Bergström Frisk (Swe) Bike Aid | |
| 77 | Sasha Weemaes (Bel) Sport Vlaanderen-Baloise | |
| 78 | Pierre Idjouadiene (Fra) Natura4ever-Roubaix-Lille Metropole | |
| 79 | Bram Welten (Ned) Team Arkea-Samsic | |
| 80 | Julien Morice (Fra) B&b Hotels-Vital Concept p / b Ktm | |
| 81 | Bert De Backer (Bel) B&b Hotels-Vital Concept p / b Ktm | |
| 82 | Jonas Van Genechten (Bel) B&b Hotels-Vital Concept p / b Ktm | |
| 83 | Marcus Burghardt (Ger) Bora-Hansgrohe | 0:00:16 |
| 84 | Jacob Scott (GBr) Canyon dhb p / b Soreen | 0:00:26 |
| 85 | Gilles De Wilde (Bel) Sport Vlaanderen-Baloise | |
| 86 | Kevyn Ista (Bel) Wallonie Bruxelles | |
| 87 | Ludwig De Winter (Bel) Circus-Wanty Gobert | 0:00:32 |
| 88 | Shane Archbold (NZl) Deceuninck-QuickStep | |
| 89 | Ludovic Robeet (Bel) Wallonie Bruxelles | |
| 90 | Dimitri Peyskens (Bel) Wallonie Bruxelles | |
| 91 | Franklin Six (Bel) Wallonie Bruxelles | 0:00:35 |
| 92 | Trond Håkon Trondsen (Nor) Team Coop | 0:00:42 |
| 93 | Stijn Steels (Bel) Deceuninck-QuickStep | 0:00:47 |
| 94 | Ruben Eggenberg (Swi) Swiss Racing Academy | 0:01:05 |
| 95 | Abram Stockman (Bel) Team sks Sauerland Nrw | |
| 96 | Jannik Steimle (Ger) Deceuninck-QuickStep | 0:01:55 |
| 97 | Ben Walsh (Irl) Evopro Racing | |
| 98 | Brent Van Moer (Bel) Lotto Soudal | |
| 99 | Thomas Stewart (GBr) Canyon dhb p / b Soreen | 0:02:20 |
| 100 | Torkil Veyhe (Den) Riwal Readynez Cycling Team | 0:03:21 |
| 101 | Tord Gudmestad (Nor) Team Coop | 0:03:25 |
| 102 | Lionel Taminiaux (Bel) Wallonie Bruxelles | 0:03:52 |
| 103 | Gianni Marchand (Bel) Tarteletto-Isorex | |
| 104 | Benjamin Declercq (Bel) Team Arkea-Samsic | 0:04:30 |
| 105 | Elias Van Breussegem (Bel) Tarteletto-Isorex | 0:05:33 |
| 106 | Justin Wolf (Ger) Bike Aid | |
| 107 | Julian Braun (Ger) Team sks Sauerland Nrw | |
| 108 | Cyrus Monk (Aus) Evopro Racing | |
| 109 | Vitor Zucco Schizzi (Bra) Evopro Racing | |
| 110 | Aaron Kearney (Irl) Evopro Racing | |
| 111 | Daniel Bichlmann (Ger) Bike Aid | |
| 112 | Thijs De Lange (Ned) Metec-tkh Continental Cyclingteam p / b Mantel | |
| 113 | Michiel Stockman (Bel) Team sks Sauerland Nrw | |
| 114 | Raphael Krähemann (Swi) Swiss Racing Academy | |
| 115 | Jesper Schultz (Den) Riwal Readynez Cycling Team | |
| 116 | Michaël Van Staeyen (Bel) Tarteletto-Isorex | |
| 117 | Nils Wolffenbuttel (Ned) Volkerwessels Merckx Cycling Team | |
| 118 | Kris Boeckmans (Bel) B&b Hotels-Vital Concept p / b Ktm | |
| 119 | Oskar Nisu (Est) Ferei-Ccn | |
| 120 | Jasper De Plus (Bel) Circus-Wanty Gobert | |
| 121 | Jesse De Rooij (Ned) Bike Aid | |
| 122 | Karol Wawrzyniak (Pol) Ccc Development Team | |
| DNF | Kacper Walkowiak (Pol) Ccc Development Team | |
| DNF | Michal Galka (Pol) Ccc Development Team | |
| DNF | Louis Leinau (Ger) Team sks Sauerland Nrw | |
| DNF | Jord Baak (Ned) Volkerwessels Merckx Cycling Team | |
| DNF | Timo De Jong (Ned) Volkerwessels Merckx Cycling Team | |
| DNF | Ian Garrison (USA) Deceuninck-QuickStep | |
| DNF | Ide Schelling (Ned) Bora-Hansgrohe | |
| DNF | Wouter Wippert (Ned) Evopro Racing | |
| DNF | Ylber Sefa (Alb) Tarteletto-Isorex | |
| DNF | Jacob Hennessy (GBr) Canyon dhb p / b Soreen | |
| DNF | Owen James (GBr) Swiftcarbon pro Cycling | |
| DNF | Rasmus Byriel Iversen (Den) Lotto Soudal | |
| DNF | Marijn Van den Berg (Ned) Metec-tkh Continental Cyclingteam p / b Mantel | |
| DNF | Fabian Paumann (Swi) Swiss Racing Academy | |
| DNF | Mel Van der Veekens (Ned) A Bloc Ct | |
| DNF | Mathias De Witte (Bel) Natura4ever-Roubaix-Lille Metropole | |
| DNF | Tom Dernies (Bel) Natura4ever-Roubaix-Lille Metropole | |
| DNF | Loïc Vliegen (Bel) Circus-Wanty Gobert | |
| DNF | Robbe Ghys (Bel) Sport Vlaanderen-Baloise | |
| DNF | Kenny De Ketele (Bel) Sport Vlaanderen-Baloise | |
| DNF | Jonas Härtig (Ger) Team sks Sauerland Nrw | |
| DNF | William Harper (GBr) Swiftcarbon pro Cycling | |
| DNS | Jerome Baugnies (Bel) Canyon dhb p / b Soreen | |
Sign up to the Cyclingnews Newsletter. You can unsubscribe at any time. For more information about how to do this, and how we hold your data, please see our privacy policy