Spotted: Jumbo Visma on yet more non-sponsor wheels at the Tour de France
By Josh Croxton published
Rest day photo confirms Vision Metron are the wheelset of choice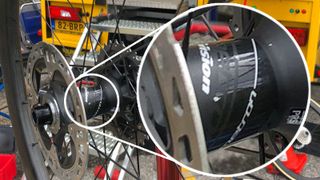 (Image credit: Cyclingnews)
As is becoming something of a common theme during the 2021 season, Jumbo Visma are using sponsor incorrect wheels at this year's Tour de France, and Cyclingnews can confirm that their blacked-out wheels of choice are in fact Metron wheels from Vision.
At the start of the Tour, there was an altogether more obvious difference to Jumbo Visma's wheels. The blue front tyres symbolizing the team's partnership with Swapfiets grabbed the attention of onlookers, but in the days since, the team made another more subtle change to their bikes. While some of the team's riders are still using their sponsor-provided Shimano wheels, much of the team have been using blacked out, nondescript wheelsets since the start of the race, similar to the hoops that Team BikeExchange were seen using during the Giro d'Italia.
At the end of the Giro, we concluded on the balance of probability that those wheels were a new Metron wheel from Vision, but today it can be confirmed. A photograph snapped on the Tour de France rest day clearly shows the Vision Metron branding on the hub of the rear wheel.
Jumbo Visma aren't the only ones to shun sponsor-correctness at this year's Tour de France. Ineos Grenadiers' switch to Princeton Carbonworks in the mountains and Mathieu Van der Poel's switch to Aerocoach / Princeton Carbonworks for the stage 5 time trial are the highest profile of them all, but they're not the only ones.
Team BikeExchange are still using the same Vision wheels for road stages, despite also being supplied with Shimano. Team DSM - a team in such a strong partnership with Shimano that they've been using new Dura-Ace - as well as Van der Poel again, are all using a non-brand wheelset that we believe to be from Shimano themselves. These have been in the public eye for quite some time and were actually first spotted as far back as last year's Tour de France.
It's also not the first time Jumbo Visma has ignored their sponsor obligations. During the stage 5 time trial, most riders were using front wheels from Aerocoach. And at last year's Tour de France, Primož Roglič and his climbing domestiques swapped Shimano for Corima for a weight saving of 226 grams. This year, it appears the same has been done once again.
According to Vision, the newly launched Metron 45 SL Disc Brake wheelset - in their tubular guise as is being used by the team - weighs in at 1299g, which is 101 grams lighter than Shimano claims for its equivalent Shimano C40 wheelset. Of course, quoted weights and actual weights will differ, and a team as diligent - and financially comfortable - as Jumbo Visma, will be performing their own extensive tests.

Thank you for reading 5 articles this month* Join now for unlimited access
Enjoy your first month for just £1 / $1 / €1
*Read 5 free articles per month without a subscription

Join now for unlimited access
Try your first month for just £1 / $1 / €1
Josh has been with us as Senior Tech Writer since the summer of 2019 and throughout that time he's covered everything from buyer's guides and deals to the latest tech news and reviews. On the bike, Josh has been riding and racing for over 15 years. He started out racing cross country in his teens back when 26-inch wheels and triple chainsets were still mainstream, but he found favour in road racing in his early 20s, racing at a local and national level for Team Tor 2000. He's always keen to get his hands on the newest tech, and while he enjoys a good long road race, he's much more at home in a local criterium.
Sign up to the Cyclingnews Newsletter. You can unsubscribe at any time. For more information about how to do this, and how we hold your data, please see our privacy policy
Thank you for signing up to Cycling News. You will receive a verification email shortly.
There was a problem. Please refresh the page and try again.