Gutierrez bonds with Movistar at Calpe camp ahead of Setmana Ciclista Valenciana - Gallery
12 riders unite to prepare for European opener
Image 1 of 21
Image 2 of 21
Image 3 of 21
Image 4 of 21
Image 5 of 21
Image 6 of 21
Image 7 of 21
Image 8 of 21
Image 9 of 21
Image 10 of 21
Image 11 of 21
Image 12 of 21
Image 13 of 21
Image 14 of 21
Image 15 of 21
Image 16 of 21
Image 17 of 21
Image 18 of 21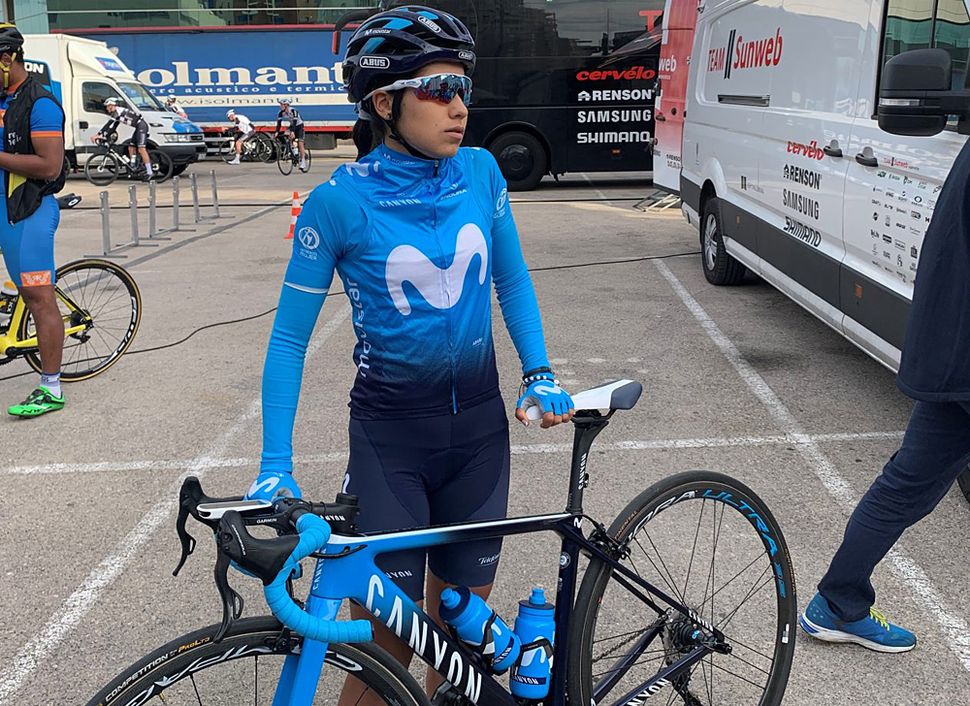 Image 19 of 21
Image 20 of 21
Image 21 of 21
Movistar Team Women's 12 riders united at a pre-season training camp in Alicante in preparation of the European season opener at Setmana Ciclista Valenciana held from February 21-24. Sheyla Gutierrez will make her debut with the Spanish outfit, and play a valuable role in the team's hopes for stage success in the four-day race.
Gutierrez joined the team after spending three seasons with the US-based outfit Cylance. She signed for Movistar Team Women partway through the 2018 season before it was announced that the Cylance program would fold. The US tech firm will continue in the sport having signed on with Valcar for 2019.
The most decisive climb of the Setmana Ciclista Valenciana takes place at the end of stage 3 on the Xorret de Cati, and at four kilometres and pitches as steep as 20 per cent, it could decide who wins the overall classification. There are two other climbs of significance, however, on stage 1; Barxeta and Barx, that will also play an important factor in the race.
Gutierrez will likely be aiming for stage wins, but the team will field a well-rounded roster that includes Alba Teruel, Mavi García, Eider Merino, Lorena Llamas, Lourdes Oyarbide, Roxane Fournier. The climbs will suit Garcia and Merino.
The team place two rider in the top 10 in what was their debut season last year with Alicia Gonzalez in third and Garcia placed sixth overall. Gonzalez will not be participating in this year's race.
Movistar Team Women already took to the start line earlier this month at the Vuelta CV Féminas Vuelta a la Comunitat Valenciana Feminas where Fournier secured sixth place in her debut race with the team.
The team recently completed a seven-day camp in Calpe to prepare for the stage race with all 12 riders for a range of physical tests, technical meetings and numerous sponsor duties.
Click through the gallery above to view images from the Movistar Team Women's camp.
Kirsten Frattini has been involved in bike racing from the grassroots level all the way to the World Cup. She is an honours graduate of Kinesiology and Health Science from York University in Toronto, Canada. Kirsten has worked in both print and digital publishing. She started with Cyclingnews as a North American Correspondent in 2006, and was responsible for reporting from the US and Canadian racing scene. Now as a Production Editor, she produces international race coverage for all cycling disciplines, edits global news and writes features.
Sign up to the Cyclingnews Newsletter. You can unsubscribe at any time. For more information about how to do this, and how we hold your data, please see our privacy policy
Thank you for signing up to Cycling News. You will receive a verification email shortly.
There was a problem. Please refresh the page and try again.