Best cycling gloves 2023 - mitts and full-finger gloves for cycling
Whether half-finger or full, here are the best cycling gloves for protection, comfort, warmth, aerodynamics and more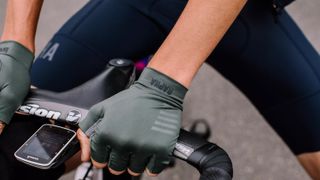 (Image credit: Rapha)
The best cycling gloves aren't just about keeping your hands warm, they also help keep you comfortable as you ride, and protect your hands in the event of a crash.
Whereas the best winter cycling gloves have a much greater focus on insulation and weatherproofing, you'll want to wear the best cycling gloves for warm-weather riding to keep your hands more comfortable as you ride and ensure that your grip remains firm. That's about strategically placed padding and silicone printing between your hands and the bars. But summer cycling gloves also help with sweat absorption on the hottest days and even UV protection for the backs of your hands.
If you have an accident while riding, a good pair of summer gloves will protect your hands too. Your hands are often one of the first things to make contact with the road surface and abrasion and road grit can be uncomfortable to clean up and slow to heal.
The best summer cycling gloves like the best summer cycling jerseys don't add a lot of bulk or warmth either, so your hands shouldn't overheat. But if it is a bit chilly, or you're heading off-road and might be riding through vegetation and nettles, a set of lightweight full-finger gloves might be the ticket; we've got those covered in our selection of the best summer cycling gloves as well.
Alternatively, if you're not sure what to look for in summer cycling gloves, head to our buyer's guide at the bottom of the page.
Best cycling gloves
Why you can trust Cyclingnews Our expert reviewers spend hours testing and comparing products and services so you can choose the best for you. Find out more about how we test.
1.GripGrab Progel Short Cycling Gloves
Best for preventing nerve pain
Specifications
Padding:
DoctorGel 4mm padding
Reasons to buy
+
4mm gel padding designed to prevent nerve pain in the hands
+
Grippy Serino palm for full control
+
Magnetic storage solution comes in handy
Reasons to avoid
-
Part of the wrist hem rubbed us which can be annoying
GripGrab's Progel mitts are designed for those who experience debilitating nerve pain in their hands after a long ride. The synthetic leather palm is coupled with 4mm gel padding, and this delivers supreme comfort.
The gloves fit true to size, have a Velcro strap closure at the wrist for a quick and easy fine tuning before a ride, a nose wipe on the outer thumb, and reflective details on the little finger to help keep your hand signals visible in low light.
The only downside is that the wrist design features a tab that, when positioned poorly, can dig in and rub the skin. It's easily sorted, but a slight annoyance.
2.Assos Summer Gloves S7
Best for hot and sunny days
Reasons to buy
+
Lightweight and breathable fabric
+
Comfortable gel padding
+
Synthetic palm offers excellent grip
+
Terry thumb wipe panel
+
Close, aero fit
Reasons to avoid
-
Would benefit from some sort of removal tab as they're quite difficult to take off
If you're heading out on hot and sweaty rides in the height of summer, it might be tempting to forego the gloves in favour of cooling air, however that would be a mistake. Gloves help you to maintain grip of your bar tape even when slippery due to sweat, and should the worst happen and you come off your bike, they can stop you going home with grazed palms.
These summer gloves from Assos are designed for the hottest days, thanks to their thin and lightweight fabric that does an excellent job of breathing. The synthetic palm delivers excellent grip, while the gel-padded palms stay comfortable over several hours of riding.
Removal can be a bit tricky however, so these would benefit from some kind of removal aid like a pull-tab.
3.Endura Hummvee Plus Mitts II
Best for extra comfort and shock absorption
Reasons to buy
+
Rugged enough for MTB, but sleek enough for the road
+
Tough stretch fabric
+
Gel padding for supreme comfort
+
Neoprene knuckle protection
+
Terry cloth nose wipe
Reasons to avoid
-
Might feel a little bulky for some
Endura's Hummvee mitts are designed to be all-rounders and they sell well for that very reason. This all-round nature means that they're designed with rough riding in mind, as well as the smooth. For the roadie who often gets subjected to potholes, roots and various other road surface blemishes, these could prove to be a winner as they're made with a view to damping vibrations from the trail.
As they're MTB-suitable, this means they're also pretty tough and rugged, made from durable stretch fabric and featuring the brand's ergonomic palm design that's sculpted to deliver a natural shape while gripping the bars.
There's a lot that can be taken from the trail to the road, and these gloves prove exactly that. Having said that, the road purist might find them a little bulky in comparison to some other gloves on this list.
4.Endura FS260-Pro Aerogel Mitts
Best for kit matching and style kudos
Reasons to buy
+
Gel pads with open venting for breathable support
+
Comfortable, wicking and supportive
+
Lots of colour options
With its Pro Aerogel Mitt, Endura set out to create a cycling glove that would actually breathe while also standing the test of time. Dense gel padding is used to absorb some of the shocks from the road, while airflow 'voids' within the pads help your hands to shed heat.
They come with all the standard features you'd expect from a decent road glove, including a terry cloth thumb panel to wipe away sweat, and finger tabs to help with removal.
High-stretch and moisture-wicking fabric is used on the back, making for a comfortable and supportive fit, while the flexible micro-fibre palm with silicone print details offers long-lasting wear and a firm grip on the bars.
A velcro strap closure allows for an adjustable fit, though it's worth bearing in mind that the sizing comes up on the small side, so go a size up if you fall between two options.
5.SupaCaz SupaG
Best for making a fashion statement
Reasons to buy
+
Bright designs and colours
+
Silicone on palm aids comfort
Reasons to avoid
-
A little difficult to take on and off
If all you're looking for in a glove is a bit of abrasion protection in a crash, the SupaCaz SupaG will keep your palms road-rash free and add some style to your wardrobe in the process.
With a snug aero cut, the mesh-backed SupaG gloves are based around lightweight fabrics and use a slip-on design. The palm is made from perforated Clarino leather and sees a silicone SupaCaz logo for added purchase. For the crit racers among us, they also come in a full-finger version for added protection.
6.Giro Siv road glove
Best for the purist looking for a classic aesthetic
Reasons to buy
+
Classic aesthetic
+
Modern materials
Reasons to avoid
-
Don't forget to put sunscreen on the back of your hands
-
Design might not be for everyone
Roadies have a soft spot for classically styled kit, and the Giro Siv takes the traditional road mitt design and brings it into the modern age.
The nylon-mesh back takes on the classic crocheted look of yesteryear while still using modern materials for wicking and ventilation, and the three-piece microfibre palm is padded and breathes considerably better than leather. The thumb sees a plush nose wipe and, best of all, the price tag won't leave a big dent in your wallet.
7.Prologo Energrip cycling gloves
Best for all-weather grip
Reasons to buy
+
Excellent grip
+
Good airflow
+
Vibration damping
Reasons to avoid
-
Sit at the pricier end of the spectrum
The Prologo Energip cycling gloves come with the brand's CPC 3D-printed palm grips. CPC also features in some Prologo saddles and consists of raised rods which help ensure grip regardless of whether the weather is wet, dry or hot and, since there's space between them the rods ensure air circulation so your palms get less sweaty on hot rides. They also help with vibration absorption for more bar comfort.
Worn by a host of pro teams, the Prologo Energrip cycling gloves are available in long finger or mitt versions, with Prologo saying that their backs also help with temperature regulation so your hands stay a comfortable temperature whatever the weather.
8.Specialized Body Geometry Sport cycling gloves
Best for durability
Reasons to buy
+
Well placed padding
+
Durable
+
Inexpensive
Reasons to avoid
-
Velcro tends to catch on clothing
The Specialized Body Geometry Sport Gel gloves are a good option is you want the extra comfort of mitts without too much expense. They use a mix of gel pads and foam that's strategically placed to shield your ulnar nerve as part of Specialized's Body Geometry comfort system.
They're pretty robust too, so you can expect to get lots of use from them and they wash up well between rides. The only downside is that the velcro closure tabs tend to get stuck on other kit, so wash them in a wash bag to keep them away from jerseys and shorts.
9.GripGrab Aero TT
Best for time trial efforts
Reasons to buy
+
Moisture wicking and breathability
+
Aero advantages
Reasons to avoid
-
Padding optimised for TT position only
If you're thinking about dusting off the time trial bike, these GripGrab Aero TT short finger gloves could be the best cycling gloves for you. With 2mm of gel padding designed specifically for use on the aero bars, these mitts are made for racing.
The long wrist cuff is designed to interact smoothly with your speed suit, and the aero finish will help you slip through the wind with ease.
10.Gore Wear Gore-Tex Infinium Mid Gloves
Best for cooler days when a winter glove is too warm
Reasons to buy
+
Windproof
+
Lightweight
+
Touchscreen compatible
If you're out on a day when it's not quite summer mitt weather but still too warm for winter cycling gloves, these gloves use Gore's Windstopper windproof fabric but without insulation or bulk, so they're ideal to take the chill off. There's no palm padding, but the printed silicone grippers give you plenty of hold on the bars, while the touchscreen fingertips mean you can use your computer or smartphone easily.
They're compact enough that if it does warm up and your hands start to get uncomfortable you can easily pocket them and ride bare handed. They're a great option for gravel rides through undergrowth too.
11.Leatt DBX 2.0 X-Flow XC MTB gloves
Best all-rounders for multi-discipline use including XCO and road riding
Reasons to buy
+
Offer excellent dexterity
+
Moisture wicking and breathability
Reasons to avoid
-
MTB aesthetic might clash with your road kit
Yes, we have included a pair of mountain bike gloves in this round-up of road cycling mitts, but hear us out. These cycling gloves from South African outfit Leatt are mesh-backed, and the palm is made from a microfibre material called MicronGrip. The individual fibres are incredibly pliable, wick like the dickens and are thinner than a human hair.
The DBX 2.0 X-Flow gloves are light and comfortable, but still provide a barrier against abrasion should you hit the deck. They started out as our go-to crit racing gloves, but have found their way into the more-regular rotation because they offer as much dexterity as if you weren't wearing gloves at all, as well as unmatched breathability.
How to choose the best cycling gloves for you
Are gloves necessary for road cycling?
Cycling gloves might not be an essential piece of cycling kit, but they are a strong addition to your cycling wardrobe and come with many benefits. Namely, they're an added layer of protection should you find yourself involved in a crash: road rash on the palms of your hands is never fun, so wearing gloves will save your skin, quite literally.
More than that, depending on the kinds of gloves you buy, you can also benefit from gel or foam padding on the palm, to make your ride more comfortable, as well as sticky silicone print to help you maintain a strong grip on your bars, and therefore full control of the bike.
A final excellent use of your gloves is being able to wipe away sweat from your eyes and nastier stuff from your nose.
Do you need cycling gloves in summer?
When the temperature is high it can be tempting to forego gloves altogether - the less you wear, the cooler you'll be, right? Perhaps, but like we alluded to above, if you do find yourself in the unfortunate position of sliding across the tarmac, your hands will thank you for wearing mitts that protect them.
Thankfully there are lots of hot weather cycling gloves and mitts designed specifically for when the mercury rises. These will be made from a thin and lightweight fabric that's both breathable and moisture-wicking.
They also help with sweat absorption from your palms on hot days, so your hands stay more comfortable and you keep your grip on your bars better.
What should I look for in cycling gloves?
What to look for depends greatly on what kind of riding you're doing. As above, if you're road cycling in the summer and trying to avoid getting the sweats, a lightweight and breathable fabric will offer a great hot weather option.
Palms are often made of synthetic suede material that absorbs sweat well, but you can also find gloves made with real leather which can be more durable, although you need to be careful when washing to avoid shrinkage - Pittards is a brand of soft leather that's often used.
If you often ride in the dark or in low light conditions, you might want to look for gloves that feature hi-vis and/or reflective details, since they're a huge part of your ability to signal your intentions to other road users.
Padding on the palms is another thing to consider. If you ride over rough surfaces, having some padding to cushion the blows will help you ride for longer and stay comfortable.
If your riding takes in gravel, you may want extra padding to help add extra protection from vibration, while if your gravel riding takes in tracks with overgrown vegetation, full finger cycling gloves will protect your hands better from nettles and thorns.
Should cycling gloves feel tight or loose?
Cycling gloves will fit differently depending on their weight, but, generally, look for a snug fit that doesn't inhibit dexterity or inhibit range of motion. Gloves that are too tight may cut off circulation; too loose and the glove can bunch up or slip around between your palms and the bars and cause hotspots or even blisters.
Why does my hand go numb when cycling?
If you experience numbness or nerve pain in your hands after a long ride, you're not alone. It's actually fairly common, and this is the main reason cycling gloves come with various padding options.
This numbness is often referred to as handlebar palsy, which can be caused by the pressure put on your ulnar nerve (which runs along your forearm and through the palm), after spending lots of time leaning on your handlebar.
While a good quality padded pair of gloves can help, you should also consider changing your bar positioning so you're more upright, as well as frequently switching up your hand positions while riding.
Which cycling gloves are the most padded?
Cycling gloves come with all different levels of padding, with racing mitts offering minimal cushioning all the way to plush gel-padded versions designed to keep your palms comfy for hours on end.
There are a couple of different schools of thought when it comes to padding. Most brands prioritise cushioning the heel of your hand, while other brands focus on placing the padding in the middle of the palm to relieve nerve pressure. The best cycling gloves for you comes down to personal preference and the terrain you're riding – glass-smooth tarmac won't require padded cycling gloves, while hours of washboard gravel likely will.
Most cycling gloves will have a synthetic leather palm, which breathes well and stands up to general wear, tear and abrasion.
Do I need half-finger or long-finger gloves?
Half-finger cycling gloves - or mitts - are more common for road riding, and will have a lightweight, breathable material over the back of the hand and a synthetic or real leather palm to protect against abrasion. With your fingertips unencumbered, there's no loss in dexterity, and you'll be able to use smartphones and touchscreens with ease.
But half-finger gloves aren't perfect, with reduced protection, comfort, how hard the suckers are to get off your hands, and the resulting tan line being cited as the usual reasons to avoid. We will usually don lightweight full-finger gloves when lining up for a crit, in case of a pile-up, or on a mixed-surface ride.
Do I need a nose wipe?
If you're anything like us, the moment you begin to pedal, your nose also starts to run. If so, the best cycling gloves for you may feature a nose wipe on the thumb that is made from fleece or terry cloth as the material is softer on the skin. It's also useful to remove water from your sunnies if you get caught out in the rain.
Get The Leadout Newsletter
The latest race content, interviews, features, reviews and expert buying guides, direct to your inbox!
Paul has been on two wheels since he was in his teens and he's spent much of the time since writing about bikes and the associated tech. He's a road cyclist at heart but his adventurous curiosity means Paul has been riding gravel since well before it was cool, adapting his cyclo-cross bike to ride all-day off-road epics and putting road kit to the ultimate test along the way.
Get The Leadout Newsletter
The latest race content, interviews, features, reviews and expert buying guides, direct to your inbox!
Thank you for signing up to The Pick. You will receive a verification email shortly.
There was a problem. Please refresh the page and try again.