Best rear bike lights
Increase your visibility on the road with our pick of the best rear bike lights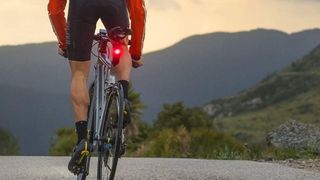 (Image credit: Garmin)
There are a plethora of rear bike lights available which can be used 24/7 to improve visibility in conditions such as fog, low light and rain. In fact, many brands recommend using rear lights to promote safer cycling as well as improve awareness among motorists.
If you consider that most cycling collisions occur during the day, it's probably worth investing in a daytime running light (DRL) with multiple modes that can also serve as a night light. Most contemporary cycling lights offer varying degrees of brightness, battery life and flash patterns, and have a built-in DRL function — the output of which is measured in lumens.
Scroll down to see Cyclingnews' roundup of the best rear lights available to buy this year, along with our guide on what to look for in a rear cycling light.
What to look for
As a rule, the brighter the light the better your chances are of being seen by other road users. It's also worth looking for rear cycling lights that are durable, waterproof and capable of emitting a strong beam regardless of the time of day. Before making a decision, it's worth considering the following five factors as each one has a direct bearing on quality and price.
Lumens
Lumens have become the gold standard to measure light output — the more lumens produced by a light bulb, the brighter the light. As a departure point, 20 to 30 lumens are considered reasonable, but many rear lights have outputs upwards of 300 lumens. It is noteworthy that the advertised maximum lumen output is calculated in flashing mode, instead of constant mode, which tends to be slightly lower.
Fit/attachment
Most rear cycling lights feature universal silicon or rubber straps that wrap around and fasten onto your seat post. Some also come with special mounting brackets to attach to the back of your helmet, clothing or backpacks. Where you place it is up to you but the seatpost has become the standard mounting position for rear lights.
Lighting modes
It's important that your rear cycling light has at least two lighting modes: flashing and constant. The RVLR states flashing modes should pulse between 60 and 240 times per minute (1–4Hz) but there's no clear indication as to which mode is most effective. As a result, many cyclists run both a flashing and constant rear light just to be safe, and some lights feature a pulse setting which consists of a constant beam with a pulsing brightness.
Battery
While there's no set standard for battery life, most of the current options will easily last the duration of a ride — between 6-10 hours. Some may even last longer depending on the lighting mode selected and whether or not it uses ANT+ and Bluetooth Smart connectivity, the latter of which is prone to draining the battery.
Price versus quality
There are a lot of cheap, poorly constructed and unreliable options out there. The last thing you want is a rear light that fails mid-ride, as it's unlikely that you'll notice right away. Therefore, it's imperative that you invest in a rear cycling light from a reputable brand. While this might cost you a little more initially you can rest assured knowing it will last a good couple of years and often be covered by a warranty.
Sign up to the Cyclingnews Newsletter. You can unsubscribe at any time. For more information about how to do this, and how we hold your data, please see our privacy policy
Thank you for signing up to Cycling News. You will receive a verification email shortly.
There was a problem. Please refresh the page and try again.