Vuelta a Espana stage 3 Live - Another sprint opportunity in the Netherlands
All the action as Bennett, Merlier and others prepare to go head to head again
Refresh
Hello and welcome to Cyclingnews' live coverage of stage 3 of the Vuelta a España
It's the final day on Dutch soil and, after yesterday's bunch sprint it looks like we'll have another one, with an almost pancake flat route starting and finishing in Breda.
The riders have all signed on for the stage and we're on the move. We have a long old neutralised sector today of nearly half an hour
The lengthy neutral is not because of any distance, but because of a ceremony taking place ahead of the official start. The four special jersey wearers are riding off to do a short lap of the town before entering the Grote Kerk church, where they're lighting candles in honour of lives lost to COVID-19.
Race leader Mike Teunissen, white jersey Ethan Hayter, green jersey Sam Bennett and mountains leader Julius van den Berg all light a candle and head out the other side of the building.
And now the whole bunch rides straight through the building.
The riders are now on open roads following the director's car in much more familiar circumstances.
If you thought yesterday was flat, check this out. The highest point on the route is a dizzying 29 metres above sea level. There is one categorised climb, and it's all of 400 metres long at 3.7%. It's a bridge, most probably, and only categorised so the organisers can get the mountains classification moving.
When it's this flat, you're looking at the wind to help make something happen, but it looks like a fairly calm day again.
We're still in the neutral zone but only moments away from the start proper.
We're off
The race is finally waved underway. Here come the first attacks
No big attacks to start with actually, but a Burgos-BH rider is pushing the pace. Julius van den Berg (EF), who claimed the mountains jersey yesterday, is up there looking interested again.
Thomas De Gendt gives it a nudge now.
De Gendt doesn't hammer the pedals but gently prizes a group away. Everyone looks happy with the situation and that's it settled, all very civil.
The Spanish wildcard teams are all represented, so that's that box ticked. Van den Berg has got himself in there to defend the mountains jersey.
There's more WorldTour firepower today. As well as Van den Berg, we have De Gendt (Lotto Soudal), plus Jan Bakelants (Intermarche) and Jose Herrada (Cofidis).
Here's the breakaway in full
Jose Herrada (Cofidis)
Julius van den Berg (EF Education-EasyPost)
Jan Bakelants (Intermarché-Wanty-Gobert Matériaux)
Thomas De Gendt (Lotto Soudal)
Ander Okamika (Burgos-BH)
Pau Miquel (Kern Pharma)
Mikel Iturria (Euskaltel-Euskadi)
Alpecin-Deceuninck send a rider to the head of the peloton and, unlike yesterday, they have company. Trek-Segafredo and Bora-Hansgrohe are also getting involved.
The gap stabilises at the three-minute mark.
46.8km covered in the first hour.
Crash. Michael Woods is down
The Canadian appears to have tangled with a teammate. He's Israel-Premier Tech's GC leader so this isn't good news. He's back on his feet but receiving medical attention.
132km to go
60km on the clock and the gap is holding steady at three minutes. It seems stingy, but that's modern cycling.
A slight split in the bunch but only because Trek, Alpecin and Bora are riding a pace that's pretty elevated for this point in the race. Gap 2:55.
Those three teams have all sent one rider up and the trio is rotating at the head of the peloton, which is lined out.
We're hearing that Woods has now abandoned
The gap continues to fall. 2:20 now as the race proceeds in calm fashion.
Here's the confirmation and full story on Woods
Michael Woods crashes out of Vuelta a España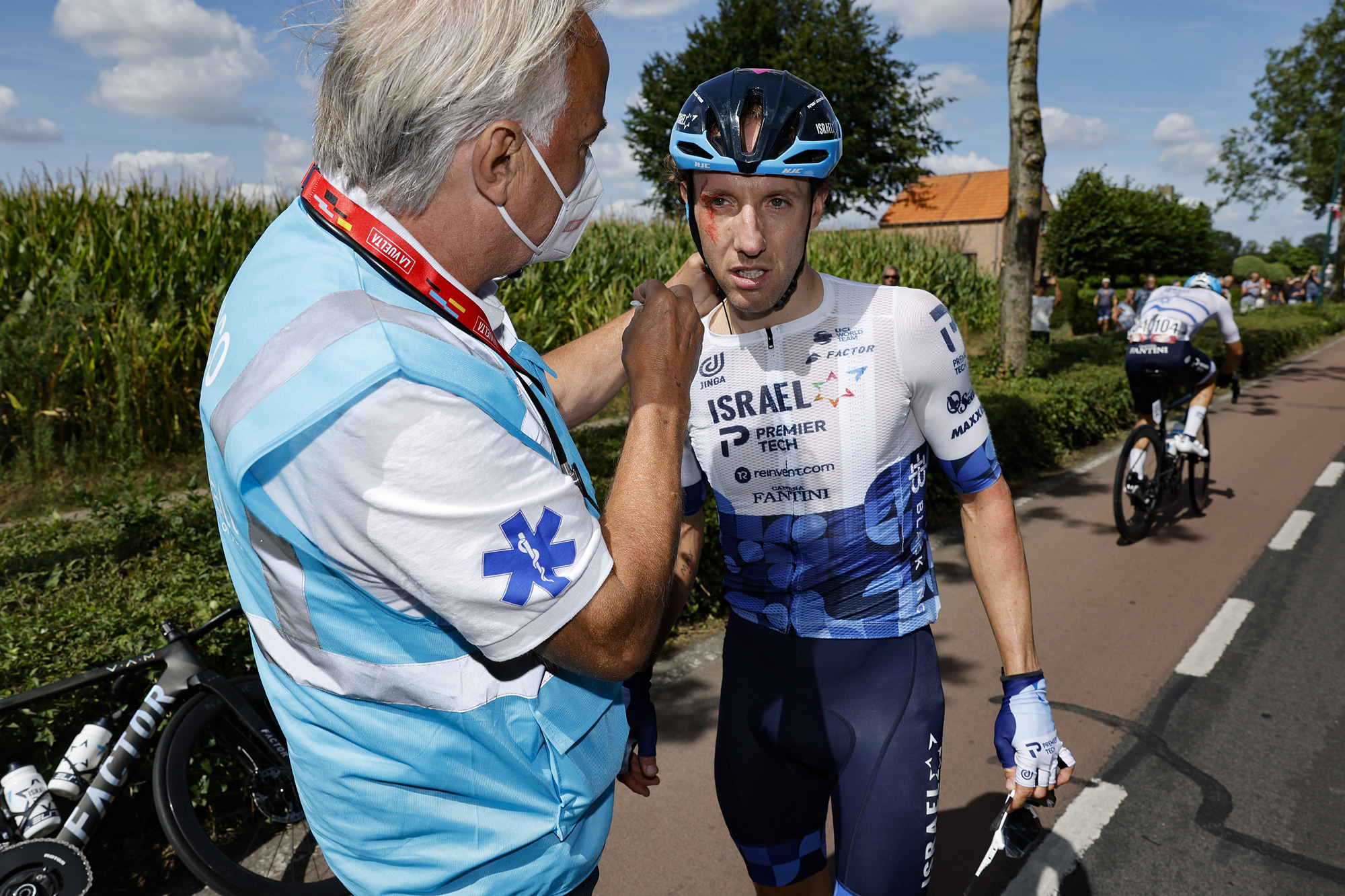 Woods is the second rider to leave the race after Lotto Soudal's Steff Crass, who broke his elbow yesterday.
105km to go
The gap between the seven-man breakaway and the peloton is down to two minutes.
A reminder of the riders up the road
Jose Herrada (Cofidis)
Julius van den Berg (EF Education-EasyPost)
Jan Bakelants (Intermarché-Wanty-Gobert Matériaux)
Thomas De Gendt (Lotto Soudal)
Ander Okamika (Burgos-BH)
Pau Miquel (Kern Pharma)
Mikel Iturria (Euskaltel-Euskadi)
Van den Berg is here to defend his KOM jersey, with one climb (it's not really a climb) coming up with 60km to go. There are two points for the first rider and one for the second.
Van den Berg is on two points and the only other rider with a point is not in the break so the Dutchman just has to place in the top two. If not, someone will tie him and it will go down to stage placings at the finish.
95km to go
Just under 100km on the clock and just under 100km to go. We've had no real action to speak of so far and the breakaway continue to lead the bunch (powered by Trek, Alpecin, and Bora) by just over two minutes.
Here's Van den Berg on the front of the breakaway.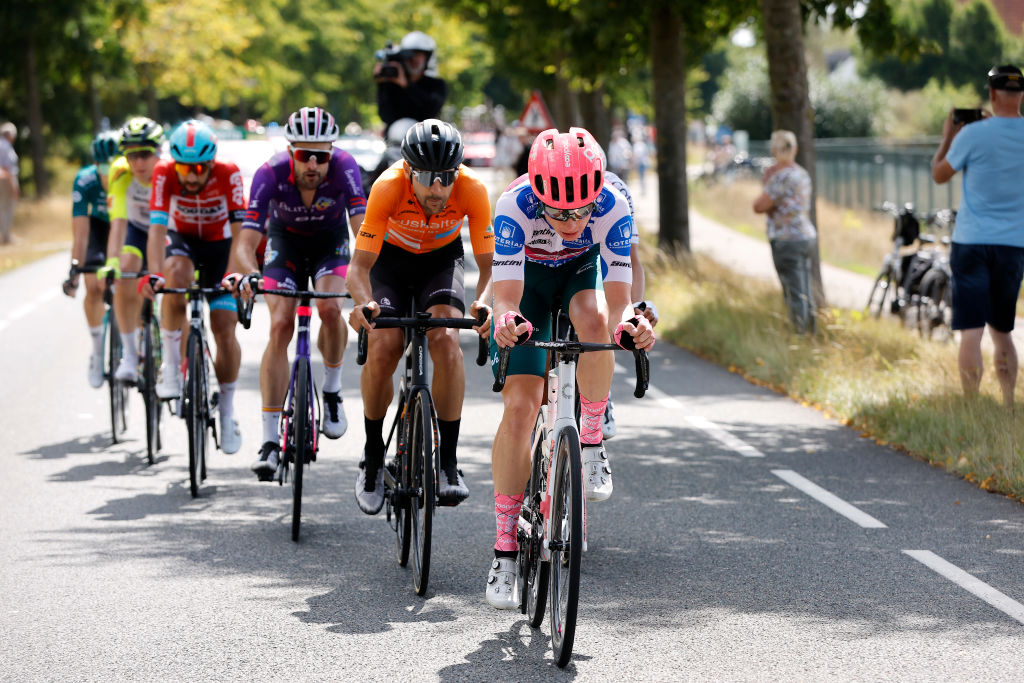 The peloton spreads across the road. It's now slowing down but speeding up. There might just be a whiff of wind here.
We're about to turn south, and that means the wind will be coming from the right hand side soon. It's not strong today, but these are exposed flat roads.
Yeah, it's definitely happening. Jumbo-Visma head to the front en masse.
We've had one sole representative from three sprint teams turning all day, but now we have team blocks getting organised and into position.
At this point, this is all about positioning and staying safe. It will take a real effort to split this when we turn, and it remains to be seen if anyone tries, but no one wants to be caught out if it does kick off, and that's why we're seeing this heightened tension.
83km to go
The pick-up sees the gap drop to 1:55
We've taken that turn and we're in the crosswinds but there's no real action so far. A lot of nerves and jostling still but it's not kicking off for now.
The breakaway's lead is still 1:50, so that tells us the pace isn't super high in the bunch.
71km to go
This sustained push sees the gap come down to 1:20
We have a return to the Trek-Bora-Alpecin trio at the head of the bunch.
No crosswind action today, it would seem. We'll soon turn east and it'll be more of a tailwind to the finish.
We're around 6km from the first and only climb of the day, where we should at least see some action from the breakaway.
A reminder that this 'climb' is 400 metres long, has a gradient of around 3.5%, and rises to 25 metres above sea level. Its categorisation is an insult to climbs everywhere.
61km to go
The gap falls to one minute but the breakaway are going to stay away to contest this climb.
Van den Berg and Miquel track it
De Gendt is also up there as the group splits
It's a tight bend just before the line, and it's not clear who's taken it but Van den Berg was up there at least in second.
We await the official result but Van den Berg either way has done enough to earn himself another day in the polka-dot jersey.
58km to go
Anyway, the breakaway is back together and riding on towards the finish with a lead of just under a minute.
Confirmation comes that De Gendt won the KOM sprint, taking two points, with Van den Berg seconds with one point.
50km to go
Into the final 50. The breakaway have a lead of 45 seconds and this stage is looking as uneventful as they come. Still, it's a tailwind, so it should be done in around an hour.
The average speed so far is 44.2km/h
There are some unfamiliar colours in this peloton. Here's the lowdown on the three teams with special-edition jerseys
New kits on show at Vuelta a España as Movistar pay homage to Valverde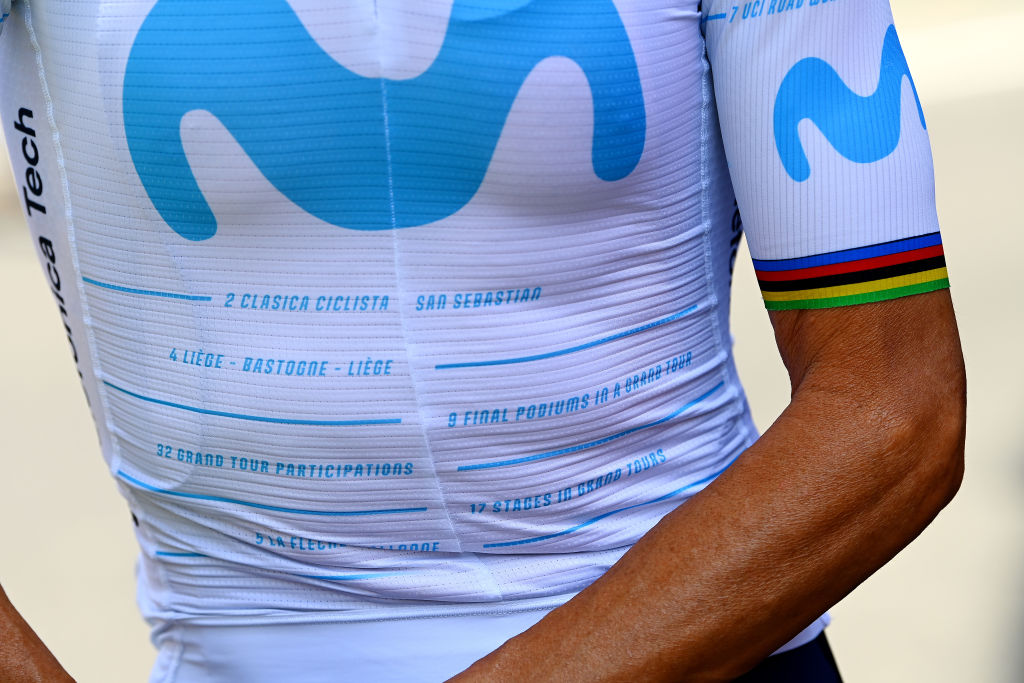 The seven breakaway riders remain together, collaborating well and holding the peloton at 40 seconds. But with nearly 40km to go they're not going to stay away and there's not much left to fight for, apart from the intermediate sprint with 23km to go.
33km to go
10km to the intermediate sprint now and the gap holds steady at 40 seconds.
Alpecin-Deceuninck are leading the peloton towards Breda.
We're coming up to the sprint now and the gap is down to 20 seconds.
Alpecin are riding hard in the bunch but the break are going to hang on to contest this.
23km to go
It's not a huge contest. De Gendt hits out and takes it, Miquel in his wheel.
21km to go
The breakaway continue on for now, 17 seconds ahead.
Frantic moments for Ineos as their two leaders hit the deck coming out of a roundabout. And also Carlos Rodriguez.
It wasn't a high-speed crash and they all look ok. After sorting their bikes out they're back on the move chasing back through the cars.
18km to go
De Gendt has sat up. The other six escapees are dragging this out as long as possible.
The Ineos riders are back in the bunch. Well, at the back of it. They'll want to move up as the British team like to keep their leaders up at the front even on the run-in to sprint stages.
Here's the result from the intermediate sprint
1. De Gendt, 20 pts
2. Miquel, 17 pts
3. Bakelants, 15 pts
4. Okamika, 13 pts
5. Van den Berg, 10 pts
It was Geoghegan Hart, and not Rodriguez, who was part of the Ineos trio. It's unclear what exactly happened and who crashed, but Carapaz certainly appeared to have come unstuck as he was fiddling with his bike before getting going again.
Bakelants, Van den Berg, Okamika plough on and try to eek this out for as long as possible.
11km to go
But now it's all over. All together with 11km to go
Now we get our sprint wind-up. Trek had the front but now Alpecin take it up en masse.
A reminder of our contenders...
Sam Bennett (Bora-Hansgrohe) won yesterday. He's had an awful season but seems to be back.
Mads Pedersen (Trek-Segafredo) was second yesterday and Trek are fully backing him here.
Tim Merlier (Alpecin-Deceuninck) was third yesterday and has the best results of the lot so far this season.
Beyond them, there's Pascal Ackermann (UAE Team Emirates) and a whole host of outsiders, including Bryan Coquard (Cofidis), Gerben Thijssen (Intermarché-Wanty-Gobert), Kaden Groves (BikeExchange-Jayco), Dan McLay (Arkea-Samsic), Jake Steward (Groupama-FDJ), Ethan Hayter (Ineos Grenadiers), Itamar Einhorn (Israel-Premier Tech), Mike Teunissen (Jumbo-Visma).
Alpecin have three in front of Merlier with 7km to go
Bahrain set up shop on the right. There will be GC teams protecting their leaders.
A big wide road and a sweeping right-hander. It's a less technical run-in than yesterday.
Jumbo are gathered en masse behind Alpecin. They're defending the red jersey of Mike Teunissen but it's not clear if he'll sprint today.
Movistar appear through the middle, behind them Bora. Danny van Poppel was so good for Bennett yesterday and his lead-out might be the difference today.
Teunissen hits the front! The race leader is pacing for his team.
4.5km to go
It's now Bahrain, Movistar, Jumbo from left to right.
3km to go is the safety net for GC riders in the event of crashes. 1km til we get there.
3.5km to go and Bahrain are enforcing on the right still. No sign of Ineos. Trek now muscle through alongside Jumbo.
Alpecin have slotted their lead-out man behind Jumbo now.
Bennett is sitting calmly behind his Mullen-Van Poppel lead-out
3km to go and we have a sweeping left-hander. Jumbo lead through it.
Roglic is in second wheel.
2km to go and Bennett is being brought up.
Alpecin move up as Jumbo slip, and BikeExchange suddenly appear on the right for Groves!
Alpecin hit the front with two men. Merlier is a couple of wheels back though
A chicane, 1500m to go now and Alpecin still have it but they're getting swamped now!
Two left for Alpecin. 1km to go
UAE come through, then one Bora rider int he middle of their train through a right-hand bend!
Mullen comes through but pulls off as Bennett is nowhere near. UAE lead out.
Molano is leaidng out for Ackermann. Merlier is well back
Ackermann opens up. But there's Bennett - where did he come from!?
What a sprint, but also what a lead-out. Again. Danny van Poppel is shining at this Vuelta.
Mullen actually found himself on the front but looked around and that duo weren't there, so he pulled off. That forced UAE to open the sprint early, but at that point Bennett and Van Poppel weren't in the frame. But suddenly they were, as Van Poppel catapulted his sprinter up the left-hand side, and the job was finished in style.
Pedersen was second again, on Bennett's left shoulder, while McLay was third on his right shoulder. Coquard finished in the slipstream and there was daylight back to fifth place. Ackermann faded badly and Merlier got disengaged from his lead-out man before appearing to halt his sprint.
The winner's shot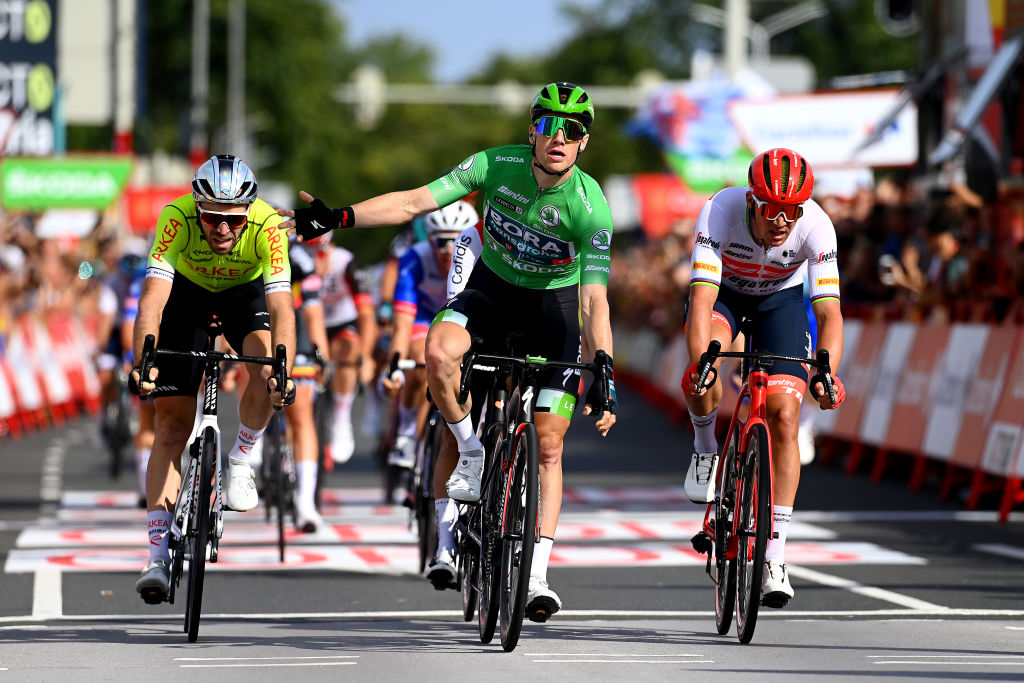 Let's hear from the winner
"It was quite hard because a lot of people were fighting for our wheel. It was just the natural flow that people went up the side and squeezed me off, so there were a few tough moments to hold Danny's wheel. It was a hard fight.
"The boys again... what can I say? Jonas [Koch] was riding all day - a big thank you for the commitment. Then the boys looking after me in the bunch all day. In the final, Jonas, even though he was riding all day, came back and gave a big turn. Then Ryan kept us up there, taking so much wind. Then Danny... it was a masterclass.".
Jumbo-Visma continue to play pass the parcel with the red jersey. They deliberately gave it to Robert Gesink as the first rider across the line in their TTT victory, then they let Mike Teunissen sprint to take the overall lead yesterday (it's based on stage placings when riders are tied on time. And now it's the turn of Edoardo Affini. Teunissen did not sprint, instead working for his team before making sure he slipped well down, to 153rd place. Affini finished 20th and is our new overall leader.
And there he is