Vuelta a Burgos stage 1 - Live coverage
All the action from Spain as the men's peloton return to action
Hello and welcome to live coverage from the Vuelta a Burgos. We're live throughout the day with all of the action from stage 1. It's good to be back.
Refresh
Good morning and welcome to our live coverage. We're in sunny Spain for the start of stage 1 from Burgos. Sign on has been completed and roll out starts in 20 minutes, with the official start time set for 13:00 CET. We have some start line news and a gallery coming up shortly, as well as an in depth look at the official race start list. We'll also preview today's stage, which has a short uphill finish.
A couple more teams still to sign on actually, and Bahrain McLaren are on the podium right now. All of their riders are wearing face masks, but we can see Mark Cavendish and Mikel Landa. Generally the mood seems relaxed between the riders, while there is a small crowd gathered in the main square.
Landa gives a few words to the crowd, helps himself to some free hand sanitizer and then steps off the podium. He's a big favourite for the race and comes to Burgos with a very strong support crowd.

We're just waiting on official numbers because I don't think everyone signed on this morning.
Looking ahead, here's today race profile, with the peloton set to race 157km, leaving Burgos and then returning to the same location for the finish. We've got climbs but it should stay together until the finish. To be honest, we've no idea how the stage will pan out, as most of these riders haven't raced since March.

Roughly ten minutes until the official roll but riders still have the neutralized part of the stage before the flag drops and racing begins. Of course, we've already seen a number of races take place in the last week or so, with three major women's races. You can find out about them in our dedicated section for women's racing.
There's Team Ineos' Ivan Sosa, the winner of the last two editions of the race. He was popular at the sign in and gave a few words from behind his face mask. He's raced just one day so far this year - Colombian nationals and he was a DNF - but he's made it back to Europe safely and is ready to race. He's supported by a really strong team that includes Giro winner Carapaz, Dunbar, and Henao. They probably start as the favourites but there are some very strong riders here. In fact that Ineos line-up is probably very close to their Giro team for later in the year.
And we're off, riders have started to roll out under bright skies and warm temperatures. This all feels rather surreal given the last few months but here we are commenting on an IRL race. No power-up, or burritos, which makes a welcome change. It's reassuring, however, that the race has protocols in place to help keep riders and staff as safe as possible.
Apologies, we've had some technical problems but are up and running again.
There's Mads Pedersen, resplendent in the rainbow jersey. We caught up with the Dane at the weekend and talked about making up for lost time and the Tour de France and Classics that come later in the year. He's here to find his form but if he has a chance to win a stage, he'll go for it. You can read our story on the world champ, right here.
While the sun is out the winds are strong too and we could easily expect some echelon action today. That's not what most teams will want, especially after the long hiatus from racing. We're officially off and running though in the race but no significant break just yet.
At the startline there was a minute's silence for all of the COVID-19 victims. Spain was especially hit hard in the spring of course. There were very few fans at the start this morning, our man on the ground Alasdair Fotheringham, estimated between 100-200 spectators at the start with social distancing rules in place.
There was a huge cheer for Spanish national road champion Alejandro Valverde, with the Movistar man applauding those that turned out.
We mentioned Landa earlier, and he's near the front of the field and surrounded by a clutch of Bahrain McLaren riders. The Spaniard started the year well, despite being hit by a car in training, and his using this race to find his best form ahead of the Tour de France. Bahrain McLaren have a strong team at the race with Landa joined by Cavendish, Caruso, Bilbao and Haussler, amongst others. Cavendish will have his chance in the sprints but today's uphill charge is likely to be too hard for him.
Still a quiet start in the main field, with no break just yet. The riders are clearly feeling their way into the race.
The big news from last night involved a COVID-19 scare at Israel Start-Up Nation with one rider being pulled from the start list. That's because of their riders, Omer Goldstein, who isn't at the race, tested positive in Girona and he came into contact with one of his teammates before they set off for Burgos. That put them down to six riders in the race but we noticed that only five riders signed on this morning. We'll try and find out what happened. You can read last night's report, right here.
And we finally have a break in the race with Bol (BBH), Martín (EUS), Sevilla (KTX) and Galván (EKP) going clear. It's Valverde's Movistar team that are currently setting the pace on the front of the peloton. No distance markers yet, as some race tools seem to be a bit slow at getting back into action. We'll have that information for you soon though.
Simon Yates here, snapped at the start this morning. He's gunning for a good GC result here and he will measure his form against riders like Carapaz, who is also targeting the Giro d'Italia later in the year. Yates has Chaves with him for mountain support in this year's Vuelta a Burgos.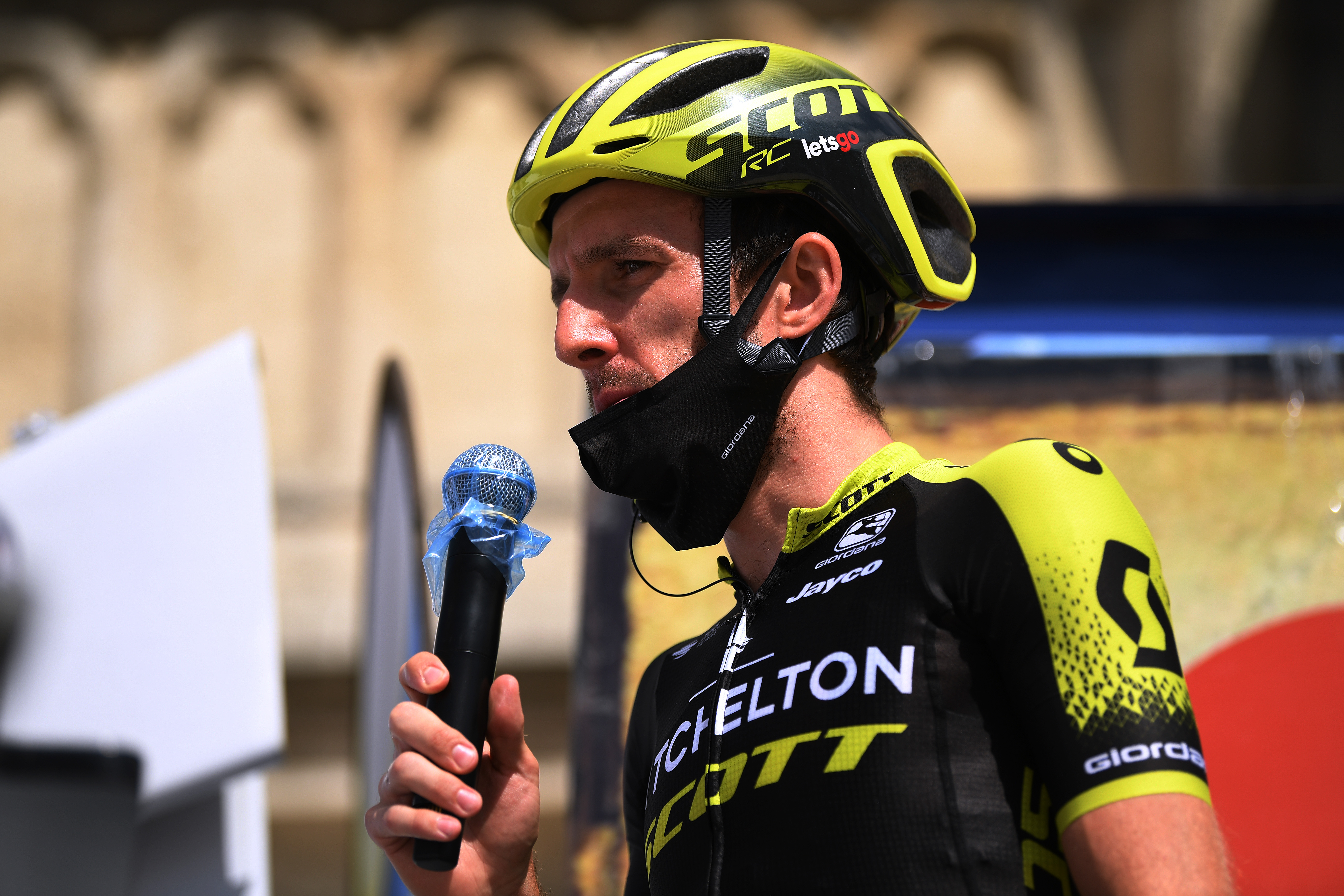 140km remaining
The leaders have a five minute advantage over the peloton but we're just waiting on a second confirmation on that time gap just to be sure.
A reminder on our leading group:

Jetse Bol
Gotzon Martin
Kiko Galván Fernández
Diego Pablo Sevilla
Jetse Bol might be the most recognizable name in the break. The 30-year-old Dutch rider is a bit of journeyman having raced on a number of teams since coming through the ranks at the Rabobank dev squad. He finished 10th in the race back in 2017.
Confirmed that the break have a gap of five minutes after 20km of racing. NTT have also joined Movistar on the front of the peloton.
If you want to stream the race, then you can read this short article. It has loads of tips and advice depending on what time zone/country that you're in. Here's the link.
Here's a shot of Team Ineos at the start this morning.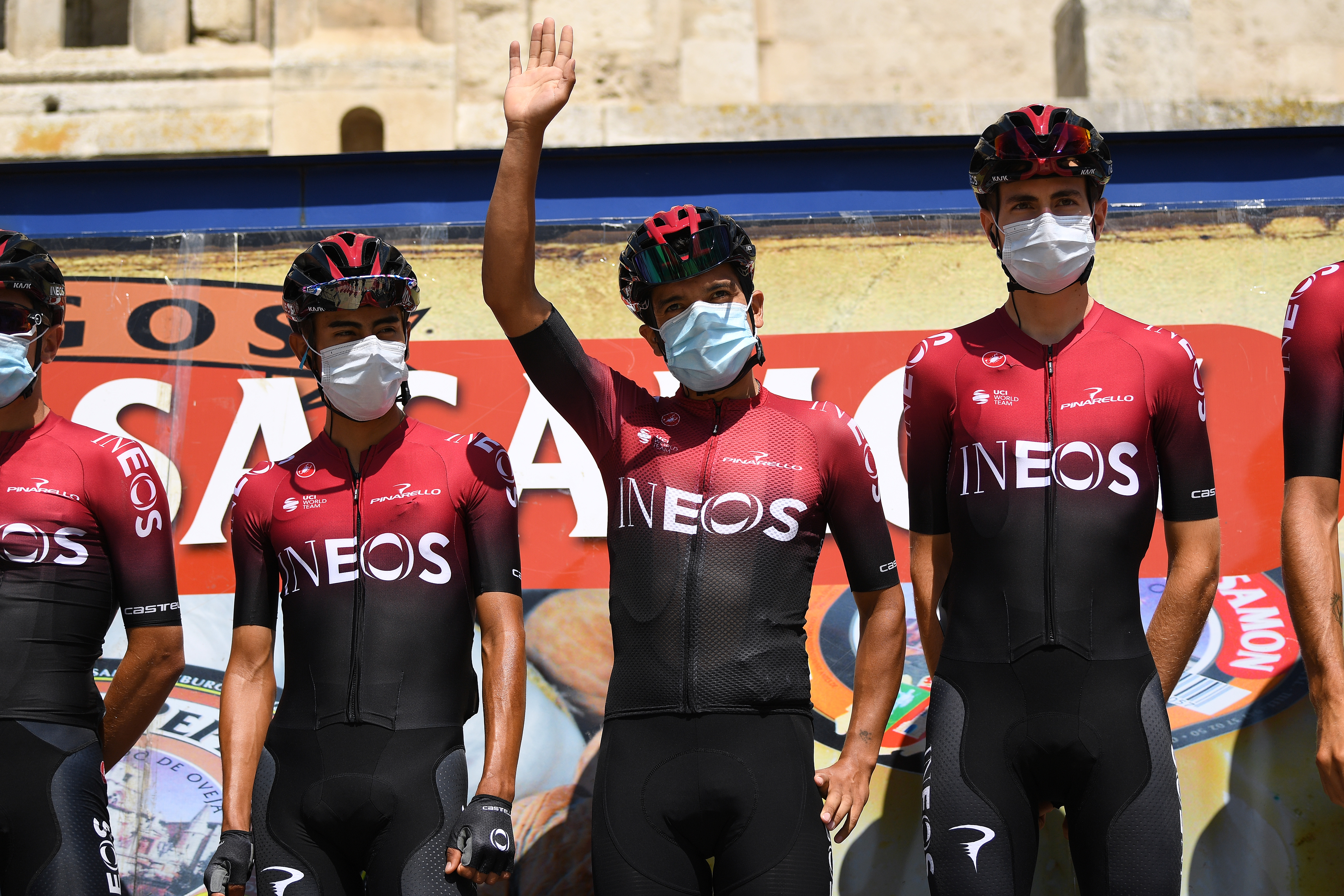 120km remaining
The four leaders plough on as the kilometers tick by but the gap has dropped down to 4'40 with 120km to go. A few domestiques have dropped back to their team cars to pick up rounds of beveraginos.
Bahrain McLaren are here to support Mikel Landa's GC bid. Mark Cavendish said as such in a press release over the weekend. You can find that story, right here.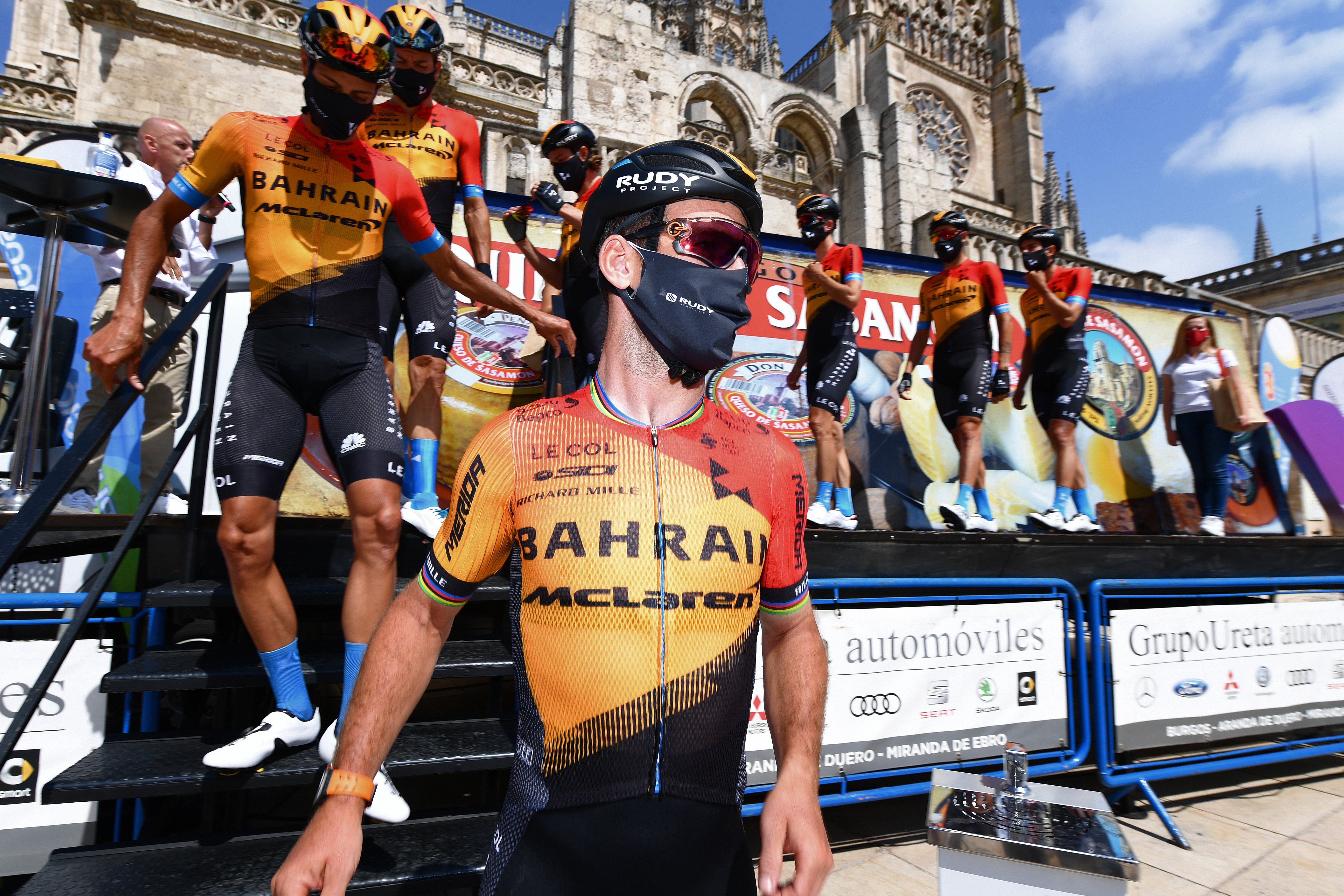 In other news, Specialized has a new bike out later today. I don't know much about bikes or cycling and life, in general, to be quite honest but apparently this is a big deal. You can find our preview on the new Specialized, right here.
Back on the road and the break have covered 40km and they're holding a 4'30 gap on the peloton with Movistar and NTT setting the pace. Not much else to report at this point but as we said earlier, the wind later could be key, as some have predicted cross winds.
A bit of unrelated transfer news and Larry Warbasse has just announced on Twitter that he's re-signed with AG2R La Mondiale for a further two years. The American has found a home on the French team after a few years of uncertainty. Good for him.
45km covered and the gap is back out to 4:50 over the main field as the break push and take a few more seconds. We're still someway off the main climb of the day and currently descending but the roads are generally rolling at this point in the stage.
FDJ and QuickStep have now joined the front of the peloton as they look to hold the break at under five minutes. The peloton are in full control right now, especially with just over 100km still to race.
Just looking at the finish, it's very technical and a tough little uphill finish. It has Valverde, Landa or someone like Nizzolo and sprinters who can climb. We'll have more on the finish later today.
Nizzolo won here last year, didn't he? He's got to be backed today by his NTT team. The squad have found their footing since Bjarne Riis came in at the start of the year and they've started winning races both online and in real life. The Italian won in Paris-Nice earlier this year and if he can find that form again he should have a great second half of the season.
Just under 100km to go and the gap to the break is holding at 4:30.
As mentioned earlier today, we have photographers and reporters on the ground at the race, and we've put together this gallery of images from the start.
76km remaining
The four leaders are motoring along at the moment and working well but behind the peloton are starting to organise their chase, they're not strung out put the pace is relatively high. 76km to go and the gap is at 3'45.
We race through the feedzone but there's no let up in pace as Movistar lead the charge. It's not quite flat out but the pace is far from relaxed as we see a few grimaces from those in the break.
Breaking news: Alex Dowsett is out of the race after the coronavirus scare at ISN. That's two riders from that team out of the race - but the good news is that both riders returned negative test results. The story is here.
Just on the finish, briefly:

The finish climb is tackled in its entirety twice. It's about a kilometre long, hardest in first three hundred metres, about 10 percent and then a narrow, shorter 10 percent ramp at about 400 metres from the line. The run-in is very fast, on a broad, flat avenue, and then there's a sharp right hand bend leading straight up, so positioning will be important. After the first long drag of 10 percent it's a bit of a technical, cobbled zigzag, then onto much narrower, badly surfaced wooded road that curves left and then wiggles right onto the finishing straight. Good for Valverde, Landa, sprinters who can really climb.
Back to the Israel story involving two of their riders, it sounds really unfortunate to be pulled from the race and to then test negative but not starting this morning was the right call. No blame can be attributed to riders in this situation, as they're just trying to do their jobs as best they can. Thankfully the results came back as negative.
62km to go and the gap is down to 3'05 and the break are starting to really suffer. They can't keep this up all the way to the finish but the peloton will want to put the hammer down and get rid of some of the pure sprinters. We can expect the race to totally break apart if cross-winds come into play and it's still blustery out there on the road.
Inside the final 60km now and Movistar are still setting the pace but we can see Mitchelton Scott move Simon Yates closer to the front. The leaders have lost nearly a minute in 5km, with the gap down to 2;18.
A big crash on the right hand side, and Majka is one of the riders down on the deck. Demare is down and I think that Henao from Ineos who is still on the tarmac.
Henao is down and so is a rider from Jumbo Visma, both look banged up but are responsive, but it looks like their races are over. Another Jumbo rider is in trouble by the side of the road and waiting for a new bike. The ambulance crew ar now giving assistance.
50km remaining
Gijs Leemreize is the Jumbo Visma rider who was lying on the side of the road, he's now thankfully sitting up and talking but at the front of the race Trek-Segafredo set the pace with 50km to go and the gap at 1:47.
And now it's QuickStep who hit the front of the peloton with their entire squad in action. 47km to go and the gap is now down to 1'47 as we see another crash in the peloton. It looked like a single rider falling on a descent but we couldn't see from the CN blimp.
Cross wind carnage and the peloton is in pieces. It's a complete mess with 43km to go. They hit a stretch of exposed roads and as the wind picked up the peloton simply shattered. QuickStep doing the damage and we have three groups on the road. The front group is heavy with QuickStep and Trek riders but the gap at the moment is less than 8 seconds. Valverde is in the front group.
Jumbo Visma, Ineos and Bahrain have been left to chase but they're not gaining any ground. 41km to go.
The world champion is also in the lead group. Soler is there, Juul Jensen, and about a dozen riders. Right now the peloton are holding them at 8 seconds as they take a left hand corner. The day's break, meanwhile, are about to be caught. 39km to go.
Game over for the four leaders as QuickStep plough on and continue to put a number of their rivals on the back foot. The gap isn't getting any bigger though and the main field look organised after that early panic. It's still going to take a big chase to bring everything back together but the situation is starting to calm down.
The leaders are sitting up and it looks like everything is now coming back together with 37km to go.
QuickStep go again and now they fire two men off the front, with one rider from Trek marking them. Again the race is starting to split up. We're also climbing right now too.
35km to go and Evenepoel is clear. He's going along with 35km to go. His teammate helped to set him up and now he's decided to carry on and he's starting to establish a gap. This is incredible from the young Belgian rider.
Evenepoel has 39 seconds on the entire peloton. 33km to go and Movistar's entire team has moved to the front to try and chase him down. The gap is now 43 seconds.
Movistar realise the danger but they're playing with fire if they let this kid go up the road and build up a lead like this. It's holding at 43 seconds with 32km to go.
The gap is starting to come down and it's now at 36 seconds as Valverde comes up and start to bark orders at his teammates. We still have 28km to go.
And again the bunch is splitting up and the peloton are ragged with over 26km still to go. This will have been such a shock to the system for the riders today, with the heat, the pace and the cross-winds.
There's so little control at the front of the bunch but the gap is starting to come down. It's now at 24 seconds as Bahrain move up and set the pace but the bunch has split into at least two main groups. Meanwhile, Evenepoel takes a swig of his drink and just settles back into TT mode.
Evenepoel is slowing. On purpose, it must be said, and the gap is down to 8 seconds.
Was the young Belgian just testing his legs or was this a genuine race tactic? Not sure but Evenepoel is now back in the main peloton. There's now an attack from Burgos rider with 22km to go.
It's Smit who has gone clear and he's got maybe 10 seconds, if we're being generous. Good little move though and a smart time to attack, just as Evenepoel was caught and the pace eased.
Inside the final 20km of the stage and Smit is alone and has a gap of around 21 seconds. The bunch are easing at the moment after a very difficult last 30km and Smit is taking advantage as he continues to build a nice little lead.
And we hit a climb with 15km to go, Smit caught and Ineos set a furious pace.
Ineos have the numbers here and despite losing Henao earlier on they still have a powerful line up that includes Sosa, who has won this race for the last two years.
Chaves and Mas, and Landa are all near the front, Valverde too as they cross the line for the first time today. Not sure how many sprinters will be left when they climb this for the second and final time. 14km to go.
Just 12km to go and it's all to play for, the stage win and the first leader's jersey in this year's Vuelta a Burgos.
It's still all Ineos at the front for now but QuickStep, Movistar and Mitchelton all have riders. No sign of Sam Bennett, it looks like he's been dropped.
Ineos might be running out of men though, and they call Mitchelton through to help with the work. Chaves is there but not sure about Simon Yates as CCC move up. They have Trentin and Bevin in their ranks today.
Ganna is setting the pace for Ineos with 10km to go.
On the road to the final approach and there are about 35 riders in contention. CCC still on the front. Nizzolo is still there.
Ineos are trying to save what they have left for the final and we have 7.3km to go with five CCC riders on the front of the leading group. Yates isn't here, quite certain of that now.
Inside the final 5km now and still CCC are on the front. Everyone else is just waiting and waiting. Positioning is going to be key on the final climb so potential winners need to time their ride perfectly.
Chaves has posted a man on the front and the pace goes up but it's a waiting game for now. The winner will come from this group of around 30 riders.
We're over a small ridge and it's flat just before the final climb and CCC go again.
And now it's FDJ on the front with Trek Segafredo. Carapaz is there, and Sosa and Valverde.
Nizzolo is also there and now we're climbing and Stuyven goes first but then it's a Bora rider clear with 700m to go.
he's clear and this could stick.
400m to go and it's Felix Großschartner who is clear. That gap looks too big, and he's not coming back.
There's a chase but it's coming far too late. Felix Großschartner is about to take the win.
And Felix Großschartner takes stage 1 with Almeida and Valverde in third. The Bora rider pulled out 8 seconds in no time at all and he made it look so, so easy.
Landa, Trentin and Evenepoel all made the top ten but Felix Großschartner was in a league all of his own. Shades of Gilbert in 2011 Fleche right there, blowing kisses to the crowd as the opposition turned themselves inside out. He was well set up by the team though and certainly timed his acceleration perfectly.
Let's hear from today's surprise winner:
I'm super happy. I checked the parcours yesterday and I saw it wasn't a bad finish for me. I have to say thanks to the team, they brought me to the perfect position on the last corner at the beginning of the climb. I went full gas and said, what can happen? If they catch me, they catch me. It's always better to be in front than to have to chase. I really do like the wind a lot and I was also happy it wasn't hot today like yesterday. We have strict rules from the UCI and I think that's pretty good. You don't really notice on the parcours but at the finish you have space and that's good.
And here's your top ten for the day:
1 Felix Grossschartner (Aut) Bora-Hansgrohe 3:40:21
2 João Almeida (Por) Deceuninck-Quickstep 0:00:08
3 Alejandro Valverde (Spa) Movistar Team
4 Alex Aranburu Deba (Spa) Astana Pro Team
5 Mikel Landa Meana (Spa) Bahrain McLaren 0:00:10
6 David Gaudu (Fra) Groupama-FDJ
7 Jon Aberasturi Izaga (Spa) Caja Rural-Seguros RGA
8 Jay Mc Carthy (Aus) Bora-Hansgrohe
9 Matteo Trentin (Ita) CCC Team
10 Remco Evenepoel (Bel) Deceuninck-Quickstep
Still there? Some big news with a major bike launch today:

Specialized launches new Tarmac SL7 for 2021
That's about it for our coverage today but we'll be back tomorrow with stage 2 from the Vuelta a Burgos. Thanks for joining us today.

Thank you for reading 5 articles in the past 30 days*
Join now for unlimited access
Enjoy your first month for just £1 / $1 / €1
*Read any 5 articles for free in each 30-day period, this automatically resets
After your trial you will be billed £4.99 $7.99 €5.99 per month, cancel anytime. Or sign up for one year for just £49 $79 €59

Join now for unlimited access
Try your first month for just £1 / $1 / €1