Tour Down Under Stage 4 – Live Coverage
Complete coverage from the fourth day of the WorldTour opener in Australia
Refresh
Stage 4 – the longest of the 2020 race at 152.8km – takes the riders from Norwood to Murray Bridge.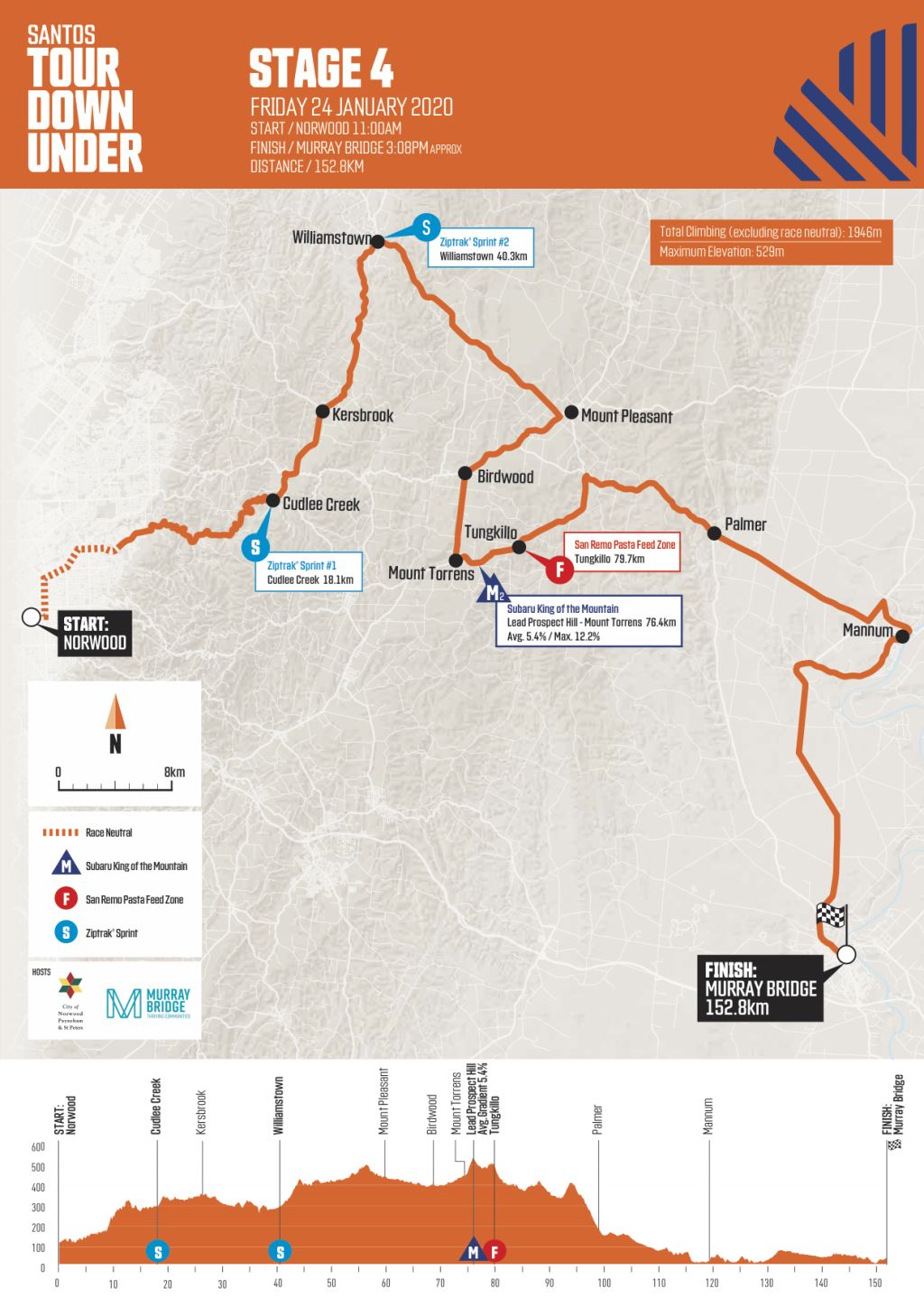 Mat Hayman says we should expect another day for the sprinters, with the fastmen who missed out on stages 1 and 2 looking for redemption.
"There are a couple of sprints early on during the stage, and the GC teams might take those on as they battle for bonus seconds, but from there the stage should be fairly predictable," Hayman says.
Stage 4 is the first true point-to-point stage of the race and is very straightforward. The peloton will set out from Norwood under neutral before starting the ascent into the Adelaide Hills via Gorge Road. After the Gorge Road climb, riders will traverse a lumpy profile to Kersbrook before ascending to Williamstown and veering south to Mount Pleasant.
The final 5.4% climb at Mount Torrens is a reasonable 5.4% average, and is the curtain-raiser to a downhill out of the Hills and to the Murray River, where riders hit Mannum before pushing out the final 30km to finish in Murray Bridge.
There are two intermediate sprints and one KOM.
Sprint 1 comes 18.1km into the day at Cudlee Creek Hotel. The second comes at
40.3km at Victoria Terrace in Williamstown.
The KOMcomes later in the day on Prospect Hill at 76.4km.
To refresh our memories, here's the top 10 from yesterday when Richie Porte stormed away from his rivals on the final climb and into the overall lead

Stage 3 top 10
1 Richie Porte (Aus) Trek-Segafredo 3:14:09
2 Rob Power (Aus) Team Sunweb 0:00:05
2 Simon Yates (GBr) Mitchelton-Scott
4 Rohan Dennis (Aus) Team Ineos
5 Diego Ulissi (Ita) UAE Team Emirates
6 Daryl Impey (RSA) Mitchelton-Scott
7 Dylan Van Baarle (Ned) Team Ineos
8 Simon Geschke (Ger) CCC Team
9 George Bennett (NZl) Jumbo-Visma
10 Luke Hamilton (NZl) Mitchelton-Scott 0:00:13
And here's the current top 10 of the overall standings

General Classification after stage 3
1 Richie Porte (Aus) Trek-Segafredo 10:10:24
2 Daryl Impey (RSA) Mitchelton-Scott 0:00:06
3 Rob Power (Aus) Team Sunweb 0:00:09
5 George Bennett (NZl) Jumbo-Visma 0:00:140:11
5 George Bennett (NZl) Jumbo-Visma 0:00:14
6 Diego Ulissi (Ita) UAE Team Emirates 0:00:15
7 Simon Geschke (Ger) CCC Team 0:00:15
8 Rohan Dennis (Aus) Team Ineos 0:00:15
9 Dylan Van Baarle (Ned) Team Ineos 0:00:15
10 Luke Hamilton (NZl) Mitchelton-Scott 0:00:23
Robert Power's second-place finish yesterday was a bit of a surprise, and our Stephen Farrand wrote about the Australian's day HERE
The peloton is rolling for the 9.6km neutral start of stage 4
Temperature today on Norwood is 20.4°C or a mil 68° F.
With time bonuses up for grabs at 18.1km and again at 40.3km, the GC teams might want to keep things welded together for a bit to try and set up their leaders to collect some extra seconds. That could mean some fast racing in the first hour or so. I hope everyone has their shoes buckled up tight.
Laurens De Vreese (Astana), one of our breakaway riders form stage 1, accelerated off the front as soon as the neutral flag dropped, but he's currently dangling out there alone.
Here's Lachlan Morton at today's stage sign-in in Norwood.
Colin Levitch took a look at and snapped some photos of Morton's Cannondale Supersix Evo. You can read his report and see the photos HERE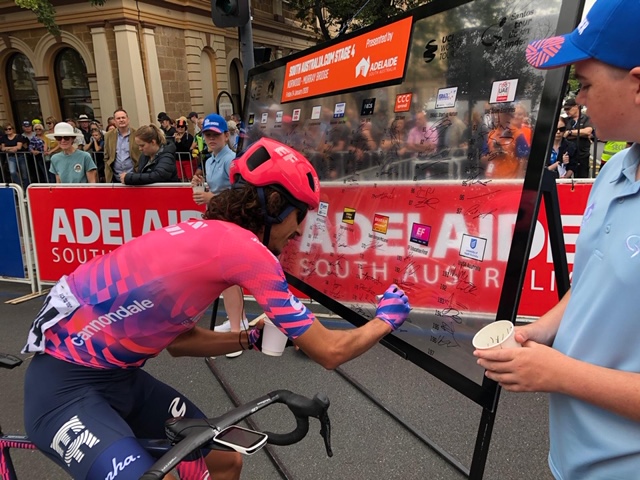 We're trying to maneuver the Cyclingnews blimp into position to see if anyone has joined De Vreese, but we can see anything yet
De Vreese is still alone and has 20 seconds on the peloton. This is a long stage for a lone escapee, but no one seems to be in a hurry to join the Astana rider. The GC riders' teams may be keeping things in check before that first sprint at 18.1km
This day could prove to be another good one for stage 2 winner Caleb Ewan (Lotto Soudal), who looked relaxed at the start in Norwood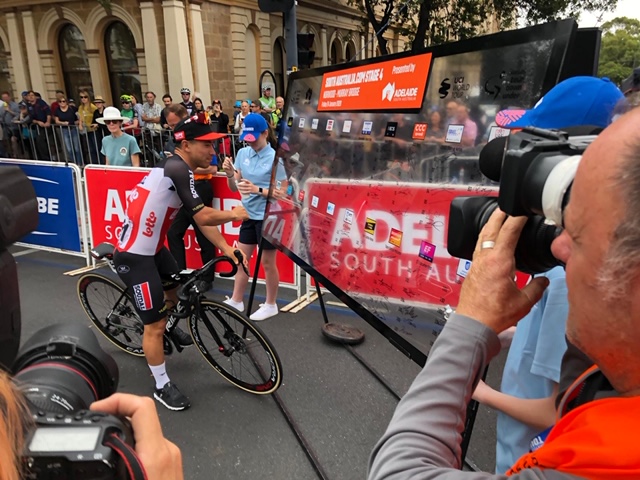 The bunch ended De Vreese's exploits off the front, and they're all together just 6km from the first sprint, where time bonuses of three seconds, two seconds, and one second are on offer to the top three
They've reached the sprint all together. Here we go!
Speaking of Morton, he and EF Pro Cycling teammate Mitch Docker are set to shave their heads this evening after stage 4 of the Tour Down Under. They're raising money for the Salvation Army in Australia to help those affected by the bushfires.
Our crack team on the ground in Australia will try to be on the spot at the Rapha pop-up shop in Adelaide to get some pictures, but Morton said at today's sign-in that they need to raise just a little bit more money, and Docker is offering to shave more than just his magnificent mullet.
"We've raised around AU$4,000 so far, but we're trying to get to about $5,000 so that Mitch will shave off his moustache, too," Morton said. "That's his trademark, so I don't think $5,000 is too much too ask in order to take that bad boy off."
Anyone who'd like to donate can go to the GoFundMe page set up by Docker.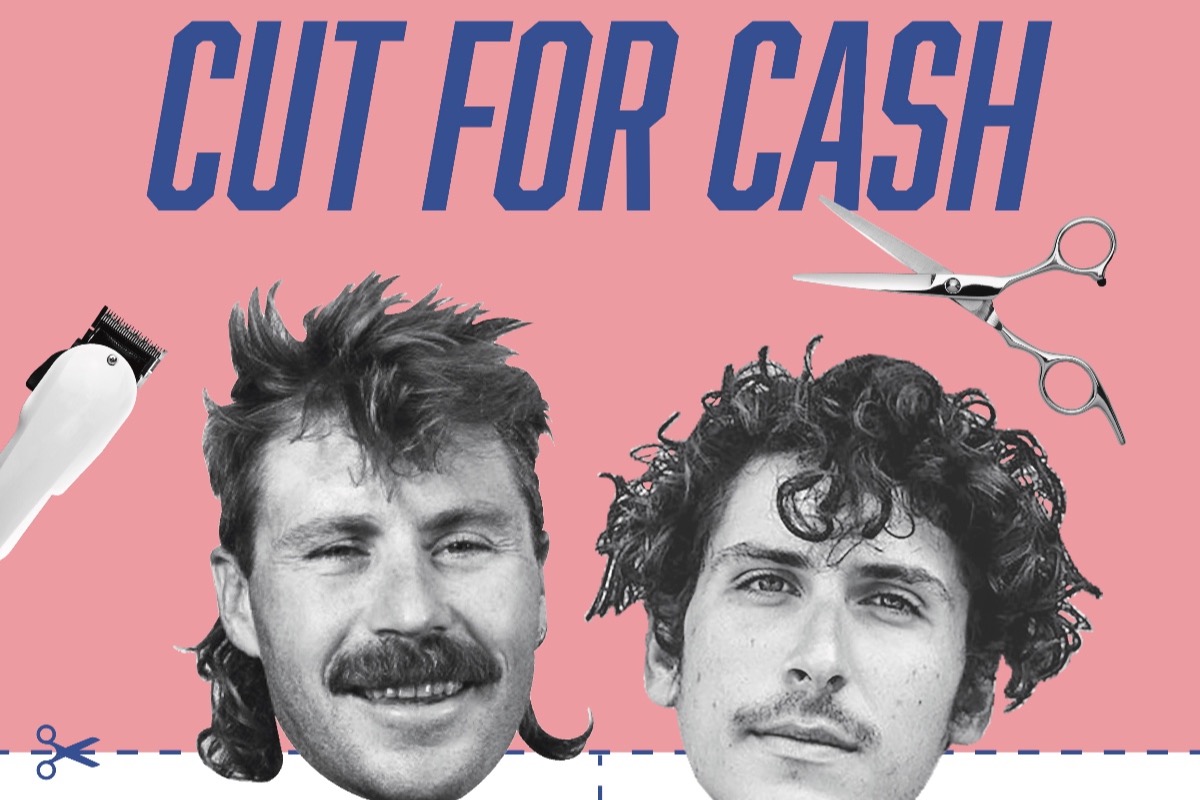 They're through the sprint and we're waiting for results. Meanwhile, CCC Team and Israel Start-Up Nation have put the hammer down on the front
Jasper Philipsen (UAE Team Emirates) took the sprint ahead of Trek-Segafredo's Mads Pedersen, but Daryl Impey (Mitchelton-Scott) managed third and shaved one second off his deficit to Richie Porte. He now trails the Australian overall leader by five seconds. Some nice riding there by Pedersen to deny Impey second place and another bonus second.
Not satisfied with that one second bonus for Impey on sprint 1, Mitchelton-Scott has been shutting down all the escape attempts as they head toward sprint 2 in Williamstown at 40.3km.
Mitchelton-Scott, Team Sunweb and UAE Team Emirates are all battling for the front as they approach sprint 2.
Philipsen takes sprint number 2, but Impey was able to snag second this time and get two bonus seconds. He's now three seconds behind Porte in the overall.
With those time bonuses out of the way, the peloton has let a breakaway slip off the front, and you'll recognise some of the names.

It's our old friend Laurens De Vreese (Astana) again. He's persistent. And another familiar name in Joey Rosskopf (CCC Team), who infiltrated the breakaways on stages 1 and 2 and is currently in the mountains jersey for his efforts. He can collect more KOM points today on the category 2 Mount Torrens climb at 76.4km.
Also in the move are Canadian James Piccoli (Israel Start-Up Nation) and Spaniards Jorge Arcas and Sergio Samitier of Movistar.
With 100km to go, the breakaway has two minutes on the peloton.
Once again, those riders are:
Joey Rosskopf (CCC Team)
James Piccoli (Israel Start-Up Nation)
Laurens De Vreese (Astana)
Jorge Arcas (Movistar)
Sergio Samitier (Movistar)
From high in the air above the race in the Cyclingnews blimp, we detect a strong tailwind blowing into the finish in Murray Bridge. It could be a fast one today, folks.
With 90km to go, the leaders' gap over the peloton has increased to 2:50.
The leaders now have 3:20 on the peloton
Lotto Soudal has two riders on the front of the bunch setting the pace
The riders are on a straight, flat section of tarmac now and they're benefiting from a tailwind, which is a big advantage for the breakaway and improves their chance for success dramatically.
Rosskopf has lit out 1km away from the KOM at 76.4km. The others have allowed him to go, and the American from CCC Team will get 10 points at the top of Prospect Hill to add to his lead in the mountains competition. De Vreese tried to sneak back up on Rosskopf and challenge, but the CCC rider stomped away on the pedals one more time and took top honours.
The break will regroup now with just over 75km to go and a 2:15 gap.
De Vreese and Rosskopf still have a gap on their fellow breakaway rides, but the trio behind are chasing hard.
The break has gone through the feedzone and the group has broken apart a bit as riders take on some calories. They'll be back together again soon to connitue on toward Murray Bridge.
Elia Viviani is one of the riders looking to do well in today's finish, but a crash at the end of stage 2 has left him pretty banged up. Here's what he had to say this morning before the start.
"Today is a sprint stage, but we want to understand how I feel during the day and see. There's technical part in the final at 1.5km, but we've went really well with the lead out, so, yeah, I don't know if we'll be in the mix, but it feels good to be on the bike."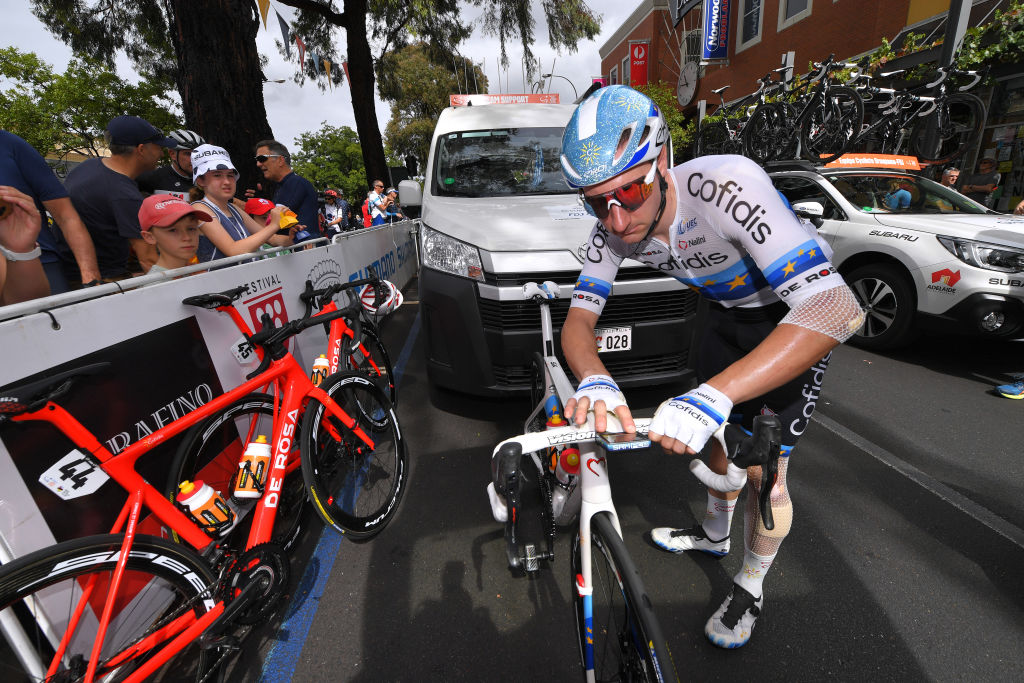 With 60km remaining, the gap is 2:25
Simon Yates also went down in the crash on stage 2 and injured his left knee, but he was able to start stage 3 and finished third behind Richie Porte and Rob Power. Here's what Yates had to say before the start this morning.
"I was just grateful to make it to the start line," he said, adding that he was doubtful before the stage of his ability to compete. "Very much so. It was quite a decent start, but it could have been much worse. But after about an hour, two hours, it came around quite well and I was able to contest the final."
Well things have changed dramatically here. With 53km to go the gap is down to just 40 seconds.
It will be hard for the break to stay out of sight on the long straight roads. The breakaway riders are staggered across the road in a mini echelon. The pack is all bunched up after a furious chase that spit a small group of riders out the back
Lotto Soudal are continuing to lead the chase for their sprinter Ewan. Thomas De Gendt is currently on the front. The gap is 45 seconds.
The leaders have descended out of the hills and onto the plains along the Murray River
30 km to go and the gap is down to 15 seconds.
They've made the catch, and the bunch is all together with 25km to go.
There's been a bit of talk about some possible side-winds toward the end of today's stage in Murray Bridge, but Deceuninck-QuickStep's Irish road race champion Sam Bennett, who won the opening stage on Tuesday, sounds as though he's ready to enjoy himself.
"It hasn't been an easy last few days – it's always been on. I think the shorter stages here bring a bit more racing. It's funny: it's a 150km stage today, and I looked at it and thought, 'Hooh, it's a long one!'
"I think for the sprint stages, though, whether it's 130km or 200km, it doesn't really change the race. The same guys are still there, and you still have to use a lot of energy and power, but, yeah, there should be a bit of racing at the end, so it'll be a bit of fun."
We'e closing in on 20km to go, and there seems to be a truce in the peloton with the breakaway back in the fold. The riders are spread across the road.
Today's technical finish includes a narrowing lane at 1.6km and a difficult dogleg turn at 300 metres. Let's hope everyone stay upright and safe.
The pace is picking up again as UniSA riders go to the front.
Jumbo-Visma have hit the front as the route turns into a crosswind.The Dutch team is hammering, while some have been caught out. 16km to go
Things are shifting quickly now as the tension builds and the pace increases.
World champion Mads Pedersen is in charge pf shepherding Richie Porte to the finish, but they're struggling a bit too far back in the bunch at the moment.
Jay McCarthy is off the back, and George Bennett has just signalled a mechanical problem and pulled off the road at 12km out.
10km to go and George Bennett has made it back into the bunch
Things have calmed down and there's more order at the front at the moment.
There's been a crash. Astana and EF riders down. It was toward the back of the peloton.
Israel Start-Up Nation have moved forward for Greipel. Viviani is there for Cofidis. Ewan looks ready. Sam Bennett and Quick-Step are taking over the front
5km to go
3km to go and Deceuninck-QuickStep still on the front.
Less than 1km to the narrow section
Cofidis and QuickStep battling
Morkov is first through the final corner for Deceuninck. Bennet kicks firsty but Ewan takes him on the line
Caleb Ewan wins stage 4 at the Tour Down Under!
Stage 4 top 10
1 Caleb Ewan (Aus) Lotto Soudal 3:29:08
2 Sam Bennett (Irl) Deceuninck-QuickStep
2 Jasper Philpsen (Bel) UAE Team Emirates
4 Andre Greipel (Ger) Israel Start-Up Nation
5 Alberto Dainese (Ita) Team Sunweb
6 Martin Laas (Est) Bora-Hansgrohe
7 Giacomo Nizzolo (Ita) NTT Pro Team
8 Erik Baska (Svk) Bora-Hanasgrohe
9 Marc Sarreau (Fra) Groupama-FDJ
10 Michael Morkov (Den) Deceunink-QuickStep
General Classification after stage 4
1 Richie Porte (Aus) Trek-Segafredo 13:39:32
2 Daryl Impey (RSA) Mitchelton-Scott 0:00:03
3 Rob Power (Aus) Team Sunweb 0:00:08
4 Simon Yates (GBr) Mitchelton-Scott 0:00:11
5 George Bennett (NZl) Jumbo-Visma 0:00:14
6 Diego Ulissi (Ita) UAE Team Emirates 0:00:15
7 Simon Geschke (Ger) CCC Team 0:00:15
8 Rohan Dennis (Aus) Team Ineos 0:00:15
9 Dylan Van Baarle (Ned) Team Ineos 0:00:15
10 Luke Hamilton (NZl) Mitchelton-Scott 0:00:25

Thank you for reading 5 articles in the past 30 days*
Join now for unlimited access
Enjoy your first month for just £1 / $1 / €1
*Read any 5 articles for free in each 30-day period, this automatically resets
After your trial you will be billed £4.99 $7.99 €5.99 per month, cancel anytime. Or sign up for one year for just £49 $79 €59

Join now for unlimited access
Try your first month for just £1 / $1 / €1
Get The Leadout Newsletter
The latest race content, interviews, features, reviews and expert buying guides, direct to your inbox!
Thank you for signing up to The Pick. You will receive a verification email shortly.
There was a problem. Please refresh the page and try again.