Live coverage
Tour de France stage 12 - Live coverage
By Patrick Fletcher published
A bunch sprint expected in Nîmes, but the wind might shake things up
Refresh
Hello there and welcome along as we head deeper into the second week of this Tour de France. After that double ascent of Mont Ventoux yesterday, it's back to flatter terrain today, but a typical bunch sprint is not a foregone conclusions given the windy conditions we have out there in the south of France.
The wind, in fact, is so strong it has altered the schedule of today's stage. We've been delayed 10 minutes, so the roll-out will be coming up at 13:40 local time.
The delay is because the wind that's blowing strongly is coming from the north, which means a tailwind for much of the route, so the speed will be higher than first anticipated.
That doesn't necessarily mean we won't see crosswinds or echelons. The start of the stage heads west, and there's a section later on where it goes west, then south for a few kilometres, then east. The roads are more exposed there, and that's likely to be the part of the course everyone worries about.
This is the map of today's route. The wind is blowing at around 22kph pretty much from the north.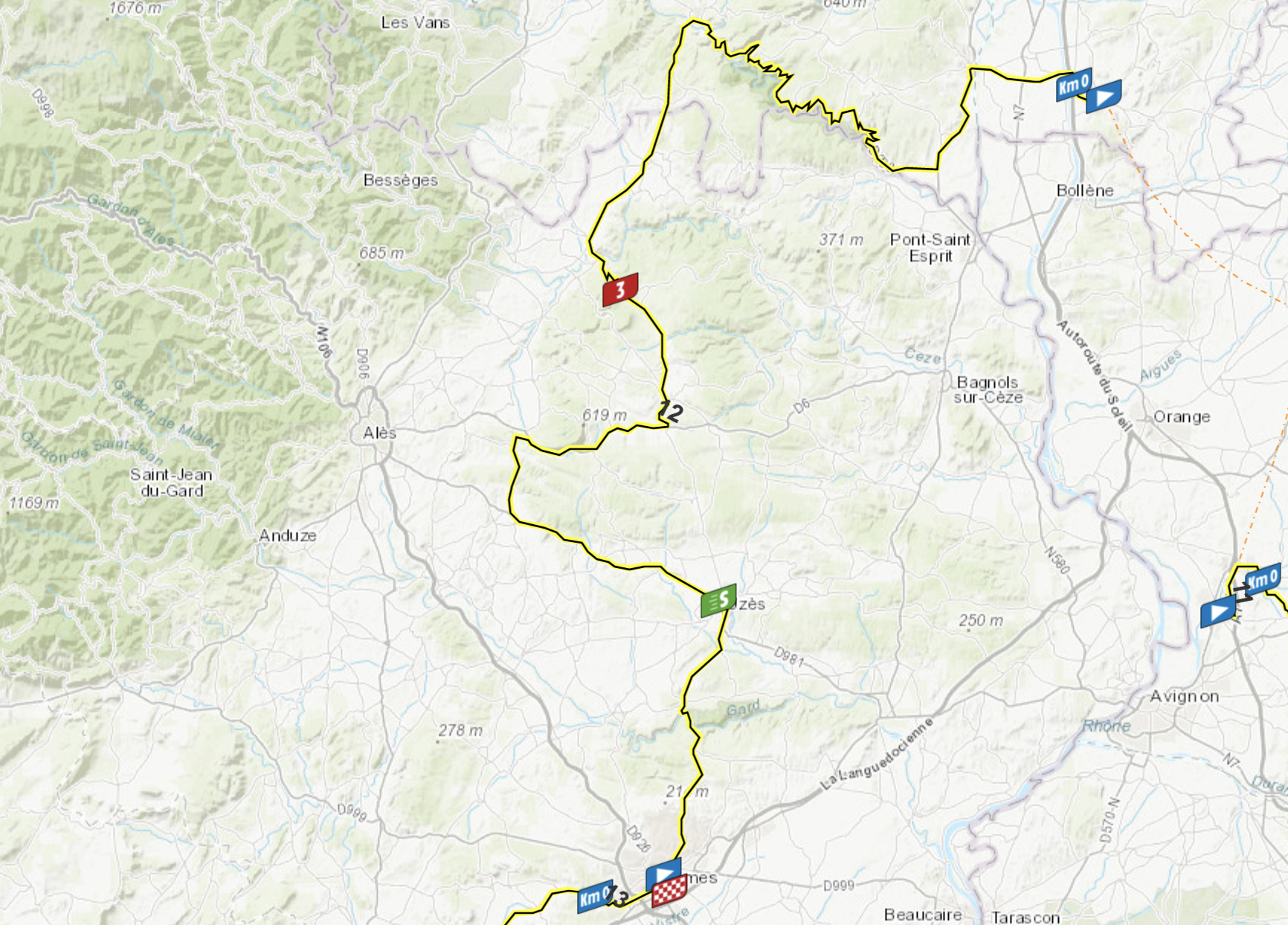 Anyway, before we get going, why not catch up on yesterday's action.
We're hearing that Peter Sagan is not starting today. More on that shortly.
Sagan is out with knee pain. We'll have quotes from him to bring you shortly.
Here's Sagan, who explains his exit stems from that crash with Caleb Ewan in the stage 3 sprint.
"The injury I had after the first stage seemed to be getting better and better but then I hit the knee against the handlebars again two days ago in the sprint and it's swollen. I can't bend my leg."
It's another hot and sunny day at the Tour de France. The riders are signing on and getting ready for the start.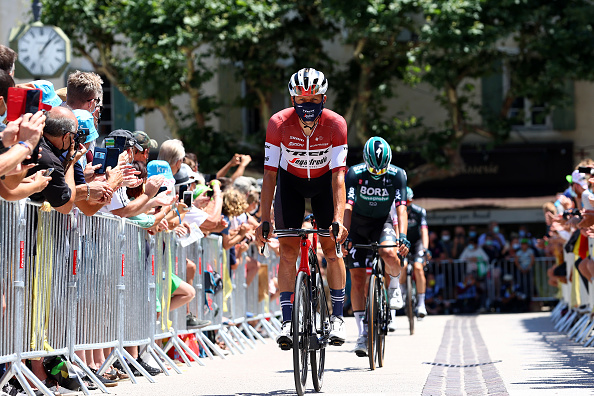 More from Sagan in this video
🚨 🇸🇰 @petosagan will not take to the start-line of the 12th stage!🚨 🇸🇰 @petosagan ne prendra pas le départ de cette 12ème étape ! #TDF2021 pic.twitter.com/WB1TjJoHVYJuly 8, 2021
A fair few riders warming up on the rollers. No early hills but we're expecting a fast and furious start.
We're on the move. The riders are rolling through the neutral zone and we'll be underway shortly.
Here we go. Prudhomme is out of the sunroof. He's keeping them in check for now but we're about to get going.
We've gone past kilometre-zero but it's still neutralised. Several riders mob past Prudhomme's car but there are a couple of motos to slow them down. Plenty keen to get going here.
There it is. There's the flag. It's waved and we are racing!
The bunch was lined out from a couple of roundabouts just as Prudhomme waved it underway. The first accelerations stretch it out even more
It is indeed a fast and furious start. No breakaway attempts but a huge pace at the front of the bunch.
A few riders in trouble off the back already
Splits already! It's at the back of the bunch but still, a group of 15 has lost contact.
Echelons! Four separate groups on the road in diagonal fan formation.
The front group is still a large peloton but riders are starting to be snipped off the back.
Geraint Thomas is in one of the dropped echelons. He's not on his best form but that's one less rider with Carapaz, and Ineos crucially lost their best crosswind rider in Luke Rowe to the time cut yesterday.
The race crosses the river and we'll now head south. It'll be more of a tailwind now.
After several kilometres we'll turn west again, back into the crosswind, but the roads through the Ardèche gorge, which is less exposed.
An easing in the pace at the front of the bunch after that change in direction.
Now we get some breakaway attempts. Cosnefroy and Elissonde on the move
The Thomas echelon is half a minute down, along with Pogacar's teammate mikkel Bjerg. Porte is in another echelon at 50 seconds. Not a great start from Ineos.
Alaphilippe is up the road in a 12-man break, but others are looking to go across.
Things bunch up in the peloton now. This will allow the break to go clear and the dropped echelons to come back.
The riders in this break:
André Greipel, Edward Theuns, Julian Alaphilippe, Imanol Erviti, Nils Politt, Stefan Küng, Stefan Bissegger, Connor Swift, Harry Sweeny, Brent Van Moer, Luka Mezgec, Sergio Henao, Edvald Boasson Hagen.
134km to go
The break head out to two minutes and counting as the peloton regroups.
Alaphilippe appears to be working in this breakaway, which gives an indication over tactics. If he's doing that, Deceuninck-QuickStep won't be chasing for Cavendish, so this break could well go all the way.
The gap goes up to six minutes and counting as we wait to see if anyone takes up a proper chase. UAE are just controlling for now.
If Deceuninck-QuickStep don't chase, who will? Nacer Bouhanni's Arkea-Samsic have a rider up the road in Connor Swift, and the same goes for Michael Matthews' BikeExchange, with Luka Mezgec (a fast finisher) up the road. Israel have put their sprinter Greipel in the break, while Bora-Hansgrohe's Peter Sagan has gone home today, joining a long list that includes Caleb Ewan, Arnaud Démare, and Bryan Coquard. That leaves Alpecin-Fenix for Jasper Philipsen, although they've lost two riders, and possibly Team DSM for Cees Bol.
Of course, it we get crosswinds later on then the pace could be fast and furious for the final 75km and the GC contenders could be called into action.
120km to go
UAE are controlling here as the gap rises to 7:30.
Mark Cavendish stops to adjust his cleats. He's doing the job himself with the key provided by his mechanic.
Cavendish is wearing a green jersey and standard navy team shorts, rather than a full green skinsuit, which is another indication he might not be sprinting for victory today.
We have news on the race leader this morning. He has been confirmed for the Vuelta after this, and his team manager has been asked about the speculation over the Slovenian's performances. He refused to engage with those questions, saying Pogacar is producing the same numbers as last year.
Here are the beautiful gorge roads in the Ardèche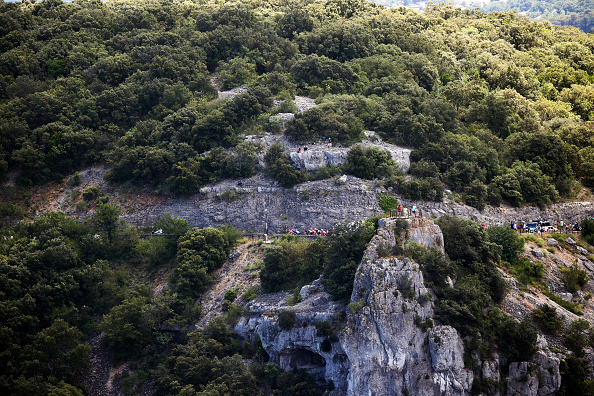 The gap has stabilised at nine minutes.
The gap reaches 10 minutes now as UAE continue to tap it out, and we'll soon be asking which of these breakaway riders stands the best chance.
The fastest finishers in this break would seem to be Greipel, Mezgec, Theuns, and Boasson Hagen.
On the rung below that, you'd put Alaphilippe, Swift, Bissegger, and Sweeny.
Then you have more diesel-y rouleur engines in Politt, Kung, Van Moer, and Erviti.
Finally, Sergio Henao... the Colombian climber who's a bit of a fish out of water today.
80km to go
The gap reaches 11 minutes. This is a proper transition stage so far but the wind could still complicate things a little.
We've got Lachlan Morton doing a solo Tour de France but we also have ultra-cyclist Jack Thompson, who set off 10 days late but is still hoping to beat the bunch to Paris.
The breakaway hit the first and only climb of the day. It's the Cat-4 Côte du Belvédère de Tharaux, and it's 4.4km at 4.6%
Politt leads the break over the top of the climb and collects the single KOM point, but no one cares about the points.
65km to go
Formolo brings the UAE-led peloton over the top of the climb 11:45 in arrears.
We're still heading south with that tailwind but we'll soon be turning west for a few kilometres. It's not very exposed there but there could be a threat when the road turns east with around 45km to go. GC teams will have to be aware.
What did you make of Ineos' approach yesterday? Philippa York has labelled it a 'vanity project'...
As the gap edges up towards the 13-minute mark, a reminder that none of these breakaway riders are anywhere near the upper end of the GC. Henao is the best-placed but he's more than 50 minutes down.
50km to go
Into the final 50 and the breakaway has completed that westerly stretch and is heading south before that turn to the east. The peloton is on that westerly stretch but the roads are not exposed and it's all calm.
The big German opens up the battle between the breakaway. Swift goes after him
Sweeny sets about dragging it back. Lotto Soudal are the only team with two riders in this move and they use their numbers to rectify the situation although they'd rather be using them to go on the attack themselves to outmanouever the others.
Sweeny doesn't shut the gap and the duo are still clear.
Mezgec attacks now and gets across.
They're almost spinning out their biggest gears at 70kph. In this tailwind it's harder to shut any gaps.
Bissegger accelerates next but he can't close it alone.
Erviti, Boasson Hagen, Van Moer go next. They get a gap but the rest come back.
The front three are back now so the break is as one again.
Van Moer hits the front but doesn't invest.
Erviti rolls off the front now
They turn into east now and the wind is coming from the side, although the roads don't look too open at this point.
It calms back down and a temporary ceasefire is called.
Sweeny attacks with a gel in his mouth
A bit of a stealth move from the Australian, who squeezes the contents into his mouth before pressing on with his effort. Kung tracks it.
Politt and Erviti join the move. The rest are on the back foot.
Alaphilippe was looking cool but appears to be panicking now. He comes through for quick turns in the chase group while others lurk at the back of it.
Sweeny, Kung, Politt, and Erviti have found 30 seconds already.
The 9 chasers have started to get organised now. Well, 8 - Van Moer is understandably sandbagging at the back, given his teammate Sweeny is up the road.
Here we go. The peloton are onto that easterly stretch and Ineos hit the front of the bunch.
Are they going to try and split it?
Wow. UAE push their way back through and Pogacar himself hits the front to position himself demonstratively in front of the British team. He didn't seem to appreciate that.
Ineos stand down after that. Movistar have also moved up. It seems the GC teams are just making sure they don't get caught out in case, rather than looking to do anything.
The leading quartet reach the intermediate sprint but that's the last thing on their minds at the moment. Politt bags full points simply by virtue of being on the front at the time.
26km to go
The 9 chasers follow across at 30 seconds.
A shot of the break earlier, before the split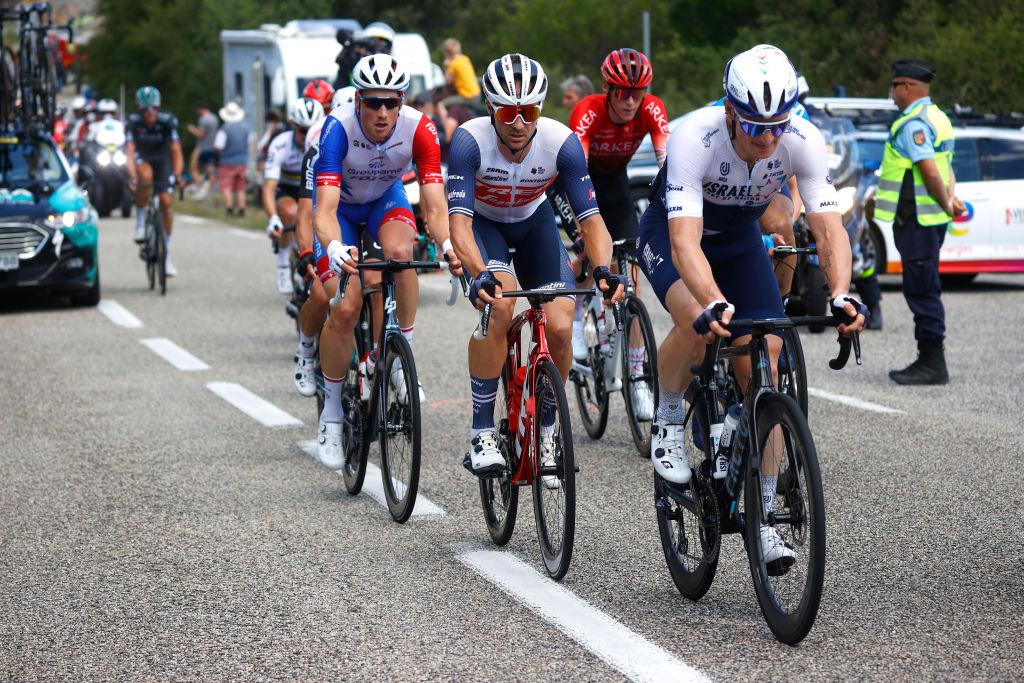 Nothing happening in the peloton. It's no-longer a UAE-led line, as the GC teams position themselves into trains, but the pace is sedate.
The gap rises to 36 seconds. This is going the way of the front four.
We're back into that tailwind now all the way to the finish, so a 40-second gap is going to be almost impossible to close. The chasers can only hope cooperation breaks down up front but even then a solo attacker could take this home from here.
50 seconds now. It's over for Alaphilippe, Greipel, Boasson Hagen, Teuns, Swift, Mezgec, Henao, Van Moer, Bissegger.
All four of these leaders are racing for teams who've had torrid Tours so far. Kung's FDJ lost their sprinter Demare to the time cut and their GC rider Gaudu lost half an hour yesterday. Sweeny's Lotto Soudal lost their own sprinter Caleb Ewan to an early crash. Movistar saw their leader Lopez fall away in the Alps, while their other leader Mas lost time yesterday. Politt's Bora lost Sagan this morning, although they have Kelderman still in the GC mix.
The Australian eases away once more on a false flat. Kung is dropped!
Politt and Erviti get across to Sweeny but Kung looks to be out of this.
They're attacking each other back in the chase now as well. But they're a minute down.
Movistar take it up in the peloton! Not sure why. Their out of the crosswind part and it's tailwind from now on.
Sweeny looks at Erviti and leans on him
But Politt is soaring clear
Sweeny takes it up now but I don't think either can match Politt.
This looks like the stage-winning move.
10k to go
10 seconds is the gap with 10 to go.
Erviti and Sweeny are holding Politt now, so they do have something left. But the road tilts downhill, Politt almost spins out, and you can't close gaps at this speed.
It's calm in the bunch as UAE look like they'll take us home on the quietest day so far for the GC riders (although we did have echelons at the start of the day).
7k to go
Politt has 18 seconds now. It's his to lose now.
Politt hits 75kph in his biggest gear.
5k to go
Into the final 5000m and Politt is haring through town, mouth agape, gasping for each drop of oxygen.
His lead is 22 seconds now. It's his.
Kung is back at 1:40 and about to be caught by the rest of the chasers.
The kilometres are ticking by quickly at these speeds but now Politt comes into the town centre. 3k to go, 27 seconds the gap, and he just has to finish this off.
Bora-Hansgrohe lost Peter Sagan this morning but they are not missing him at all here.
Politt only has one win to his name as a pro - a stage of the 2018 Deutschland Tour. He had a bit of a breakthrough with second at Paris-Roubaix in 2019 and this is another major moment in his career.
He's smiling now. He knows it
He shakes his head as he enters the final kilometre now. He can soak this up now.
Another shake of the head but he's still riding hard.
He looks behind to make sure and now he sits up
Big celebrations as he crosses the line.
Nils Politt (Bora-Hansgrohe) wins stage 12 of the Tour de France
Two-up sprint now for second between Sweeny and Erviti
Erviti takes second, Sweeny settles for third.
Kung hangs on for fourth.
Mezgec beats Teuns and Greipel in the sprint for fifth from the rest of the break.
Top 10
1 Nils Politt (Ger) Bora-Hansgrohe 03:22:12
2 Imanol Erviti (Spa) Movistar Team 00:00:31
3 Harry Sweeny (Aus) Lotto Soudal 00:00:31
4 Stefan Küng (Swi) Groupama-FDJ 00:01:58
5 Luka Mezgec (Slo) Team BikeExchange 00:02:06
6 André Greipel (Ger) Israel Start-up Nation 00:02:06
7 Edward Theuns (Bel) Trek-Segafredo 00:02:06
8 Brent Van Moer (Bel) Lotto Soudal 00:02:06
9 Julian Alaphilippe (Fra) Deceuninck-QuickStep 00:02:06
10 Sergio Henao Montoya (Col) Qhubeka-NextHash 00:02:06
Jumbo-Visma are leading the peloton through town.
And now Alpecin-Fenix hit the front in the final kilometre. There are some very minor points still available.
Cavendish sprints to take it. No chance of that 34rd victory for him in the end today but he defends his lead in the points classification - not that there was much threat there. I think he picked up two points there.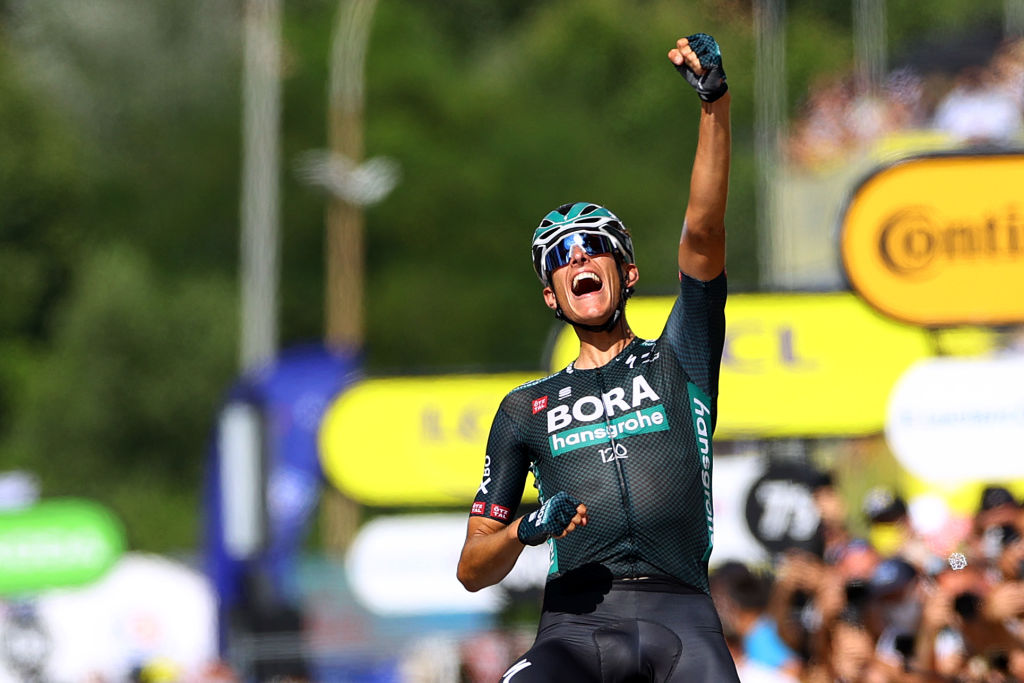 Let's hear from the stage winner
"It's unbelievable. It's a dream to win a stage in the Tour de France. Today on the start we had to decide that Peter because of his knee problems had to leave the race so it changed a little bit the tactic.
"Directly after the start there was the crosswinds. In the end it was a little bit bigger group. I feel already well in the last days and I was trying to give my best today. There was quite a lot of sprinters in our group. I know that I have to do the race hard, I have to attack also quite early. I did the first attack then we were with four guys. The sport director tells me it's the last ramp before the finish and give everything to try it. I did it again, I attacked and it was coming, the seconds - 20 seconds, 30 seconds, and then becoming solo to the finish is unbelievable.
"All the effort, what I have done now - it's my passion, cycling, for my whole family. It's the biggest win you can have, a stage in the Tour."
The crucial attack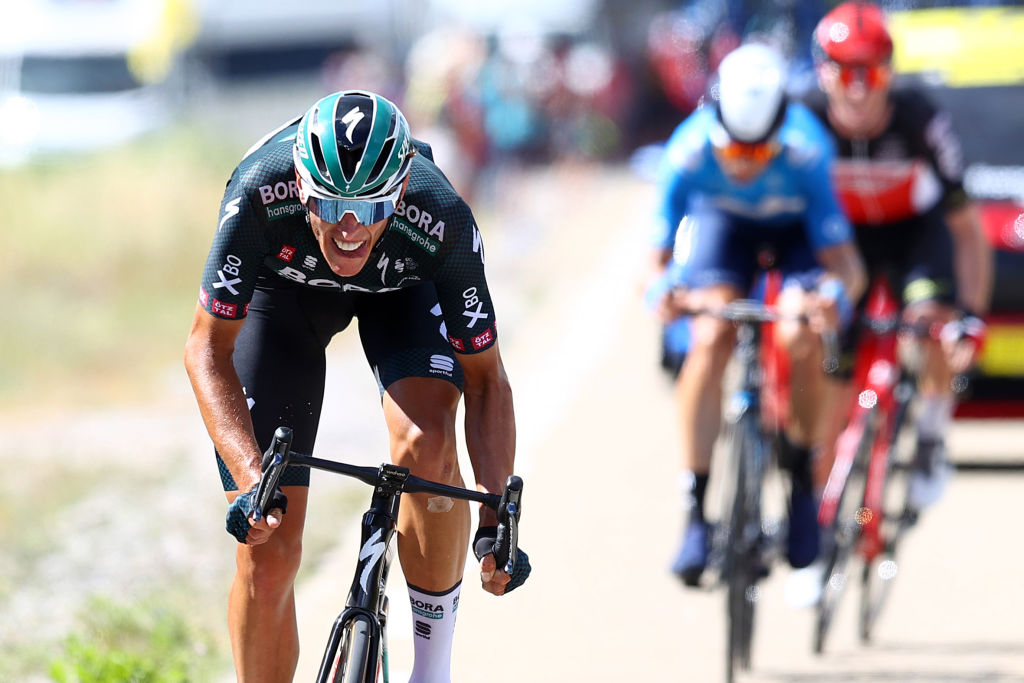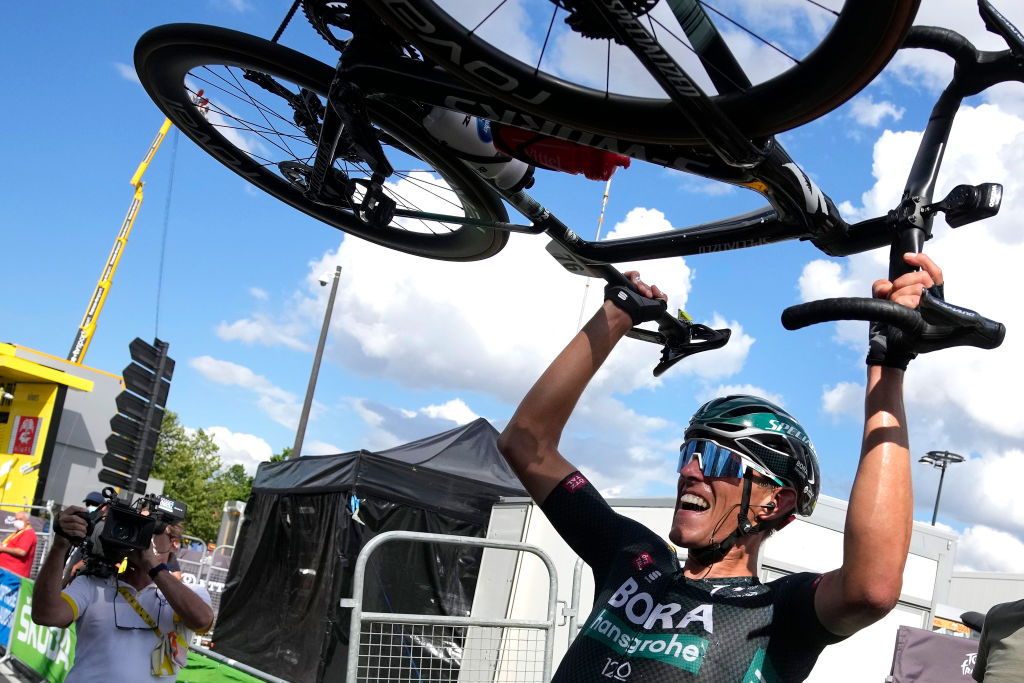 Let's hear from the yellow jersey Tadej Pogacar, who had a quiet day out
"I was satisfied with how my legs were turning today even at the points where we went full gas. I felt good and I can't wait for the next days.
"The first few kilometres was really crazy with the crosswind but we were there in the front and felt good, all the team. Then, it was more relaxing but the team was still working the front. We used some energy but I think it was a good day.
"It's better to race defensively. Yesterday we saw there were many good guys and anything can happen if there is a really hot day in the Pyrenees. I can also suffer. We'll see, we'll take it day by day, kilometre to kilometre. The time gap to second place is big enough and so I don't worry to much. Still, you never know."
Sign up to the Cyclingnews Newsletter. You can unsubscribe at any time. For more information about how to do this, and how we hold your data, please see our privacy policy
Thank you for signing up to Cycling News. You will receive a verification email shortly.
There was a problem. Please refresh the page and try again.