Johnson wins final day at Jingle Cross Rock
Powers finishes second, denied sweep in Iowa
Image 1 of 35
Image 2 of 35
Image 3 of 35
Image 4 of 35
Image 5 of 35
Image 6 of 35
Image 7 of 35
Image 8 of 35
Image 9 of 35
Image 10 of 35
Image 11 of 35
Image 12 of 35
Image 13 of 35
Image 14 of 35
Image 15 of 35
Image 16 of 35
Image 17 of 35
Image 18 of 35
Image 19 of 35
Image 20 of 35
Image 21 of 35
Image 22 of 35
Image 23 of 35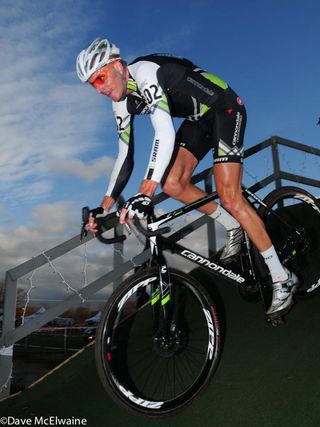 Image 24 of 35
Image 25 of 35
Image 26 of 35
Image 27 of 35
Image 28 of 35
Image 29 of 35
Image 30 of 35
Image 31 of 35
Image 32 of 35
Image 33 of 35
Image 34 of 35
Image 35 of 35
Tim Johnson (Cannondale-Cyclocrossworld.com) won Sunday's UCI C1 event at the Carousel Volkswagen Jingle Rock, a Midwestern cyclo-cross institution, held in Iowa City, Iowa. Johnson was hungry for success after failing to make the podium on Saturday, and rode aggressively from the start, to win by nearly a minute.
"It was definitely my kind of course," said Johnson. "I like when it's hard even when you are not pedaling. Yesterday was tough to get going, but I felt like I had everything I needed today."
Despite recovering from a cold, Ryan Trebon (Cannondale-Cyclocrossworld.com) took over at the front of the race midway through the first lap. Logan Owen (California Giant-Specialized) and Johnson joined Trebon, and the three riders pushed hard for the next two laps. Trebon was not up to his usual standards and decided to drop out shortly into the race. "I felt fine for the first two laps, and I was able to follow Tim and Logan," said Trebon. "Tim rode a really hard for half a lap, and it just put me a bit over my limit. I couldn't recover and it was all downhill from there."
Johnson and Owen ran a 10 second lead over a chase group that included Jeremy Powers (Rapha-Focus), Ben Berden (Raleigh-Clement), Allen Krugoff (Raleigh-Clement), Yannick Eckmann (California Giant-Specialized), and Curtis White (Cannondale-Cyclocrossworld.com). Owen and Johnson worked well together, but a tactical error cost Owen a few valuable seconds and enabled Johnson to get a gap. "I just made the mistake of pitting too early when I was up in front with Tim," said Owen. "I should have waited."
Powers caught Owen, and almost made contact at the base of Mt. Krumpit when Johnson went on the attack. "Jeremy was just coming up, I knew he had made a big effort, so I knew I had to keep the pressure on, or else Jeremy would have been able to rest on our wheel," said Johnson. "I just tried to make that two laps as hard as I possibly could. I think that was the gap that stuck."
Powers chased, but he could not make any progress on Johnson's 10-second lead. Fatigued from his wins in the preceding days, Powers sat up and waited for the chase group to come buy. Powers latched onto the chase, which now included Berden, Owen, and Jamie Driscoll (Raleigh-Clement.)
As Johnson built up his lead, Powers rested in the chase group before going on the offensive to lock up second place. "I took two laps to recover, and then I put together the last half lap," said Powers. "That was the best I could do, and salvage second place."
Ben Berden crossed the line in third, followed by Logan Owen in fourth and Jamie Driscoll in fifth.
Full results
| | | |
| --- | --- | --- |
| 1 | Tim Johnson (USA) Cannondale p/b Cyclocrossworld.com | 1:05:45 |
| 2 | Jeremy Powers (USA) Rapha-Focus | 0:00:54 |
| 3 | Ben Berden (Bel) Raleigh-Clement | 0:00:57 |
| 4 | Logan Owen (USA) California Giant-Specialized | 0:00:59 |
| 5 | James Driscoll (USA) Raleigh-Clement | 0:01:06 |
| 6 | Justin Lindine (USA) Redline-NBX | 0:01:44 |
| 7 | Curtis White (USA) Cannondale p/b Cyclocrossworld.com | 0:01:53 |
| 8 | Tristan Schouten (USA) Optum p/b Kelly Benefit Strategies | 0:02:02 |
| 9 | Yannick Eckmann (USA) Cal Giant Berry Farms-Specialized | 0:02:09 |
| 10 | Allen Krughoff (USA) Raleigh-Clement | 0:02:17 |
| 11 | Adam Craig (USA) Giant Factory Off-Road Team | 0:02:38 |
| 12 | Robert Marion (USA) American Classic Pro CX Team | 0:02:53 |
| 13 | Jeremy Durrin (USA) Optum p/b Kelly Benefit Strategies | 0:03:12 |
| 14 | Brian Matter (USA) RACC-Trek CXC | 0:03:26 |
| 15 | Tobin Ortenblad (USA) Cal Giant Berry Farms-Specialized | 0:03:31 |
| 16 | Cody Kaiser (USA) Cal Giant Berry Farms-Specialized | 0:03:36 |
| 17 | Jake Wells (USA) Stan's NoTubes Elite Cyclocross Team | 0:03:38 |
| 18 | Isaac Neff (USA) Trek Cyclocross Collective | 0:03:56 |
| 19 | Eric Thompson (USA) Mt. Borah Epic Team | 0:05:02 |
| 20 | Shawn Milne (USA) Keough Cyclocross | 0:05:12 |
| 21 | Kevin Bradford-Parish (USA) | 0:05:18 |
| 22 | Joseph Maloney (USA) KS Energy Services-Team Wisconsin | 0:05:21 |
| 23 | Tom Burke (USA) Wolverine Sports Club | |
| 24 | Sven Baumann (Ger) Wolverine Racing-Trek | 0:05:24 |
| 25 | Rotem Ishay (Isr) Boo Bikes | 0:05:34 |
| 26 | Taylor Carrington (USA) Feedback Sports | 0:05:55 |
| 27 | Joshua Johnson (USA) Giant Factory Off-Road Team | 0:06:15 |
| 28 | Steven Stefko (USA) First City Cycling Team | 0:06:16 |
| 29 | Erik Tonkin (USA) Kona-Team S&M | 0:07:07 |
| 30 | Craig Faulkner (USA) Crossniacs | 0:07:22 |
| 31 | Nicholas Lemke (USA) Scalo Veloce p/b JBV Coaching | 0:07:29 |
| 32 | Travis Braun (USA) Magnus Cycling Jersey Squad | 0:07:39 |
| 33 | Ian McPherson (USA) Clif Bar Development Cross Team | 0:07:42 |
| 34 | Carson Miller (USA) Jamis CX | 0:07:45 |
| 35 | Matthew Allen (USA) LGR-Behind Bars | 0:08:00 |
| 36 | Kevin Fish (USA) Team Super Squadra | 0:08:03 |
| 37 | Lewis Gaffney (USA) American Classic Pro CX Team | 0:08:06 |
| 38 | Mark Savery (USA) Midwest Cycling Community NE | 0:08:34 |
| 39 | Maxwell Ackermann (USA) ISCorp Cycling Team | 0:08:48 |
| 40 | Kevin McConnell (USA) Mercy-Specialized | -2laps |
| 41 | Skyler Trujillo (USA) Boo Bikes | |
| 42 | Brian West (USA) Cycle City Racing Team | |
| 43 | Josh Bauer (USA) THC | |
| 44 | Olivier Vrambout (USA) Solidsurface fueled by Waffle Power | |
| 45 | William Iaia (USA) Groove Subaru Excel Bicycle | |
| 46 | Jordan Cullen (USA) Crossniacs | -3laps |
| 47 | Douglas Ansel (USA) Beverly Bike-Vee Pack | |
| 48 | Innokenty Zavyalov (USA) MCT-Basso | |
| 49 | Sam Cerruti (USA) Jamis CX | |
| 50 | Bryan Fosler (USA) KS Energy Services-Team Wisconsin | |
| 51 | Nathan Brown (USA) | -4laps |
| 52 | Brett Pirie (USA) Groove Subaru Alpha Cycles | |
| 53 | John Thompson (USA) Mt. Borah Epic Team | -5laps |
| 54 | John Meehan (USA) Bissell | |
| DNF | Ryan Trebon (USA) Cannondale p/b Cyclocrossworld.com | |
| DNF | Braden Kappius (USA) Team Clif Bar | |
| DNF | Jeff Kluck (USA) Queen City Cycling | |
| DNF | Phil Mooney (USA) Jamis CX | |
| DNF | Alexander Martin (USA) KS Energy Services-Team Wisconsin | |
| DNS | Troy Wells (USA) Team Clif Bar | |
| DNS | Jacob Lasley (USA) Team Soundpony | |
| DNS | Chris Jackson (USA) Castex Racing p/b Felt | |
| DNS | Adam York (USA) Wolverine Racing-ACFStores.com | |
| DNS | Eric Christ (USA) Bicycle Heaven | |
| DNS | Skyler Mackey (USA) Team Soundpony | |
| DNS | Jeffery Frost (USA) Trek Cyclocross Collective | |
| DNS | Craig Etheridge (USA) Raleigh-Clement-Hodala! | |
| DNS | Corey Stelljes (USA) RACC-Gear Grinder | |
| DNS | Ryan Travelstead (USA) Scalo Veloce p/b JBV Coaching | |
| DNS | Christopher Smith (USA) The Fix Studio | |
| DNS | Benjamin Jacques-Maynes (USA) Jamis CX | |
| DNS | Steve Tilford (USA) TradeWind Energy-Eriksen Cycles | |
| DNS | Mitchell Hoke (USA) Optum p/b Kelly Benefit Strategies | |
Cyclingnews Newsletter
Sign up to the Cyclingnews Newsletter. You can unsubscribe at any time. For more information about how to do this, and how we hold your data, please see our privacy policy