Claeys wins Famenne Ardenne Classic
Planckaert second and Roosen third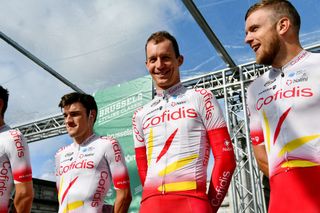 (Image credit: Getty Images)
Dimitri Claeys (Cofidis, Solutions Credits) won the Famenne Ardenne Classic on Sunday. The Belgian crossed the line ahead of Baptiste Planckaert (Wallonie Bruxelles) and Timo Roosen (Team Jumbo-Visma).
The trio were part of a move that went clear 15km from the finish on the final climb of the day, the Côte de Roy. Rémy Mertz (Lotto Soudal) and Anthony Turgis (Total Direct Énergie) were also up there.
By the final kilometres, the lead group had been whittled down to the podium trio, and it was Claeys who proved the canniest, jumping away on the opposite side of the road in the final kilometre and riding solo to victory.
Further back, Mathieu van der Poel (Corendon-Circus) won the sprint for sixth place from the peloton, having been on the attack earlier in the race.
"I attacked several times in the last kilometers because I knew that my only chance to win was to arrive alone," said Claeys after the finish.
Results
Full Results

| Pos. | Rider Name (Country) Team | Result |
| --- | --- | --- |
| 1 | Dimitri Claeys (Bel) Cofidis, Solutions Credits | 4:06:40 |
| 2 | Baptiste Planckaert (Bel) Wallonie Bruxelles | 0:00:05 |
| 3 | Timo Roosen (Ned) Team Jumbo - Visma | 0:00:07 |
| 4 | Anthony Turgis (Fra) Total Direct Energie | 0:00:11 |
| 5 | Remy Mertz (Bel) Lotto Soudal | 0:00:14 |
| 6 | Mathieu Van Der Poel (Ned) Corendon - Circus | 0:00:17 |
| 7 | Mike Teunissen (Ned) Team Jumbo - Visma | |
| 8 | Maurits Lammertink (Ned) Roompot - Charles | |
| 9 | Christophe Noppe (Bel) Sport Vlaanderen - Baloise | |
| 10 | Lawrence Naesen (Bel) Lotto Soudal | |
| 11 | Thomas Sprengers (Bel) Sport Vlaanderen - Baloise | |
| 12 | Dimitri Peyskens (Bel) Wallonie Bruxelles | |
| 13 | Tom Van Asbroeck (Bel) Israel Cycling Academy | |
| 14 | Sindre Skjøstad Lunke (Nor) Riwal Readynez Cycling Team | |
| 15 | Damien Touze (Fra) Cofidis, Solutions Credits | |
| 16 | Aime De Gendt (Bel) Wanty - Gobert Cycling Team | |
| 17 | Fabian Lienhard (Swi) Iam Excelsior | |
| 18 | Nick Van Der Lijke (Ned) Roompot - Charles | |
| 19 | Martijn Budding (Ned) Beat Cycling Club | |
| 20 | Aaron Verwilst (Bel) Sport Vlaanderen - Baloise | |
| 21 | Piotr Havik (Ned) Beat Cycling Club | |
| 22 | Gijs Van Hoecke (Bel) Ccc Team | |
| 23 | Alexander Krieger (Ger) Leopard Pro Cycling | 0:00:23 |
| 24 | Tyler Magner (USA) Rally Uhc Cycling | |
| 25 | Jacob Relaes (Bel) Cibel | |
| 26 | Gianni Marchand (Bel) Cibel | |
| 27 | Kenny Molly (Bel) Wallonie Bruxelles | |
| 28 | Jens Keukeleire (Bel) Lotto Soudal | 0:00:26 |
| 29 | Simon Pellaud (Swi) Iam Excelsior | |
| 30 | Guillaume Seye (Bel) Beat Cycling Club | |
| 31 | Kevyn Ista (Bel) Wallonie Bruxelles | |
| 32 | Lucas Eriksson (Swe) Riwal Readynez Cycling Team | |
| 33 | Jesper Asselman (Ned) Roompot - Charles | 0:00:31 |
| 34 | Jerome Baugnies (Bel) Wanty - Gobert Cycling Team | 0:00:32 |
| 35 | Jack Burke (Can) Leopard Pro Cycling | 0:00:37 |
| 36 | Natnael Berhane (Eri) Cofidis, Solutions Credits | 0:00:38 |
| 37 | Maxime Monfort (Bel) Lotto Soudal | 0:00:41 |
| 38 | Lilian Calmejane (Fra) Total Direct Energie | 0:00:43 |
| 39 | Preben Van Hecke (Bel) Sport Vlaanderen - Baloise | 0:00:46 |
| 40 | Luc Wirtgen (Lux) Wallonie - Bruxelles Development Team | |
| 41 | Simon Geschke (Ger) Ccc Team | |
| 42 | Romain Sicard (Fra) Total Direct Energie | 0:00:48 |
| 43 | Jonas Koch (Ger) Ccc Team | 0:00:59 |
| 44 | Connor Swift (GBr) Team Arkea - Samsic | 0:01:28 |
| 45 | Jimmy Janssens (Bel) Corendon - Circus | 0:01:46 |
| 46 | Brian Van Goethem (Ned) Lotto Soudal | 0:02:27 |
| 47 | Jelle Wallays (Bel) Lotto Soudal | 0:02:29 |
| 48 | Stan Dewulf (Bel) Lotto Soudal | 0:03:14 |
| 49 | Emil Nygaard Vinjebo (Den) Riwal Readynez Cycling Team | 0:05:34 |
| 50 | Pieter Vanspeybrouck (Bel) Wanty - Gobert Cycling Team | 0:06:27 |
| 51 | Aaron Van Poucke (Bel) Sport Vlaanderen - Baloise | 0:08:41 |
| 52 | Krists Neilands (Lat) Israel Cycling Academy | |
| 53 | Michiel Dieleman (Bel) Cibel | |
| 54 | Rein Taaramäe (Est) Total Direct Energie | |
| 55 | Clément Carisey (Fra) Israel Cycling Academy | |
| 56 | Tom Wirtgen (Lux) Wallonie Bruxelles | 0:08:48 |
| 57 | Maxime Jarnet (Fra) Team Arkea - Samsic | |
| 58 | Mathijs Paasschens (Ned) Wallonie Bruxelles | |
| 59 | Filip Maciejuk (Pol) Leopard Pro Cycling | |
| 60 | Julian Braun (Ger) Team Dauner | Akkon | 0:09:51 |
| 61 | Trond Håkon Trondsen (Nor) Team Coop | |
| 62 | Wim Reynaerts (Bel) Cibel | 0:09:53 |
| 63 | Sergio Rodriguez Reche (Spa) Euskadi Basque Country - Murias | |
| DNF | Hamish Schreurs (NZl) Israel Cycling Academy | |
| DNF | Conor Dunne (Irl) Israel Cycling Academy | |
| DNF | Guy Sagiv (Isr) Israel Cycling Academy | |
| DNF | Rudy Barbier (Fra) Israel Cycling Academy | |
| DNF | Thomas Leezer (Ned) Team Jumbo - Visma | |
| DNF | Taco Van Der Hoorn (Ned) Team Jumbo - Visma | |
| DNF | Paul Martens (Ger) Team Jumbo - Visma | |
| DNF | Danny Van Poppel (Ned) Team Jumbo - Visma | |
| DNF | Maarten Wynants (Bel) Team Jumbo - Visma | |
| DNF | Francisco Jose Ventoso Alberdi (Spa) Ccc Team | |
| DNF | Josef Černý (Cze) Ccc Team | |
| DNF | Kamil Gradek (Pol) Ccc Team | |
| DNF | Guillaume Van Keirsbulck (Bel) Ccc Team | |
| DNF | Ludwig De Winter (Bel) Wanty - Gobert Cycling Team | |
| DNF | Thomas Degand (Bel) Wanty - Gobert Cycling Team | |
| DNF | Xandro Meurisse (Bel) Wanty - Gobert Cycling Team | |
| DNF | Paul Ourselin (Fra) Total Direct Energie | |
| DNF | Adrien Petit (Fra) Total Direct Energie | |
| DNF | Romain Cardis (Fra) Total Direct Energie | |
| DNF | Pierre Luc Perichon (Fra) Cofidis, Solutions Credits | |
| DNF | Hugo Hofstetter (Fra) Cofidis, Solutions Credits | |
| DNF | Zico Waeytens (Bel) Cofidis, Solutions Credits | |
| DNF | Marco Mathis (Ger) Cofidis, Solutions Credits | |
| DNF | Yoann Bagot (Fra) Vital Concept - B&B Hotels | |
| DNF | Corentin Ermenault (Fra) Vital Concept - B&B Hotels | |
| DNF | Adrien Garel (Fra) Vital Concept - B&B Hotels | |
| DNF | Steven Lammertink (Ned) Vital Concept - B&B Hotels | |
| DNF | Jérémy Lecroq (Fra) Vital Concept - B&B Hotels | |
| DNF | Anthony Delaplace (Fra) Team Arkea - Samsic | |
| DNF | Clément Russo (Fra) Team Arkea - Samsic | |
| DNF | Alan Riou (Fra) Team Arkea - Samsic | |
| DNF | Florentin Lecamus Lambert (Fra) Team Arkea - Samsic | |
| DNF | Robert Thomas Wagner (Ger) Team Arkea - Samsic | |
| DNF | Philipp Walsleben (Ger) Corendon - Circus | |
| DNF | Dries De Bondt (Bel) Corendon - Circus | |
| DNF | Brent Clé (Bel) Corendon - Circus | |
| DNF | Lasse Norman Hansen (Den) Corendon - Circus | |
| DNF | Otto Vergaerde (Bel) Corendon - Circus | |
| DNF | Amaury Capiot (Bel) Sport Vlaanderen - Baloise | |
| DNF | Piet Allegaert (Bel) Sport Vlaanderen - Baloise | |
| DNF | Sjoerd Van Ginneken (Ned) Roompot - Charles | |
| DNF | Michaël Van Staeyen (Bel) Roompot - Charles | |
| DNF | Huub Duijn (Ned) Roompot - Charles | |
| DNF | Arjen Livyns (Bel) Roompot - Charles | |
| DNF | Andreas Nielsen (Den) Riwal Readynez Cycling Team | |
| DNF | Nicolai Philip Brochner Nielsen (Den) Riwal Readynez Cycling Team | |
| DNF | Rasmus Christian Quaade (Den) Riwal Readynez Cycling Team | |
| DNF | Kyle Murphy (USA) Rally Uhc Cycling | |
| DNF | Adam De Vos (Can) Rally Uhc Cycling | |
| DNF | John Murphy (USA) Rally Uhc Cycling | |
| DNF | Pier Andre Cote (Can) Rally Uhc Cycling | |
| DNF | Mikel Aristi Gardoki (Spa) Euskadi Basque Country - Murias | |
| DNF | Mikel Iturria Segurola (Spa) Euskadi Basque Country - Murias | |
| DNF | Julen Irizar Laskurain (Spa) Euskadi Basque Country - Murias | |
| DNF | Ander Barrenetxea Uriarte (Spa) Euskadi Basque Country - Murias | |
| DNF | Urko Berrade Fernandez (Spa) Euskadi Basque Country - Murias | |
| DNF | Anthony Rappo (Swi) Iam Excelsior | |
| DNF | Corey Davis (USA) Iam Excelsior | |
| DNF | Dylan Page (Swi) Iam Excelsior | |
| DNF | Martin Schäppi (Swi) Iam Excelsior | |
| DNF | Jeroen Eyskens (Bel) Cibel | |
| DNF | Colin Heiderscheid (Lux) Leopard Pro Cycling | |
| DNF | Arthur Kluckers (Lux) Leopard Pro Cycling | |
| DNF | Szymon Rekita (Pol) Leopard Pro Cycling | |
| DNF | Mario Spengler (Swi) Leopard Pro Cycling | |
| DNF | Alex Mengoulas (Ned) Beat Cycling Club | |
| DNF | Yves Coolen (Bel) Beat Cycling Club | |
| DNF | Adam Lewis (GBr) Beat Cycling Club | |
| DNF | Dominik Bauer (Ger) Team Dauner | Akkon | |
| DNF | Marc Clauss (Ger) Team Dauner | Akkon | |
| DNF | Oliver Flautt (USA) Team Dauner | Akkon | |
| DNF | Jelle Donders (Bel) Team Dauner | Akkon | |
| DNS | Kris Boeckmans (Bel) Vital Concept - B&B Hotels | |
| DNS | Andreas Lorentz Kron (Den) Riwal Readynez Cycling Team | |
| DNS | Daan Hoeyberghs (Bel) Beat Cycling Club | |
Cyclingnews Newsletter
Sign up to the Cyclingnews Newsletter. You can unsubscribe at any time. For more information about how to do this, and how we hold your data, please see our privacy policy